#MakingLondonSmile for 8 years: our afternoon tea London reviews
Are you looking for a great way to celebrate a special occasion? Treat your loved one like royalty? Put a big smile on their face? Then have a look at what Brigit's Bakery has on offer. Because our buses and tours, our food, our Bakery, and the experiences we offer you here at B Bakery always make people smile. And we all know we need a lot more of that in our lives! But don't just take our word for it. This post kicks off our #MakingLondonSmile campaign, so have a look at some afternoon tea London reviews that our happy (and smiley) customers have been kind enough to share online.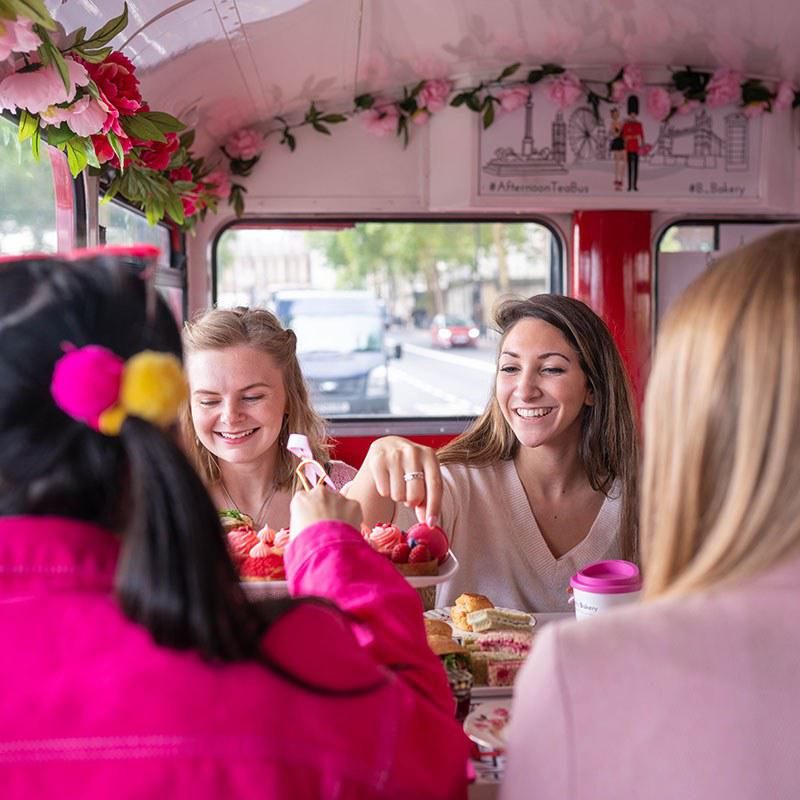 Some of our Afternoon Tea London Reviews
Looking for an afternoon tea experience with a twist? Then you'll want to come and experience Afternoon Tea on one of our Routemaster buses. These vintage London buses will drive around Central London, taking in some of the City's best sights, whilst you sip on a lovely cup of tea and enjoy the exquisite tastes of France. So let's have a look at some of the afternoon tea London bus reviews our customers left us on Tripadvisor.
Here's one from a lovely Australian family.
"We had a lovely time, traveled past the awesome sights of London, whilst supping on THE most delicious little cakes and sandwiches. The kids especially loved the scones and their first taste of clotted cream. We had 4 seats at an upstairs table – it was the perfect way to get our bearings in London in style!".
Well, 'delicious' and 'style' is what we do!
And do you know what we also do? 'Royalty'.
"We felt like royalty! Touring London on the bus, tourists waving and taking photos of us enjoying our afternoon tea on board was really special. I was fortunate to have received a voucher for my 50th birthday last year from friends. […] As soon as we saw the bus arrive it felt magical. My sister and I took the bus tour on a Saturday afternoon, and it was fantastic. […] The food was exceptional, and we had ordered a glass of prosecco as an added touch, which made the occasion even more special."
"London's BEST tea tour ever"
Knowing our customers come from far and wide just warms our hearts and makes us smile a little extra. Here's a review from a happy customer who came all the way from North Carolina, US.
"Wow! Two of the BEST hostesses – Sarah and Glauce – poured our delish teas and served hot scones WHILST touring the main attractions in London. Sandwiches and the most delectable pastries were provided as well. All of us onboard had the grandest time. Lighthearted, joyful, TASTY time! Many thanks to all involved!".
Honestly, that is what we're all about. 'Lighthearted', 'joyful', and yes, 'tasty' fun!
Book an Afternoon Tea Bus Tour
If you're looking for a high tea accompanied with an array of tasty sandwiches and delicious cakes and pastries, look no more. Jump on a Brigit's Bakery bus tour of London and your uniformed London bus driver will take you round The London Eye, Big Ben, The Houses of Parliament, Westminster Abbey, St James's Park, Buckingham Palace, Hyde Park, The Royal Albert Hall, Marble Arch, Piccadilly Circus, Nelson's Column, Downing Street, and more. Wouldn't you say these are THE best spots in London?
Places and tours are limited, so book early to avoid disappointment.
Afternoon tea at the Brigit's Bakery in Covent Garden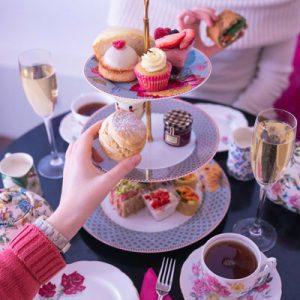 Fancy afternoon tea in London? If you're in the area, why not come and visit us at our exclusive Brigit's Bakery in Covent Garden? Relax in our elegant tea room and take the time to savour our cakes, scones, finger sandwiches, and pastries. It's a great opportunity to indulge and enjoy with a glass of champagne and (we hope) great company. Isn't that guaranteed to make you smile?
But once again, don't just take our word for it. Have a look at a couple of these 'best afternoon tea in London' reviews.
"Perfect spot for English afternoon tea"

"Very central, right beside the atmospheric Covent Garden. Excellent staff brought savoury juices to cleanse the palate before we ordered our choice of teas – and one hot chocolate. The cake stands were then presented and explained – with a separate cake stand for our one gluten-free customer. Each item was delicious – and deceptive as we needed a break before the scones, jam, and clotted cream arrived! Fresh water, very good atmosphere, and more teas accompanied the tasty scones. Highly recommend it and you won't need dinner later either!"
The pleasure is all ours.
Any gin lovers here?
"We went there today for the Gin afternoon tea. It was amazing […]. The food was superb and the Gin cocktails were lovely. Everything we had was fresh and delicious and we simply couldn't fault it. I will definitely be back."
Intrigued? Find out more about our Gin Lovers Afternoon Tea and tours.
"Divine cakes"

"Highly recommend. And I recommend the dark chocolate cupcake – decadent and divine, it was moist, sweet but not too sweet, and so chocolatey the icing was nearly black. Good coffee, warm, friendly and efficient service. Pretty décor, comfortable seats, and a nice atmosphere. I hope to return soon with friends for afternoon tea."
Ah, the chocolate cupcake! Always glad to hear that our customers enjoy it as much as we do.
Come and try the B Bakery Afternoon Tea experience for yourself
We hope you enjoyed this little selection of Brigit's Bakery afternoon tea London reviews, and we'd love to welcome you to try the B Bakery experience for yourself. So check out our Afternoon Tea Bus tours – you may still be in time to join us for the Chinese New Year celebrations or to book a special treat for your loved one this Valentine's Day. Or come and see us at the Brigit's Bakery in Covent Garden, and we'll be sure to put a nice smile on your face.
We also have a selection of dietary options on offer, including Traditional, Halal, Vegan, Vegetarian, and Gluten-free.