Are you looking for a fun Peppa Pig themed birthday party? Then why not try the Peppa Pig Party Bus.
Our Peppa Pig themed vintage routemaster bus is available for private hire for the ultimate Peppa Pig party.
Taking in the best views of Central London, the bus will take you past some of the most famous London landmarks. And that includes Big Ben, The Houses of Parliament, Westminster Abbey, Hyde Park, Nelson's Column, Tower Bridge, St Paul's Cathedral, Borough Market, Green Park, Piccadilly Circus and more.

Each table comes with a special built in tablet providing guests with a Peppa Pig guided animation of the London tour along with sing-a-long songs that the whole family will enjoy. Your little piggies will also be excited to each receive a copy of our Peppa Pig Afternoon Tea Bus Tour Activity Book full of fun things to colour and do along the journey, that they can take home and keep.
So, if you're looking for the ideal Peppa Pig party in London – you've stumbled across the perfect solution. It's perfect for baby showers, family celebrations with youngsters or children's birthday parties. More details can be found below, or give us a call and we can discuss your requirements and suggest the best option for you.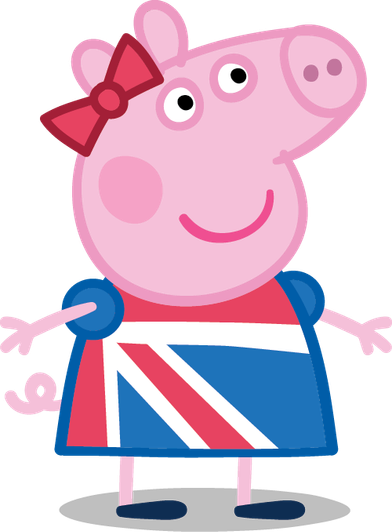 Peppa Pig Party Bus Hire Prices
The cost includes a super special Peppa Pig themed afternoon tea menu to delight kids and grown-ups alike. Plus the one and a half hour tour, which departs from Somerset House. Brigit's Bakery will all also provide a free Peppa Pig takeaway mug for every guest and party bags for leftover treats!
We require a 50% non refundable deposit to secure your booking. The final payment is required two weeks prior to the booking date.

For more information about the tour and FAQs, check out Peppa Pig Afternoon Tea Bus Tour
HIRE PRICES
LOWER DECK
£840 weekday . £940 weekend
up to 16 people
UPPER DECK
£1500 weekday . £1600 weekend
up to 28 people
WHOLE BUS
£2150 weekday . £2280 weekend
up to 44 people
Minimum private hire for the whole
Peppa Pig party bus is 35 people:
£1750 weekday . £1850 weekend
A loo will be available onboard for the exclusive use by children only.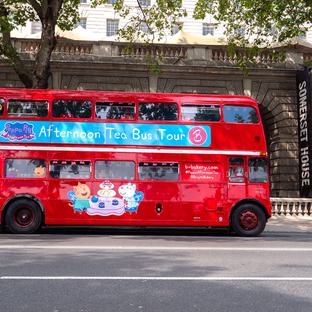 CONTACT US TO BOOK YOUR PEPPA PIG PARTY
Call us on 020 3026 1188 or contact us via our online form with your preferred party date and time and we'll get back to you.
GET IN TOUCH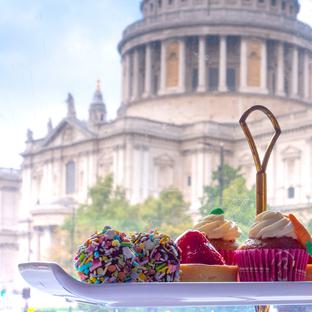 Peppa Pig Afternoon Tea Dietary Options & Allergens
If you would like a vegetarian afternoon tea, then Grandpa Pig's Chicken & Tomato burger bun is replaced with Brie & Tomato.
All our chicken is halal, so our Traditional Peppa Pig Afternoon Tea menu is suitable for customers requiring a halal afternoon tea.
Pedro Pony's Beetroot & Cucumber finger sandwich
Suzy Sheep's Wrap with hummus, salad, avocado, carrot & red pepper
Mandy Mouse's Focaccia Burger with pesto, tomato, red pepper & vegan cheese
Madame Gazelle's Veggie Crudité & Breadsticks with hummus
Emily Elephant's Vegan Quiche
Peppa Pig's Cookie Shortbread
Daddy Pig's Coconut Rocher & Vegan Pannacotta
Mummy Pig's Vegan Lemon Drizzle Cake
George's Red Berry Verrine
Rebecca Rabbit's Vegan Cupcake
Granny Pig's Vegan Mini Scone with jam & clotted cream
Freddy Fox's Egg & Cress GF finger sandwich
Mandy Mouse's Cheddar Cheese GF finger sandwich
Grandpa Pig's Brie & Tomato GF burger bun
Madame Gazelle's Veggie Crudité & GF breadsticks with hummus
Danny Dog's Red Pepper & Hummus GF finger sandwich
Peppa Pig's Cookie GF Shortbread
Suzy Sheep's Chocolate Truffle
Mummy Pig's Strawberry Macaron
George's Seasonal Fruit GF Tart
Rebecca Rabbit's Hazelnut & Caramel GF Tart
Granny Pig's GF Mini Scone with jam & clotted cream
Peppa Pig Party Bus Route