Why we chose to set up our Bakery in Central London
Have you visited our Brigit's Bakery in Central London (Covent Garden)?
Our customers describe it as 'pretty' and 'lovely' and, of course, they love the food and the fantastic service we provide. (Phew!). But have you ever wondered whether we have any other bakeries? Or is our Brigit's Bakery in London's Covent Garden's best-kept secret? (Oh wait, hopefully, it's a not a secret at all!). But why, oh why did we choose to set up Brigit's Bakery in London?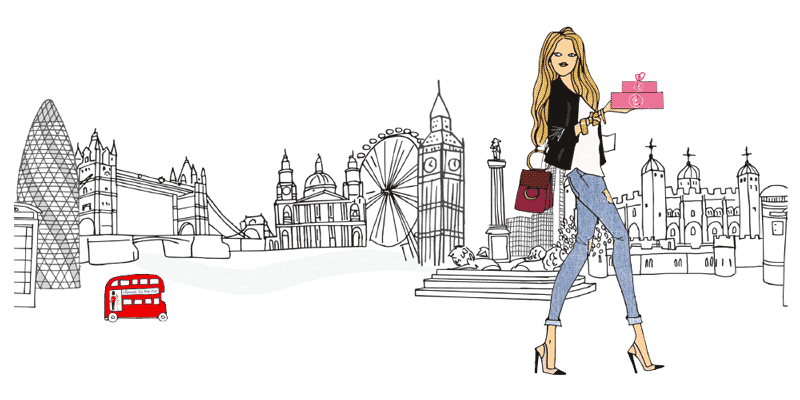 Why London?
We could have set up anywhere in the UK – and in fact, we're not just in London. We're in Bath too, and we're very proud of our beautiful Bath Bakery also! But nothing beats London. London is one of the most cosmopolitan cities in the world. We just love how people from all over the world come together in this amazing melting pot of a city. And being of French origin, we knew when we started our Brigit's Bakery journey back in 2010, that we'd fit right in with our idea of L'Afternoon Tea – the unique combination of a fine English tradition, fused with a delicate French twist.
We knew we could bring something new, unique, and quirky to the table. (Literally!). So we decided to combine our love for French food and cuisine with one of the most well-established English tradition – afternoon tea. And we trusted our product would appeal to the natural curiosity and openness of the amazing people in London, who we knew would embrace the idea and be willing to try different combinations of flavours in a familiar environment.
So when we opened our first bakery – French Salon de Thé – next to the London Eye in County Hall, our exquisite French patisseries quickly became popular with both locals and tourists. We really couldn't think of a better-suited and more accepting place than London to embrace the marriage of cultures, traditions, and flavours we created with our Brigit's Bakery afternoon tea experience.
London is synonymous with the Royals
Where else would a bakery that 'makes people feel like royalty' be located?! Because that's exactly how people describe our afternoon tea experience – you can check out some of the reviews that our lovely customers have been leaving us in this post – #MakingLondonSmile.
Our connection with this wonderful city and its traditions is so strong that when London celebrates, we also celebrate. In 2018, when Prince Harry married the love of his life, Meghan Markle, we launched our Royal Wedding Afternoon Tea Bus tour, which was enjoyed and talked about by locals and tourists alike.
We even created a delicious Royal wedding themed menu especially for the limited tours, with delicious savoury and sweet dishes inspired by the royal couple. And the fun didn't stop there! We enlisted the help of Debrett's, the authority on modern British etiquette, to give royal enthusiasts and fans of all things British a day they wouldn't forget. We loved having expert guides talking our customers through the history of royal weddings – we feel honoured to have had the chance to take part in the celebrations.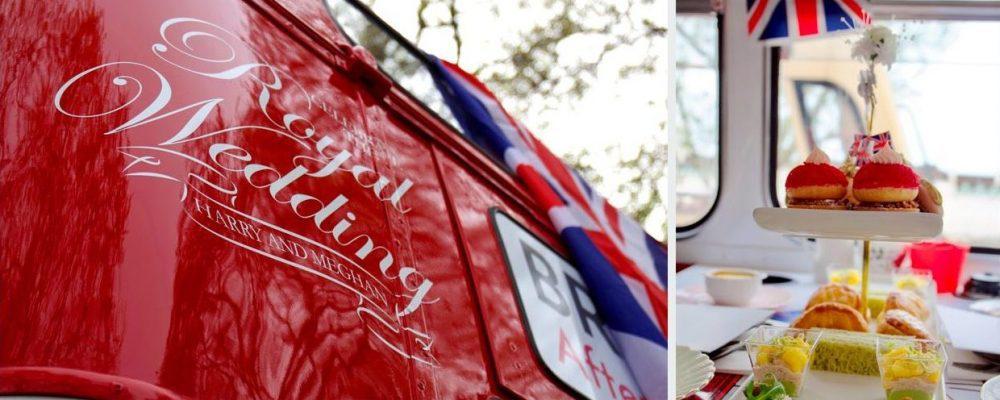 London is one of the top tourist destinations in the world
London isn't just one of the top tourist destinations in the UK but in the world! In fact, according to this article, London is indeed the most popular tourist destinations on the planet, "attracting around 30 million visitors from other countries each and every year". Isn't that just mind-blowing? And the piece goes on to say that "Revenues generated by tourism in London comprise approximately 10% of the city's gross value added income, and it is projected that tourists in London spend approximately £15 million per year."
Where else would we want to be, if not in London – the greatest city in the world?!
London is full of history
London is also full of history, with strong roots and a unique character. Did you know you can literally follow specific itineraries and tours to explore London through the ages? You can pick and choose some of the most iconic London monuments to visit – think about London's ancient amphitheatre and the Tudor era's famous Tower of London. Or the beautiful Georgian architecture of Buckingham Palace and the stunning National History Museum.
But it's not just about the monuments. You can include historic houses, palaces, and even pubs on your tours. It's a great way to learn about the various eras (Georgian, Victorian, Tudor, and Roman) that make this city what it is today.
And of course, we wanted a little slice of that, which is why we didn't just stop at putting our roots down in Covent Garden. Back in 2014, we started to offer afternoon tea on board vintage Routemaster buses. When you book on one of our Afternoon Tea Bus Tours, we drive you (with pride) through the amazing streets of Central London, so you can relax and take in some of the City's best sites and capture the heart of the city's culture, landmarks, and history. All while you sip your tea and enjoy our delicious food! Your London bus driver will take you round Big Ben, The Houses of Parliament, Westminster Abbey, St James's Park, Hyde Park, The Royal Albert Hall, Marble Arch, Nelson's Column, Downing Street and more.
Check out our Afternoon Tea Bus Tours if you want to know more.
Why Covent Garden?
So that's why we picked London. But why did we pick the heart of Covent Garden as the home of our beautiful Brigit's Bakery? Well, Covent Garden is one of the most iconic places in London and is always buzzing with high energy and a great vibe. It's a world-class dining destination that attracts food-lovers from all over the world. Not to mention the fact that people visit Covent Garden for the shopping experience – it hosts some of the best shops in the West End, from Mulberry to Petersham Nurseries and Balthazar to Frenchie.
Covent Garden is the place to be if you're into theatre and performance, and if you're visiting London it just needs to be on your list of places to see. Don't leave without having spent a few hours soaking up the amazing atmosphere of Covent Garden! The Royal Opera House and Theatre Royal Drury Lane are just around the corner, but you don't need to go far. The Covent Garden's Piazza itself is an open-air, impromptu theatre that comes to life every day with music, comedy, and entertainment from the very-talented street performers that grace London with their art.
Overall, Covent Garden just felt like the perfect place for us. And that's where we decided to open our second bakery.
Come and visit us at Brigit's Bakery
London is many spectacular things, and we love it with all our hearts. But it's a city that never sleeps, and it's not often quiet. So here's an offer for you.
Enjoy London. Soak up the atmosphere, the history, the culture, and every single little thing The Big Smoke has to offer. And then come and take refuge in the relaxing sanctuary of our Brigit's Bakery in Covent Garden – our bakery is a quiet haven tucked away on Chandos Place. With 180 sqm over two floors (including three private dining rooms), it's the perfect spot to provide tourists, shoppers, residents, and locals workers with a relaxing environment to enjoy fine French patisseries. So come and relax with a coffee and a cupcake before you hit the road again.
Better still, come for afternoon tea. Here's what will be waiting for you:
Freshly Prepared Savouries
Spinach, feta and sun-dried tomato savoury muffin.
Smoked salmon pretzel with cream cheese, chives, and cucumber.
Minty cucumber and cream cheese sandwich on beetroot bread.
Pastrami burger with tomato, salad, and mustard mayonnaise.
Ham and cheese sandwich with wholegrain mustard mayo on granary bread.
An assortment of mini homemade cakes and tarts including:
Lemon meringue tart.
Vanilla and raspberry jam choux.
Queen sablé and cream cheese mousse.
Chocolate mini cupcake.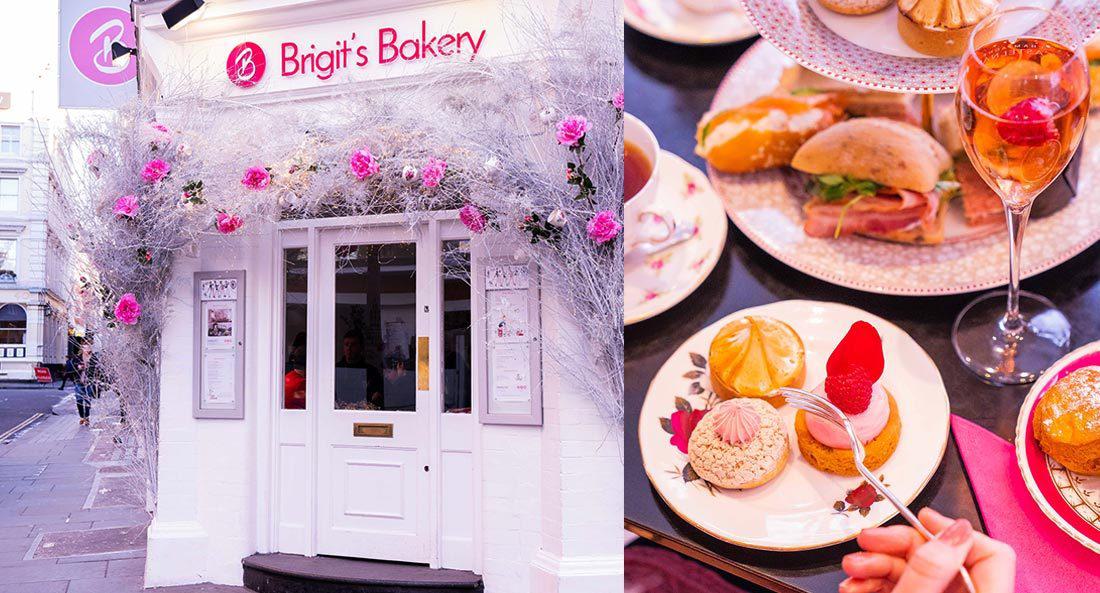 And let's not forget plain, freshly baked scones with clotted cream and jam and a selection of coffees or teas from Betjeman & Barton. You can, of course, add wine or a glass (or two) of bubbly, gin, or mulled wine (seasonal offer only).
And if you have any specific dietary requirements, fear not, as our French chefs (who are based under the arches of Bermondsey) have some fantastic recipes up their sleeve and can also offer variations on our Traditional Afternoon Tea and serve Halal, Vegan, Vegetarian, and Gluten-free menus.
So, will you be joining us?
Book your place at the Brigit's Bakery in Covent Garden.