Bombay Sapphire Afternoon Tea Bus Launch
Are you a gin lover and looking for something fun to do an evening with friends or a loved one? Maybe celebrating a particular occasion? Then we've got some great news for you - the Bombay Sapphire Afternoon Tea Bus launch we've all been awaiting is finally here! So if you're ready to embark on the most exciting gin-infused adventure London has to offer, read on...
Why Bombay Sapphire Gin?
We are very excited to introduce this new partnership with Bombay. Why? Bombay Sapphire gin has earned a fantastic reputation for its ability to "defy convention and push boundaries in the name of creative self-expression." In other words, they harness the power of creativity with the aim to design a better, more sustainable future. They're on a mission to be the most sustainable global gin, and we couldn't be prouder to support their vision and values.
Crafted from a 1761 recipe, Bombay Sapphire gin is made by expertly balancing a unique blend of 10 hand-selected botanicals sourced from all over the world. All of their botanicals are now 100% sustainably sourced through a direct relationship with their suppliers. Environmentally, economically, and ethically, they are sustainable. In fact, the company is committed to promoting sustainability throughout its supply chain by directly supporting suppliers, farmers, and local communities with the goal of improving their well-being and investing in sustainable practices for the future. We love how they do this by utilising creativity and collaboration.
Also, as a fun fact, did you know that every bottle of Bombay Sapphire gin is 100% recyclable and made from 1/3 recycled glass? We think that's really cool.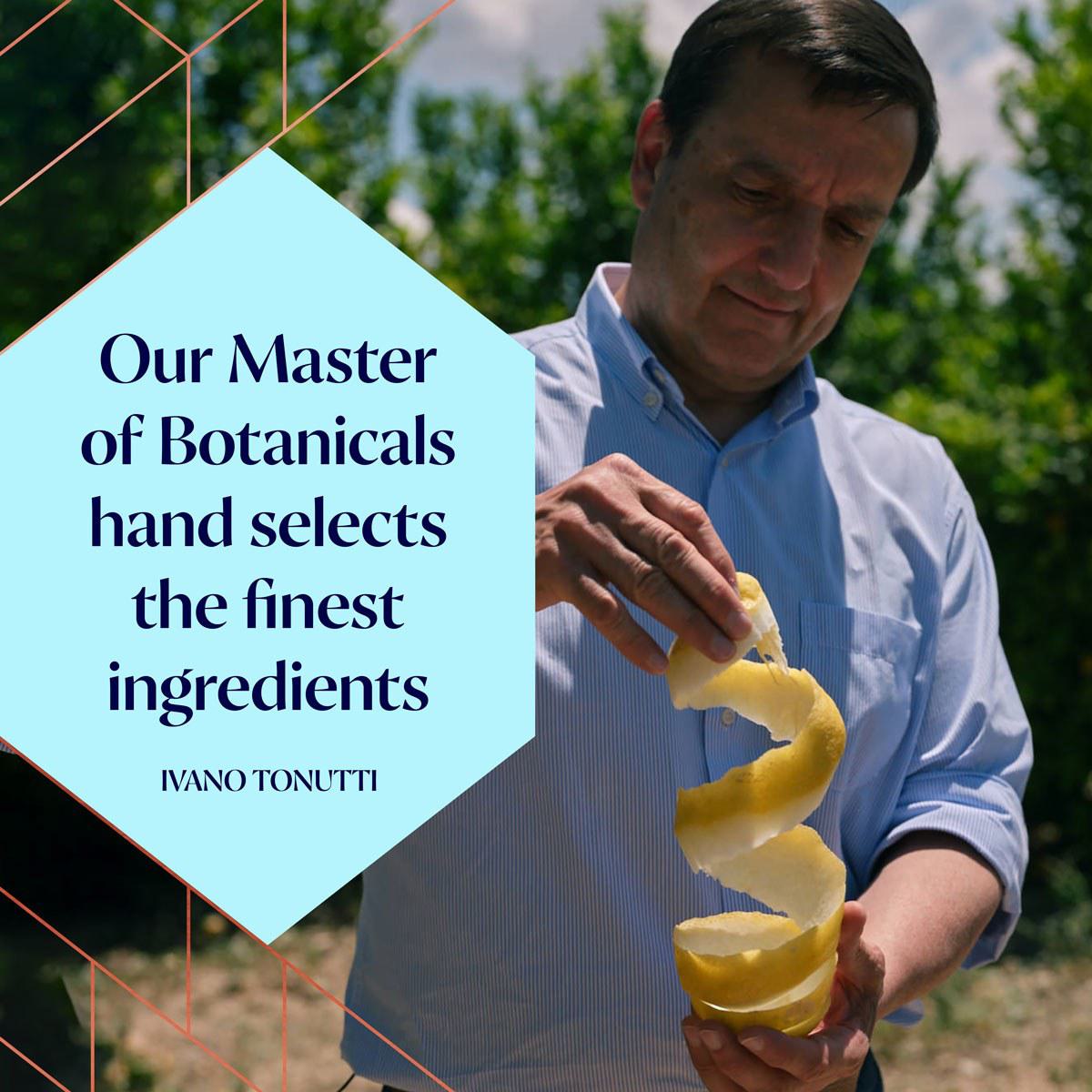 More about Bombay Sapphire Gin
But there's more! The Bombay Sapphire distillery at Laverstoke Mill has won a prestigious BREEAM sustainability award for its design. And it's also the home of the signature Vapour Infusion process, where the natural flavours of the botanicals are skilfully captured, resulting in the fresh and vibrant taste that's synonymous with Bombay Sapphire Gin.
If you haven't taken a trip to Hampshire (home of Bombay Sapphire), you should consider a distillery tour. And if you like gin and haven't yet tried this iconic London Dry Gin you're missing out! The distillation through their signature Vapour Infusion process combined with the use of 100% sustainable, hand-selected botanicals gives this drink a fresh and vibrant taste. We're talking bright citrus notes with a lively juniper character and ending with a lingering spice and elegant finish. Can you think of anything better?
For more information about Bombay Sapphire Gin and cocktail recipes, please visit: www.bombaysapphire.com
So let's talk about our partnership with Bombay Sapphire, and the fantastic experience we have brewed for you...
The Bombay Sapphire Afternoon Tea Bus Tour
We couldn't be more excited to launch a new version of our Gin Lovers Afternoon Tea Sightseeing Bus Tour in partnership with Bombay Sapphire. This mouthwatering afternoon tea with a ginny twist is a 90-minute, one-of-a-kind journey across the streets of London. The tour combines our French take on the afternoon tea with classic and creatively flavoured G&Ts and gin-infused cakes. And this all happens aboard one of our vintage Routemaster signature buses – an experience that's totally unique in its kind. And one you don't want to miss!
Our trusted drivers and lovely staff will look after you as we take a tour of the City's most renowned landmarks. All you have to do is sit back and relax, capture memories, and indulge in our tantalising delights.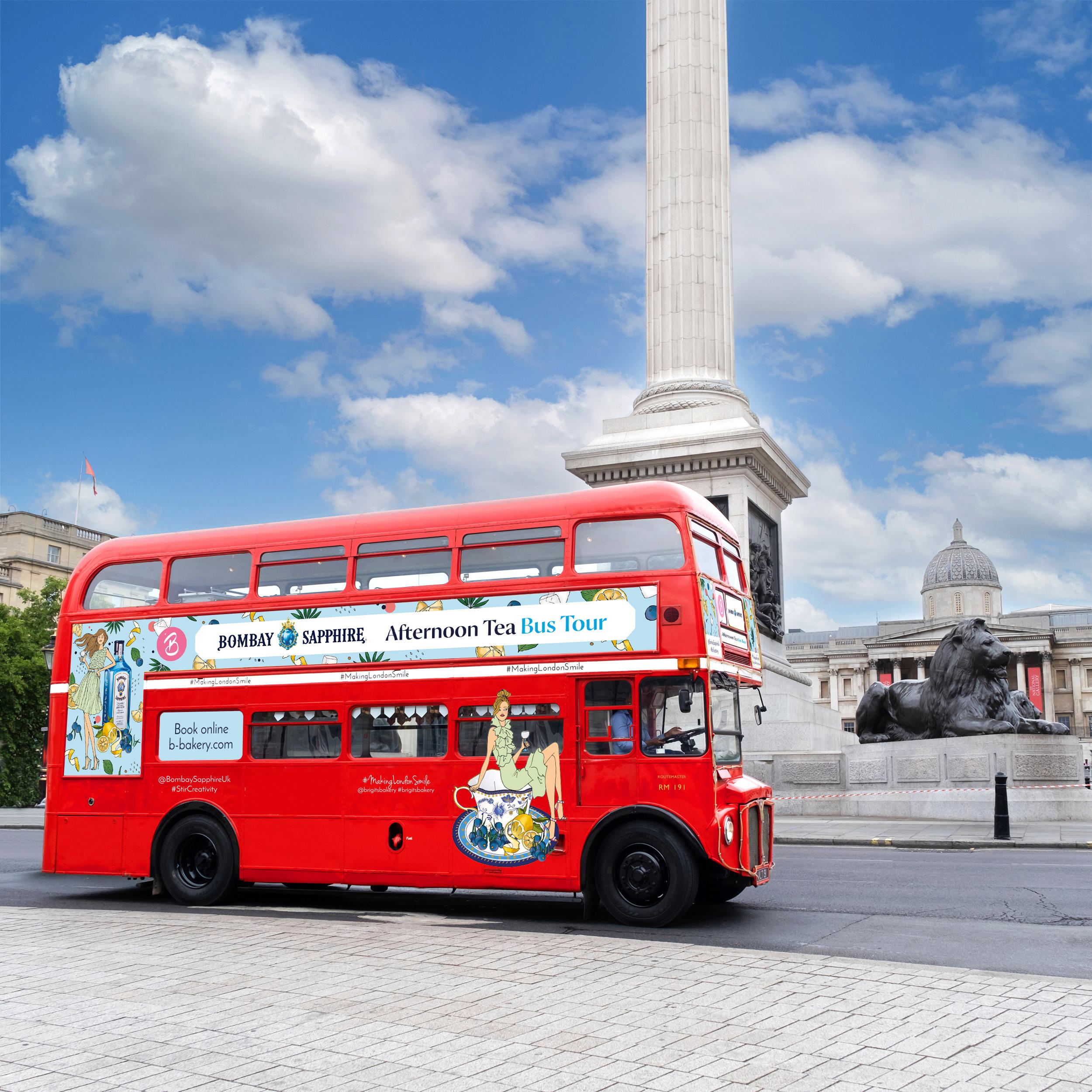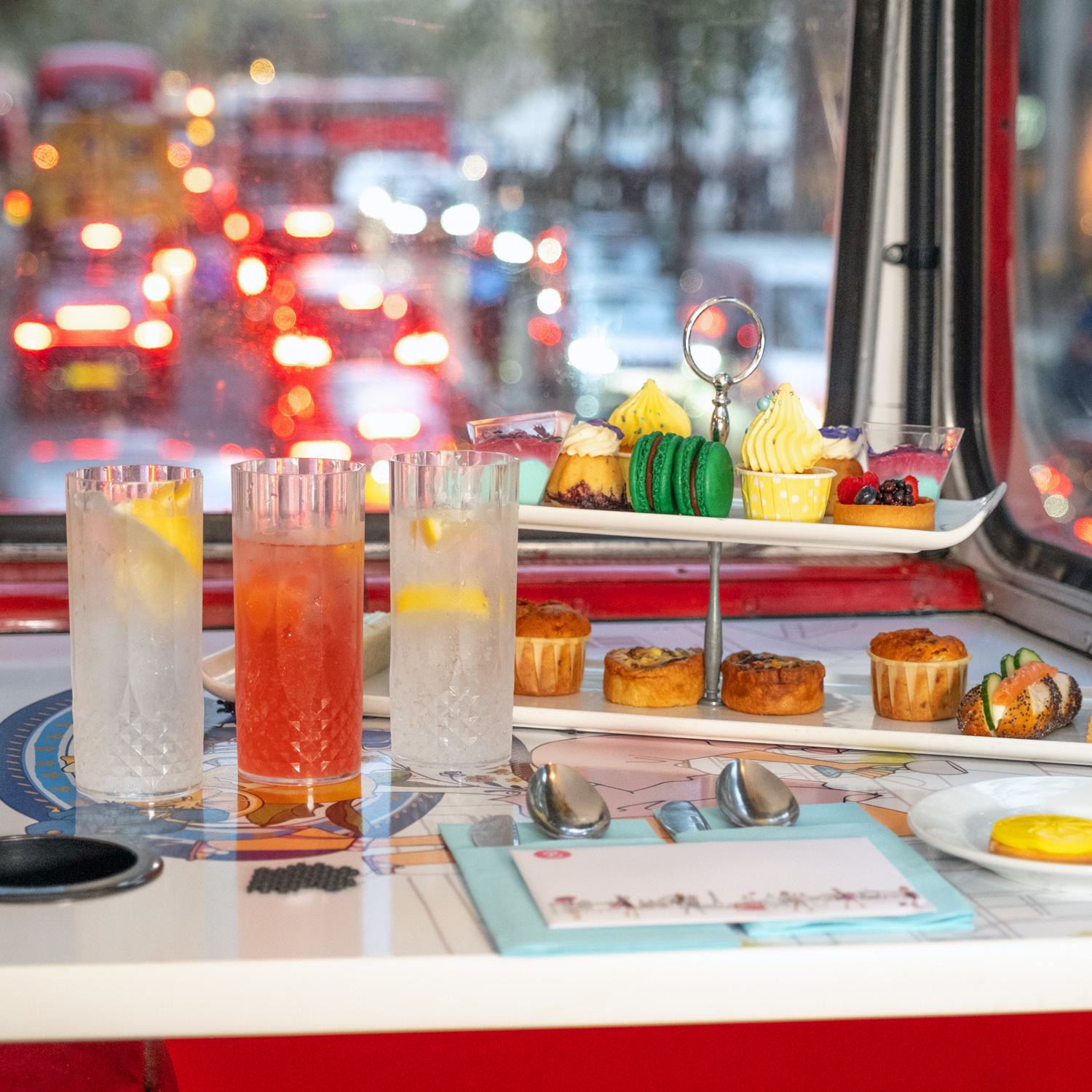 The Bombay Sapphire G&T menu
Speaking of which, let us introduce you to our Bombay Sapphire gin cocktails:
Sapphire & Tonic. This is our signature G&T served with a lime wedge. It's dry, crisp, thirst-quenching, and fruity.
Bramble & Ginger. The botanical notes of Bombay Bramble pair perfectly with the tang of ginger to create a refreshing, slightly sweeter taste.
Citron Pressé & Tonic. This is a light and refreshing G&T with a lemon twist, served in a highball glass over cubed ice.
Have you booked your seat yet?
Hold on. There's more. We also have Bombay Sapphire-infused cakes and tarts (yes, you read that right). Here they are:
Bombay Sapphire Lemon Cupcake topped with gin-infused cream.
Bombay Bramble Mixed Berry Tart with gin-infused cream.
Bombay Sapphire & White Chocolate Whipped Ganache Verrine with gin-infused lime jelly.
Blueberry & Lemon Budnt Cake filled with gin-infused lemon curd & cream.
Lemon Slice Shortbread Cookie.
And it goes without saying that you'll also be able to enjoy our freshly prepared savouries, our warm blueberry scone with clotted cream and jam, and a selection of loose-leaf teas, coffees, or hot chocolate.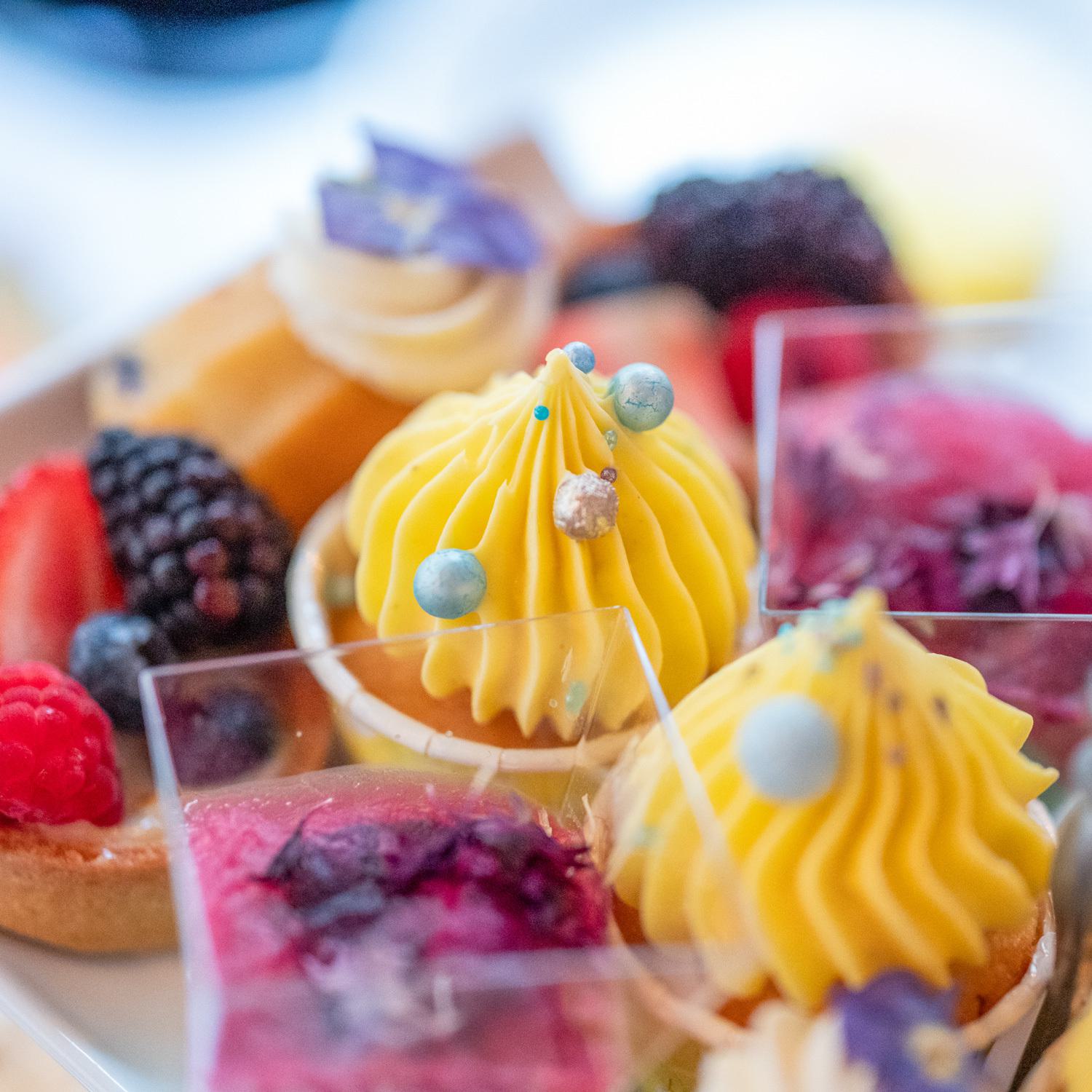 Book your Bombay Sapphire Afternoon Tea Bus Tour
Are you ready to make this Gin Lovers Afternoon Tea Bus Tour your ultimate sensory treat while soaking in London's beauty? Whether it's for a special birthday celebration, a delightful family outing, or an enjoyable girls' night out, this experience is tailor-made for unrestrained fun and unforgettable moments. Drinking responsibly (and sustainably) has definitely never been this thrilling!
For adults only (18+), the Gin Lovers Afternoon Tea Sightseeing Bus Tour runs every Friday and Saturday (plus the occasional Thursday) at 17:30 and 18:30 and departs from Victoria Coach Station or Trafalgar Square, No.8 Northumberland Avenue. We run a recorded guide commentary on all our buses, and our friendly staff will be on hand to answer any questions or accommodate your individual requests. Places are limited, so if you are looking to jump on a tour, especially on holidays and selected weekdays, we recommend booking tickets in advance.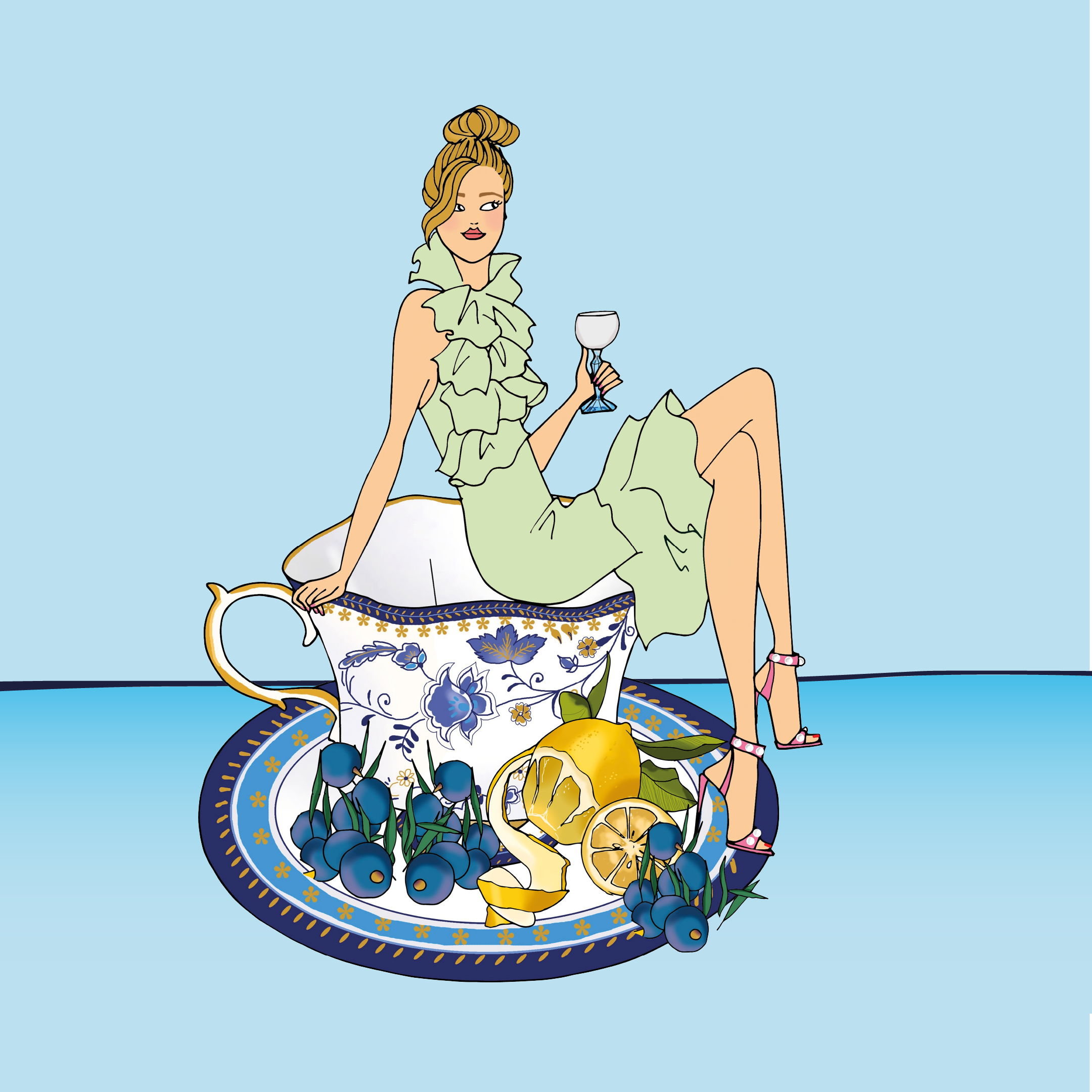 Bombay Sapphire Gin at the Brigit's Bakery in Covent Garden
Did you know you can also sample Bombay Sapphire gin at our bakery in Chandos Place? Situated in the heart of Covent Garden you can enjoy our afternoon tea menu (Traditional, Vegetarian, Vegan, Halal, and Gluten-free) as well as other artisanal pastries and delicious treats created by our experienced chefs. You can opt for afternoon tea with a glass of Prosecco, Champagne, or Bombay Sapphire gin cocktail, or go for our bottomless options.
From our famous macarons to our freshly baked cakes, you'll find a wide array of delectable delights to tempt your taste buds. Come visit our charming bakery and immerse yourself in a delightful atmosphere that combines the rich heritage and finesse of French baking with a touch of London flair. Whether you're looking for a quick cup of tea or coffee or a sumptuous afternoon tea (with a Bombay Sapphire gin cocktail or two thrown in), Brigit's Bakery in Covent Garden is the ultimate destination for all lovers of sweet and savoury treats (and sustainable gin!).
So, are you as excited about our Bombay Sapphire Afternoon Tea Bus Launch as we are?