Corporate Events London: the launch of Godiva's "Wonderful City Dreams"
Godiva chooses B Bakery Bus Tours for their private corporate event.
And just look at how beautiful our bus, Leopold, looked on the day…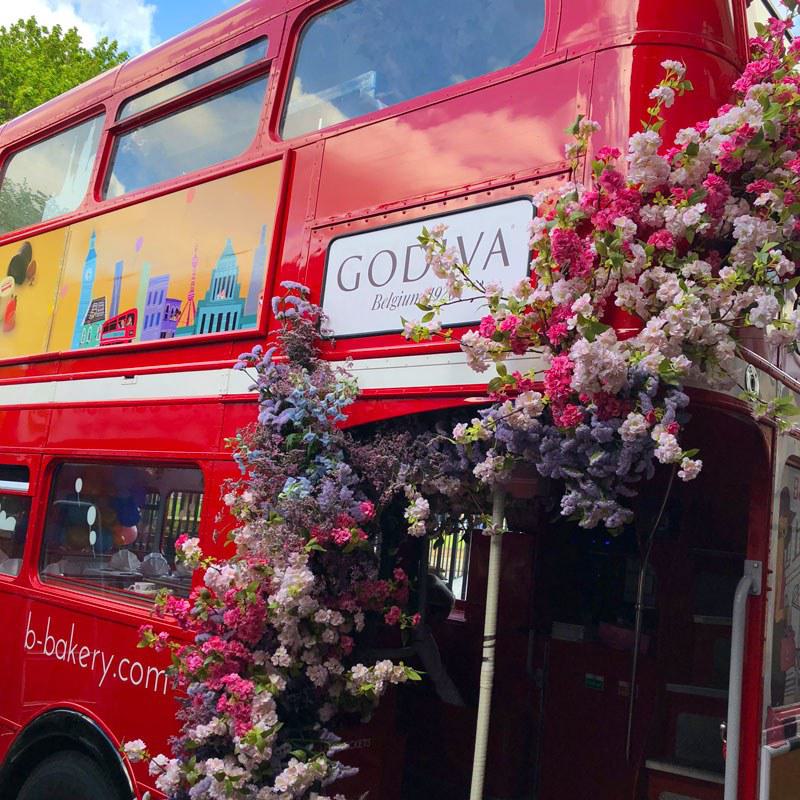 PRIVATE CORPORATE EVENTS LONDON: GODIVA
A few afternoons ago, Godiva Chocolatier hired one of our ten B Bakery Routemaster buses. The aim was to promote their new chocolate collection: Wonderful City Dreams
With this intention, the bus was branded with stunning Godiva promotional panels, created by Godiva's design team. The entrance to the classic Routemaster bus was adorned with beautiful summer flowers. This created a striking feature that turned heads throughout London, as the bus drove around with Press, Media and Influencers on-board. The guests were invited on-board to discover and sample the products with Godiva's Head Chef. On its route, the bus stopped in front of the Godiva shop in London for some extra promotion and photo opportunities.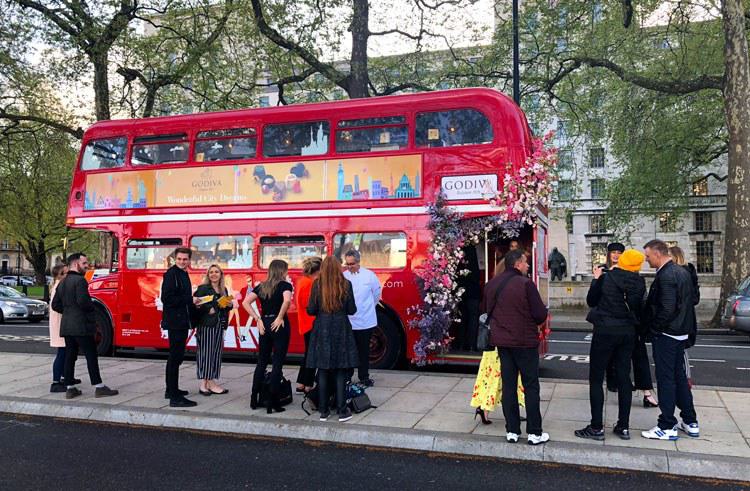 We created a bespoke menu especially for the event to replicate the international origins of their new collection: Wonderful City Dreams. Celebrating London, New York, Shanghai, Tokyo and Brussels, the Godiva chefs captured the sights, scents, tastes and sounds of the city they each call home. Using premium Belgian chocolate and gorgeous ingredients, the chefs created a multi-layered chocolate experience as inspiring as the cities themselves. The divine 'London' chocolate boasts a strawberry ganache and a chocolate mousse flavoured with a hint of violet in a white chocolate case and of course features a red London bus on the top!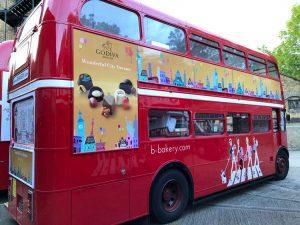 ---
Are you looking for an event space in London?
B Bakery offers unique event venues including Brigit's Bakery in Covent Garden, Thames Cruise Afternoon Tea and B Bakery Bus Tours. This year our Bus Tours have proved very popular for corporate events in London.
Private Corporate Event Bus Rental
If you're looking for unique types of venues for events, then B Bakery Bus Tour certainly fits the brief! Why have one event location when you can have multiple corporate event locations! The B Bus drives around central London – on a route that can be specified by you. You can stop at chosen destinations – outside your shop, cinema or restaurant for example. The bus can hold up to 44 people, so plenty of room for a fun corporate event. Invite PR & Influencers on-board and spoil them with this unique corporate experience. Also, you can brand the outside of our bus to advertise your product or campaign – consequently creating a buzz through the streets of London.
If you need more than one bus for your corporate event wow factor, that's ok! B Bakery has nine classic Routemaster buses in total. Whilst some of these need to be kept busy on our Afternoon Tea Bus Tours and Gin Lovers Bus Tours, we can hire out up to six buses for our corporate event hire London.


Furthermore, you can choose your corporate event theme and ideas. Our team at B Bakery will do their best to make it all happen! From bespoke menu options to specific internal and external decoration, the bus can be themed exactly to your requirements. Creating an eye-catching look and feel will make people notice and photograph whilst driving around town. Our corporate bookings team can certainly help you come up with ideas if you're not sure what could work. For example, try using all the senses to create maximum impact.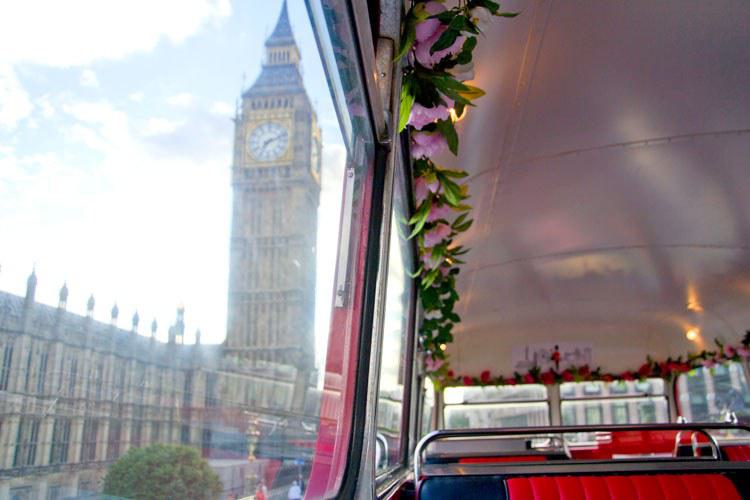 So, let's make B Bus Tours one of the best corporate event trends for 2019!
Corporate Events London
B Bakery offers alternative corporate event ideas in London. Find out more about our Corporate Events London options or Bus Hire options on the following pages:
OR ALTERNATIVELY, JUST PICK UP THE PHONE AND GIVE US A CALL – ONE OF OUR CORPORATE TEAM CAN HELP YOU PLAN YOUR PERFECT QUIRKY CORPORATE EVENT! 020 3026 1188
Examples of more Corporate Events and Products Launches organised on Brigit's Bakery's Buses:
If you are looking to organise an event in Bath rather than London, then check out our Venue hire in Bath!