Kids Afternoon Tea in London
Are you on the hunt for the best kids afternoon tea in London? Then you're in the right place. Brigit's Bakery is the go-to destination for an unforgettable culinary adventure. If you think afternoon tea is an adults-only affair, you really need to think again. Because we have a range of children's afternoon teas and themed tours that will ensure your little ones have just as much fun as you (if not more!)
Don't believe us? Then take a chance on us. As you buckle up and embark on a delightful journey through the iconic streets of London (while enjoying scrumptious treats fit for royalty, may we add), you'll see just how perfectly we combine the elegance of afternoon tea with the excitement of exploring the city on our iconic double-decker buses and in the company of some epic, beloved children's characters.
Ready to find out more about our children's tours?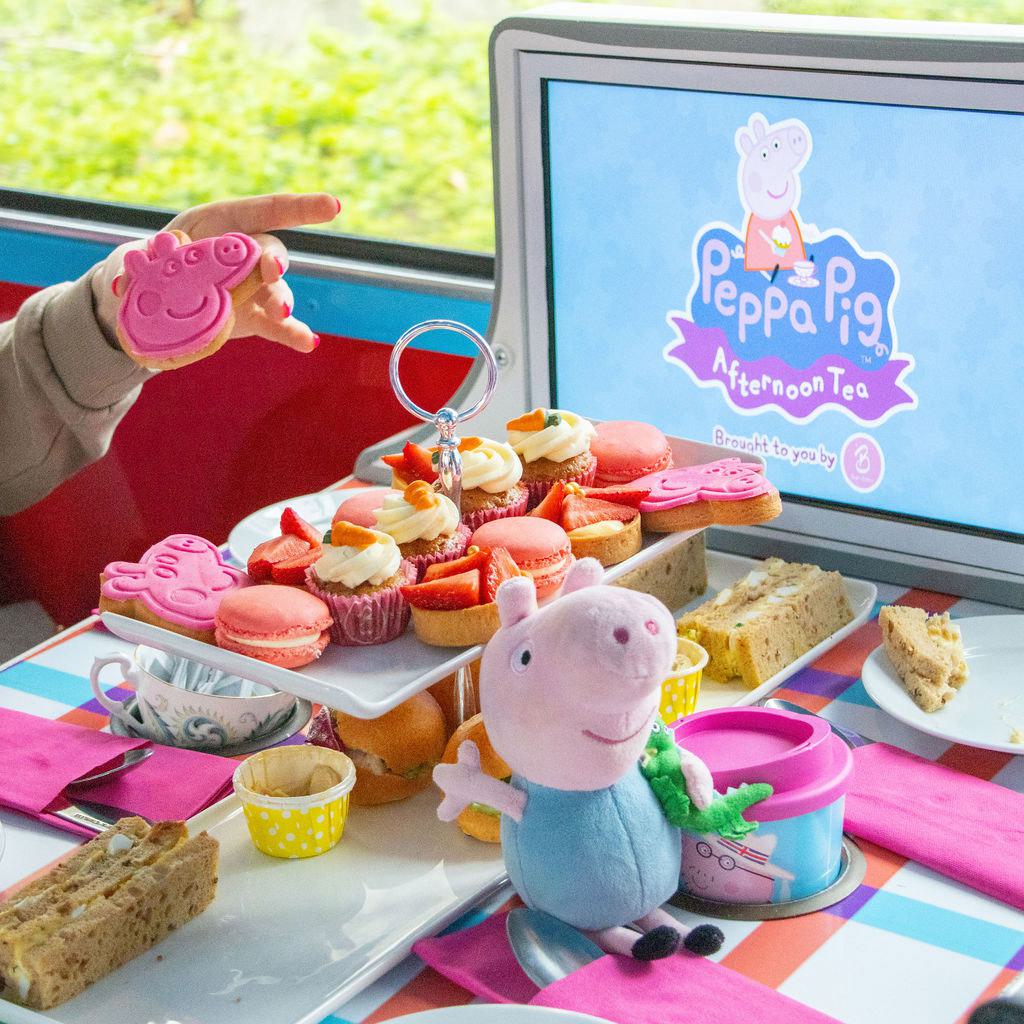 The Peppa Pig Afternoon Tea Bus Tour
Known affectionately as 'my first-afternoon tea', our Peppa Pig-themed Afternoon Tea Bus Tour is perfect for children aged 2+. And it's a fantastic family-friendly activity to do in London. Jump on our fully branded double-decker buses, and you'll get to enjoy an afternoon tea with a twist.
Our menu is fun-filled and features a selection of fantastic treats specially designed for children and named after the most well-known Peppa Pig characters. Can you believe this is a little sample of what you can expect on your afternoon tea menu?
You'll have:
Grandpa Pig's Chicken & Tomato burger bun.
Madame Gazelle's Veggie Crudité & Breadsticks with hummus.
Daddy Pig's Pizza mini margherita.
Peppa Pig's Cookie Shortbread.
Suzy Sheep's Chocolate Truffle Sprinkled with confetti.
And a lot more!
Fun, right? We know you won't find this anywhere else, so prepare your taste buds for a delightful experience and be ready for the excited screams from your little people!
Fun for children on the Peppa Pig Afternoon Tea Bus Tour
But the fun doesn't stop at the food. We also provide entertainment for the whole family as each table is equipped with a special built-in tablet that offers a guided Peppa Pig animation of the London tour - complete with sing-along songs. As a special gift, every child also receives a copy of our Peppa Pig Afternoon Tea Bus Tour Activity Book (filled with coloring pages and fun activities) and your own branded travel mug.
As we do on all our bus tours, we also offer alternative menus to accommodate various dietary requirements, including Vegetarian, Vegan, Halal, and Gluten-free options. To learn more about these menus and reserve your table, head over to this page.
Please note that the Peppa Pig Afternoon Tea Bus Tour runs every week from Thursdays to Sundays. Departing from Somerset House, we have two to three departures each day. So are you ready to bring your little ones along for a treat-filled adventure?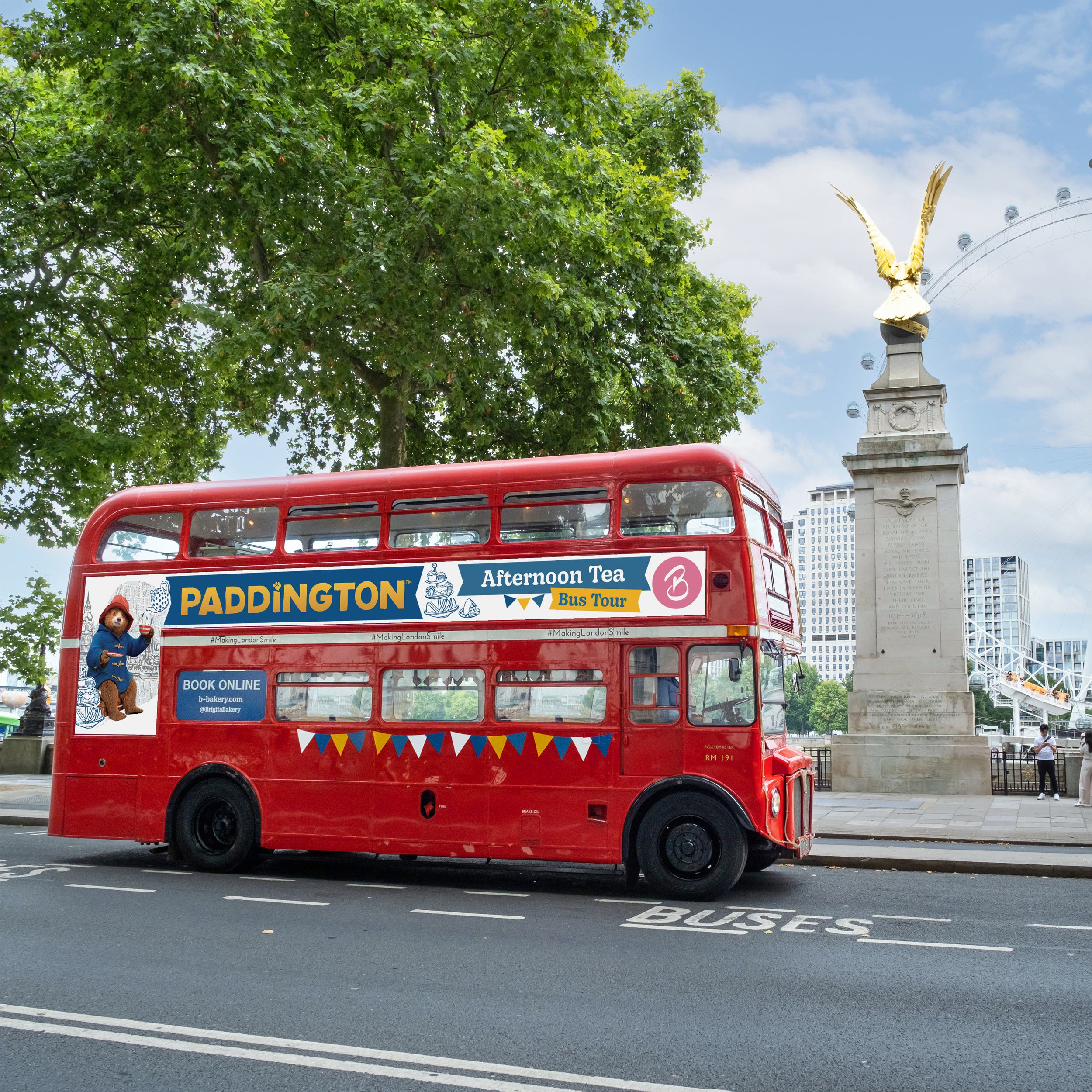 The Paddington Afternoon Tea Bus Tour
How does this sound? A stunning, charming Paddington Bear-branded double-decker bus winding its way through the bustling streets of London and capturing the attention of children and adults alike. Ever seen one of those? Well, they exist. And that's our Paddington Afternoon Tea Bus Tour - a nostalgic journey that will warm your heart and a unique experience where you can enjoy traditional afternoon tea on a bus tour inspired by the adorable Peruvian bear from Darkest Peru.
Our Paddington tours are available weekly from Wednesdays to Sundays and depart twice a day from Trafalgar Square. For the occasion, our talented chefs have curated a finger-licking Paddington-themed afternoon tea menu, complete with the best marmalade sandwich you've ever tasted. Because... did you expect any less?
So as you get whisked away through the streets of Central London on this 90-minute tour, you'll be able to enjoy:
Turkey Ham and cheddar Finger Sandwich (on tomato bread).
Cream Cheese and Cucumber Finger Sandwich (on spinach bread).
Mini Margarita Pizza.
Smoked Salmon and Cucumber Pretzel.
The Best Marmalade Finger Sandwich Ever! (on white bread)
And some fantastic homemade sweet treats, followed by freshly baked scones with marmalade or jam.
Entertainment on the Paddington Afternoon Tea Bus Tour
As you take in the breathtaking views and iconic landmarks, listen closely as we share the stories of Paddington's fun adventures and mishaps while passing by famous sites such as Big Ben, The Houses of Parliament, Westminster Abbey, Hyde Park, and many more. To enhance your experience, each table comes equipped with a special built-in screen that features a Paddington-guided animation tour of London narrated by Paddington and the famous Mrs Bird themselves! There's also an entertainer onboard who interacts with guests, playing games, asking questions and generally bringing joy and a smile to all!
With a range of menus catering to all dietary requirements, including Traditional, Vegetarian, Vegan, Halal, and Gluten-free, we have something for everyone. While our Paddington Tours are best enjoyed by children aged 5 years and above due to the tour's duration and the absence of onboard toilets, the whole family is welcome to join us for this unforgettable experience. For more information, booking, and menus, click here.
Grinch Kids Afternoon Tea Bus Tour
Another favourite among grown-ups and children alike is our Grinchmas Afternoon Tea Bus Tour, which will be running for a limited time during the Christmas period - for dates and booking, keep an eye on our Grinchmas Bus Tour page. This extraordinary tour offers an enchanting journey not to be missed.
As you embark on this festive adventure, you'll also get to marvel at the magnificent Regent Street lights and behold the beauty of London's most renowned landmarks. From the striking Big Ben to the majestic Houses of Parliament and even the historic Westminster Abbey, the sights are captivating, especially after dark.
Avid Grinch fans (adults and children alike) will be able to enjoy our extraordinary green-themed menu, as always, skilfully crafted by our talented chefs. Feeding your inner Grinch, our afternoon tea menu in previous years featured delights such as the tantalizing 'Pucker up & eat it!' Spinach Quiche, along with the delectable 'I hate Xmas' Chocolate Cupcake. And of course, we had lots of other festive treats. Trust us when we say that the fusion of flavours is bound to leave you wanting more!
You don't have to bring your children (we won't tell if you don't), but if you decide to have little people at your table, please remember that the tour is suitable for ages 5+.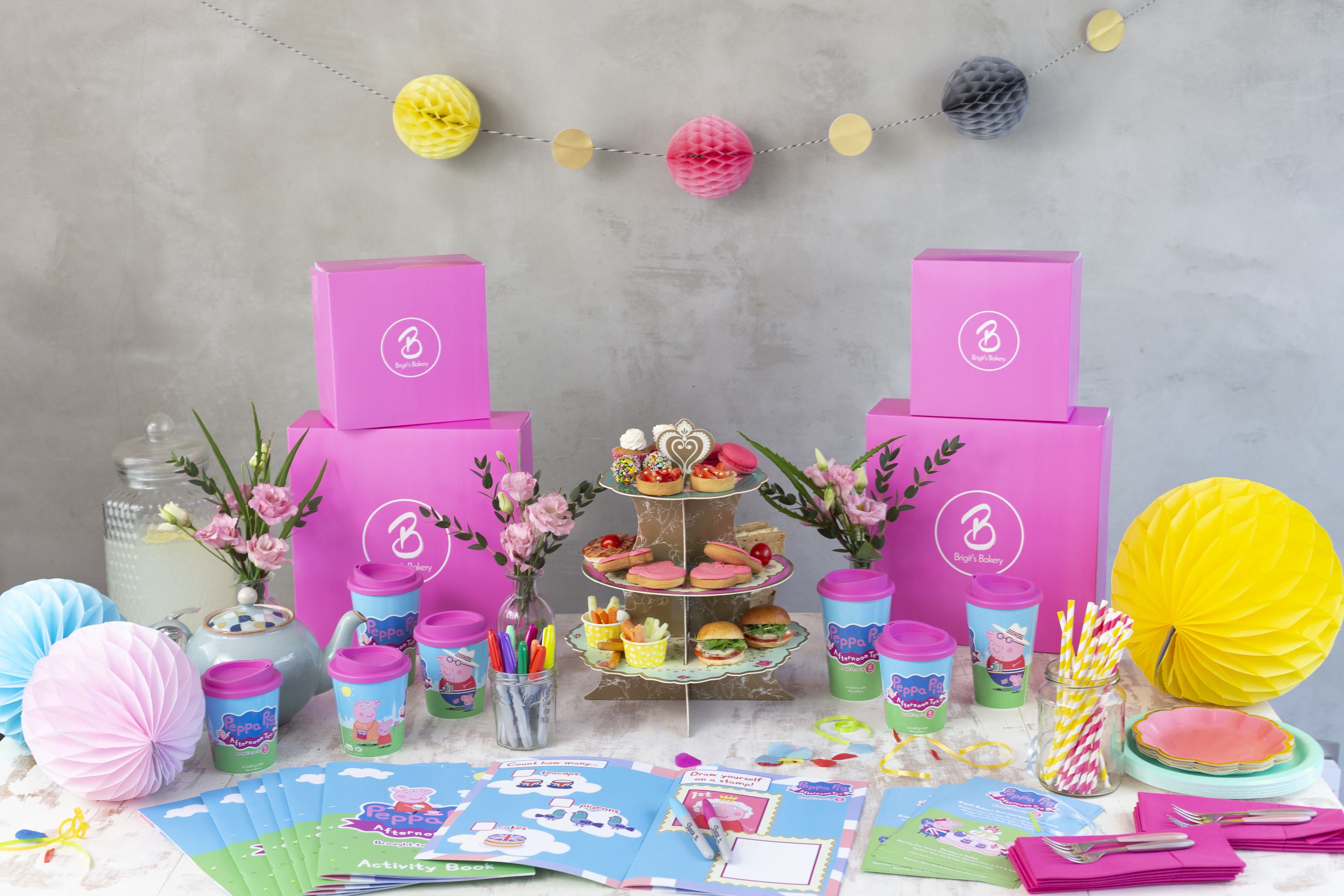 Children's afternoon teas delivered to your door
And if a bus tour isn't for you, when it comes to afternoon teas in London, we also offer the option to have some of our themed afternoon tea options delivered to your door. If you're arranging a party at home, catering for a larger number of children, or simply would like us to bring the Brigit's Bakery experience to you, just let us take care of things! As well as our standard Afternoon Tea (perfect for grown-ups), we can also bring the Peppa Pig or Paddington afternoon teas to you.
You'll have the full traditional afternoon tea experience with a touch of Brigit's Bakery flair. So as always, you can enjoy freshly prepared sandwiches, homemade plain scones served with clotted cream and strawberry jam, along with an assortment of to-die-for mini cakes and tarts. And the icing on the cake? You'll also receive branded (Peppa Pig or Paddington) mugs and an activity book included in the price! What's there not to love?
If you're interested in our afternoon tea delivery service, all we need is 24 hours' notice. And don't worry about any dietary restrictions or specific requirements - our Vegetarian, Vegan, Gluten-free, and Halal options are also available. When booking, please specify your preferences - it's as simple as that.
Please note that we kindly ask for a minimum booking of 4 people, but groups of over 10 people enjoy a 10% discount. Delivery fees vary based on location, so if you're ready to make a booking, fill in the form on this page, and we'll give you a call to confirm the details. Alternatively, you can reach us on 020 3026 1188.
As you can see, afternoon teas in London can be fun and entertaining. So which option will you choose?