Launch party: Brigit's Bakery and Revolve's London Launch
REVOLVE UK LONDON LAUNCH PARTY
REVOLVE, the US e-tailer equivalent to our ASOS, launched in the UK this summer. And they started their media launch event by hiring a Brigit's Bakery Bus, as an event space in London.
We fully branded one of our Routemaster buses with REVOLVE and made to look stunningly beautiful with flowers adorning the bus entrance. Also, we decorated the inside of the bus with flowers and filled the tables with delicious afternoon teas for the girls to enjoy whilst modelling REVOLVE floral outfits. The bus started its press trip at the London Eye and arrived at Buckingham Palace to a flurry of girls, press and hype. The ideal media event for a new product launch. The Routemaster Bus, as always, created quite a stir, with tourists and Londoners taking photos as it drove through the streets of London.
Spotted the cutest double-decker bus decorated with all fresh flowers parked right across from the London eye, the most eye catching bus along the river side! Although it was drizzling a little on the day, but everyone couldn't stop to take photos with such a pretty iconic bus. Inside the bus, it was set up with all the gorgeous tea sets, which made every single corner so instagrammable. It was so lucky that the rain stopped when we reached the Buckingham Palace. Among the crowds outside the Buckingham Palace, there was moment I couldn't tell the flashlights were for us or for the palace. The tourists got excited with the income group of beautiful girls dressed up with lots of matching sets.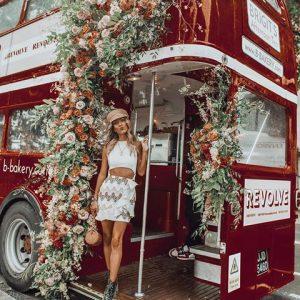 Launch Party Ideas
If you need to organise a launch party celebration in London for an overseas product, then look no further … Brigit's Bakery Bus is the ideal promotional experience to launch your brand. Our team will help you come up with unforgettable ideas for a launch party.
When should I plan my startup launch party?
At Brigit's Bakery, we ideally need 3-4 weeks notice to plan your product or new service launch. You can call our team to discuss launch event ideas, be if for a pre-launch party, app launch party, online store launch party, start-up launch party, press launch, any kind of product or service launch event really. We can brand and decorate the bus entirely for your event. Also, we can design and produce a bespoke menu. We can discuss and adjust your route according to your requirements. It's really simple to create a brilliant, creative launch with the Brigit's Bakery team.
Check out more about our packages and prices on these pages on our website:
What's a good startup launch party for entering a new city?
Well, the obvious answer here for best launch party venues in London is B Bakery!! Hiring one of our B Buses is a cost-effective way to get great coverage of your brand and event.
Who to invite to your event …
Influencers and press are important people to invite to your product launch venue. And, of course, any fans or followers you may have. Let them know when the tour event will be happening and ask them to meet you as certain destinations. You could even create a competition so that one of your followers/customers could win a trip on the bus during the press launch. B Bakery is one of the best event spaces you could hire in London at the moment.
Successful new product launch examples on Brigit's Bakery Bus: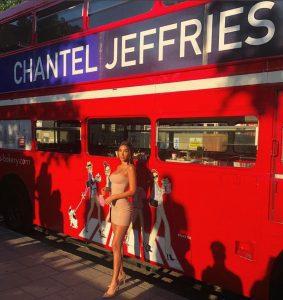 If you want to organise your perfect event in Bath, instead, check out our Venue hire in Bath!