Paddington Afternoon Tea Bus Tour - Launching Autumn 2022
Are you looking for something unique and entertaining to give the little (and not so little) people in your family an unforgettable experience? Then we have some great news for you. Our Paddington Afternoon Tea Bus Tour is launching in Autumn 2022. And when it comes to London bus tours, it's definitely one you don't want to miss. Fun and entertaining, this is your chance to see London through the eyes of the most adorable bear on the planet!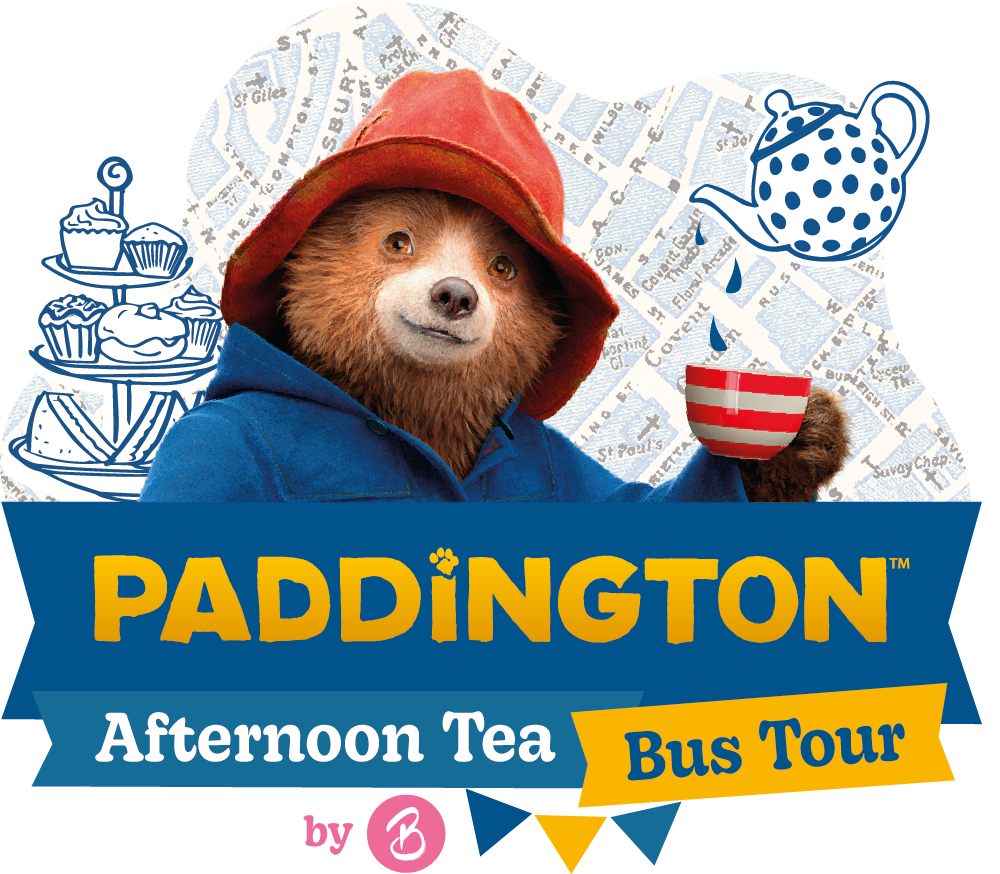 The Brigit's Bakery Paddington Afternoon Tea Bus Tour
Back in November 2017, following the launch of the world-famous film Paddington 2, we ran our first Paddington Afternoon Tea Bus Tour. With a menu specially created by our expert chefs (and a suitcase of marmalade sandwiches), this bear-tastic bus tour only ran for two weeks. So due to popular demand, we are pleased to bring you a brand new Paddington-themed afternoon tea bus tour. It comes with a fresh, paw-licking menu and marmalade in spades!
The Paddington bus tour is perfect for families - we welcome children (aged 5+) and adults alike. It's available weekly from Wednesdays to Sundays with tours departing two times a day (at 3:45 and 17:30) from Trafalgar Square. The tour will last approximately 1 hour and 45 minutes (depending on traffic). Please check our website for the latest information on times and departure locations, and to book your place.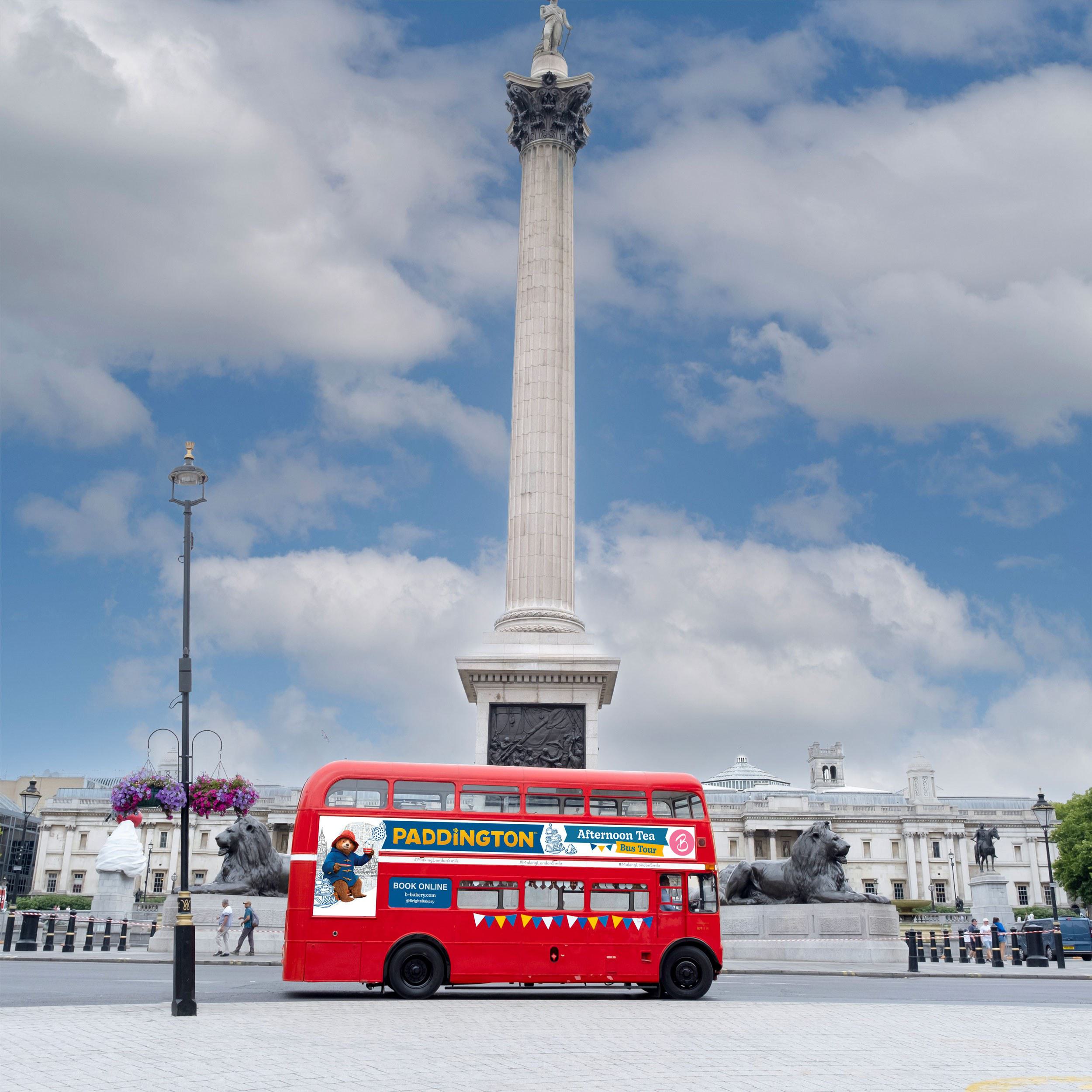 See London through the eyes of Paddington!
Paddington and Mrs Bird will be telling you all about some of the City's most famous landmarks and share our beloved bear's view of the world. The tour will drive past some of Paddington's favourite landmarks, including Big Ben, The Houses of Parliament, Westminster Abbey, Hyde Park, Nelson's Column, St Paul's Cathedral, Green Park, Piccadilly Circus, and many more. Are you ready to find out more about Paddington and his adventures? We promise mentions of Aunt Lucy, Uncle Pastuzo, the Browns, and, of course, Mr. Gruber. And if anyone isn't on their best behaviour, they can fully expect to receive a hard stare!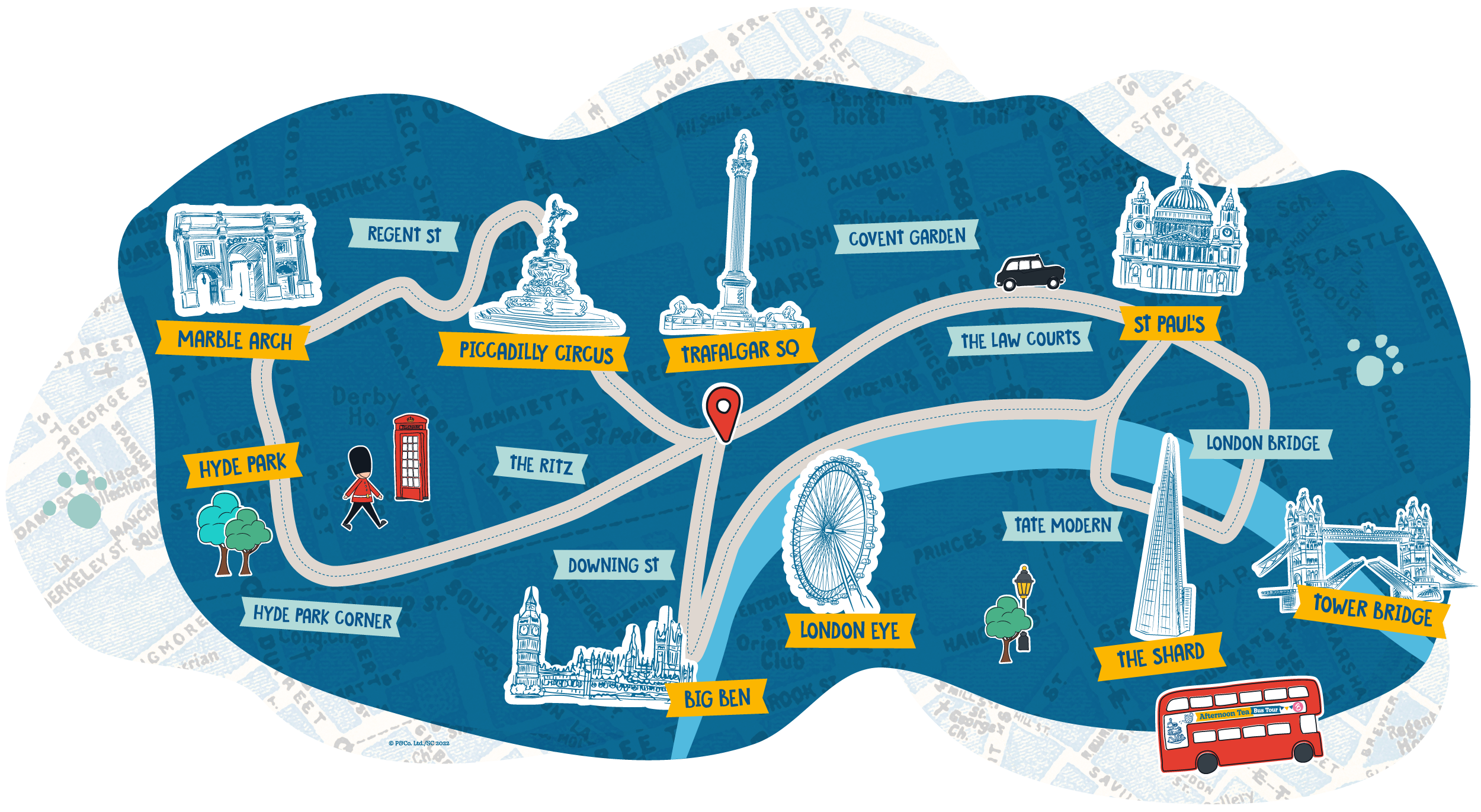 But there's more! Each table comes with a special built-in screen providing guests with a Paddington-guided animation of the tour of London. We'll give you fun, interactive games for the whole family to enjoy. Because there's never a dull moment when Paddington is involved. Things always happen to him, don't they?
And, of course, we promise you'll be having the best marmalade sandwich ever! Because we all know that a wise bear always carries a marmalade sandwich (or two) in their suitcase. Or is it under their hat in case of emergency? Either way, we've got you covered - expect marmalade on your plate!
The Paddington Afternoon Tea Bus Tour menu
Here's an example of what you can look forward to enjoying onboard our tours taken from our Paddington-themed traditional afternoon tea menu.
Our freshly-prepared savoury treats include:
Turkey Ham and Cheddar Finger Sandwich (on tomato bread).
Cream Cheese and Cucumber Finger Sandwich (on spinach bread).
Mini Margarita Pizza.
Smoked Salmon and Cucumber Pretzel.
Best Marmalade Finger Sandwich Ever! (on white bread).
And when it comes to homemade sweet treats we have:
Shortbread Cookie.
Vanilla Rice Pudding.
Chocolate Cupcake.
Lemon Meringue Tart.
Chocolate Macaron.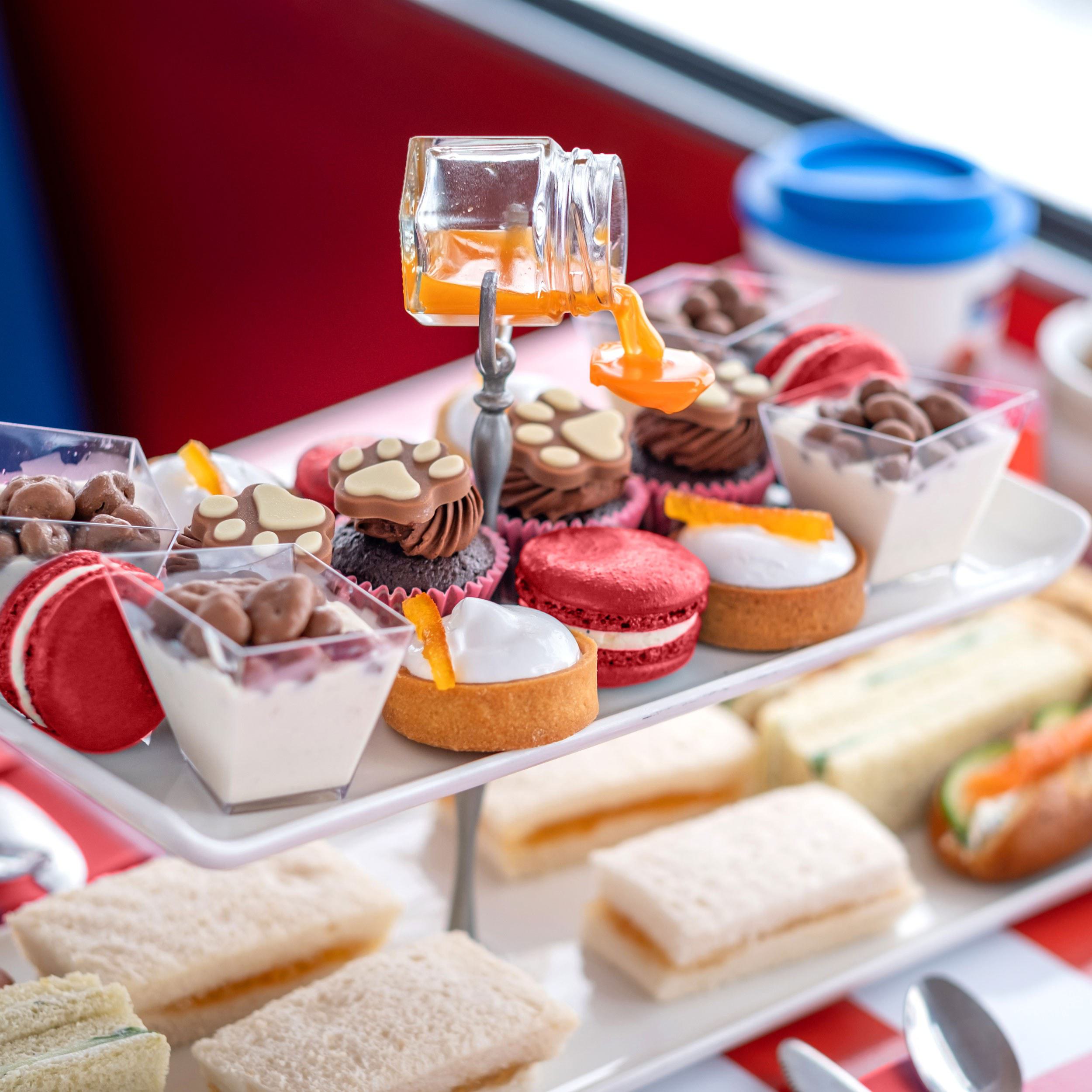 And of course, to complete our afternoon tea, we have freshly baked, plain scones with clotted cream and jam and a wide selection of hot drinks for you to choose from. So will it be tea or coffee? Or maybe a lovely hot chocolate for the little ones? Of course, the grown-ups can enjoy a glass or two of Prosecco, too. But remember to pre-book your alcoholic beverages when booking your seats!
As with all our Afternoon Tea Bus Tours, we offer Traditional, Vegan, Vegetarian, Halal, and Gluten-free menus to cater to various dietary requirements and preferences. Please specify requirements upon reservation. All allergies must be emailed and confirmed by management at info@b-bakery.com.
Who is the Paddington Afternoon Tea Bus tour for?
Whether you're celebrating a birthday, a special occasion, or are simply looking for something fun and original to do with the children, we think you'll love this tour. You'll be experiencing London from a whole new perspective and see it through the eyes of our kind and a little chaotic adventurous bear.
Just so you know and so you can better plan your trip, this isn't a hop-on, hop-off service. All our guests board the bus at a set time from a designated location where we will return you at the end of the tour.
Because we have no toilets or changing facilities onboard (and due to the duration of the tour), we believe this experience is best suited and enjoyed by children aged 5 years and over. We request parents or guardians to be confident that the people in their party won't need to use toilet facilities for the duration of the trip.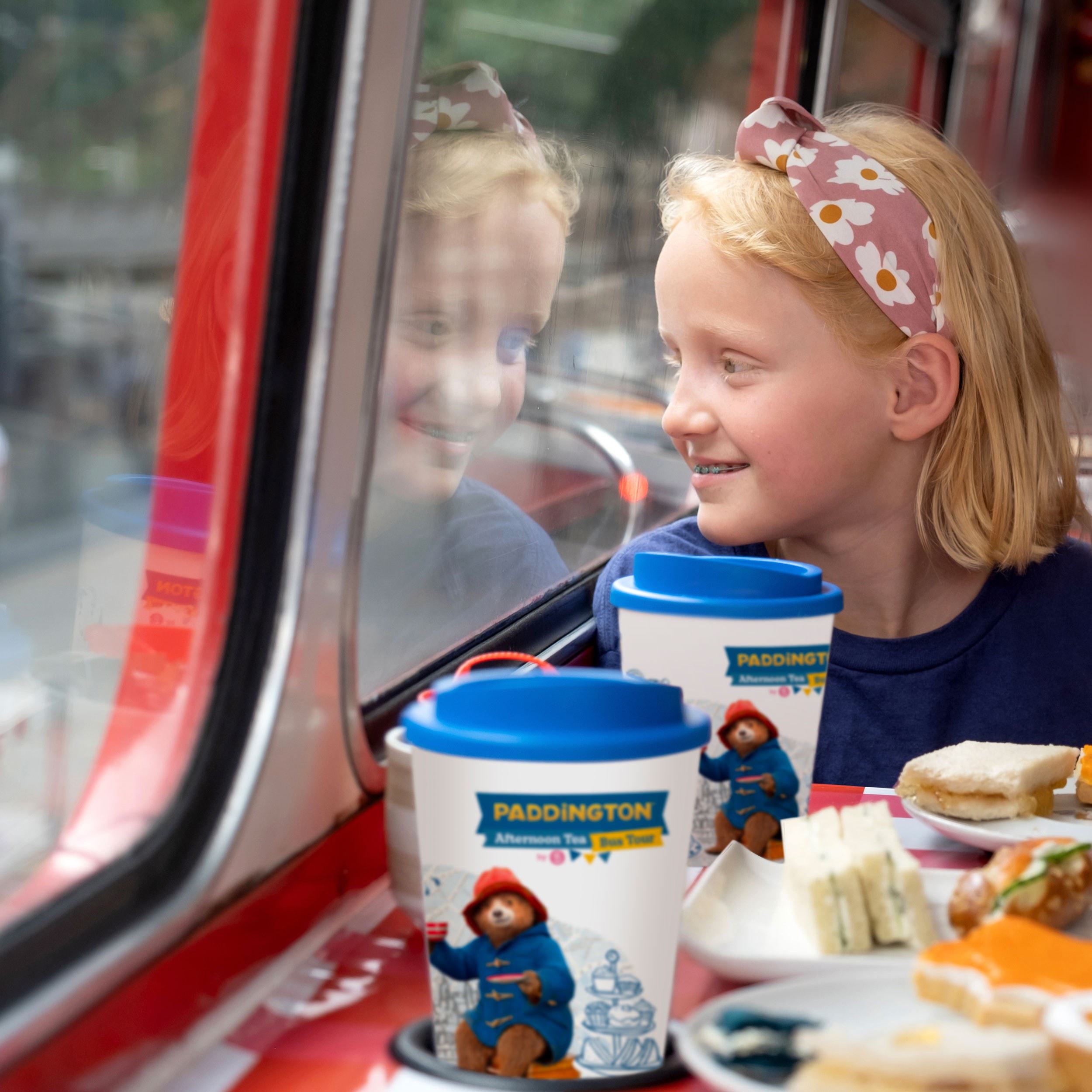 What our customers say about the Paddington Afternoon Tea Bus tour
We are always extremely grateful to our loyal customers for leaving us lovely reviews. And here's what someone had to say about our Paddington Afternoon Tea Bus tour back in 2017 when we first launched it in honour of the Paddington 2 premiere:
"Great birthday treat. My daughter booked this as a surprise birthday treat for four of us. She booked the upper deck front seats which gave us a fantastic view of all the sights on route. We were welcomed warmly on arrival and once everyone was seated, were given an overview of what to expect. The food was excellent. A nice selection of sandwiches/rolls with various flavours to enhance, delicious cakes, followed by a warmed scone with jam and cream.

As it was a Paddington special, we had the added bonus of some marmalade delicacies which were very tasty. Those people who were celebrating a birthday (of which I was one) were given an extra cake complete with candle and a small gift. It was an unexpected surprise. I love London at the best of times. But to enjoy it in this somewhat different way was a real delight and I would thoroughly recommend it for locals and tourists alike."
- Maureen M (November 2017).
We did tell you about the marmalade, didn't we? Just like on all other tours, when booking your seat, you can choose to sit on the top deck. Or you can pick our VIP seats, which are located at the front of the bus, on the top deck. You're guaranteed to get the best, undisturbed view of London from there!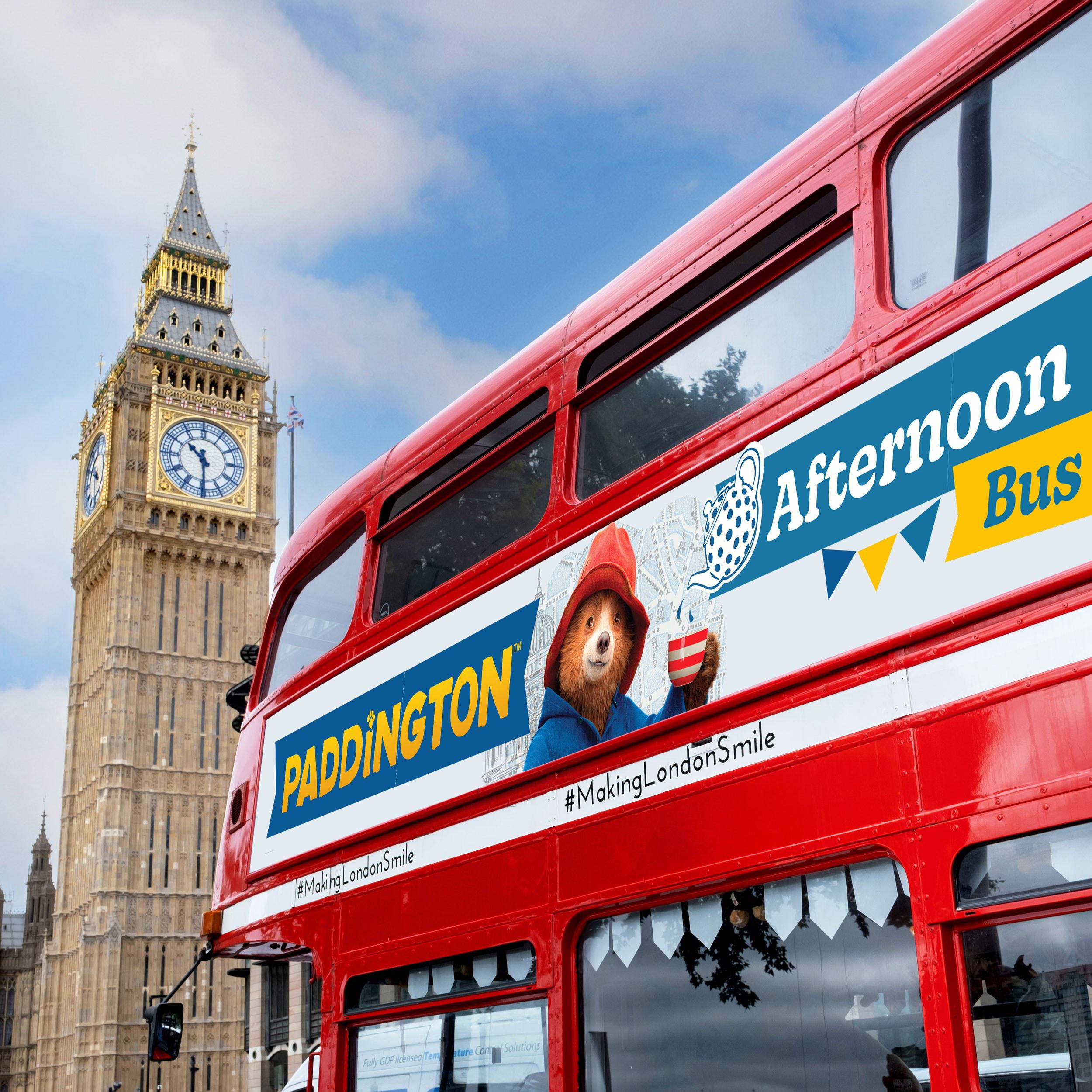 Brigit's Bakery and the collaboration on the World Premiere of Paddington 2
As we mentioned earlier, this isn't the first time we collaborate with the kindest and most loved bear in the world. Back in November 2017, we worked alongside StudioCanal to bring the public a World Premiere like no other for the launch of Paddington 2. We had a fleet of 8 buses led by our special Paddington 2 branded and themed red Routemaster bus, which drove the stars and guests all the way to the red carpet for the Leicester Square Premiere. And what an entrance that was!
The star-studded event included the likes of Jessica Hynes, Hugh Bonneville, Hugh Grant, Ben Wishaw, and Liz Hurley. And of course, Tom Conti, Jim Broadbent, and Paddington himself!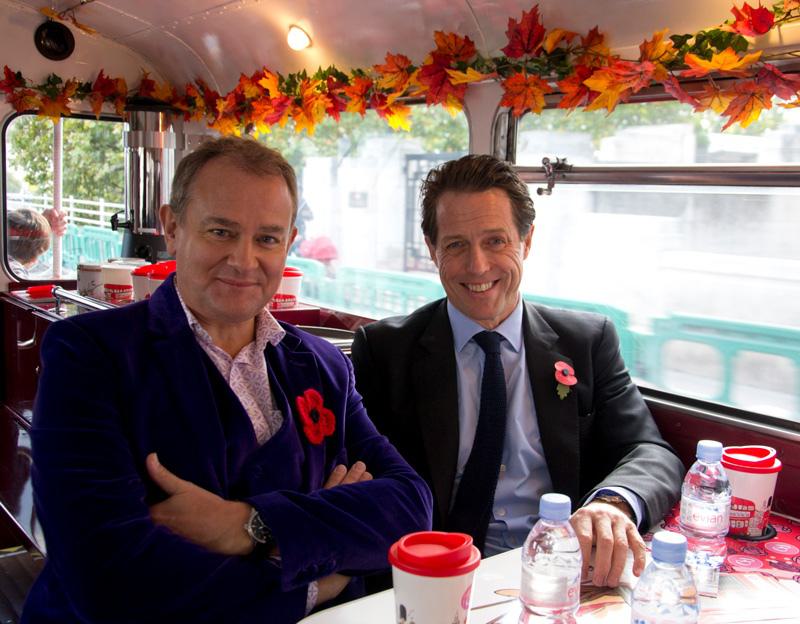 Check out our Paddington Afternoon Tea Tours page to find out more and book your seat.
© P&Co. Ltd./SC 2022