Paddington Bear Afternoon Tea in London & other fun afternoon tea ideas
Are you looking for a unique and quirky experience for your family or perhaps to impress someone visiting the City? Then let us tell you about everything there is to know about our one-of-a-kind Paddington Bear afternoon tea in London. Because without a doubt, Brigit's Bakery is the go-to place when it comes to fun afternoon tea ideas!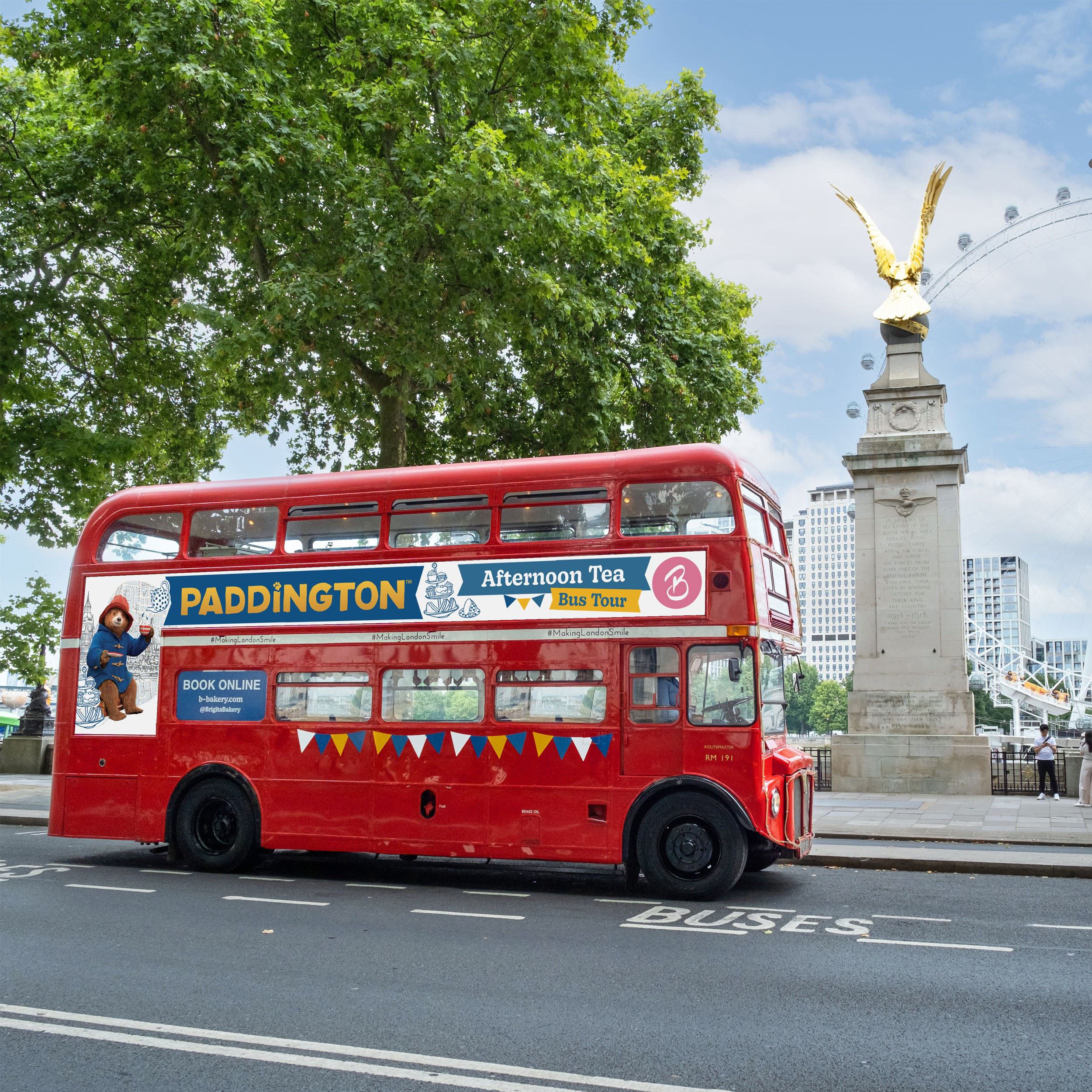 The Paddington Bear Afternoon Tea Bus Tour
Did you know we recently launched a Paddington-themed Afternoon Tea Bus Tour? Available weekly from Wednesdays to Sundays and departing twice daily from Trafalgar Square, our 90-minute tour (depending on traffic) takes you around the streets of London on our iconic, Paddington-themed, double-decker Routemaster bus.
What's so special about this tour? I mean, just look at our stunning our Paddington bus is! But the magic doesn't stop at the look. As you relax and enjoy our unique take on afternoon tea, you'll be entertained by our Paddington-guided animation, available on a tablet installed on each table.
Taking in the best views of Central London, we'll take you past the most famous landmark and share the nation's favourite bear's view of the world with you. Our guided animation of the tour will talk you through Big Ben, The Houses of Parliament, Westminster Abbey, Hyde Park, Downing Street, St. Paul's Cathedral, Piccadilly Circus, and much more. Be prepared to hear about some of Paddington fun adventures and mishaps!
Want to know if marmalade is on the menu?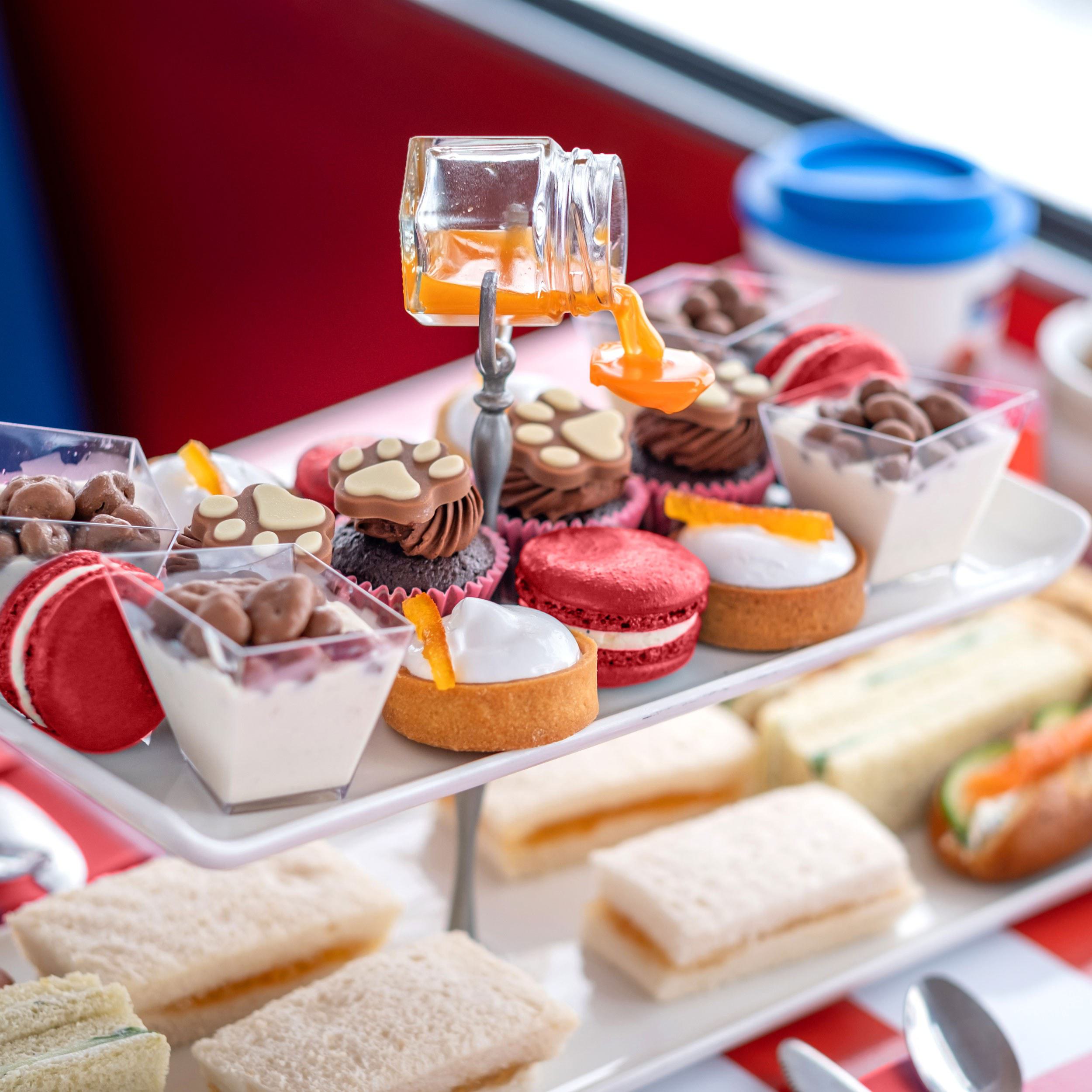 The Paddington Bear Afternoon Tea Menu
Our bear-inspired afternoon tea menu includes:
Turkey Ham & Cheddar Finger Sandwich (on tomato bread).
Cream Cheese & Cucumber Finger Sandwich (on spinach bread).
Mini Margarita Pizza.
Smoked Salmon & Cucumber Pretzel.
The BEST Marmalade Finger Sandwich Ever! (on white bread)
It's a Paddington tour - it wouldn't be one without marmalade, right?
As for our homemade sweet treats, you can lick your paws for our fantastic:
Shortbread Cookie.
Vanilla Rice Pudding.
Chocolate Cupcake.
Lemon Meringue Tart.
Chocolate Macaron.
Plus, of course, as always on our bus tours, you get a choice of hot drinks including coffee, a wide selection of teas, and a hot chocolate option for your little cubs. And let's face it - it wouldn't be afternoon tea without our delicious freshly-baked scones served with clotted cream and jam. Yum!!!
Oh, and this might be a family outing, but if you want to add a glass of bubbly to your order, you can do so when you book your place here.
Please note that due to the length of the tour and having no toilets on board the bus, our Paddington Afternoon Tea Bus Tour is best suited for children aged 5+. And if you're interested in one of our alternative menus, we also offer Vegetarian, Vegan, Halal, and Gluten-free. Simply scroll down to the bottom of this page to see those menus in more detail.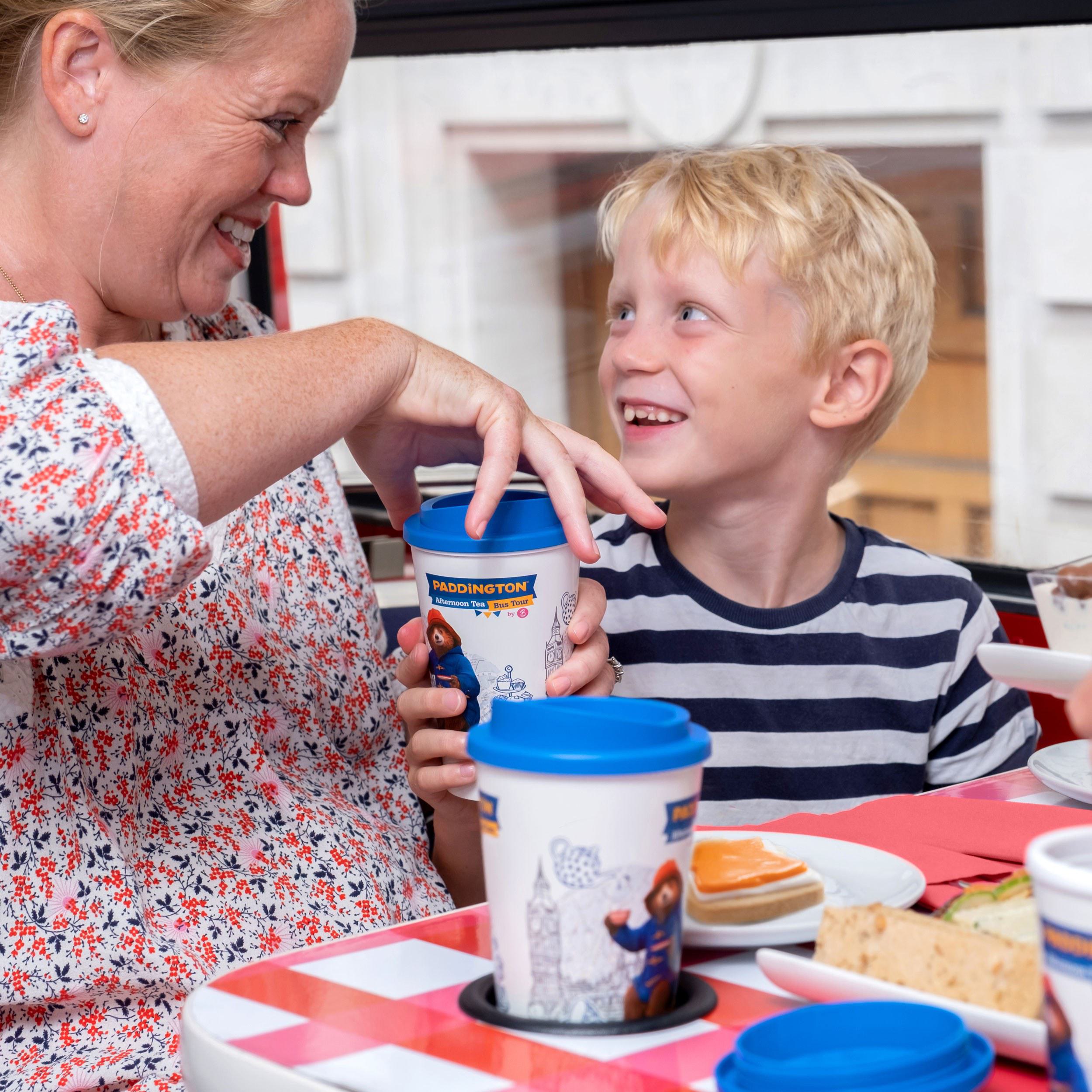 What our customers say about the Paddington Afternoon Tea Bus Tour
Here's what our lovely customer Lauren said:
"Bus Tea Tour is wonderful. We did the Paddington Afternoon Tea with our children, and it was wonderful. The set up was adorable, and the incorporation of Paddington was wonderful. Some of us were on the top and some down below, and we all loved it. They were engaged and attentive and we had a wonderful experience." (April 2023).
And here's recent feedback (April 2023) from Nigel:
"Great experience for any age. My partner and I went on the Paddington-themed tour this Easter. It was a real treat and made our holiday. The tour took in all the key sights and was excellent value for money. The delicious food and drinks were from Brigit's Bakery. The tour hosts were very friendly and the Paddington theme didn't disappoint."
And last but not least, some super kind words from Jaxs (April 2023):
"Get this booked you will love it! Aw amazing experience. Me and my sister took our daughters last week on the Paddington Bear bus from half 5-7. It was my daughter's birthday treat. They made a fuss of her with a cake and candle and gave us adults some complimentary Prosecco, which was awesome. The bus staff were so lovely and got down to the kids level. Even the lovely bus driver was nice and friendly. It was so good to see the London sights and the TV had some interesting facts to learn from. We were all buzzing after leaving. We just loved it."
So don't just take our word for it - our customers absolutely love this tour!
More fun Afternoon Tea Bus Tours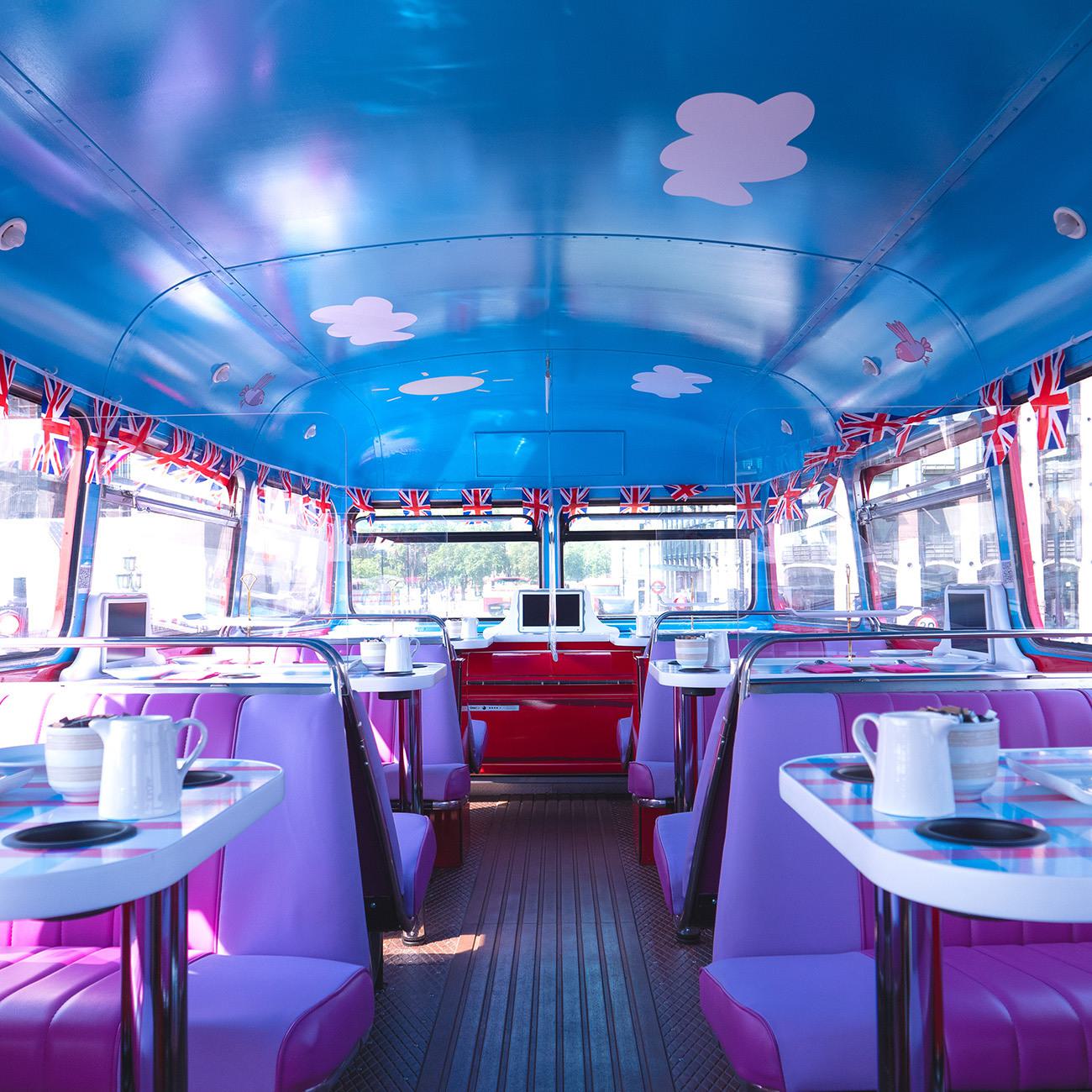 If you're after more fun adventures for your young family, check out our Peppa Pig Afternoon Tea Bus Tour. Ideal for children aged 5+, the tour departs two to three times a day between Thursdays and Sundays from Somerset House.
And if you are looking for more afternoon tea bus tours, check out what's available on this page. Simply select the month you're interested in, see what's on, and take your pick! Please note that some of our themed tours only run for limited periods and on specific dates, so always book early to avoid disappointment.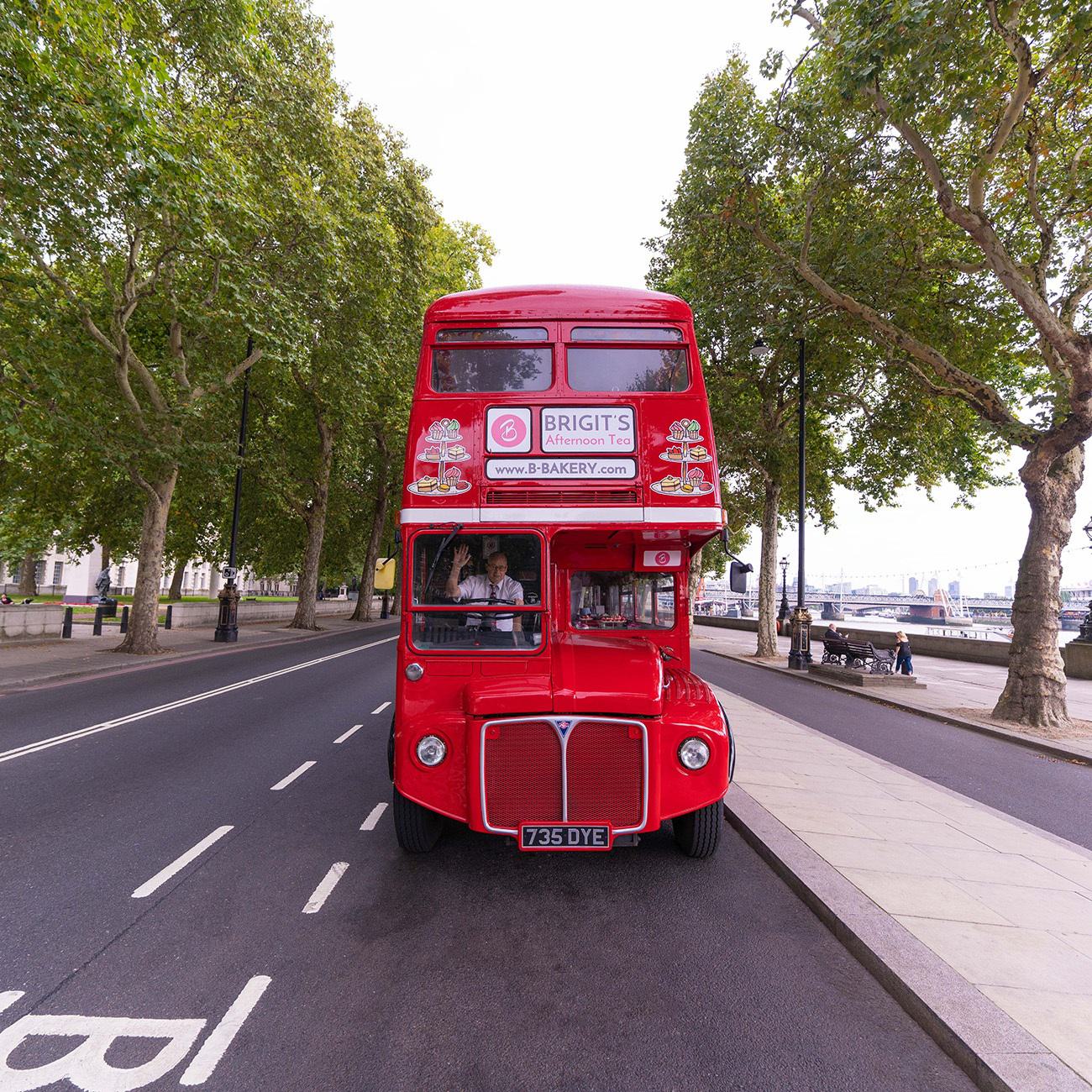 The good news is... both our Classic Afternoon Tea Bus Tour and our Gin Lovers Afternoon Tea Bus Tour (ideal for gin lovers aged 18+) run all year round, so check out all the details and book your seat!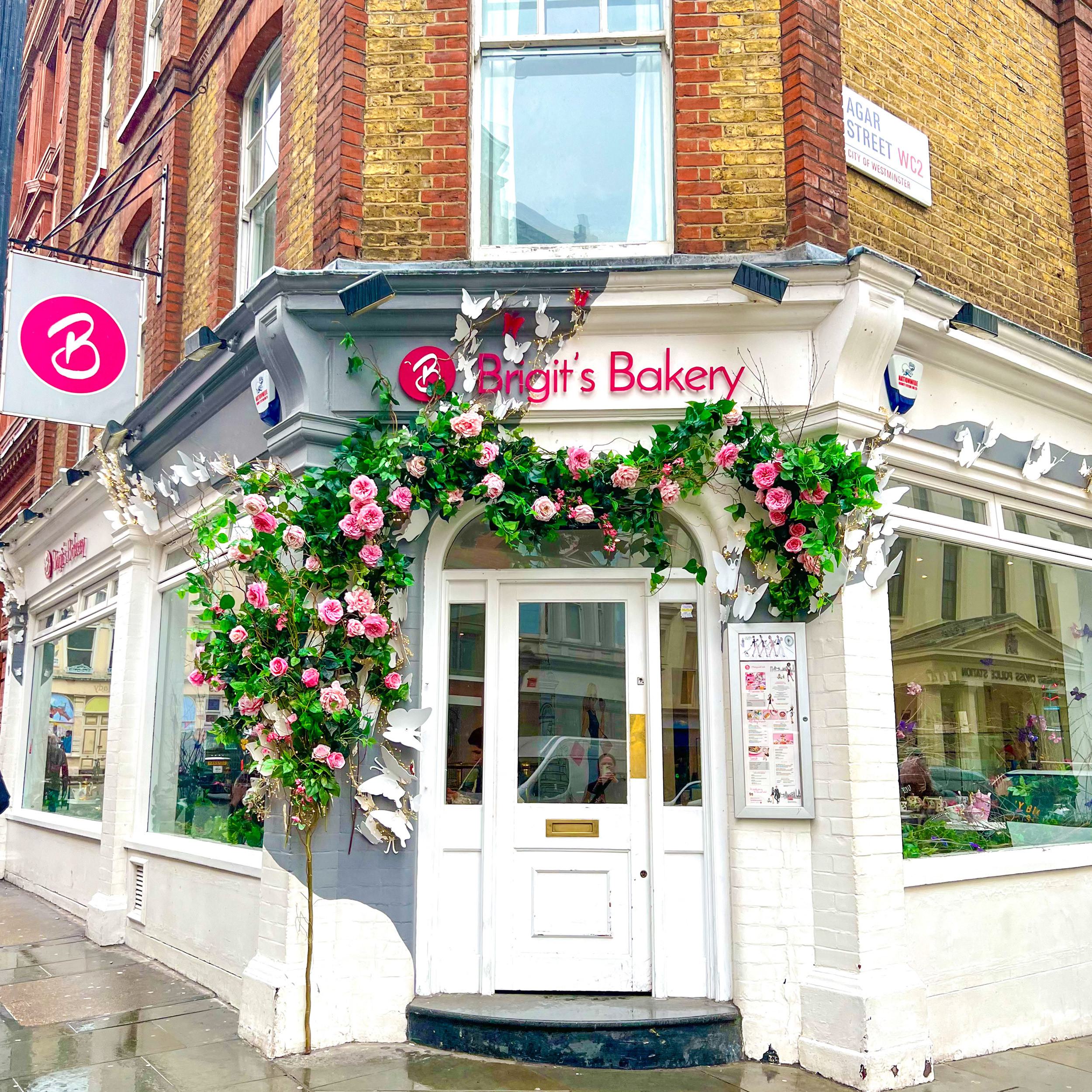 Afternoon Tea at Brigit's Bakery in Covent Garden
Last but not least, if you've been on a tour but can't get enough of our delicious food, then come and see us at Brigit's Bakery in Covent Garden. Away from the hustle and bustle of the busy London streets, our beautiful bakery is still in a very central location close to shops and theatres. We also have private rooms and seating downstairs, so if you want to book your own space, you're more than welcome to.
And while our bakery is most famous for its afternoon tea and delightful sweet treats (did anyone say cake?), there's a lot more on the menu. We offer all-day brunch, healthy smoothie bowls, salads, Croques, quiches, and much more! Click here to book your table.
So will you join us for a special Paddington Bear afternoon tea in London? Or will your book afternoon tea on one of our amazing tours or at our signature bakery?