Best ideas for a vegetarian brunch in London
Are you looking for ideas for a vegetarian brunch in London? Want to treat yourself, your friends, or your loved ones to some lush vegetarian food, knowing that your choices won't be limited to a veggie English breakfast with baked beans and hash browns, French toast, or some scrambled tofu? We believe that opting for vegetarian or vegan options doesn't mean compromising on choice and taste, so if you're looking for a brunch menu with a difference that caters to vegetarian or vegan food, then we have a few fab ideas for you.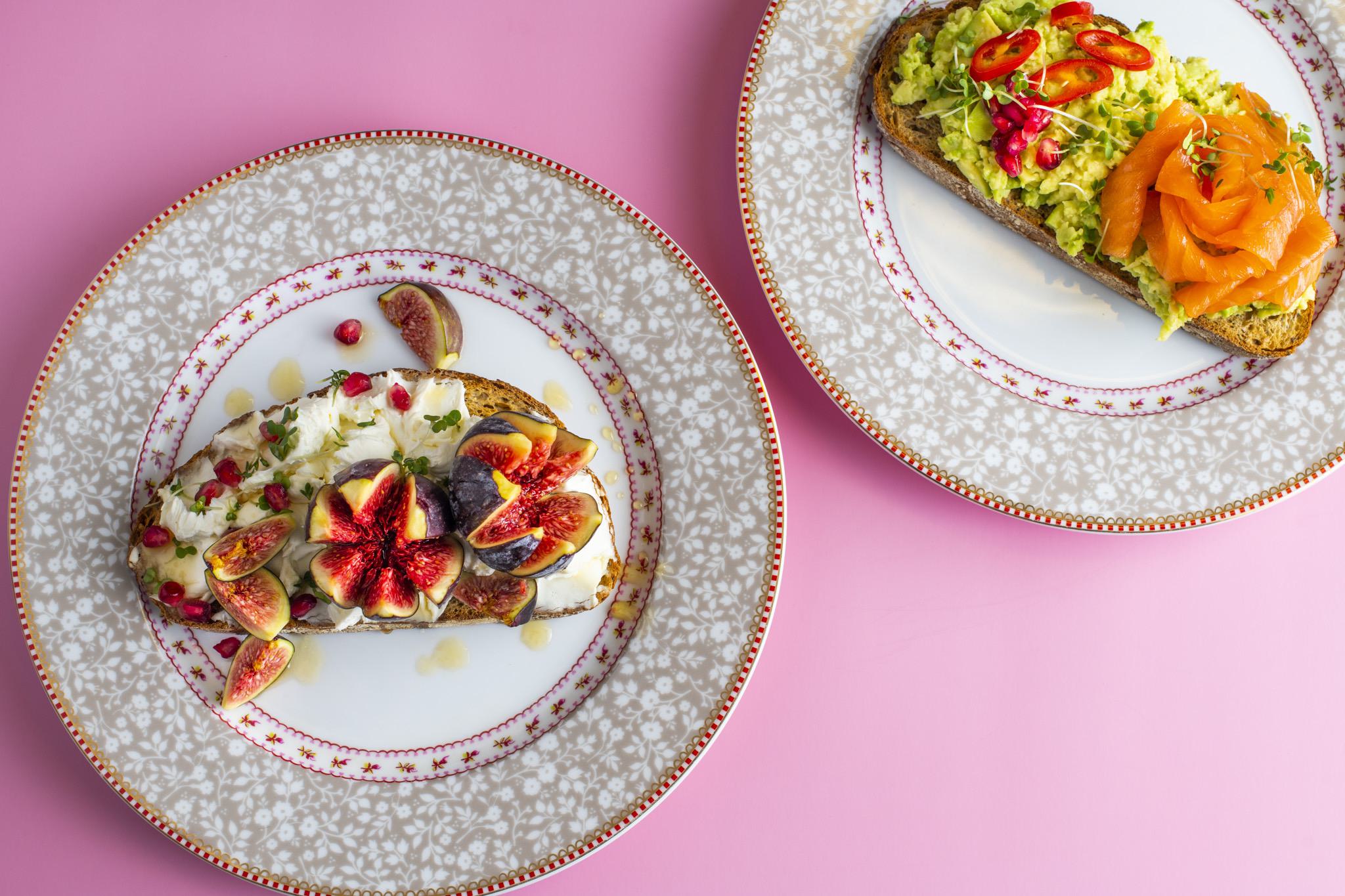 Indulge in a vegetarian brunch or afternoon tea in Covent Garden
With a large choice of vegan cafes, vegan restaurants, and international street food, our bakery in Covent Garden might not be the first choice that comes to mind if you're after a plant-based or meat-free menu with a difference. But did you know that our bakery can offer you much more than a range of pastries and delicious cakes?
Vegetarian and vegan menu options
We offer all-day brunch options, so if you're after vegetarian food, you have a choice of:
Mascarpone and Fig on Sourdough topped with honey, fresh orange, and pistachios.
Or American Pancakes with mascarpone and fresh berries topped with icing sugar and maple syrup.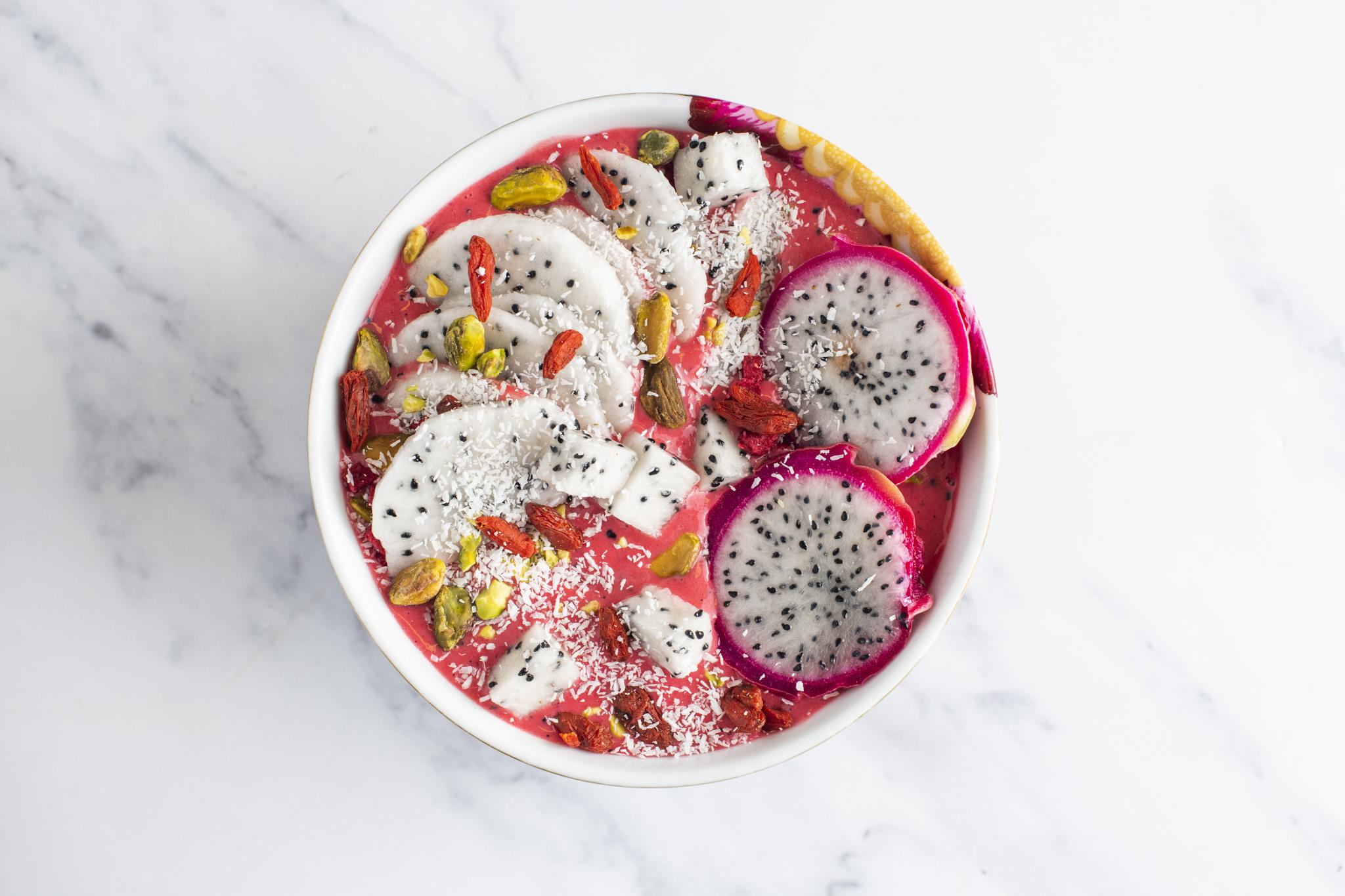 You can also pick one of our yummy smoothie bowls (all suitable for vegetarians and vegans):

Our Protein PB&J Smoothie Bowl - made with peanut butter, strawberries, and blueberries with a scoop of protein powder.
The Raspberry Smoothie Bowl. A delightful fruity pink smoothie with raspberries, bananas, maple syrup and almonds.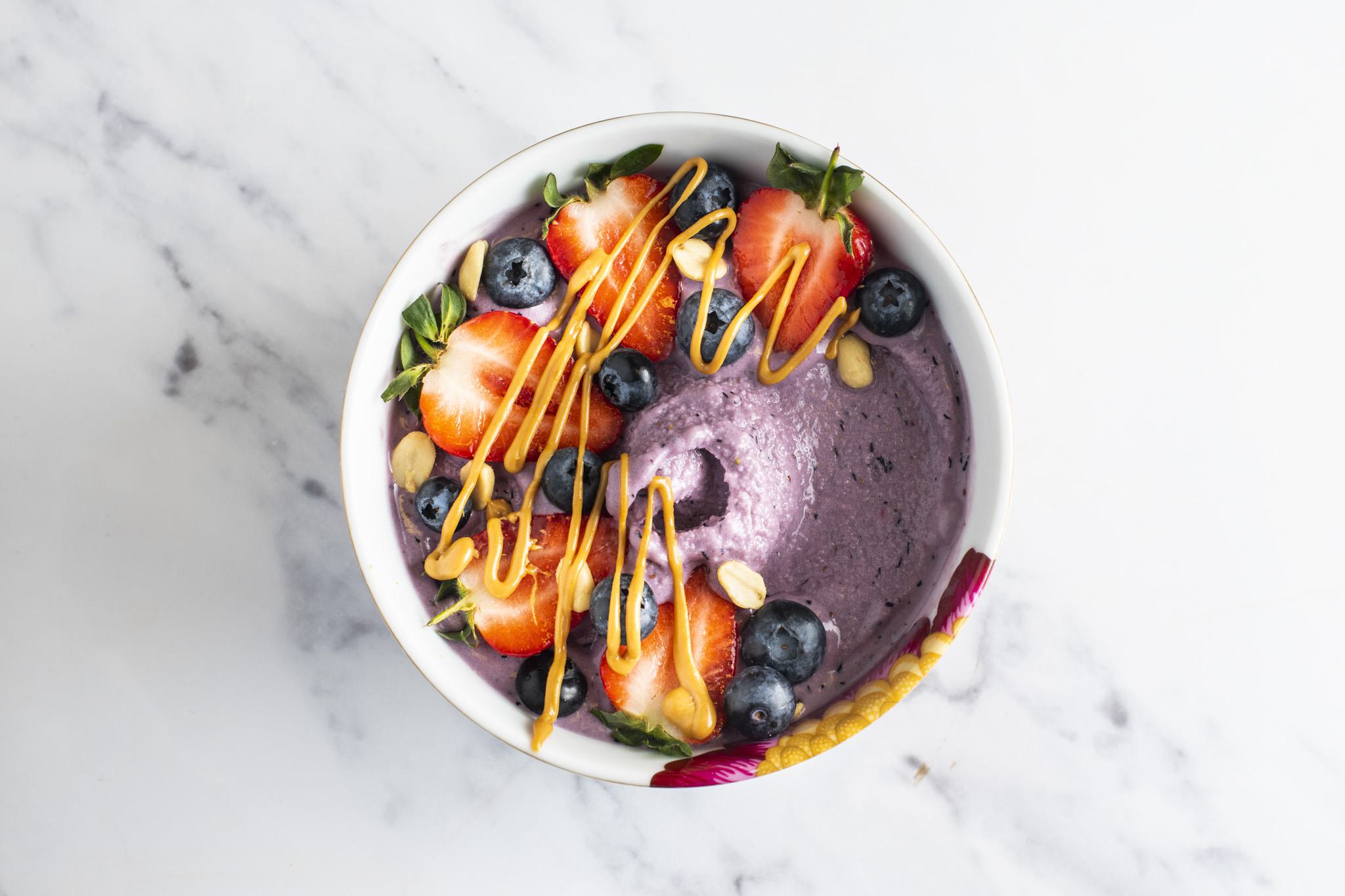 We also serve:
A delicious vegetarian Croque made with tomato, cucumber, and Emmental and served with salad.
A vegan BLT made with vegan bacon, garlic mayo, tomatoes, lettuce, and cheese.
And a tasty all mixed leaf salad with avocado, quinoa, artichokes, cherry tomatoes, mixed roasted seeds (sunflower, pumpkin, pine nuts), honey & mustard vinaigrette.
Plus, we have quiches (served with salad), with a choice of spinach and goat cheese or seasonal veggie.
And if you fancy visiting for lunch, then you can have a combination of club sandwich, Quiche, Croque, or salad with any cake plus a soft drink or hot drink. Wouldn't you say this ticks all the right boxes for the perfect vegetarian brunch in London?
Join us for vegetarian brunch in London on an Afternoon Tea Bus Tour
Not everyone knows that on our Afternoon Tea Bus Tours we offer a range of alternative menus, including Vegetarian and Vegan. So if you're after a vegetarian brunch in London with a bit of je-ne-sais-quoi, our 90-minute tours onboard the Brigit's Bakery vintage Routemaster buses could be just the thing.
Our vegetarian afternoon tea menu includes delicious freshly prepared savouries*. Think:
Burger Brie with tomato, salad, mayo, and mustard.
Cheddar and chutney finger sandwich.
Cucumber and cream cheese finger sandwich.
Pretzel with pesto and tomato cherry tomato with mozzarella.
Feta cheese with peppers and sun-dried tomatoes savoury muffin.
Plus, you can have an assortment of mini homemade cakes and tarts, including:
Lemon tart with meringue.
Red choux with vanilla creme patissiere and raspberry coulis.
Chocolate cupcake.
And sable Breton with cream cheese.
Let's not forget this is afternoon tea after all. So, of course, we also offer you freshly-baked scones with clotted cream and jam and a choice of tea, coffee, or hot chocolate.
*Please note that our vegetarian menu is seasonal and may vary. For details about changes, please check with us at the time of booking.
If you want more information on our vegan afternoon tea menu, click it here. And to see our selection of Afternoon Tea Bus Tours and to book your table click here.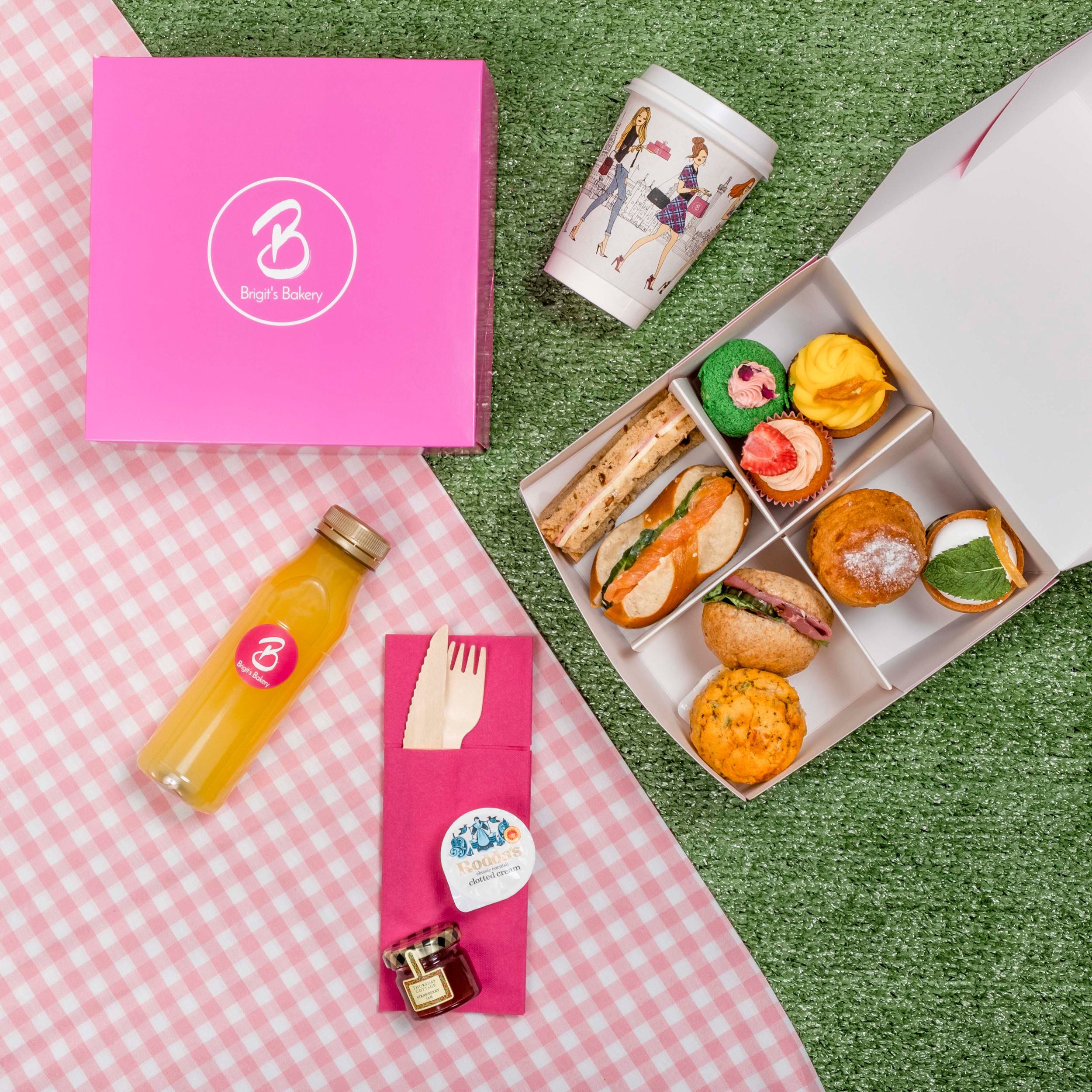 Grab a Brigit's Bakery picnic
When the weather plays nice, what's better than laying a blanket on the grass and having a lovely picnic in the park? Our choice of alternative menus (including Vegetarian and Vegan, Gluten-Free, Halal, Traditional, plus Pescatarian so everyone is covered!) are available with our beautifully packaged Afternoon Tea Picnic Lunch. Just give us a call and at least 24 hours' notice, and we'll pack everything you need for a delicious afternoon tea. Filled with a selection of mouth-watering cakes, sandwiches and scones, the picnic also includes freshly squeezed orange juice. And, of course, we won't let you go without your choice of tea or coffee!
Light enough to carry, the Afternoon Tea Picnic Lunch fits nicely into the pannier of a bike and has been specially designed to fit comfortably in the front of a Boris Bike. Simply collect it from our Covent Garden bakery on the way to the park, and you're good to go.
For more information about our afternoon tea picnic lunch and booking, complete our enquiry form. We'll be in touch within 24 hours. Alternatively, you can call us on 020 3026 1188.
Best picnic locations in London
Speaking of parks, if you're looking for somewhere to go to in London other than the most renowned Hyde Park or St James' Park, here are a few other spots you might want to check out.
Hampstead Heath. Famous for its remarkable city views and bathing ponds, this is an excellent park for a picnic. From Parliament Hill Viewpoint you get the best panorama of the city. You'll be able to see The Shard and the Houses of Parliament amongst other landmarks.
Victoria Park. Often referred to as 'the people's park', you can find excellent picnic spots at the Tower Hamlets parkland. This area features the Regal Boat Hire and a great play area for the children.
Primrose Hill. If you're after picturesque views of the city skyline, Primrose Hill is another good choice. Find a spot at the top of the hill and admire the views of the city while munching on your vegetarian brunch. Lush!
For more information about parks in London, head over to the website royalparks.org.uk.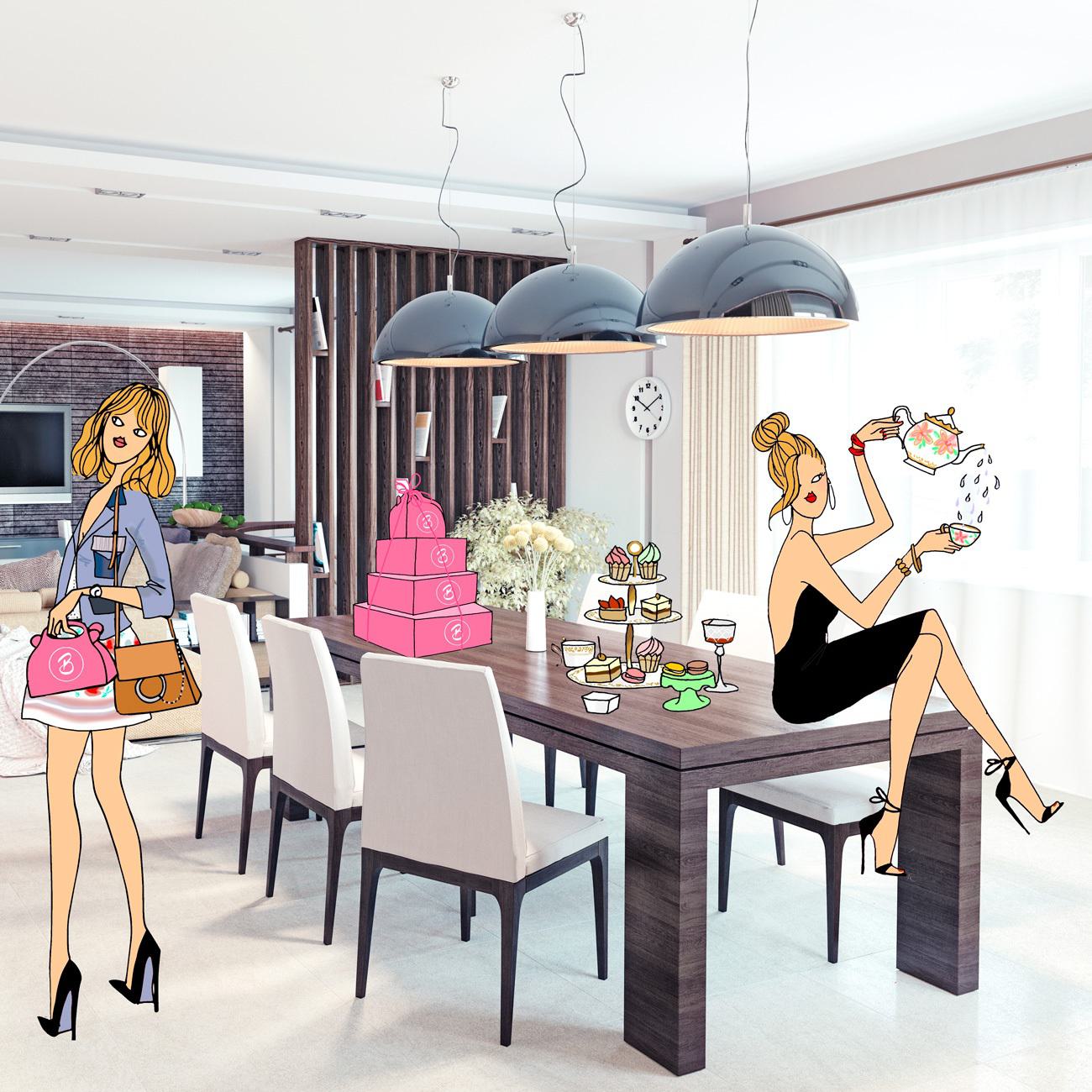 Enjoy Brigit's Bakery vegetarian afternoon tea delivered to your home
And last but not least, if you're looking to host a brunch at home, and you or some of your guests fancy vegetarian food, then not why call for food delivery? That's right, if you can't come to us, we deliver our wonderful afternoon team menu to you! With a delicious selection of fine finger sandwiches, delicate cakes, and, of course, freshly-baked homemade scones with clotted cream and jam, our Afternoon Tea Delivery makes a treat of any brunch or lunchtime event.
For prices and for booking our Afternoon Tea Delivered, click here.
Please note, that no matter where you choose to eat with us, we are unable to cater for Coeliacs, nut-free, peanut-free, a combination of dairy and gluten-free, and a combination of vegan and gluten-free. Gluten-free menus may still contain traces.
If you are looking for alternative brunch options and have specific dietary preferences or requirements, we ask you to kindly specify your requests upon reservation. All allergies must be emailed and confirmed by management at info@b-bakery.com.