Afternoon Tea in London Vegan Options
Are you looking for afternoon teas in London that offer a vegan menu? Traditional afternoon tea that fully caters to a vegan clientele can be tricky to find but if you're after Afternoon Tea in London (Vegan options), then we've got quite a range of offers for you.
Did you know that Brigit's Bakery is rated as the top choice for vegan afternoon tea by Visit London? Sure, there are other places across London where you can get your vegan treats for afternoon tea (anyone for coconut cream or a vegan chocolate cauldron cake?)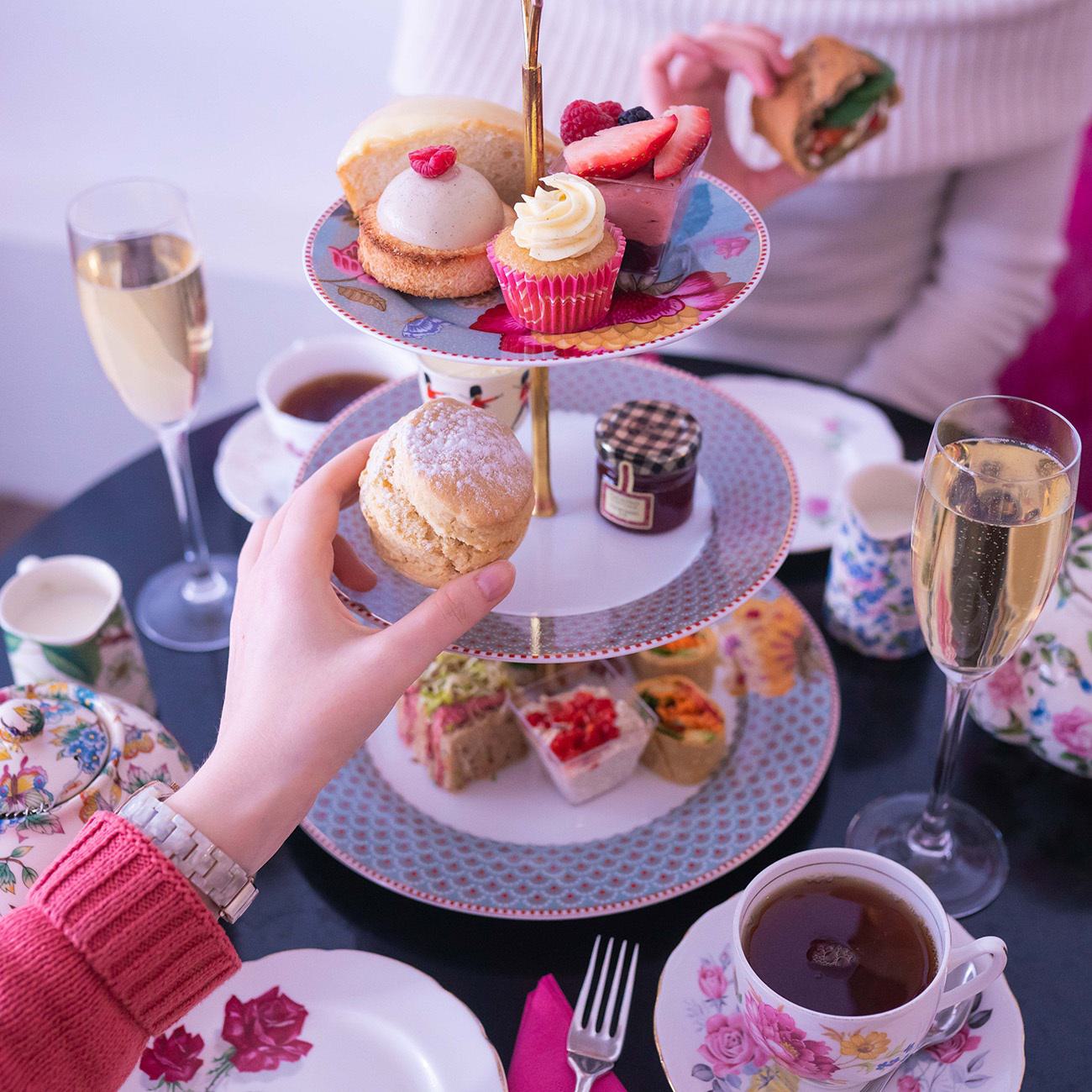 You can take your pick at one of these venues:
The Ampersand Hotel (for Vegan Science Afternoon Tea with dinosaur biscuits and Petri dishes).
One Aldwych for Charlie and the Chocolate Factory afternoon tea.
The Egerton House Hotel for an Alice in Wonderland-themed afternoon tea (mad hatters, anyone?).
Or you can grab your plant-based afternoon tea at Cutter & Squidge's, The Savoy, Fortnum & Mason, The Athenaeum, Dukes Hotel, or at Farmacy.
But here at Brigit's Bakery, we not only have the option for you to come and indulge in Afternoon Tea at our beautiful bakery in Covent Garden. We also give you the choice to take your vegan afternoon tea on the go if you decide to hop on one of our Afternoon Tea Bus Tours or would rather have your afternoon tea delivered to your door or to be enjoyed wherever you prefer.
The Brigit's Bakery Vegan Afternoon Tea menu
But first things first, let's talk about what our delicious and unique vegan afternoon tea menu has to offer. As always with anything Brigit's Bakery, the menu is based on traditional afternoon tea but with an added French twist. And in honour of Veganuary, which we have been fully supporting for years, we just launched a brand new menu.
Our mouth-watering vegan menu includes:
Beetroot & cucumber finger sandwich.
Avocado & carrot roll.

Quinoa verrine.

Mixed roasted vegetables on ciabatta.
Vegetable quiche.
And for dessert:
Lemon tart.
Blueberry macaroon.

Chocolate cupcake.

Carrot cake with vanilla frosting.
Of course, it wouldn't be a high tea to impress without our plain, freshly-baked scones with a selection of vegan spreads (and no one will be able to say vegan cream isn't tasty after trying ours!)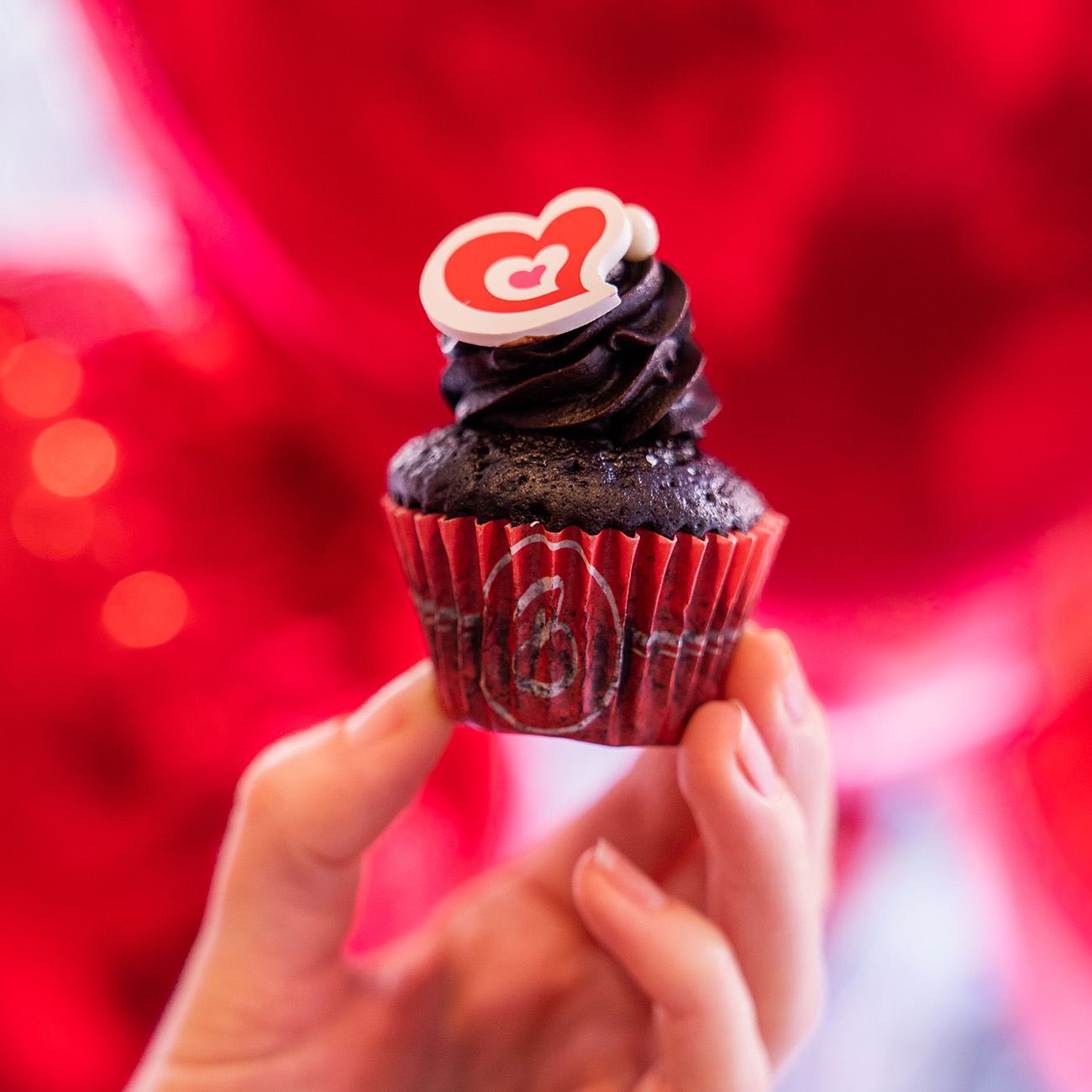 Vegan Afternoon Tea at the Brigit's Bakery in Covent Garden
If you'd like to enjoy your vegan Afternoon Tea at our beautifully-decorated bakery in Covent Garden, you can find more information and book your table here.
Of course, we understand that not everyone in your party may be after the vegan menu - some of you might have different dietary requirements or preferences. And that's never a problem with us! The great news is that when you book your place, all members of your party can make your menu choices separately.
Our other Afternoon Tea menu options include Traditional, Vegetarian, Gluten-free, and Halal. They are all equally delicious and unique, offering a wide range of sandwiches filled with fresh ingredients as well as scones with jam and clotted cream (for the non-vegan choices, of course). So there's something for everyone, no matter what your culinary preferences are.
And if you or someone in your party are after something completely different, Brigit's Bakery also offers a range of tasty cakes, scones, and macarons. But we also have all-day brunch, yummy vegan/vegetarian smoothie bowls, and a range of salads and sandwiches for lunch - including a Vegan BLT to die for (ever tried bacon tempeh?).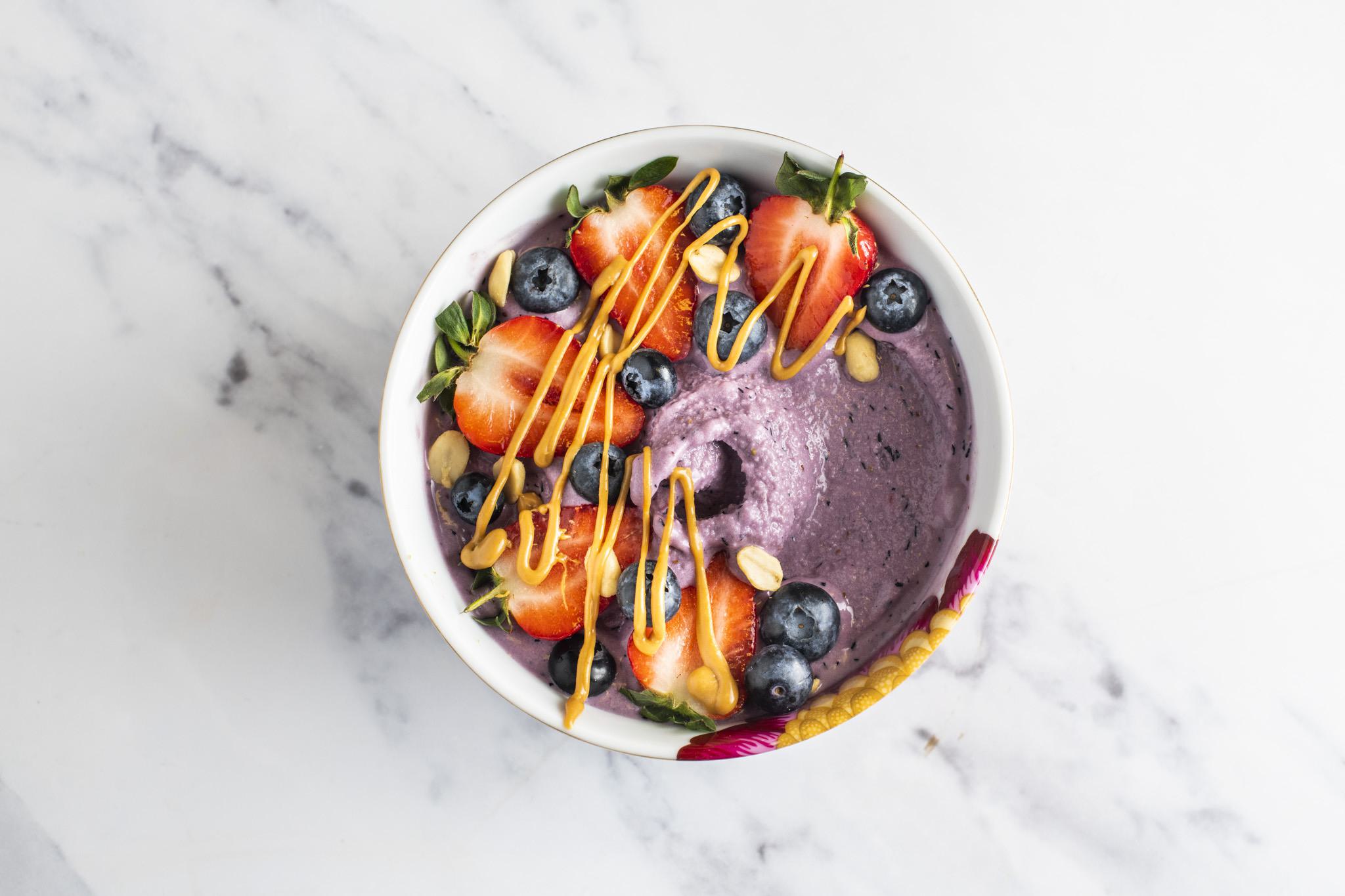 Let's hear what our customers have to say about our vegan menu!
Here's a short extract from a review that one of our awesome customers left on TripAdvisor:
"A lovely bakery just off of Covent Garden that offers great value afternoon teas & an impressive selection of cakes from their patisserie counter. [...] Our group had two regular afternoon teas [...], one gluten-free afternoon tea and one vegan afternoon [...] and we were all very pleased with our food and drinks – we were each given a glass of fresh orange juice when we were first seated, which was a nice, unexpected touch.
Throughout our afternoon tea, everything was served on pretty crockery and both looked and tasted great. We particularly enjoyed the range of sandwiches/savoury items included, which were a bit more unusual flavours than the standard items offered in a traditional afternoon tea.
My vegan menu included an avocado and carrot wrap, beetroot and cucumber sandwich, mini ciabatta with roasted vegetables, vegan pesto and cheese, vegetable pastry tart, and a quinoa and pepper verrine. It was followed by a vanilla cupcake, a huge chunk of lemon drizzle cake, berry mousse, and panna cotta on a coconut base.
Overall, an excellent value afternoon tea in a lovely setting and great for dietary requirements. I will definitely be recommending and would happily visit again in the future."
Please note that our menus change regularly - always check our website for the latest information and booking.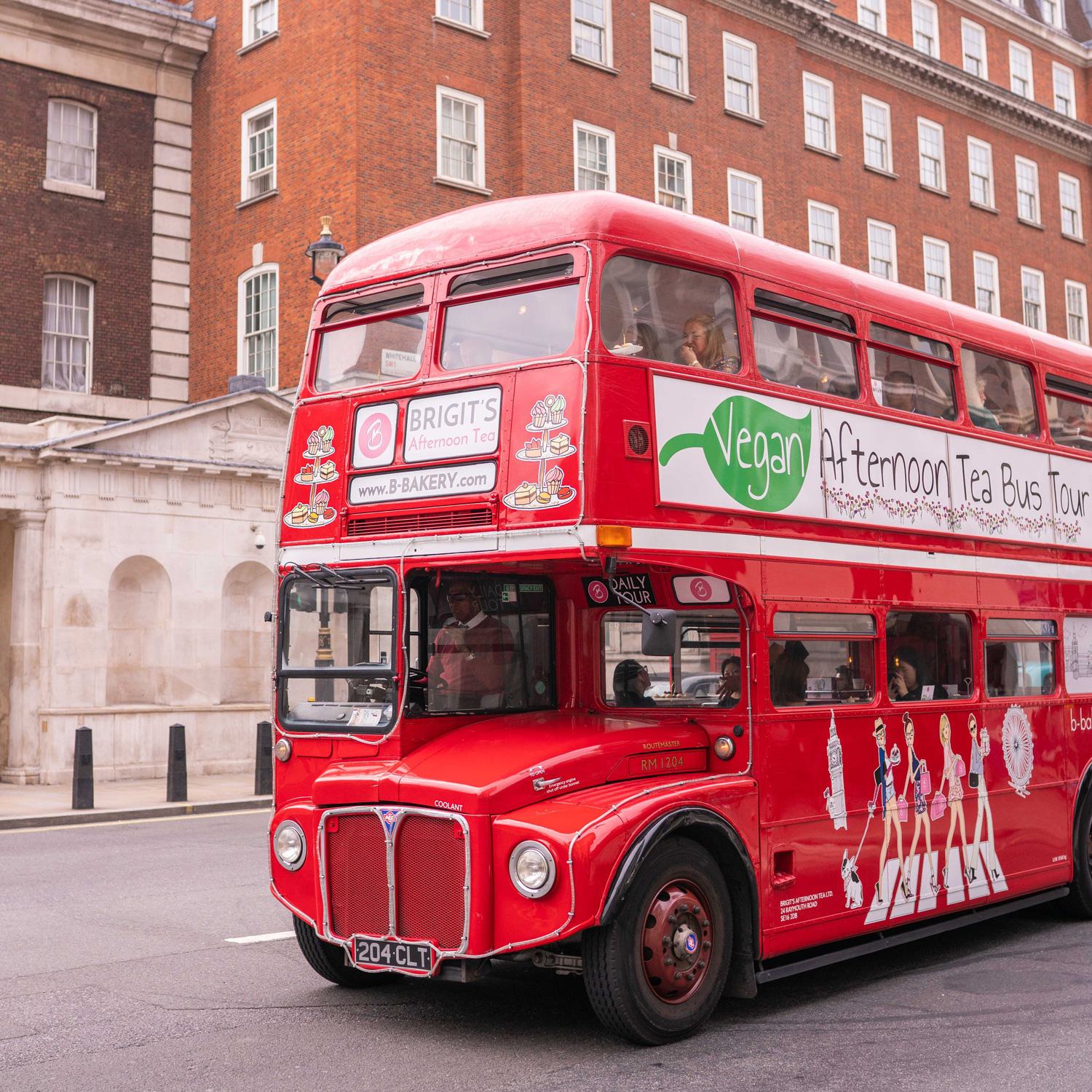 Vegan Afternoon Tea Bus Tour
When it comes to vegan afternoon teas, we've got you covered. Our vegan menu is available on all our Afternoon Tea Bus Tours, including:
When you choose any of our Afternoon Tea Bus tours, you'll enjoy your afternoon tea (vegan or otherwise) onboard one of our iconic Routemaster double-decker buses while we tour the streets of Central London. So when it comes to Afternoon Tea in London (Vegan Options or otherwise) we can guarantee you'll experience something fun and unique.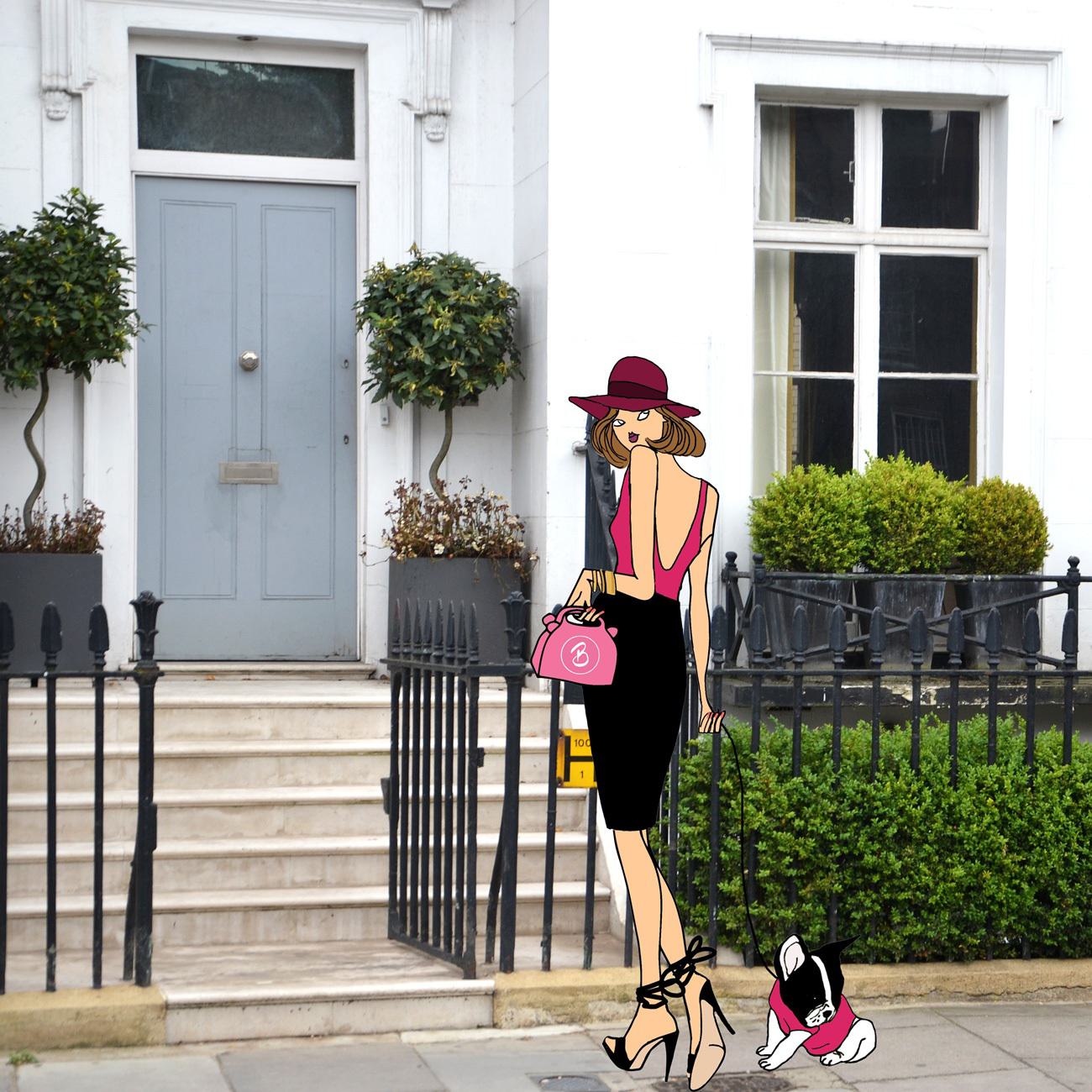 Vegan afternoon tea delivery
Hosting a tea party or a work event? Looking forward to a picnic in the park with friends and family when the weather is nice and warm? Then we can deliver your vegan afternoon tea (or any other dietary option) straight to your door. Not sure what you'll need? We have different choices for you, including:
Food only (afternoon tea with all the trimmings).
Food + orange juice + a Brigit's Bakery Tea ceramic mug for all your guests.
And you can add a three-tier afternoon tea stand to your order if you wish (ideal for 4 people).
The minimum order is for 4 people. Just know that we deliver every day of the week and require a minimum of 24 hours' notice to prepare your delicious afternoon tea. As always, all our menus and dietary options are available. All you have to do is to specify which menu you would like when you book. So when you're ready to go ahead with your order, please fill in this form or give us a call on 020 3026 1188.
When it comes to Afternoon Tea in London, vegan options are definitely available here at Brigit's Bakery. Which one will you choose?