The Royal Wedding Afternoon Tea Bus Tour
Celebrate the Royal Wedding – enjoying a unique afternoon tea and London sightseeing tour on a classic Routemaster Bus.
For one month only, B Bakery is offering a special tour in partnership with Debrett's, the authority on modern British etiquette. The tour is designed for royal enthusiasts and fans of all things British. It is an ideal way to celebrate the royal marriage of Prince Harry and Meghan Markle. Our 1.5-hour guided tour takes place on an original 1960s Routemaster. An expert guide will talk you through the history of royal weddings and what to expect on the royal wedding day, as well as the traditions and rituals of a formal afternoon tea.
First of all, as you travel through London, you will discover little-known insights on Prince Harry in his youth. In addition, you'll hear a wealth of history and trivia about the Royal Family and their royal residences.
Furthermore, you will learn all about the uniquely British custom of tea taken with cakes and sandwiches, believed to have been initiated by the Duchess of Bedford in the 1840s. Which goes first, tea or milk? How do you pronounce 'scone'? And why are two UK counties at war over the cream tea? Find out how to have tea like a true royal with B Bakery and Debrett's….
Most noteworthy, a delicious Royal wedding themed menu has been created especially for the limited tours. With delicious savoury and sweet dishes inspired by Meghan & Harry. Classic cucumber sandwiches are a must, perhaps washed down with some Early Grey Tea (apparently the Queen's favourite) or maybe Meghan's favourite tea – Green Tea.
There are two tours a day on Thursdays, Fridays, Saturdays and Sundays in May 2018. Hence, book your place today to not miss out.
Royal Tea Bus Tour
What better way to celebrate the royal marriage with Harry and Meghan, than a special themed bus tour? The limited tours take place throughout the month of May on Thursdays, Fridays, Saturdays and Sundays. There are two departures for the Royal Wedding Afternoon Tea Tour at 13:45 & 15:55. Tickets start from £55. So, use our online booking system to choose your time, seat and any specific requirements. Furthermore, Prosecco or Champagne are not included in the price, however they can be pre-ordered online.
Brigit's Bakery has created a selection of tempting treats for the B-Bus to celebrate the wedding of Prince Harry and Meghan Markle:
Traditional English 'finger' sandwiches include egg mayonnaise and cress; cucumber; ham and mustard, and smoked salmon with cream cheese.
However, to pay tribute to Ms Markle's American heritage, as well as to honour the diverse cuisine of Britain, we've added some California flair with avocado and crab and some British-Asian influence with spiced crackers.
Traditional sweet accompaniments can include a dazzling array of tarts, cakes, biscuits and pastries. The apple pie, brownies and cupcakes are for the American bride, while the lemon & elderflower are the couple's wedding cake flavours – see what you think of our version!
Of course, we also have to toast the happy couple with a glass of bubbly!
DEBRETT'S GUIDE TO A ROYAL-TEA EXPERIENCE
THE TEA
It is usual to serve a choice of two teas: one Indian (such as Assam) and one from China (such as Lapsang Souchong).
If you are using loose leaf tea, filter the leaves through a strainer when you pour.
Milk should be added after the tea. Historically, good quality china did not crack when pouring scalding hot tea first; if milk was poured first, one assumed the quality of the china was not up to snuff.
Resist the temptation to point your little finger in the air when sipping from your cup.
THE SANDWICHES AND SWEETS
'Finger' sandwiches are eaten by hand rather than with a knife and fork.
' Scone' is pronounced to rhyme with 'gone' and not with 'throne'. Scones should be split in half by hand at the point where there is a natural groove. They are usually served with clotted cream and jam.
Refrain from dunking biscuits or other sweets in your tea.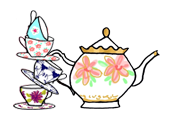 TEA TRIVIA
Did you know that the British drink 60 billion cups of tea per year? (That's an astonishing 876 cups per person.)
Tea in Britain has a global history: imported from China to Europe by Portuguese traders in the 17th Century, tea was popularised by the Portuguese queen, Catherine of Braganza.
'Afternoon tea' is the formal ritual of serving tea with sandwiches and sweet accompaniments. It is believed to have been established by the Duchess of Bedford in the 1800s to combat a lull of energy in the afternoon.
Despite its now universal appeal, afternoon tea has retained its aristocratic associations and is considered a special, rather than every day, occasion.
When is the Royal Wedding 2018?
Prince Harry to wed Meghan Markle on Saturday, 19 May 2018 at 12pm. The decision to marry on a Saturday goes against tradition. in the past, most royal weddings have taken place on a weekday. The Queen wed on a Thursday and the Duke and Duchess of Cambridge married on a Friday.
And, the Royal Wedding location is …
The marriage of Prince Harry and Meghan Markle will take place in St George's Chapel at Windsor Castle. The Queen has granted permission for the ceremony to be held in the place of worship, which seats approximately 800. Kensington Palace has stated that "approximately 600" guests will be in attendance at the wedding. This is a very small group in contrast to the Duke and Duchess of Cambridge who married in front of 1,900 guests.
The cake – a lemon elderflower bake that will incorporate the bright flavours of spring – will be made by Violet Bakery's Claire Ptak.
So, what's the Royal Tea Bus Tour?
The Royal Tea Bus Tour is a unique experience to celebrate the Royal Marriage of Harry and Meghan. B Bakery has partnered with Debrett's to bring you the ultimate royal etiquette experience. Probably the best thing is that you will learn how to eat your afternoon tea like princess-to-be, Meghan Markle!