Case Study: Slingsby Gin Bus Tour - 2019-2023
Want to take a trip down memory lane with us and have a look at some of the amazing themed afternoon tea bus tours that we ran in the past? If you're happy to join us for the ride (pun intended), let us introduce you to our Slingsby Gin Bus Tour - a collaboration between Brigit's Bakery and Slingsby between 2019 and 2023.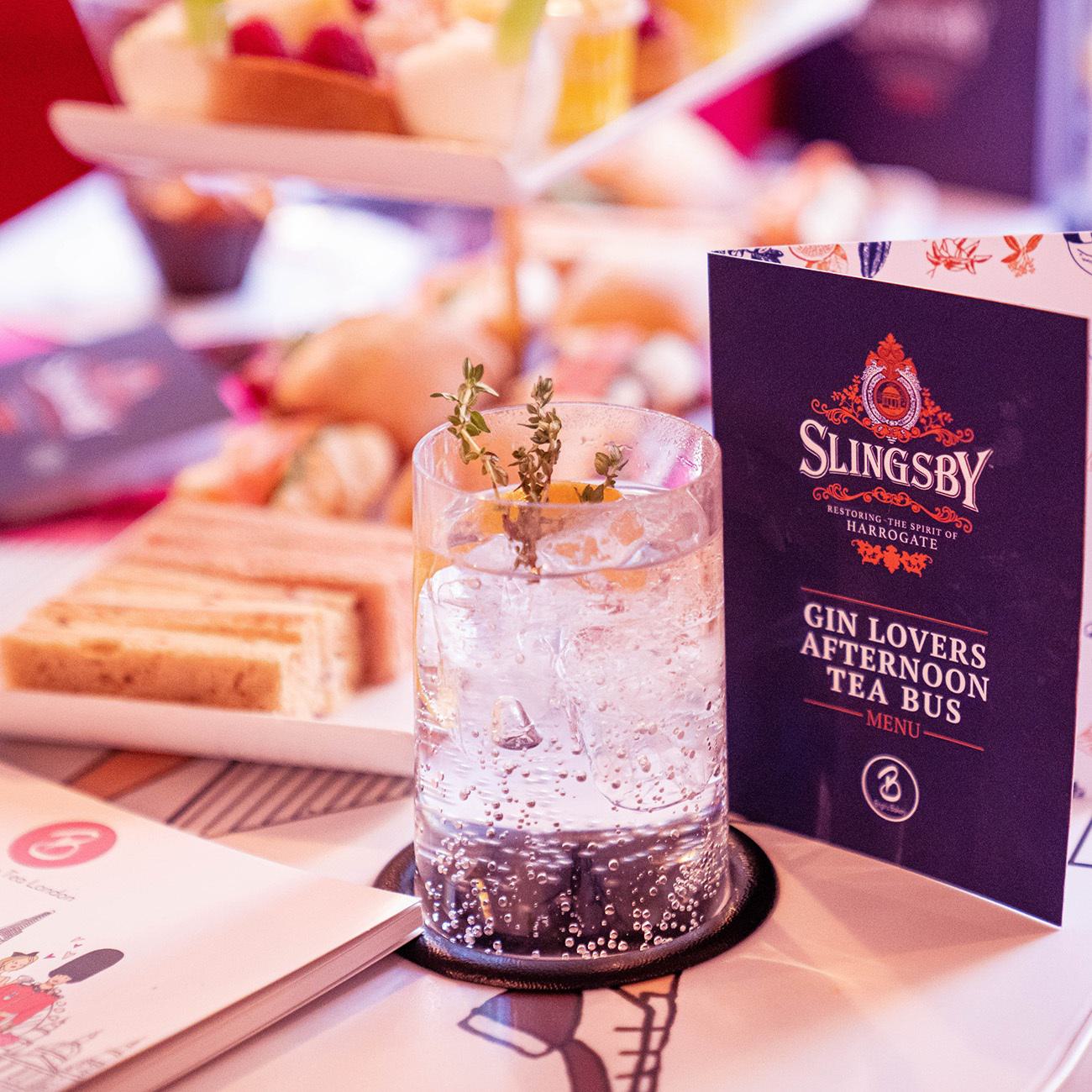 About Slingsby Gin

You may not know this, but the history of the Slingsby brand name dates back to the 16th century! It was William Slingsby who discovered the unique properties of the natural spring water from Harrogate's Tewit Well, in North Yorkshire in 1571. And this same water, which attracts plenty of visitors to the famous spa town of Harrogate, is used today to make the sublime Slingsby gin. The drink combines the healing waters of Harrogate with the finest, pure, single-grain spirit. It's made using 24 botanicals, many of which have been proven to actually have medicinal benefits.
So while the Slingsby name has meant something for centuries, the brand we all know and love wasn't created until 2013 by Mike Carthy and Marcus Black. With their first gin becoming available on the market two years later, in 2015, Mike and Marcus wanted their product to become an ultra-premium gin brand that symbolised a luxurious lifestyle and embodied the restorative nature of the town of Harrogate. In essence, Slingsby's vision is to capture the spirit of Harrogate in a bottle! And haven't they done this brilliantly?
The Brigit's Bakery partnership with Slingsby gin
When asked about the partnership between Brigit's Bakery and Slingsby back in 2019, Mike and Marcus stated:
"We are proud to be bringing the Spirit of Harrogate to London, and our award-winning Gin adds a tantalising flavour to all of the delicious cakes. We are delighted to be partnering with B Bakery and delivering an Afternoon Tea with a twist. Gin is such a quintessentially British spirit, so it is a natural fit to add the nation's favourite spirit to exciting serves and desserts on board".
And having served Slingsby gin on our buses for the best part of 4 years, we couldn't agree more!
So let's have a quick look at their most famous products.
The Slingsby 'family'
Slingsby London Dry
The award-winning and acclaimed London Dry offers a zesty citrus kick from its grapefruit base. It also presents a delightful touch of juniper followed by a seamlessly herbaceous sweetness. It concludes with delicate floral notes of Jasmine, Green Tea, and Rosehip, thanks to the infusion of jasmine blossom in the gin.
A fun fact about this gin is that the beautiful blue bottle the London Dry comes in was specifically designed to resemble the old apothecary bottles. Those were either blue or brown in order to help filter UV lights and preserve medicines for longer. Isn't that fascinating?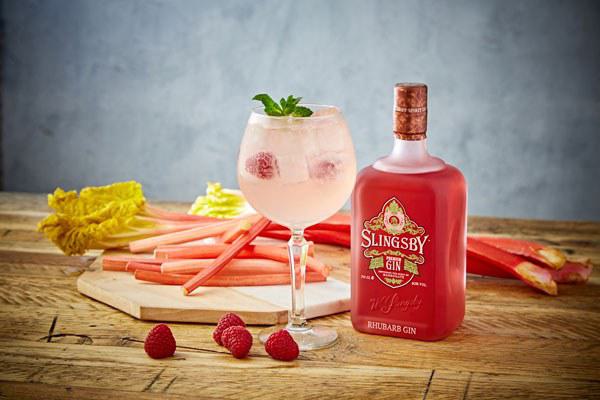 Slingsby Rhubarb
For their Slingsby Rhubarb gin, Mike and Marcus use the London Dry as a base and add rhubarb distillate made from Yorkshire Rhubarb. Slingsby prides itself on using locally sourced botanicals, and their rhubarb comes from a farm in Wakefield, which is part of 'the Rhubarb Triangle'. In fact, it's renowned as the best-quality rhubarb in the world – no small feat!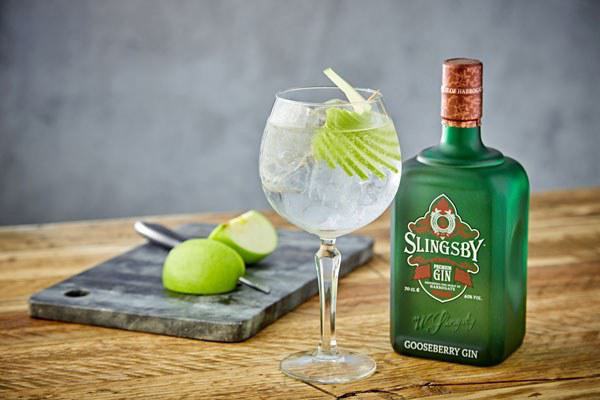 Slingsby Gooseberry
And last but not least, the Slingsby Gooseberry gin was the fifth product introduced to the Slingsby core range. Did you know that this gin began its inception all the way in New Zealand? That's right. Marcus and Mark were sample-tasting gooseberries in the shape of … Sauvignon Blanc! That's when they fell in love with the taste and decided gooseberry gin was the next product to go after. It was interesting, and it didn't exist on the market at the time.
The end result is a wonderfully aromatic gin crafted using the world-famous Harrogate aquifer water, pure single-grain spirit, and locally sourced gooseberries. With delicate tasting notes of white grape, green apple, and hints of tart gooseberry, Slingsby Gooseberry Gin is a flavoured gin. But its delicate nuances mean it doesn't stray too far from the path of a known-and-loved London Dry.
The Slingsby Gin Bus Tour (discontinued)
Complete with delicious cocktails and gin-infused cakes, our adults-only (18+) Slingsby Gin Afternoon Tea Bus Tour ran loud and proud 4-5 times a week on Fridays and Saturdays between September 2019 and September 2023 departing from Victoria Coach Station or 8 Northumberland Avenue. Sadly, all our tours had to take a 10-month break between 2020 and 2021 due to the Covid-19 pandemic.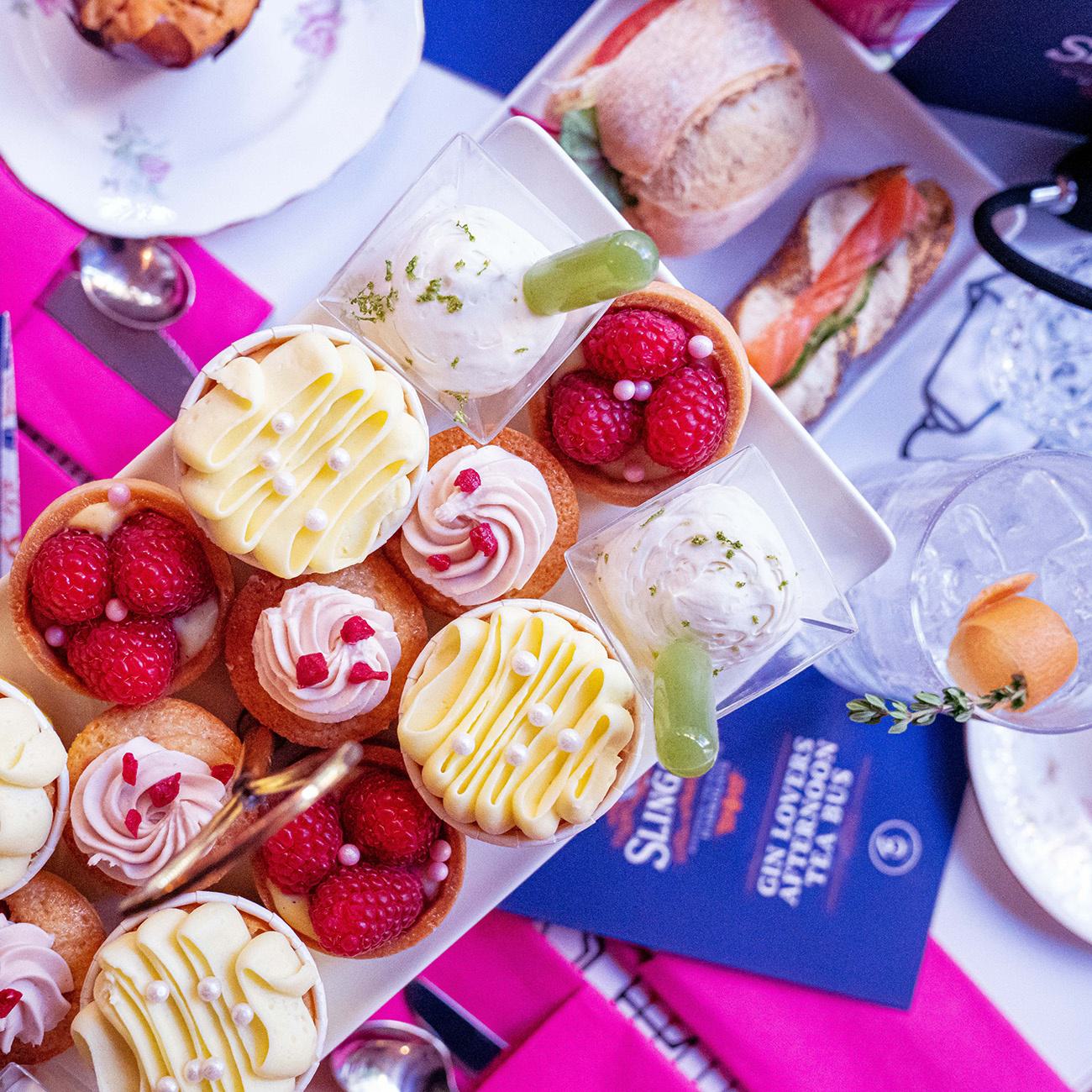 But we re-opened again in May 2021 with social distancing measures in place. We had to run our tours at reduced capacity, create separate seating booths with safe perspex screens, ask our staff to wear masks and our passengers to social distance. But we came back stronger than ever and with a passion to fulfil our mission to #MakeLondonSmile.
In fact, over our 4-year partnership with Slingsby, we ran approximately 150 tours with a total of over 8,000 passengers, delivering an immeasurable number of smiles, random bouts of laughter, and songs! (You'll find out more about that from our lovely customer reviews below).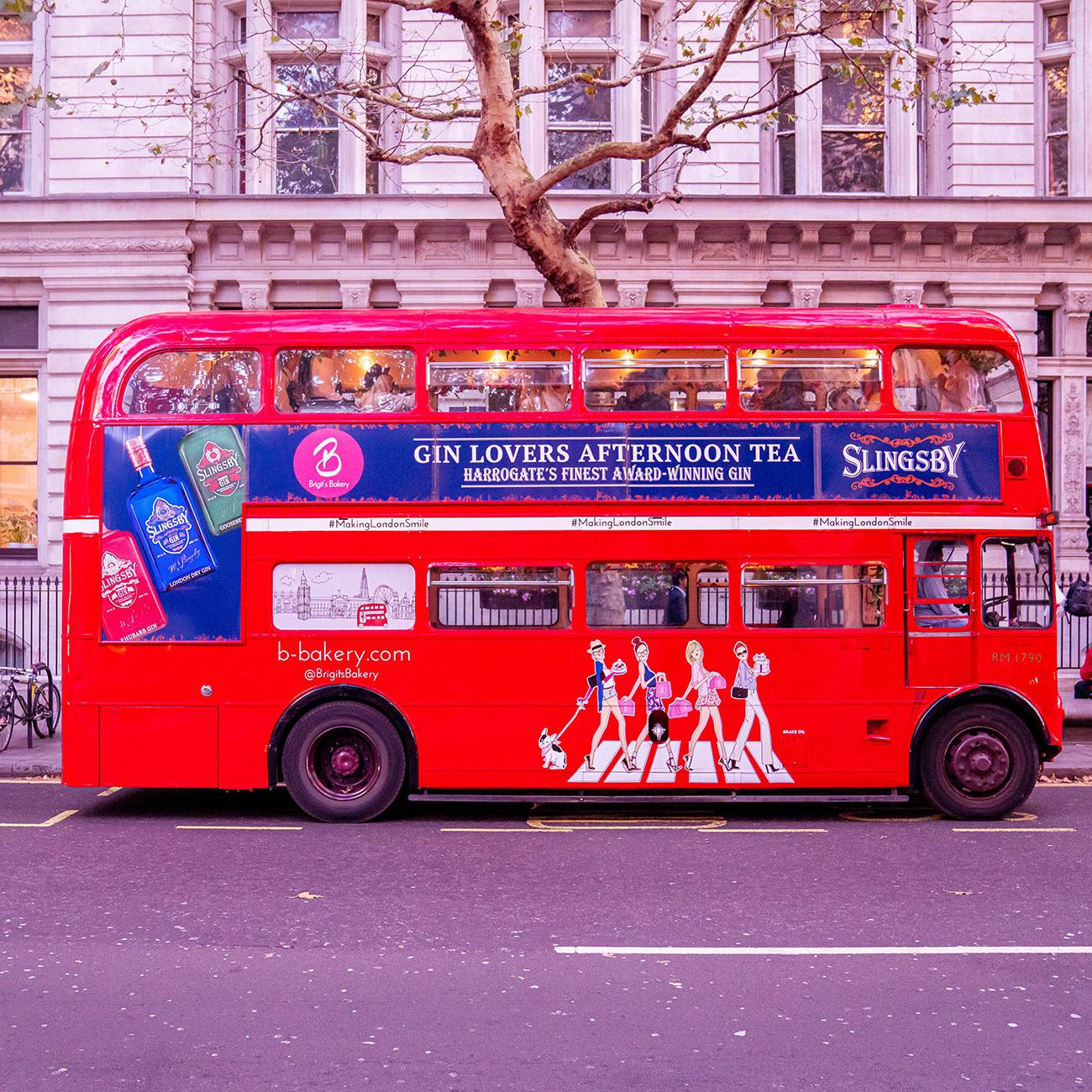 Rain or shine, our dedicated drivers covered 1,650 miles through the busy streets of London and drove past hundreds of London landmarks, including the Christmas lights and the Trafalgar Christmas tree during the festive period. Collectively, our amazing customers enjoyed approximately 24,000 G&Ts. And that's the equivalent of about 11,500 litres or 20,237 pints of gin! We think that was an overwhelming success, and those numbers speak for themselves, don't they?
Want to have a peep at what our customers were able to enjoy onboard our gin-lover tour?
The Slingsby Gin Afternoon Tea Bus Tour food menu (discontinued)
Here's what the Slingsby Gin Afternoon Tea Bus Tour menu used to include:
Our standard savouries + salmon pretzel with lemon liqueur + dry gin spritz.
Lemon cupcake with Carthy and Black Gin Cream Liqueur.
Raspberry tart with Slingsby Rhubarb Gin cream.
Gin jelly, crunchy peals, lime mousse with Slingsby Gooseberry Gin and cucumber pipette.
Strawberry moelleux with Slingsby Rhubarb Gin. Strawberry gin mousse on top.
Rhubarb macaroon with Slingsby Rhubarb Gin pipette.
The Slingsby Gin Bus Tour Gin & Tonic menu
Classic G&T – 25 ml Slingsby London Dry, Grapefruit and Rosemary Tonic Water from London Essence, garnished with fresh grapefruit and thyme.
Rhubarb G&T – 25 ml Slingsby Rhubarb Gin, Pomelo and Pink Peppercorn Tonic Water from London Essence, garnished with fresh ginger.
Gooseberry G&T – 25 ml Slingsby Gooseberry Gin, White Peach and Jasmine Crafted Soda from London Essence, garnished with edible flowers.
What our customers said about our Slingsby Afternoon Tea Bus Tour
It was definitely a tour not to be missed. But, as always, don't take our word for it. Here's what some of our customers had to say about our Slingsby afternoon tea bus tour:
Sandra W writes,
"Great experience loved the pineapple gin! I had a great time on the bus and the food and gin selection was great! Vince and Edward are absolute darlings that made the journey so much fun. They really gave off Christmas spirit in abundance. Also a huge thank you to them for waiting for us at the start as we were stuck in traffic."
Jessica D says,
"Gin Lovers is a must! We did the gin lovers bud tour and it was a blast. Vince and Eduard were an absolute treasure. We got 3 drinks and they even played a little Shania Twain for us."
We bet you all want to meet Vince and Eduard now?
And Jacks1000 writes,
"One not to miss. This was a fabulous experience, good food, and the gins were a really nice selection. The service was simply fantastic and I can't recommend this trip enough. It was a fab evening which ended with the whole top deck singing along to the music!"
Vince and Eduard strike again, maybe?
Introducing the Bombay Sapphire Afternoon Tea Bus Tour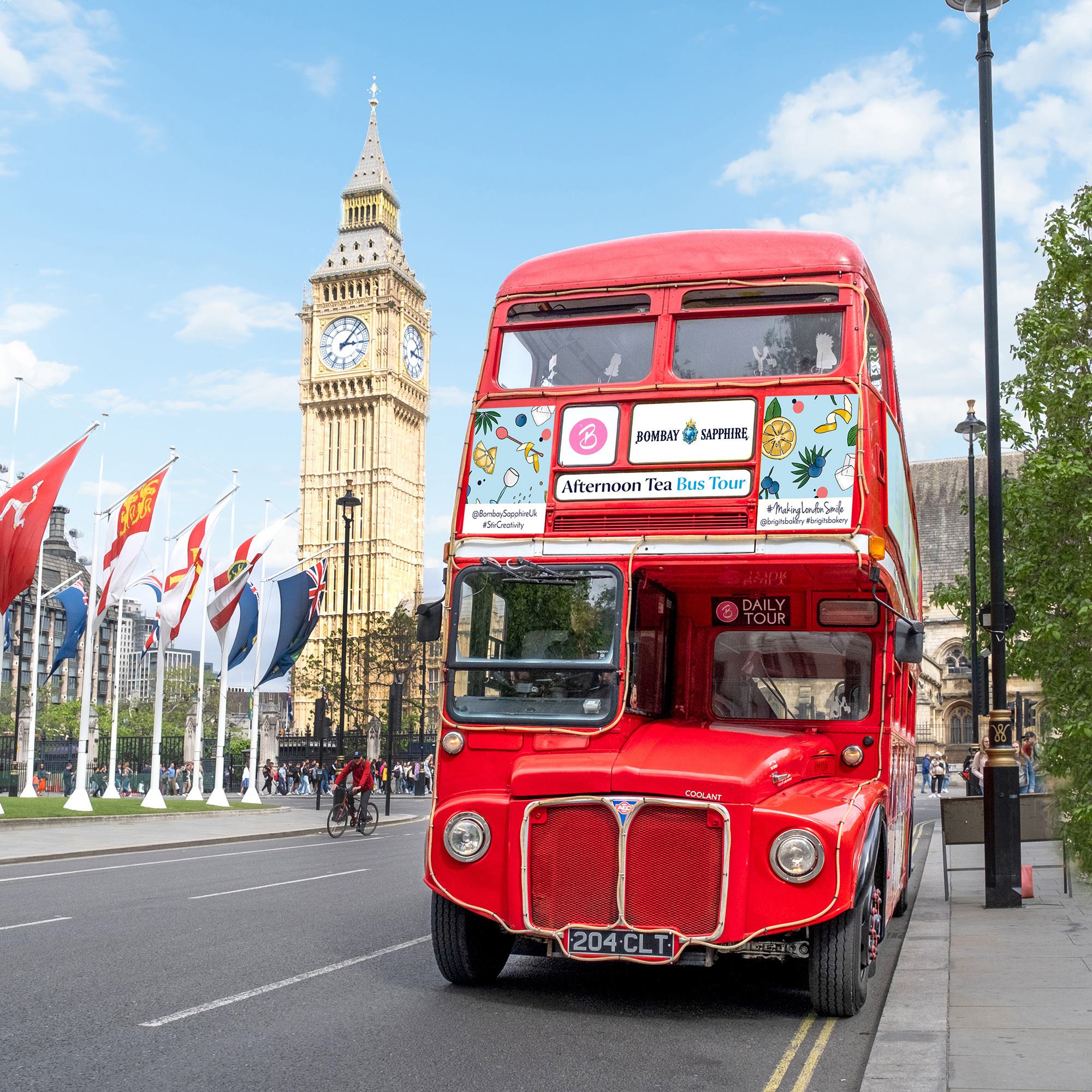 Are you a gin lover and sad the Slingsby Afternoon Tea Bus Tour is no longer available? Fear not! Because we have something else for you that we think you're going to love just as much. Introducing... the Bombay Sapphire Afternoon Tea Bus Tour. This tour runs every Friday and Saturday (and on occasional Thursdays) at 17:30 and 18:30 and departs from Victoria Coach Station or Trafalgar Square.
Head over to this page to find out more about our Bombay Sapphire tour, including information about our menus and route. We promise the experience is going to have your senses run wild!
And if you'd like to check what afternoon tea bus tours are running when, our London Bus Tours page tells you everything you need to know, month by month. Enjoy!