Wedding Bus Hire in London with Brigit's Bakery
Are you looking for a unique and quirky wedding reception for your big day? How would you like to welcome your guests onto a classic red double-decker bus? Well, your dreams have just come true here. If you're looking for a wedding bus hire in London, you've just found the best of the best when it comes to London bus hire!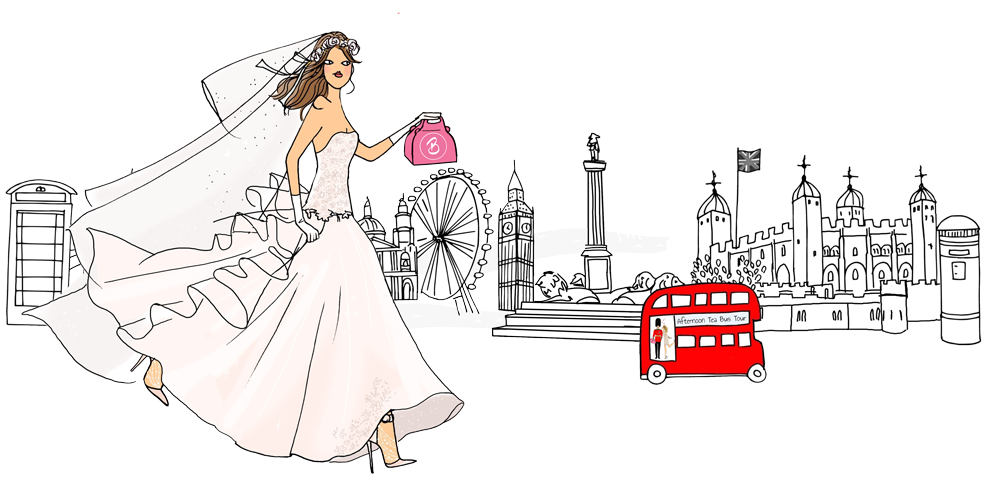 Wedding transport on the Brigit's Bakery Routemaster buses
Picture this. It's your wedding day. You've just tied the knot with the love of your life and had the perfect ceremony, surrounded by close friends and family. How about celebrating by taking a trip down memory lane on one of our vintage buses? Pretty special, right?
The great news is that all our classic buses are available for exclusive hire. So if you're looking to host your wedding reception in style, while traveling the streets of London on a fully-catered, stunning red bus, this is your chance!
When hiring a Brigit's Bakery bus for your wedding reception, you get a 90-minute afternoon tea bus tour (depending on traffic) across the streets of London. Departing from either Victoria Station or 8 Northumberland Avenue, we will drive you past some of the capital's most renowned landmarks, including Big Ben, The Houses of Parliament, Westminster Abbey, St James's Park, Hyde Park, The Royal Albert Hall, Marble Arch, Nelson's Column, Downing Street, and much more.
Because it's your wedding (and the special occasion of all special occasions!), we are also able to offer you personalised routes with specific departure and arrival locations - you just need to tell us what you'd like us to do, and we'll do our best to accommodate you. We can also extend the tour for you if you like, so if you're looking for something more tailored, just ask!
During the tour, our staff will take the best care of you and your wedding party by serving you our quintessentially afternoon tea with a French twist - we call it L'Afternoon Tea. And because we love you, we'll also give a free Brigit's Bakery takeaway mug to every single one of your guests!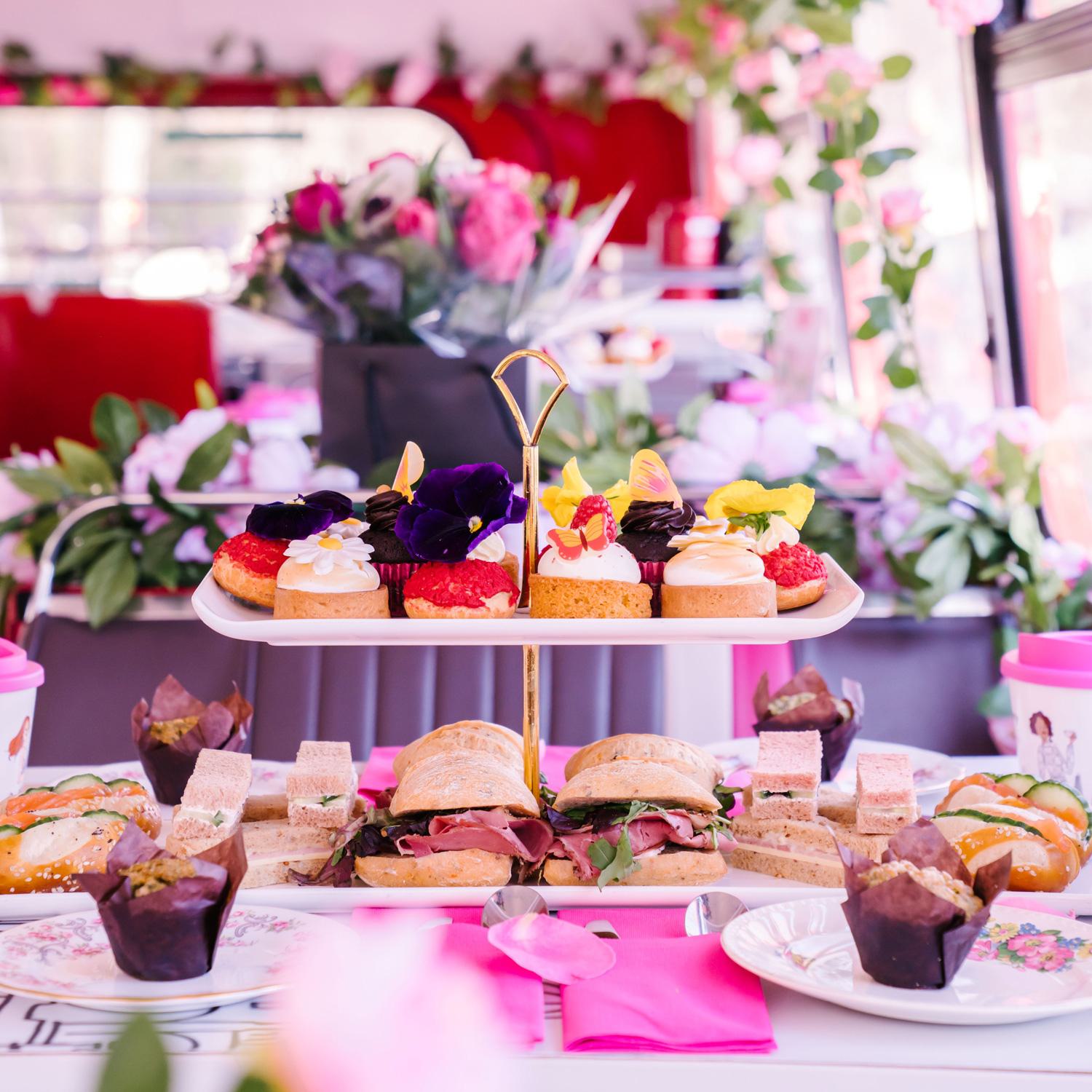 So what can you expect on the menu?
The Brigit's Bakery Afternoon Tea Menu
Here's what's on offer if you decide to go with our Traditional Afternoon Tea menu.
The Brigit's Bakery freshly-prepared savouries:

Pastrami with a slice of gherkin burger with tomato bread and mustard and mayo sauce.
Pretzel with chives, cream cheese, and fresh salmon.
Ham and cheese finger sandwich.
Cucumber and cream cheese finger sandwich.
Stilton and leek muffin with walnut.
Our fabulous assortment of mini homemade cakes and tarts:

Lemon tart with meringue.
Red choux with vanilla creme patissiere and raspberry coulis.
Chocolate cupcake.
Sable Breton with cream cheese.
It's not afternoon tea without our plain, freshly-baked scones with clotted cream and jam. We serve these with coffee or hot chocolate and a wide selection of loose tea leaves.
Of course, we do understand that you or some of your guests may have specific dietary requirements or preferences, which is why we also offer a wide range of alternative menus, including:
Just let us know what you need when you make your booking, and we'll do what we can to help.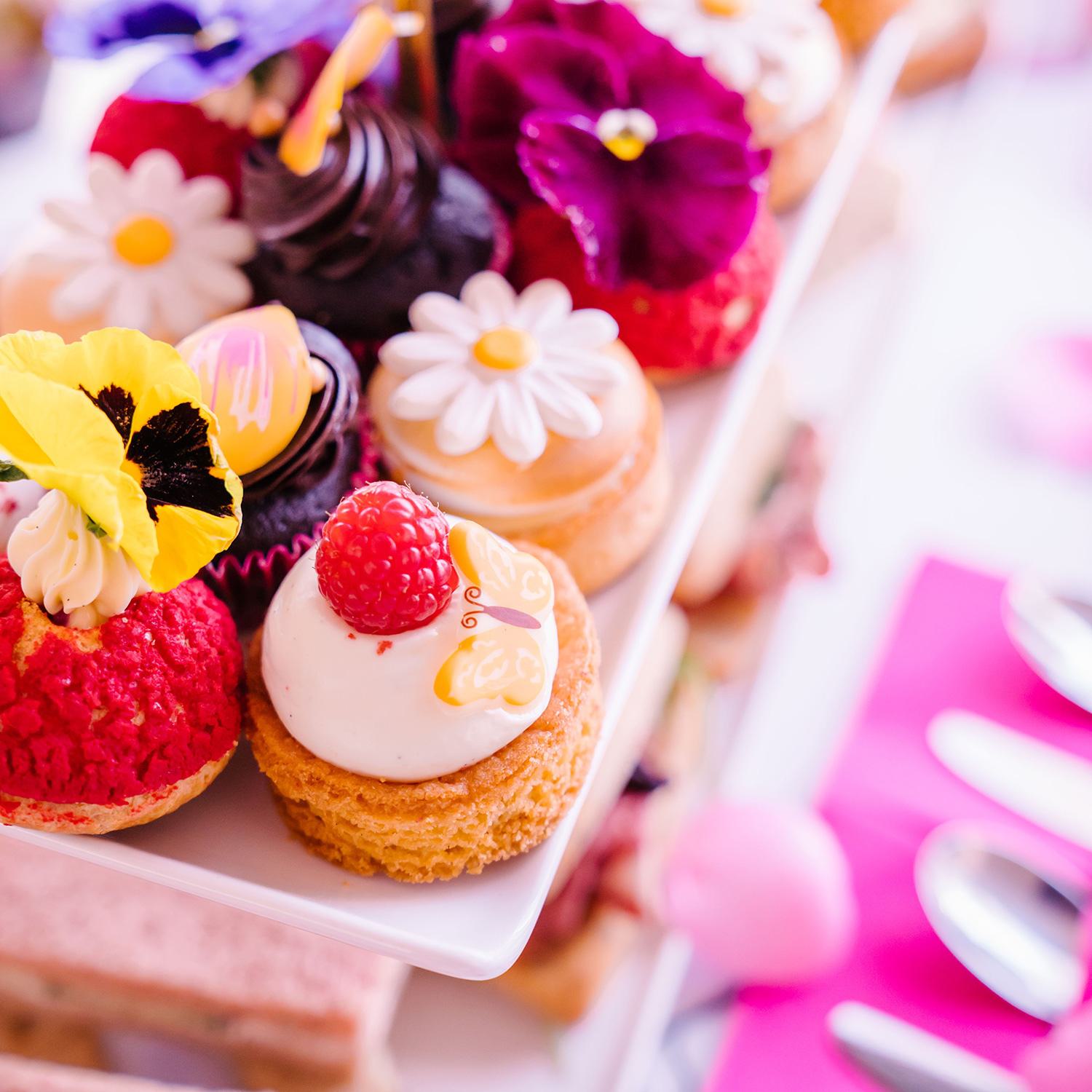 From the Brigit's Bakery drinks menu...
And because it's your wedding, you can also pre-order a glass (or two) of a little something to drink. Here's what's on our sparkling wines menu:
Prosecco Zia.
Prosecco Rose (Villa Marcello).
Nyetimber Classic Cuvee.
Nyetimber Rose.
Or, if you're going for Champagne (and why not?), here's what's on offer:
Castelnau Brut.
Castelnau Rose.
Vintage Rose.
Castelnau Blanc de Blanc.
Castelnau Hors Serie.
Cristal - Louis Roederer Vintage.
Anything that takes your fancy?
Wedding Bus Hire in London - your options and the small print
So what else do you need to know when you hire one of our Brigit's Bakery buses for your wedding reception?
Depending on your party size and your individual requirements, we can offer you two options:
Hire one of our Classic Routemasters - the full bus can accommodate up to 32 people. If you don't quite need the full space, you can hire the lower floor (for up to 12 people) or the upper floor (for up to 20 people) instead of the full bus.
Or hire one of our Long-wheel Routemasters - the full bus can accommodate up to 44 people. Or you can hire the lower floor for up to 16 people or the upper floor for up to 28 people.
Prices vary depending on the size of your party (and the type of bus you're hiring), your individual requirements (length of tour, departure location, route, menu etc.), and on whether you're hiring one of our buses for a week-day wedding reception or a weekend one (weekend prices are slightly higher).
For up-to-date hire prices and seating plans, have a look at our London Bus Hire page.
You should also know that we require a 50% non-refundable deposit to secure your booking, and we kindly ask that the final payment is made two weeks prior to the booking date.
If you want to discuss your requirements in more detail, give us a call on 020 3026 1188 or email us at info@b-bakery.com, and we can advise you and provide you with a quote.
Oh, and while you're here - if you or your other half are looking for ideas for a fun hen do, take a look at our article: Fun and quirky hen do ideas in London.
London buses for hire for corporate events
Our buses are not just the perfect venue for weddings, but also for corporate events, product launches, hen parties, baby showers, birthdays, or graduations. There's no celebration or party (whether it's for family or for business) that our Routemaster hire isn't the perfect solution for!
When you hire one of our buses, we carefully listen to your requirements and go the extra mile to give you the event you dream of. Did you know you can even personalise your bus by branding it for your unique event?
If you want to get some inspiration or just a feel for the type of events and product launches we've organised in the past, why not take a look at some of our most popular private hires?
And if you'd like more information on our wedding bus hire in London service or our other private hire options, take a look at our London Bus Advertising page or give us a call on 020 3026 1188, and we'll be happy to advise.