Explore London while enjoying afternoon tea on a Thames river cruise
Are you planning a special celebration and are looking for a fabulous treat for a loved one? Or maybe, with summer just around the corner, you're after something unusual to do on a Sunday afternoon?
Then why not come and join us for afternoon tea on a Thames river cruise?
It makes for an ideal afternoon out for any special occasions or even a family get-together – big or small.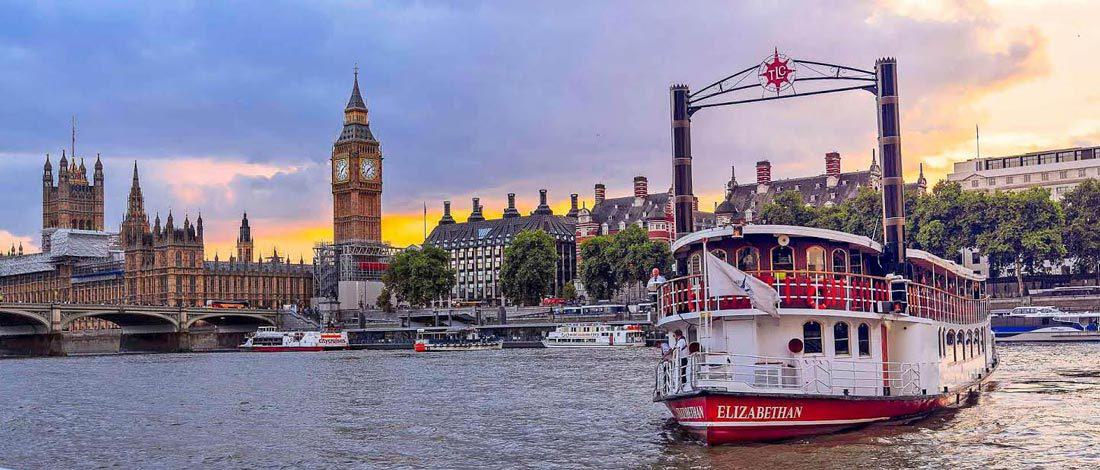 Because here at B Bakery, we don't just do afternoon tea. We do afternoon tea with a French twist (more on that later) in a variety of locations. You can enjoy our sublime food and informal, fun, yet impeccable service at the Brigit's Bakery in Covent Garden, on one of our Afternoon Tea Bus tours, or on board one of our Thames Cruise boats.
Why the River Thames
Did you know that the River Thames, which originates from the village of Kemble, near Cirencester is 2,000 years old and stretches for a whole 215 miles? The Thames is a tidal river, and it features 47 locks and a whopping total of 104 bridges, of which 75 cross over the non-tidal Thames and 29 are built over the tidal Thames.
How many bridges can you name?
But most importantly, the Thames flows through Central London and acts as this beautiful backdrop to many of the city's top and best tourist attractions. It's bridges and waterways are among the most-photographed features of the capital and, unsurprisingly, a continuous source of inspiration for artists, film-makers, novelists, and many more.
If you're visiting London for the day or for the first time, including at least one river Thames activity will be worth your time. With hop-on-hop-off sightseeing cruises available, dinner cruises, and even city cruises complete with live commentary, you're spoilt for choice. River bus services are becoming increasingly popular with commuters and tourists alike – they're not just an excellent way to beat the traffic, but they provide an opportunity to enjoy the stunning sights of the beautiful city of London.
We are great fans of the capital here at Brigit's Bakery, and if you want to find out more about why we started our business in London, read more here. Without an option to enjoy our unique afternoon tea on board a Thames River cruise, we would have done our loyal customers a disservice, which is why a few years ago we launched our own Thames Cruise Afternoon Tea.
Explore London while you enjoy Afternoon Tea on a Thames River Cruise
When it comes to circular cruises on the famous London river, our vintage, private motor yacht, complete with the uniformed captain are one of a kind. Our Brigit's Bakery boats will cruise down the River Thames taking in some of London's best culture, landmark, and history while you sit back, relax, and let us take care of the rest.
Our standard London sightseeing tour lasts approximately two and a half to three hours, departing from and returning to Eagle Wharf (near Tower Bridge). You'll get to enjoy an unusual view from the river of some of London's most iconic landmarks, including:
City Hall.
Tower of London.
The Gherkin.
St Paul's Cathedral.
The Shard.
Tate Modern.
Trafalgar Square.
The London Eye.
Big Ben.
Waterloo.
Borough Market.
And many more glorious sights in between.
With an open upper deck, our Elizabethan Boat allows our guests to take in the views before you head down to the restaurant in the lower deck to savour your afternoon tea… with a French twist.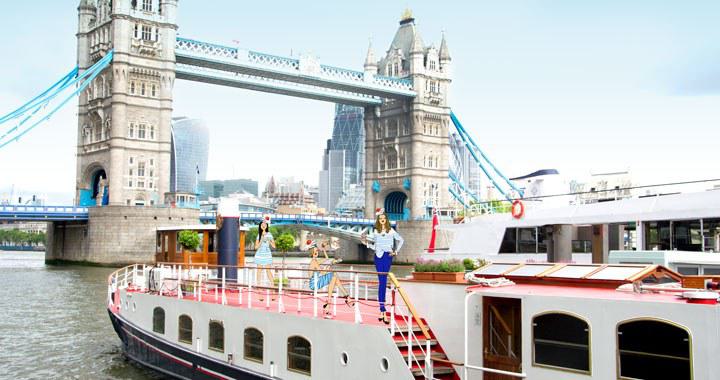 Afternoon Tea with a French twist
You may already know that the Brigit's Bakery founders are of French origin. They embarked on this amazing B Bakery journey back in 2010, and since the start, they fully embraced this idea of L'Afternoon Tea – the unique combination of a well-established English tradition (the afternoon tea) enriched by and fused with their love for French food and cuisine.
And that's where the twist comes in!
Our afternoon tea menu includes a choice of freshly-prepared savouries including our delicious:
Spinach, feta, and sun-dried tomato savoury muffin.
Smoked salmon pretzel with cream cheese, chives, and cucumber.
Minty cucumber and cream cheese sandwich on beetroot bread.
Pastrami burger with tomato, salad, and mustard mayonnaise.
Ham and cheese sandwich with wholegrain mustard mayo on granary bread.
But we also serve our afternoon tea with an assortment of unique, fresh, mini homemade cakes and tarts, such as:
Lemon meringue tart.
Vanilla and raspberry jam choux.
Queen sablé and cream cheese mousse.
Chocolate mini cupcake.
Each and one of them is an exclusive explosion on taste in its own right! And of course, all our mouth-watering food is served with freshly-baked scones with clotted cream and jam, accompanied by your choice of favourite tea or coffee. And if you're celebrating a special occasion, why not add a glass of bubbly to your afternoon tea? Check out our wine list here.
Pick your favourite afternoon tea menu
If the above selection taken from our Traditional Afternoon Tea menu doesn't take your fancy, worry not! Here at B Bakery, we cater to different tastes and dietary requirements. We pride ourselves on our varied selection of menus that are available for you to choose from all our locations.
So why not take a look at our menus to find out more? We promise they are all equally delicious and unique!
Just make sure you tell us what menu you'd like to enjoy when you book your place.
Afternoon Tea on the Brigit's Bakery River Thames Cruise boat
Our 3-hour Thames Cruise afternoon tea tours are available in July and August on the following days only:
17 & 31 JULY 2022

14 & 28 AUG 2022
Please Note: Dates are subject to change, so check our website for updates.
All tours depart from (and return to) Butlers Wharf pier at 2 pm on the above dates. Adult prices are £75 per person, and children prices are £30 for those aged 0-3 and £65 for anyone aged 4-11.
River Thames Cruise private hire
Did you know that our Elizabethan and Edwardian boats can also be hired privately for corporate or private events? Much like we do with our beautiful bakery in Covent Garden and with our Afternoon Tea bus tours on board of our vintage Routemaster buses, our cruise boats are also available for private hire.
And when it comes to private functions and events, we are able to offer you great flexibility. Daytime departures are available from 10 am to 2:30 pm while evening tours can depart from 6:30 pm onwards. But we don't stop there!
We can also offer you the option to depart from Westminster Pier instead of Butler Wharf Pier and sail all the way to Hampton Court. If you wish, you can even extend the boat tour to five hours. So just contact us with your requirements and we would be happy to advise.
Choose your favourite river cruise boat
For our private hire, we offer two options:
Our Edwardian boat can accommodate up to 50 people. Its main feature is the stunning open-deck terrace that will allow you to enjoy a glass of bubbly while you explore London for the Thames.
Our Elizabethan boat is much larger and can host up to 120 people. With a dance floor and an open sky roof, you're guaranteed to give your guest the time of their lives!
Because of course, in true Brigit's Bakery style, we'll treat you like royalty by providing flawless service and taking care of all the details, including flowers, decorations, and entertainment, if you'd like us to. Both our boats can be tailored to your specific requirements. They are perfect for large corporate events (especially our Elizabethan boat) or family celebrations. But we can and are more than happy to cater for smaller groups as well. Just ask and (within reason) you will receive!
Book your Brigit's Bakery Thames Cruise Afternoon tea today
Our Afternoon Tea Thames Cruise is the only one of its kind, and our limited summer dates often sell out, so make sure you book early to avoid disappointment. Please note, you may be sharing a table depending on your group size.
To book your place, fill in this form, and we will contact you for payment. Alternatively, call us on 020 3026 1188.