Choose Brigit's Bakery as your private Christmas party venue in London
Are you looking for event spaces in Central London this party season? If you're on the hunt for the perfect spot for your office Christmas party or a special family gathering, Brigit's Bakery makes the ideal private Christmas party venue in London. And if you want your event to be completely unique and unforgettable, then why not hire one of our vintage double-decker buses?
Hire Brigit's Bakery for your Xmas party
Situated in Chandos Place in Covent Garden in the heart of London, Brigit's Bakery is perfect for your Christmas party in London. You can hire the whole restaurant as an events venue for drinks receptions and corporate events, such as product launches, PR events, or corporate Christmas parties.
The restaurant is also a popular choice when it comes to wedding venues, summer parties, hen do's, baby showers, engagement parties, birthdays or anniversaries, and any sort of private party. So if a shared Christmas party is on the agenda this year, how does a fantastic restaurant that can accommodate up to 60 people seated or 100 people standing sound?
With different private dining rooms available, you have the option to hire the whole place, just the main restaurant on the ground floor, or one of the meeting rooms downstairs.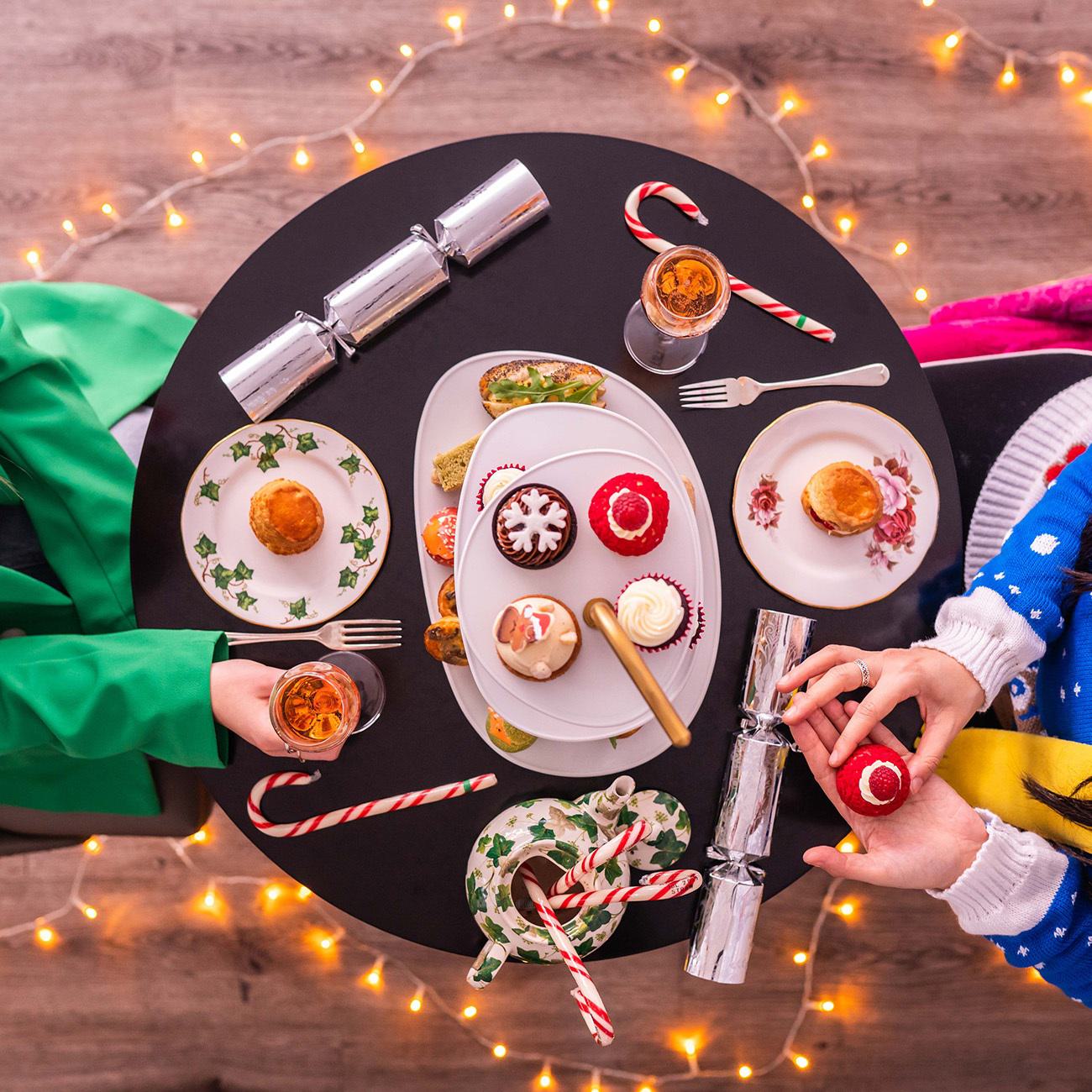 Hiring Brigit's Bakery for your private event
The main restaurant on the ground floor is bright and spacious. And we might be biased when we say this, but it makes one of the quirkiest party venues in London. It can accommodate up to 30 people seated or up to 60 people standing. If you'd like to get an idea of the look and feel of the place, check out this video of a private event hosted at our bakery.
Downstairs, we have three private rooms of varying sizes. These are ideal for smaller meetings or more intimate family gatherings, so if you're in charge of party planning this year, you might want to take a look sooner rather than later as our lovely rooms get snapped up quickly!
So here's a little overview of the rooms available downstairs:
The Sofa Room. L-shaped, this is the largest of our downstairs private rooms. It can host up to 16 people in total (spread across a number of tables).
The Garden Room. With stunning wall arts and chairs to match, this is a beautiful medium-size room with a vibrant feel to it that can accommodate up to 10 people.
And then we have the Cupcake Room. The smallest of our downstairs rooms, it's cute, cosy, and quiet and can accommodate up to 4 people. This makes it ideal for more intimate gatherings and special occasions.
Events options at Brigit's Bakery
If you're interested in hiring Brigit's Bakery (either the entire place or one of our smaller rooms), we require a pre-order and a booking. We offer bespoke packages to accommodate individual party requirements but also regularly offer four types of events. These are:
Morning meetings. If you want to hold your Christmas office party in the morning this year, we include a hot beverage and a pastry. Alternatively, you can have a hot beverage and a hot breakfast. And this is for a 3-hour hire.
Afternoon tea party. Between 14:00 to 17:00, you can enjoy your own private Afternoon Tea menu. Alternative menu options are also available and include vegan, vegetarian, halal, and gluten-free. And if want your event to have a Christmas party theme, then book between mid November and end of December to enjoy our exclusive Christmas Afternoon Tea Menu. You can have a look at the full Christmas menu here.
And finally, with our evening launch party, you can hire the full bakery from 18:00 onwards for a private party. We'll provide catering, bubbly, and decorations as required.
For more information and to get in touch about your party or event hire requirements, head over to B Bakery: Party Room Hire. Or you can give us a call on 020 3026 1188 to discuss. Pricing may differ from the packages above. It will also depend on the day you choose, the number of hours you'd like to hire a room for, and what type of food and drinks you'd like to order.
Hire a Brigit's Bakery Routemaster Bus
And if you want to really surprise your guests this year and give them a Christmas party they'll never forget, did you know that our iconic vintage buses are also available for private hire? Talk about an amazing private Christmas party venue in London, right? You'll be on the move and on wheels! You'll get to sit back and enjoy a relaxing afternoon tea with a glass of bubbly. And that's while taking in the best sights the City has to offer!
When it comes to hiring out one of our beautiful double-decker buses, we have two options to choose from. Whether you pick our Classic Routemaster or our Long-wheeled bus depends on your party size and requirements. The bus will be completely at your disposal for the duration of the 90-minute tour. You'll be departing from either Victoria Station or 8, Northumberland Avenue. And included in the price are afternoon tea and a free takeaway branded mug for every guest!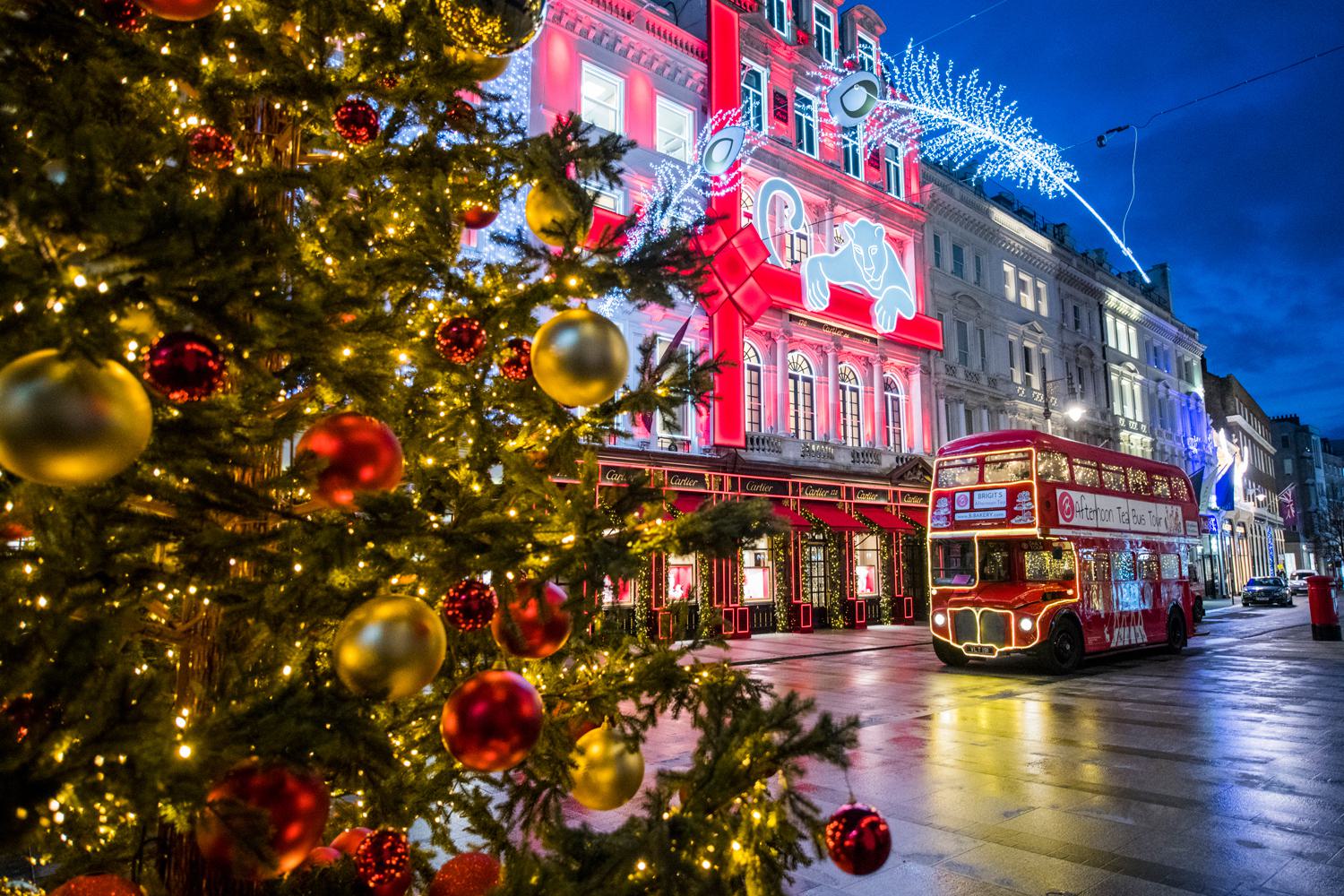 Classic or Long-wheeled?
If you're wondering about just how many people could comfortably party on a double-decker bus, that depends on what model you go for.
Our Classic London Bus can accommodate up to 12 people on the lower deck and up to 20 on the upper deck for a total of 32 guests if you choose to hire the whole bus. The minimum private hire for the whole bus is 26 people.
Our long-wheeled London Bus can accommodate up to 16 people on the lower deck and 28 on the upper deck for a total of 44 guests when you hire the full bus. We ask for a minimum number for the private hire of the whole bus of 35 guests.
Click here for more information about our London Bus hire services.
Please note that prices vary depending on whether you choose to host your party on a weekday or a weekend. Guest numbers may also change depending on Covid-19 government guidelines. So contact us for a quote or give us a call on 020 3026 1188. We'll discuss a few options and suggest the best option for you. Easy peasy!
So, will you choose Brigit's Bakery as your private Christmas party venue in London this year?