Best London Sightseeing Bus Tours
If you're looking for the best London sightseeing bus tour that the City has to offer, you've come to the right place. With a range of fantastic afternoon tea bus tours that combine sightseeing with delicious afternoon tea on our stunning Routemaster double-decker buses, we guarantee a fantastic time. So, are you ready to experience a tour of London with a twist?
The most stylish sightseeing bus tour
We understand the attraction of big bus tours, but open-top sightseeing bus tours aren't always the most comfortable option in London. You know what the weather is like! So we've come up with something a little different.
First, let us tell you a bit more about the sightseeing part of our tours. Because you won't be travelling on just any bus. When you book with us, you're onboard a Brigit's Bakery iconic, Routemaster double-decker bus. Since the Routemaster has been discontinued by TfL, we're one of the few organisations allowed to keep and run these beautiful vehicles. All our buses have been fully rebranded, re-purposed, and re-fitted to accommodate comfortable tables where you can enjoy your afternoon tea while cruising the streets of London.
When you choose a sightseeing tour with us, you'll board our beautiful buses in the heart of London. Don't go looking for bus stops - look out for our buses. You can't miss them! Hop on and we'll drive you through the busy streets of London for about 90 minutes (depending on traffic) and past the most famous landmarks that our City has to offer.
So expect to see Big Ben, The Houses of Parliament, Westminster Abbey, Buckingham Palace, Hyde Park Corner, Harrods, Royal Albert Hall, Albert Memorial, Kensington Palace, Notting Hill, Hyde Park, Marble Arch, Mayfair, Green Park, The Ritz, St James Palace, Trafalgar Square, No.10 Downing Street, and much more!
So let's take a look at what tours are available for you to choose from.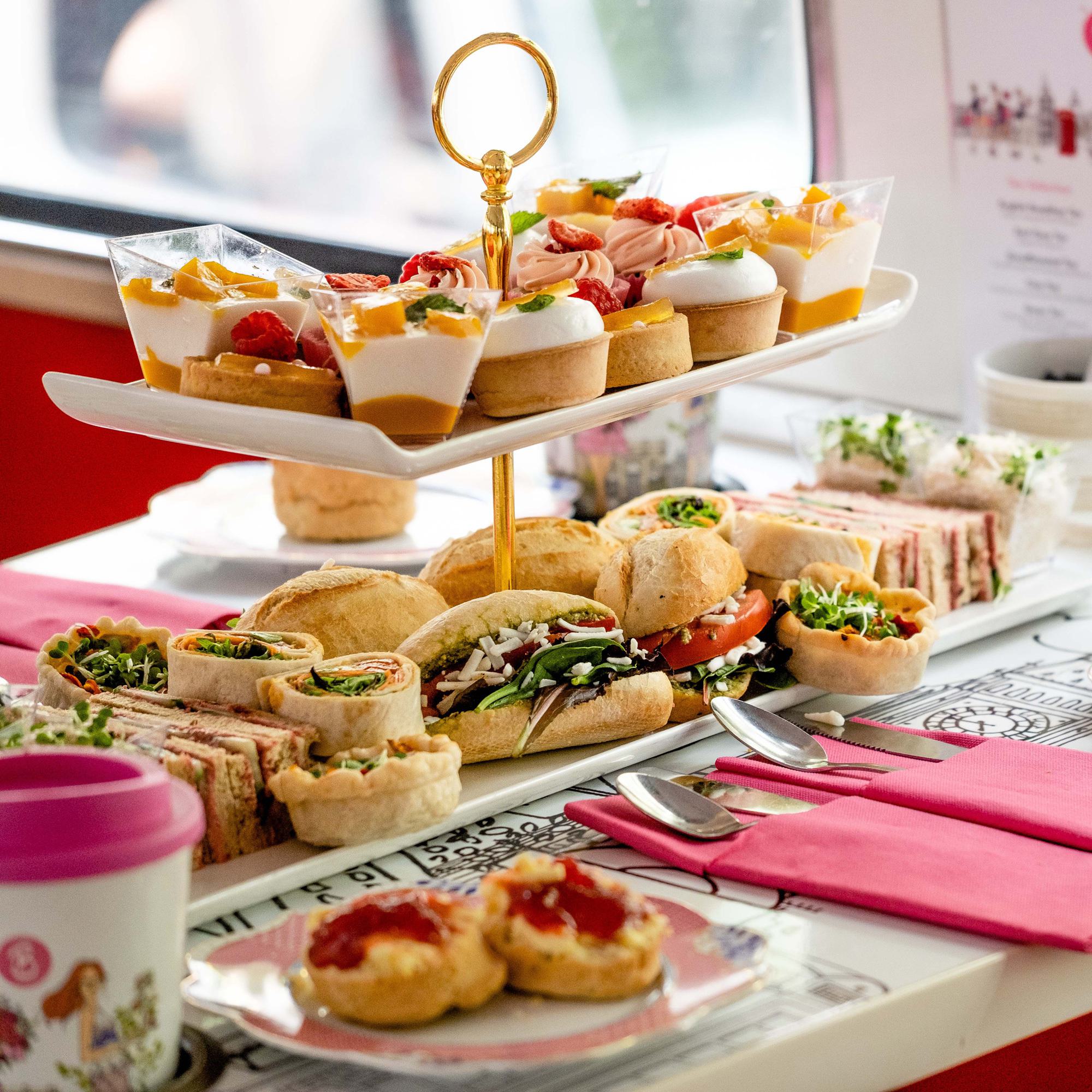 Classic Afternoon Tea Bus Tour
Our Classic Afternoon Tea Bus Tour is available all year round, and we have 7 tours departing daily from Trafalgar Square or Victoria Coach Station. Just head over to this page to check out the full afternoon tea menu, including the following alternative menus: Vegetarian, Vegan, Halal, and Gluten-free. Just tell us what you'd like to order at point of booking. And if you fancy one, don't forget to add a glass of bubbly to your order!
Want to hear what some of our customers say about the tour? Here's one of our recent reviews:
"Absolutely fantastic. The whole experience was excellent. We had never done this before and were very exited. The bus was amazing. There was so much food and drink and if you don't eat it all you can take home. The two hosts were excellent and very pleasant. Enjoyed the sightseeing too."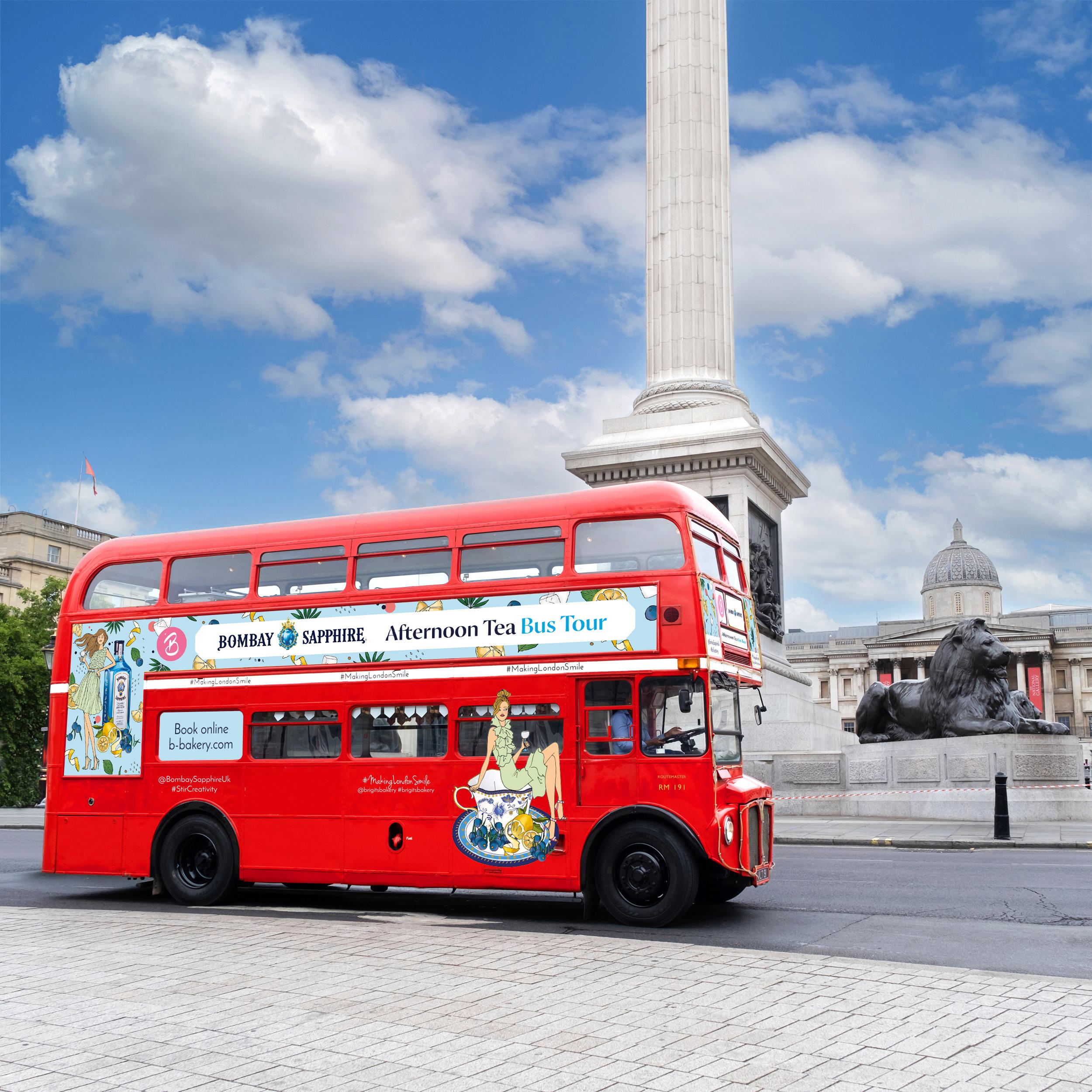 The Bombay Sapphire Gin Afternoon Tea Bus Tour
If everyone in your party is 18+ and you're a fan of gin, then we also have a special evening sightseeing tour - the Gin Lovers Afternoon Tea Bus Tour. When it comes to London bus tours, this one completely unique in its kind. On top of our finger-licking savouries, you'll be able to enjoy the following gin-infused treats:
Bombay Sapphire Lemon Cupcake topped with gin-infused cream.
Bombay Bramble Mixed Berry Tart with gin-infused cream.
Bombay Sapphire & White Chocolate Whipped Ganache Verrine with a gin-infused lime jelly.
Blueberry & Lemon Budnt Cake filled with gin-infused lemon curd & cream.
Lemon Slice Shortbread Cookie.
Plus you get three Bombay Sapphire G&Ts with your delicious afternoon tea along with a selection of teas and coffee. What's not to love? It's not only one of the best afternoon bus tours in town, it's the only gintastic one!
Tours depart at 17:30 and 18:30 on Fridays and Saturdays only so book your place early to avoid disappointment.
Check out our themed sightseeing bus tours
We also offer some fantastic seasonal and themed afternoon tea bus tours. These vary month on month, so if you want to check what's available, head over to our website and select the month you're interested in to view what tours are available. Don't miss out!
Family-friendly Afternoon Tea Bus Tours
Day tours traipsing across the busy streets of London can be tiring for little ones. While jumping on the London Eye to get a nice view of the City is always an option, a walking tour of London to see the Tower of London or Tower Bridge might sound great to you but not to your children!
So if you're looking for a family-friendly sightseeing tour that will give you a chance to admire the landmarks but also have some fun (and yummy food) in comfort, we have a few themed tours designed with children in mind. And the first thing that makes our tours unique and exciting is the bus itself! Our themed tours are fully 'dressed up' for the occasion with lively and quirky Brigit's Bakery branding and colours, coupled with amazing graphics depicting our children-friendly characters. Want to know who we're talking about?
Here are our fantastic family-friendly sightseeing tours.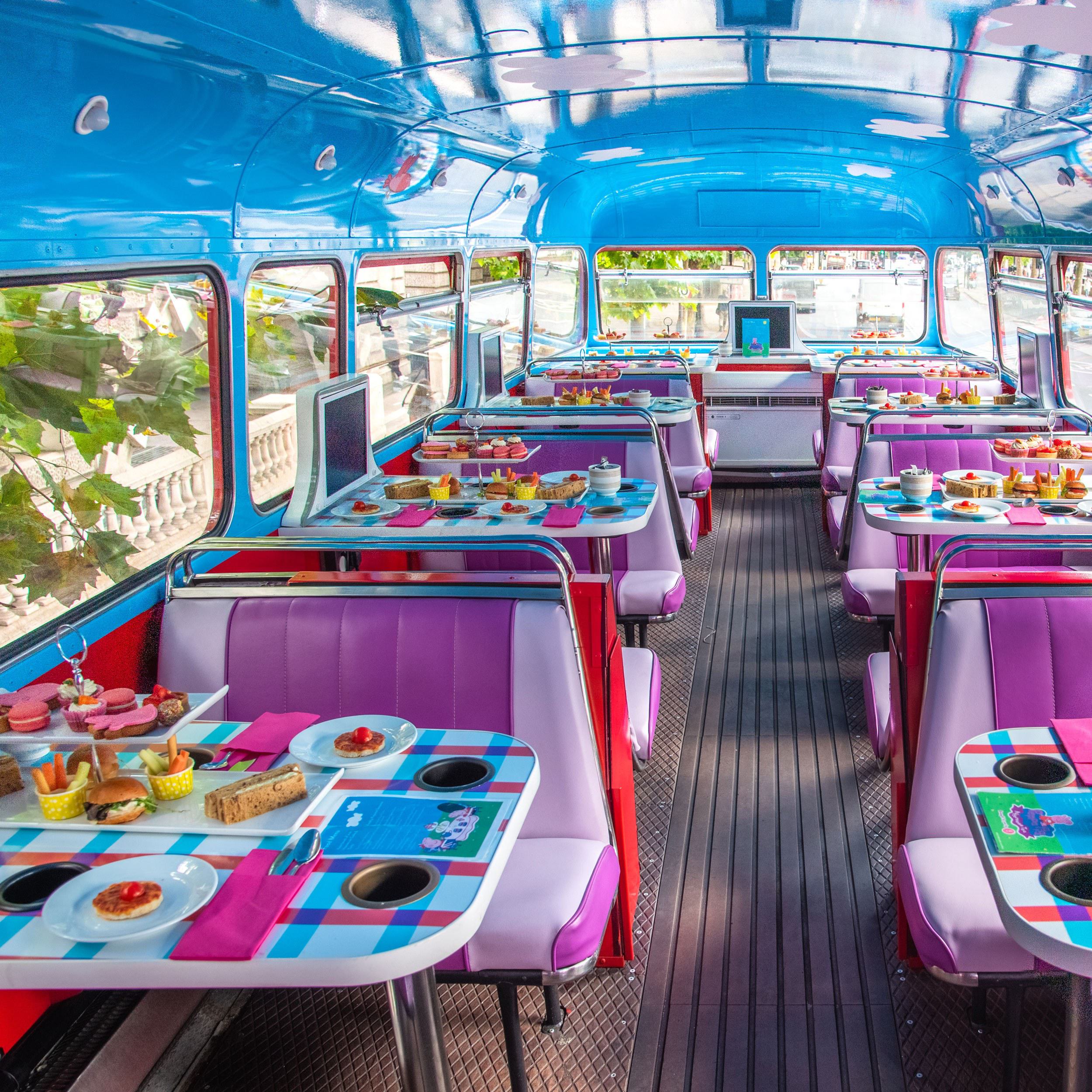 The Peppa Pig sightseeing Afternoon Tea Bus Tour
Do you have a Peppa Pig fan or two in your family? Then you don't want to miss out on this fantastic sightseeing treat! The Peppa Pig Afternoon Tea Bus Tour is available weekly from Thursdays to Sundays and offers a delicious Peppa Pig themed afternoon tea menu with the most amusing names. We have a Mandy Mouse's Cheddar Cheese finger sandwich, a Madame Gazelle's Veggie Crudité & Breadsticks with hummus, and a Rebecca Rabbit's Carrot Cupcake with a cream cheese topping just to name a few! Check out the full menu (including our alternative menus) here.
To make it fun for the little ones, each table comes with a special built-in tablet providing guests with a Peppa Pig guided animation of the London tour along with sing-a-long songs that the whole family will enjoy. Your little piggies will also be excited to receive a copy of our Peppa Pig Afternoon Tea Bus Tour Activity Book full of fun things to enjoy at home. For availability and booking, use this link.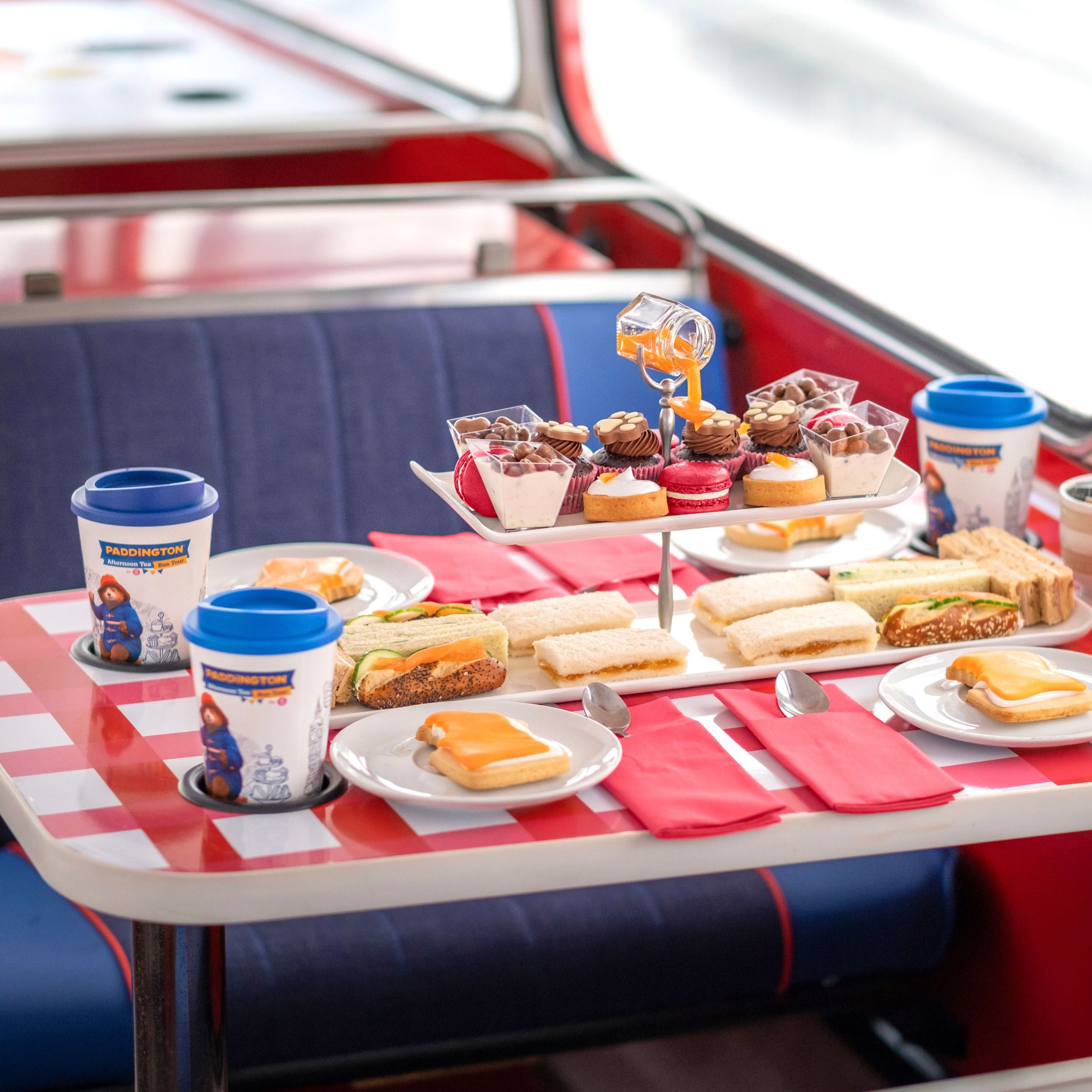 The Paddington sightseeing Afternoon Tea Bus Tour - NEW!
One of the newest additions to the Brigit's Bakery family and fleet is the Paddington Afternoon Tea Bus tour. Available weekly Wednesdays to Sundays, it features a finger-lickin' Paddington-themed afternoon tea menu. And yes, of course, you get marmalade sandwiches!
Each table comes with a special built-in screen providing guests with a Paddington-guided animation of the tour of London. You'll have Paddington and Mrs. Bird telling you all about some of the City's most famous landmarks and sharing our beloved bear's view of the world.
To check availability and booking, head over to this page.
And if you want to hear it directly from our fabulous customers, here's a recent review about this particular tour:
"Such a fun way to see the sights! Delicious food!!! We had so much fun on the Paddington Afternoon Tea Tour Bus!! Sightseeing whilst eating the most delicious food was an absolute treat! The staff were so friendly and made us feel so special! The spread of food was incredible and it was such a surprise to have warm scones delivered to our table too! Amazing!! [...] Highly recommend this!!"
Please note that because we don't offer hop-on-hop-off bus tours and don't have toilet facilities onboard our buses, we think our tours are best suited for children of 5+.
So what sightseeing bus tour will you choose? And if you want something even more unique in the summer, did you know we also offer a Thames river cruise?