Christmas Lights Afternoon Tea Bus Tour in London
London is a magical city all year round. But once the famous Christmas lights go up across the most iconic streets of London starting from early November, you can't help but be sucked in by the festive cheer. Whether you're visiting this magnificent city for the first or the millionth time, our Christmas Lights Afternoon Tea Bus Tour in London is an opportunity to immerse yourself in that winter wonderland feeling that permeates the cold streets of the Big Smoke.
With Christmas markets, shopping hotspots, concerts and shows, Santa's grottos, ice skating rinks, and the most magical Winter Wonderland experiences scattered across the city, London is the place to be at Christmas. There's no chance of running out of things to do. So if you want to soak up the beautiful displays from the comfort of our classic buses, our late-afternoon bus tours can be the perfect way to finish a fantastic day of sightseeing or shopping.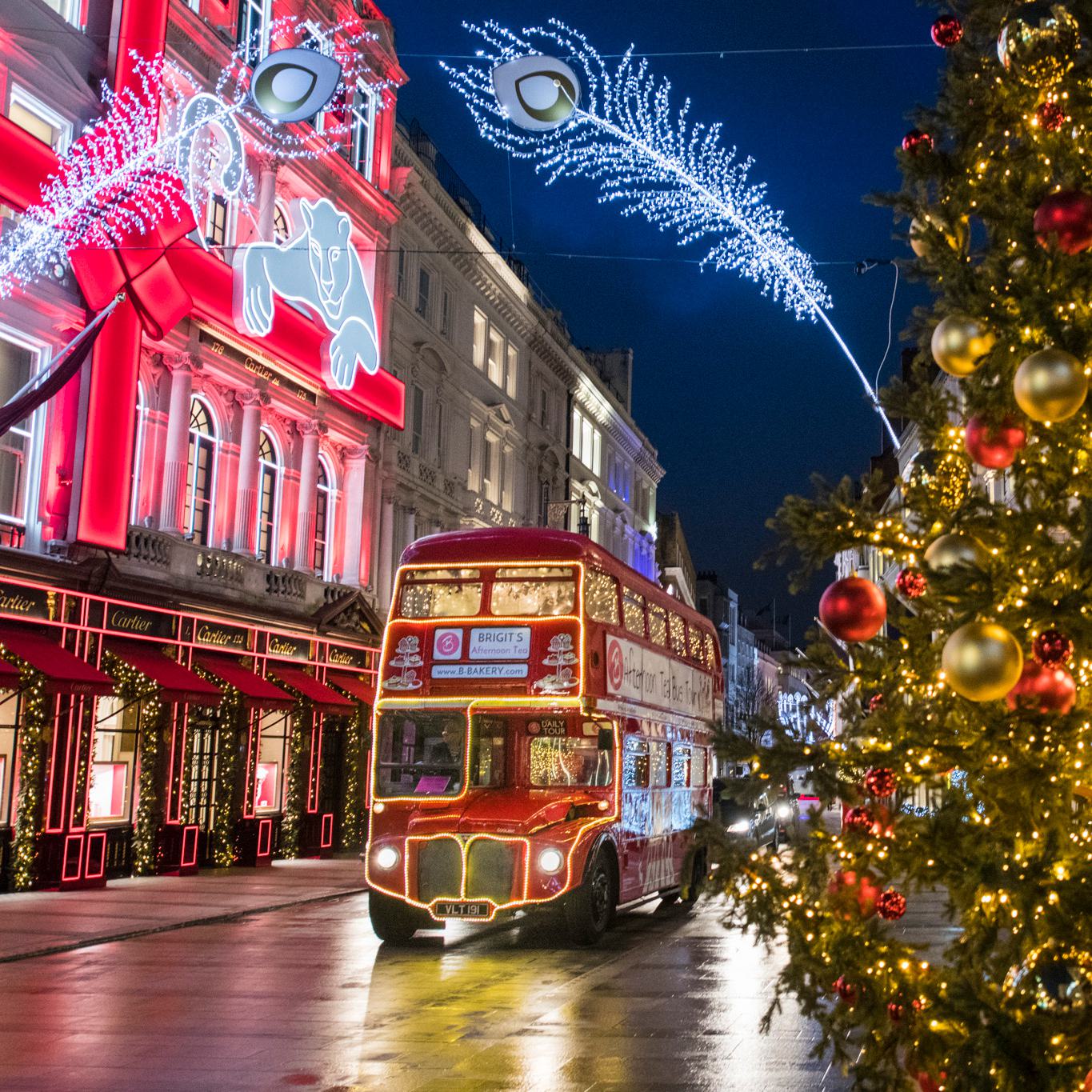 When are the Christmas lights being lit in London?
During November and December, London will dress up for the festive season with Christmas lights going on in some of the most iconic locations. As it's now tradition, Oxford Street will lead the way with Christmas lights going on in early November with special offers available in nearby stores and bands performing outside various shops. Carnaby Street, Bond Street, St Christopher's Place, Covent Garden, Regent Street, and Marylebone High Street are amongst the other locations to be beautifully transformed during the winter months.
We all know that London knows how to put on a show, so if you don't want to miss out, keep an eye out for the dates when lights are being switched on. The Shard and Trafalgar Square are due to add to the sparkle in early December, so if you haven't seen one before, you're still in time to go and see the lights being switched on for the first time this year.
Unmissable Christmas light destinations
So if you're after some Christmas light spotting, here are some of the best destinations:
Oxford Street is home to the most dazzling display of Christmas lights.
On Carnaby Street.
Regent Street displays beautiful angel-like lights, with majestic wings spreading from side to side.
Bond Street's Christmas-themed displays and decorations are also unmissable.
Our Brigit's Bakery Christmas lights bus tours will take you around all the best spots while you enjoy our exclusive Christmas-themed afternoon tea menu. Last but not least, don't forget the lights in Covent Garden, where our Brigit's Bakery is located. From mid-November onwards, the piazza turns into a beautiful Winter Wonderland scene. An absolute must-see.
Christmas-themed window displays
If you're in London during the festive season, you can't miss the window display at some of the most renowned stores. Think Harrod's and Selfridge's. Their windows are quite a treat to the eye at any time of year. But at Christmas, the decor gets even bigger and better. If you're in London for a visit in November and December, these are landmarks you just can't miss. All our Bus Tours pass by Harrods by the way!
Winter Wonderland in London
The festive extravaganza that's Hyde Park's Winter Wonderland will open its doors to the public mid-November. And if you want to get out of the hustle and bustle of Central London, you'll be spoilt for choice. For a magical winter wonderland family experience, head over to Southwark Park for the Alice-in-Wonderland-themed display. Or book the magically illuminated trail in Syon Park's Enchanted Woodland after sunset. Christmas at Kew Gardens is a must for families, and the Southbank area is also unmissable during the Christmas seasons. With family shows, markets, and twinkling lights, Southbank is the place to be to feel the festive fun.
Brigit's Bakery Christmas Lights Afternoon Tea Bus Tours in London
The Classic Christmas Lights Afternoon Tea Bus Tour
Do you want to soak up the Christmas atmosphere of a beautifully-decorated London? Let us take care of it all for you. We'll drive you around the most iconic London landmarks and streets. And you can kick back and see the festive lights from the comfort of one of our beautiful vintage buses. All while you enjoy our time-limited Christmas Afternoon Tea menu.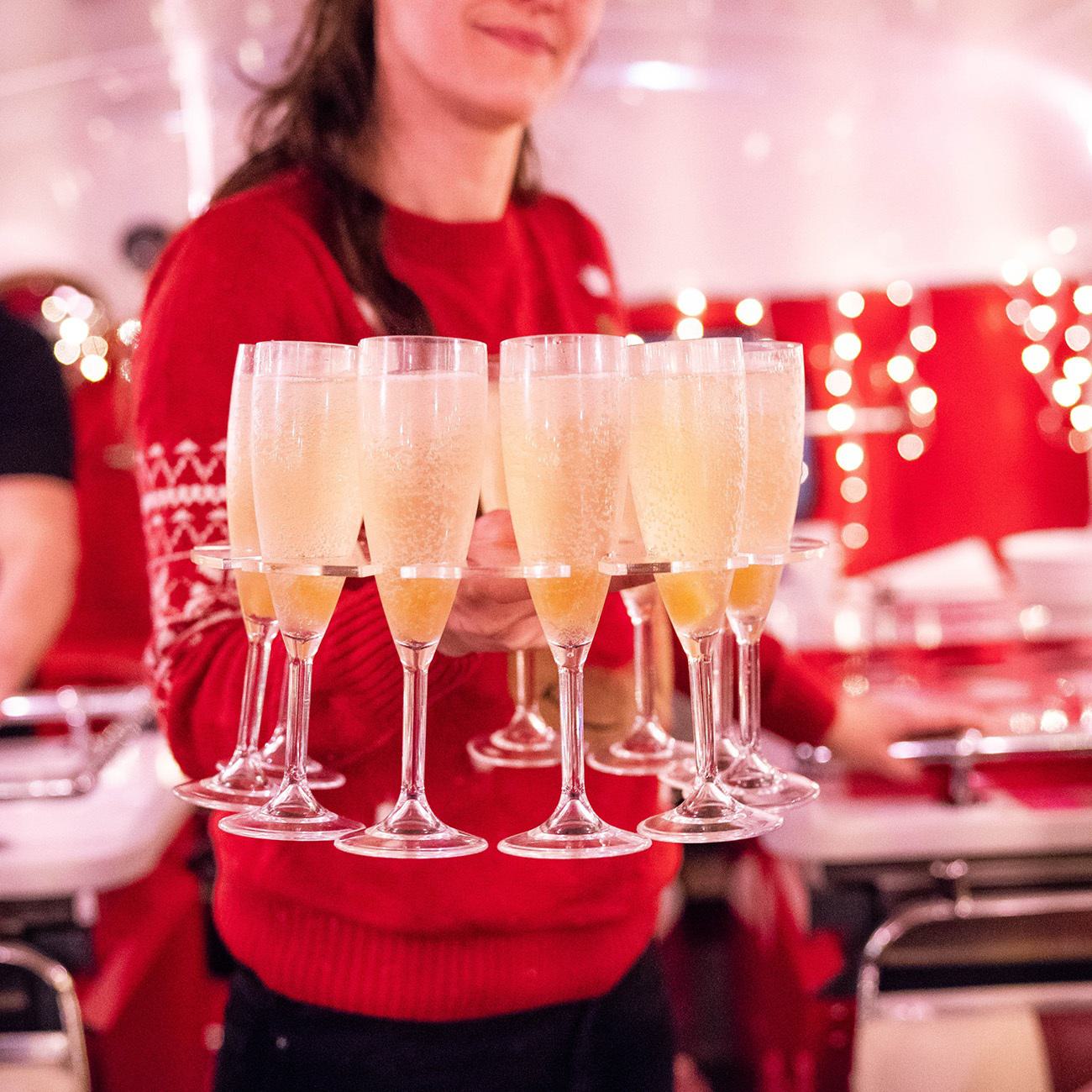 Between mid November and early January, our 17:00 & 17:30 Brigit's Bus Tours will take a unique route along Regent Street.
The route will remain the same as our other standard tours, but once we reach Marble Arch the bus will go down Park Lane and turn onto Brook Street, Hannover Square, around Cavendish Square, Wigmore Street, Regent Street, Piccadilly Circus, Haymarket, Trafalgar Square (where you'll find the most impressive Christmas tree in the whole of London), and White Hall. It's an unmissable experience to see the world-famous lights. Just use our online booking system to choose your date, time, seat, and any specific requirements.
The Grinchmas Afternoon Tea Bus Tour
Back by popular demand this year is our Grinchmas Afternoon Tea Bus Tour. Running between the beginning of December and the end of January (please check the exact dates on our website) there are limited seats available on the upper deck only of our classic Routemaster bus.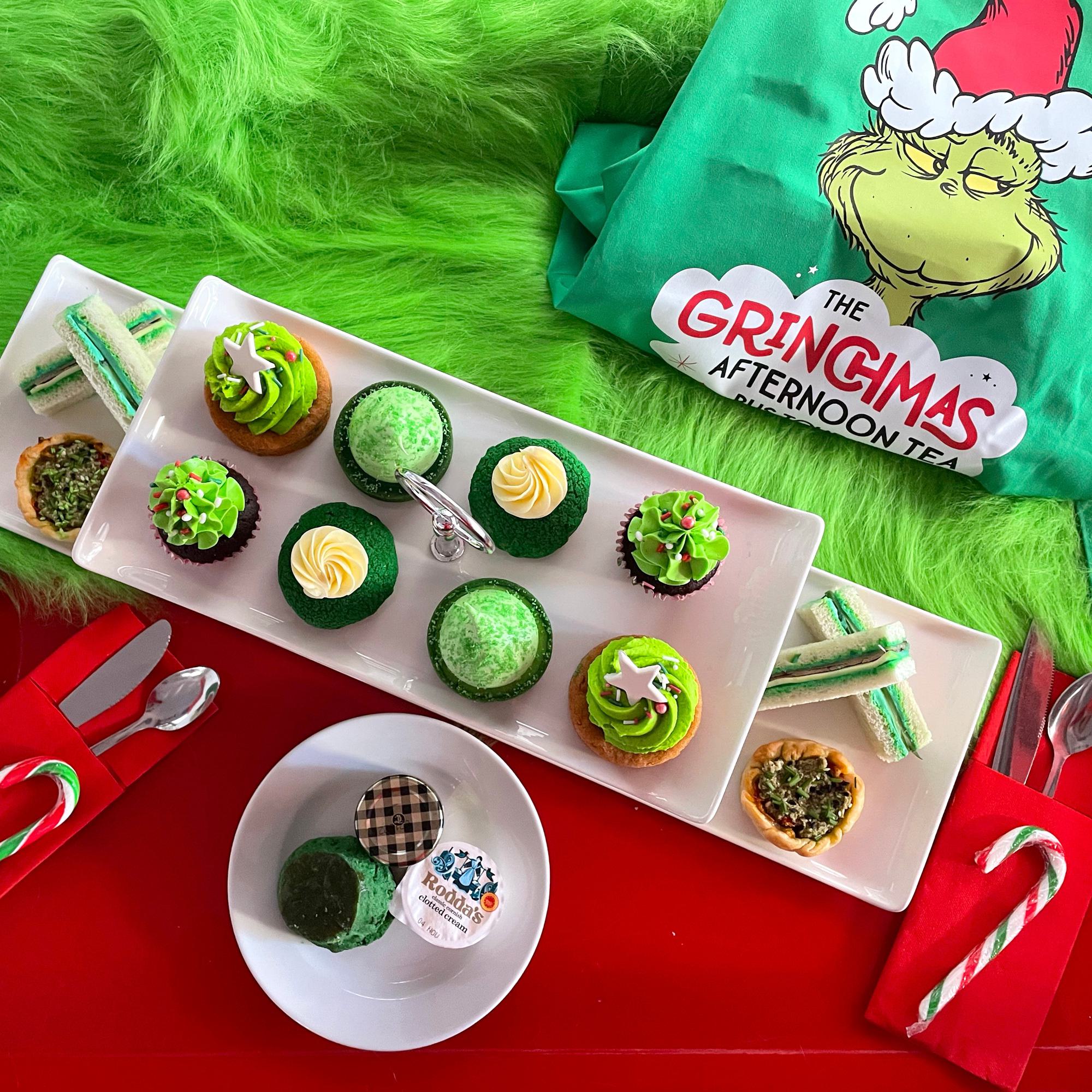 This exclusive tour will depart three times a day from Victoria Coach Station. If you want to see the Christmas lights, make sure you book our 17:30 tour, which will take you past the fabulous Regent Street lights as well as some of London's most iconic landmarks, including Big Ben, The Houses of Parliament, Westminster Abbey, and much more.
The most exciting part for any Grinch fans? Our talented chefs have designed an exclusive Grinch-themed menu that includes a 'Pucker up & eat it!' Spinach Quiche and an 'I hate Xmas' Chocolate Cupcake amongst other delicacies. You definitely don't want to miss out. Check out our full menu (and alternative menus) here.
The Paddington Christmas Afternoon Tea Bus Tour
If you're looking for a rare and unforgettable Christmas experience for your little cubs, then bear with us and join us on a Paddington Christmas Afternoon Tea Bus Tour. Our themed Paddington Afternoon Tea Bus Tour is the paw-fect way to enjoy the festive sight of London (including the famous Regent Street Christmas lights) on a beautifully-decorated, twinkling Classic Routemaster Bus.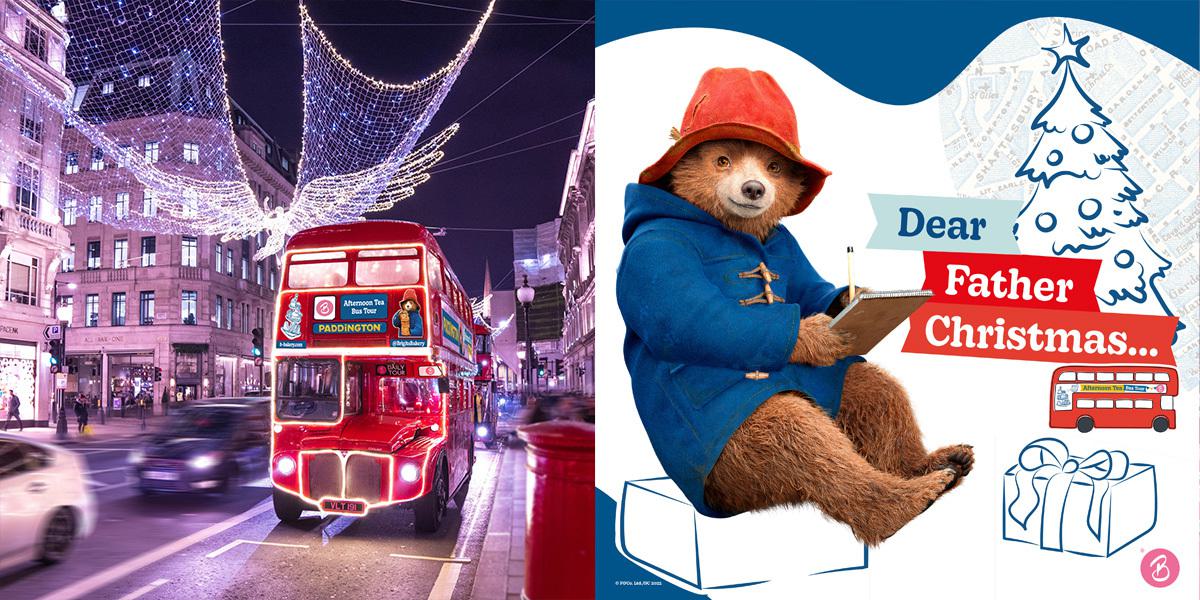 Each table comes with a special built-in screen providing guests with a Paddington-guided animation of the tour of London featuring the nation's favourite bear and the lovely Mrs. Bird. And if that wasn't enough, our chef created a paw-lickin' Paddington-themed afternoon tea menu featuring the best marmalade sandwich ever!
Available weekly from Wednesdays to Sundays, the tour will depart daily from Trafalgar Square between mid-November and the beginning of January. Please check the exact dates on the booking page and make sure to book on the 17:30 tour if you want to enjoy the Christmas lights.
To view the full menu (including our alternative menus) and book your place, click here.
The Peppa Pig Christmas Bus Tour
If you're looking for an experience that will involve and delight your little ones, then check out our exclusive Peppa Pig-themed Christmas Bus Tour. With Christmas decorations and an exclusive and unique Peppa Pig-inspired Afternoon Tea menu, it's an amazing experience for the whole family.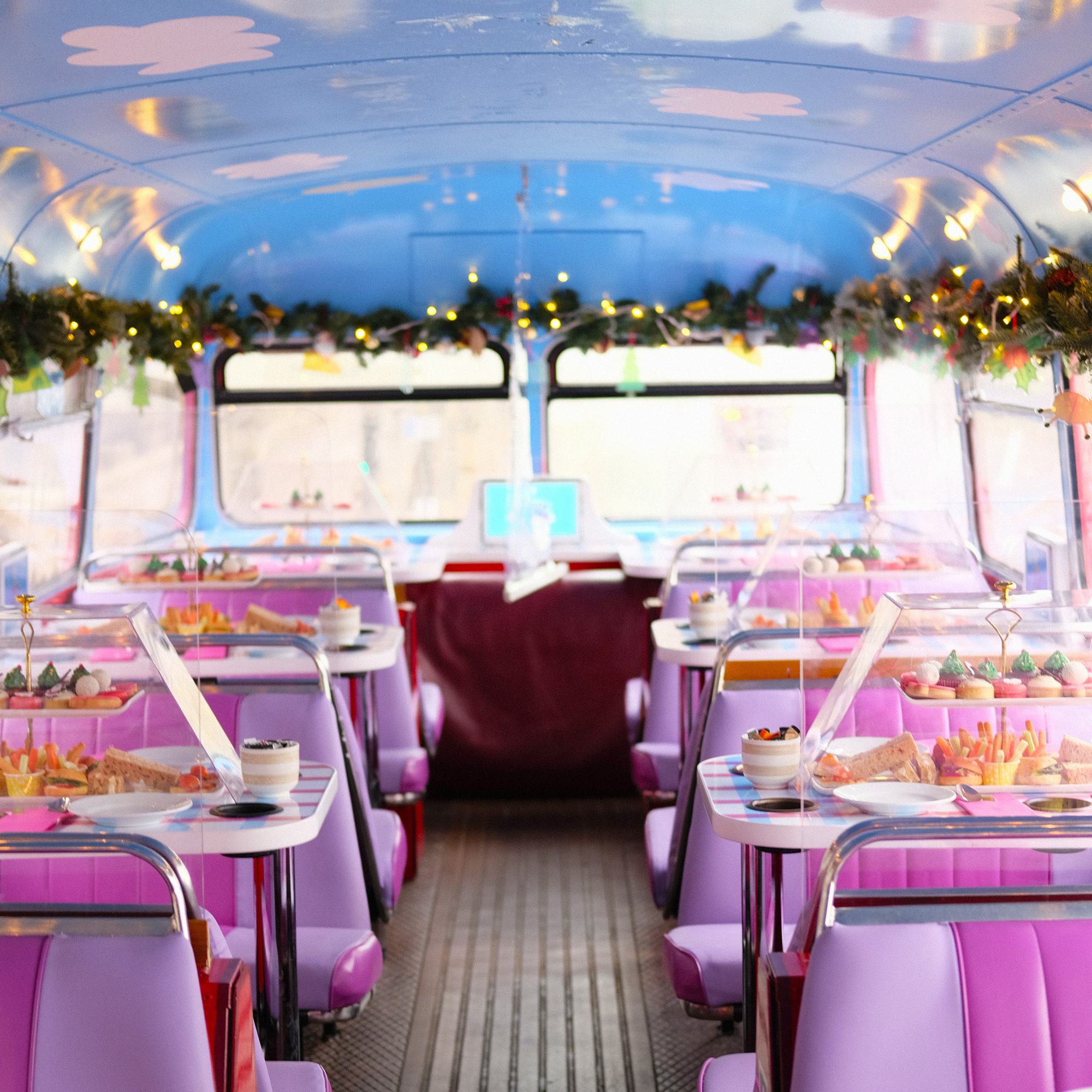 Running from mid-November until the beginning of January (you can check specific dates on our website), the tour departs from Somerset House and is the perfect opportunity for families to enjoy the festive sights of London while indulging in a specially created Peppa Pig Christmas-themed menu that will delight the little ones and their grown-ups alike. Please note that while this tour is festive and Christmas-themed, it runs in the earlier hours of the afternoon, so the Christmas lights will NOT be visible on this tour.
For more information and to book your place on one of our Peppa Pig Christmas Bus Tours, click here.
The Brigit's Bakery Gin Afternoon Tea Bus Tour
For an extra special treat, come and see the Christmas Lights and windows whilst enjoying a Gin Afternoon Tea onboard our Gin Lover's Afternoon Tea Bus Tour. The tour runs on Fridays and Saturdays at 17:30 and 18.30 so it's the perfect opportunity to enjoy festive Central London during the Christmas period.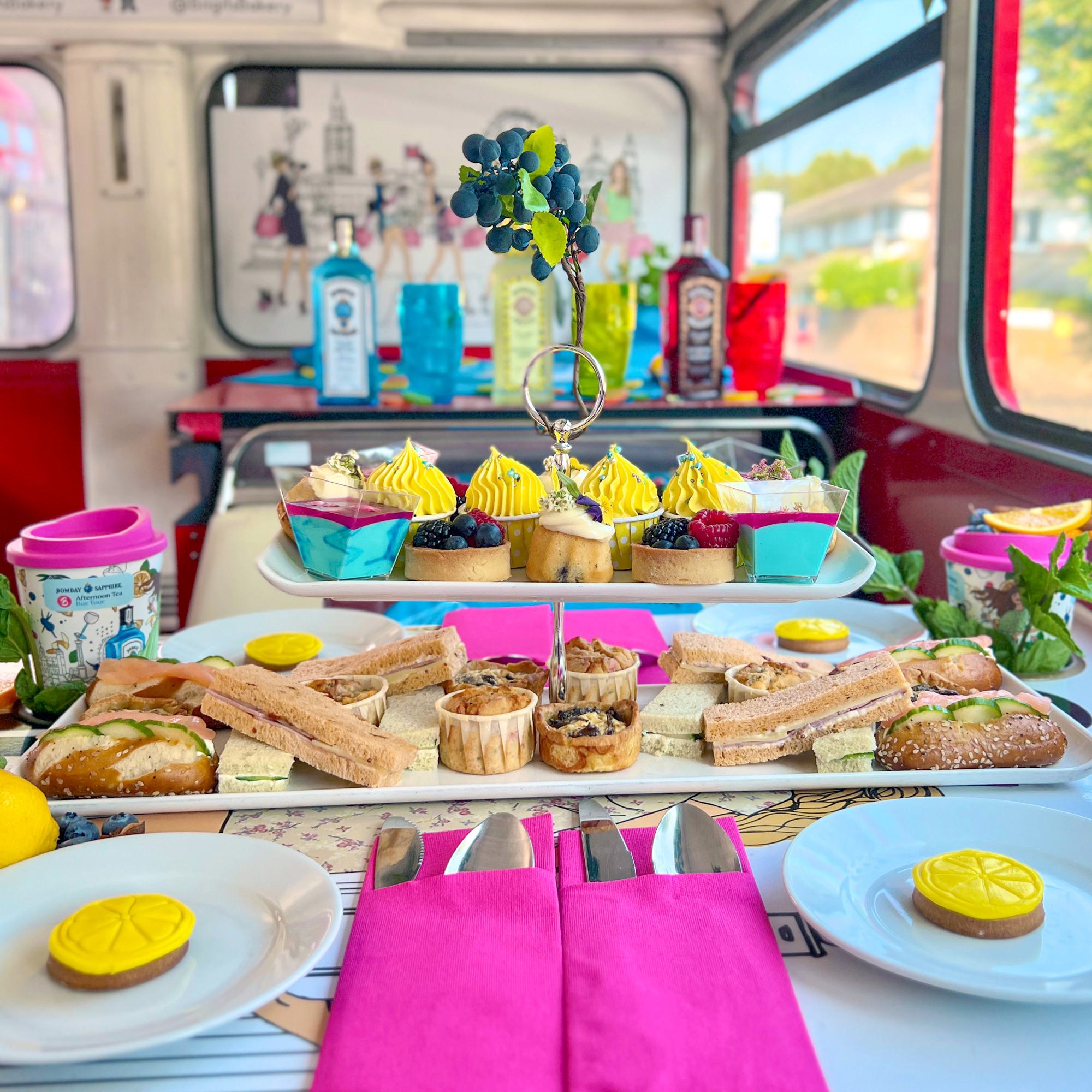 Created in partnership with Bombay Sapphire, if you're a gin lover, book on one of our tours - it's the ultimate festive celebration for you and your friends.
Christmas afternoon tea at the Brigit's Bakery in Covent Garden
If you'd rather take a walking tour of the city, why not come and enjoy our Bubbly Christmas afternoon tea menu at Brigit's Bakery in Covent Garden? Just like on our afternoon tea bus tours, the Christmas menu will be available between mid-November and early January, so don't miss out. Click here to book your spot and experience Christmas like you haven't before.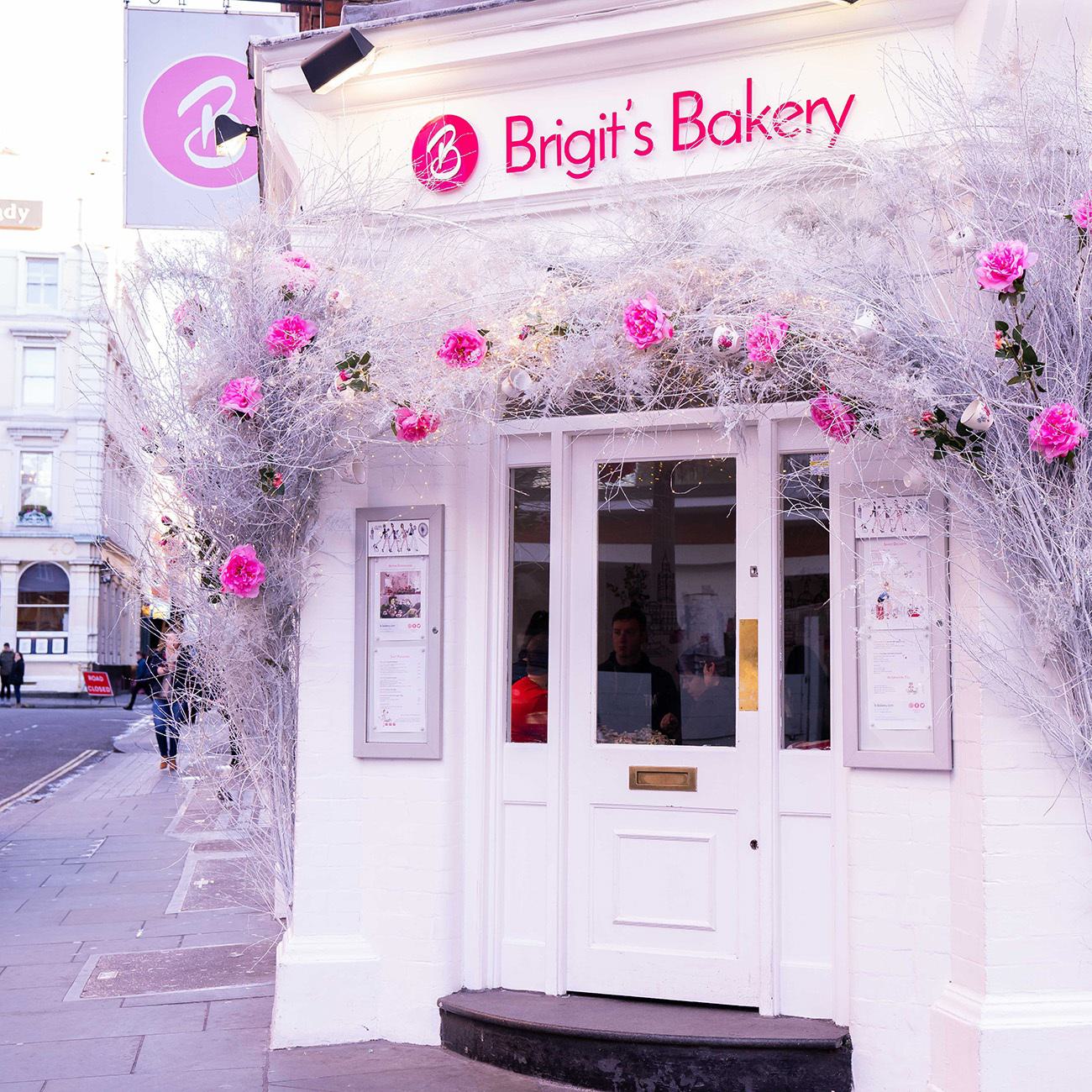 Dietary Options for our Afternoon Tea
We also offer Afternoon Tea for those with specific dietary requirements. Use the links below to see menus for Vegan, Vegetarian, Halal and Gluten-free teas.
Vegan Afternoon Tea
Vegetarian Afternoon Tea
Halal Afternoon Tea
Gluten-free Afternoon Tea
So, don't delay and book today for our Christmas Lights Afternoon Tea Bus Tour in London!