Quirky ideas for a pre-theatre dinner in London with Brigit's Bakery
Are you planning on watching a show or a play with your friends or a loved one? Are you looking for a quirky and fun option for a pre-theatre dinner in London that's bound to impress? Then check out what Brigit's Bakery has to offer.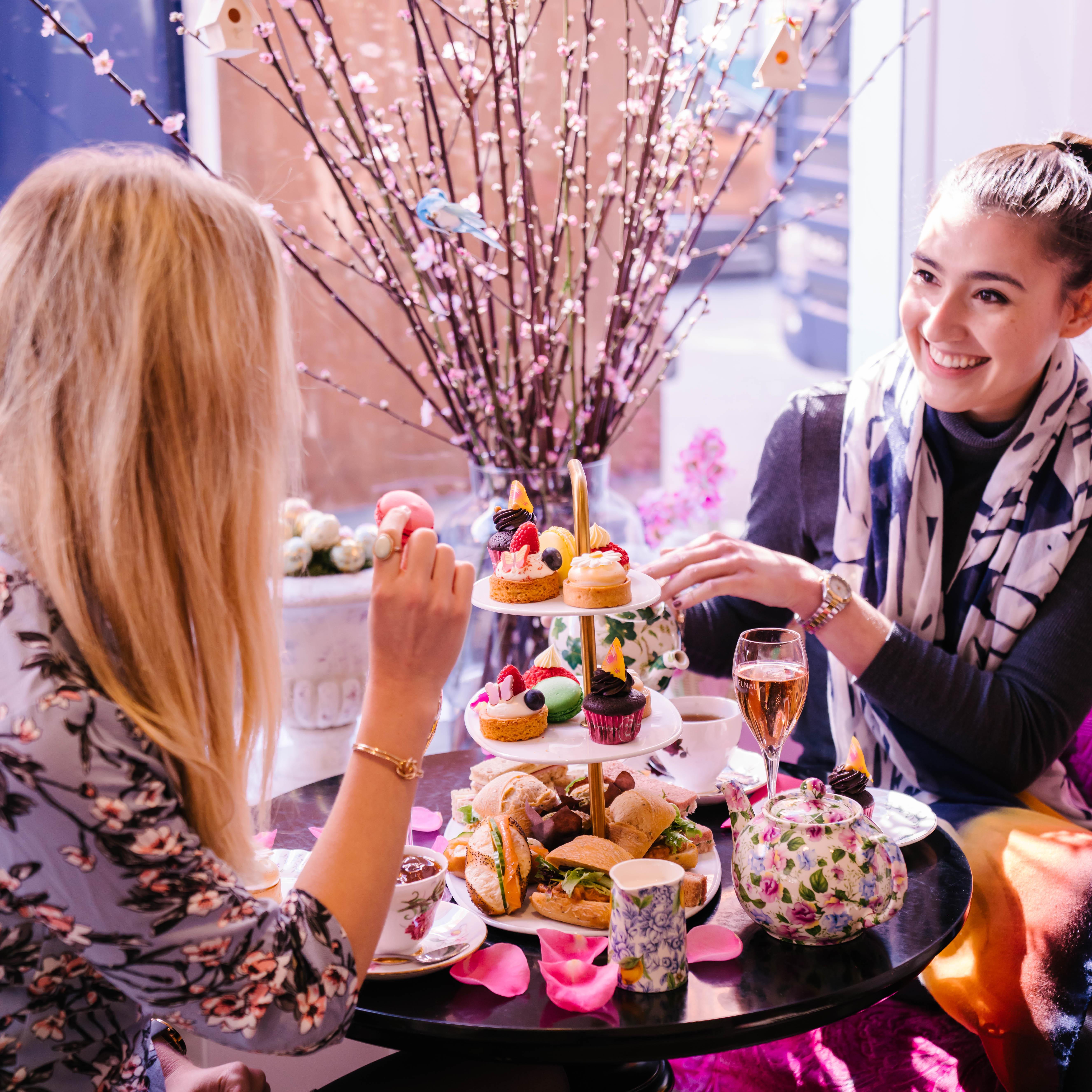 Come and visit Brigit's Bakery in Covent Garden
A quiet sanctuary in Chandos Place in the heart of Covent Garden, Brigit's Bakery is ideal for a bite to eat before you hit the theatre. Only a short walk away from the Royal Opera House, London's West End, the Strand and Leicester Square, our restaurant is in the perfect location for you. No matter where you're watching your show, you're never too far away from us.
We have private rooms and seating downstairs. So this is ideal if you feel like getting away from the crowds for a bit and have your own space to relax and enjoy some gorgeous food. Because while our bakery might be renowned for its Afternoon Tea with a French twist, that's not the only thing on the table! In fact, whether you're into sweet or savoury, we've got you covered.
Your choice of food at Brigit's Bakery
When you come and visit, you'll find our signature Afternoon Tea with scones and cakes and a lovely selection of loose leaves teas or coffees, plus a choice of Prosecco, Gin cocktails, and wines.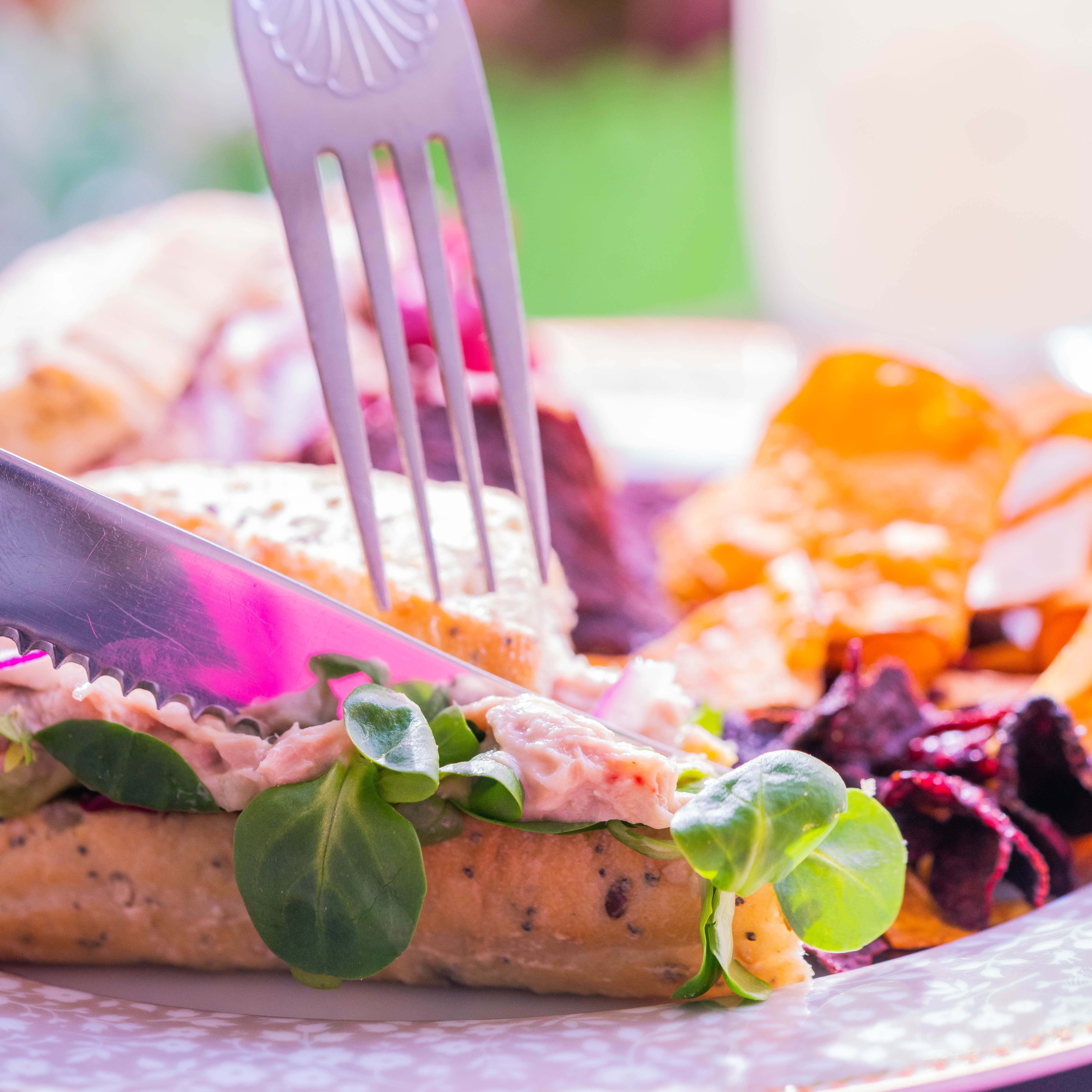 But we also offer an all-day brunch that you can enjoy pre- and post-theatre (if you're catching a matinée). Here's what you can try:
Our 3-tiered Continental Breakfast, with a selection of mini viennoiseries, an array of cheeses and cured meats, boiled eggs, and mixed fresh fruits.
Or our delicious vegetarian dish in the shape of our Mascarpone and Fig on Sourdough, topped with honey, fresh orange, and pistachios.
Or what about our Smashed Avocado with Smoked Salmon?
But that's not all! If you're looking for a light pre-theatre menu with a bit of a difference, you can also check out our Smoothie Bowls - all suitable for vegans and vegetarians.
How do any of these sound?
Brigit's Chocolate Keto Bowl. This is a lush combination of cocoa powder and peanut butter in almond milk with avocado and a selection of nuts. Yummy.
Healthy Green Super Smoothie Bowl. As the name suggests, this is full of greens. But it contains mixed berries, chocolate, and coconut too!
Or our Protein PB & J Smoothie Bowl. Topped with strawberries and blueberries, this is to die for!
We also serve croques and salads and have a wonderful selection of club sandwiches and quiches.
If you're considering Brigit's Bakery for your pre-theatre dinner, then check out our full menu here. We are open daily between 10 am and 6 pm, but the restaurant can get very busy, so we recommend you book your table in advance to avoid missing out.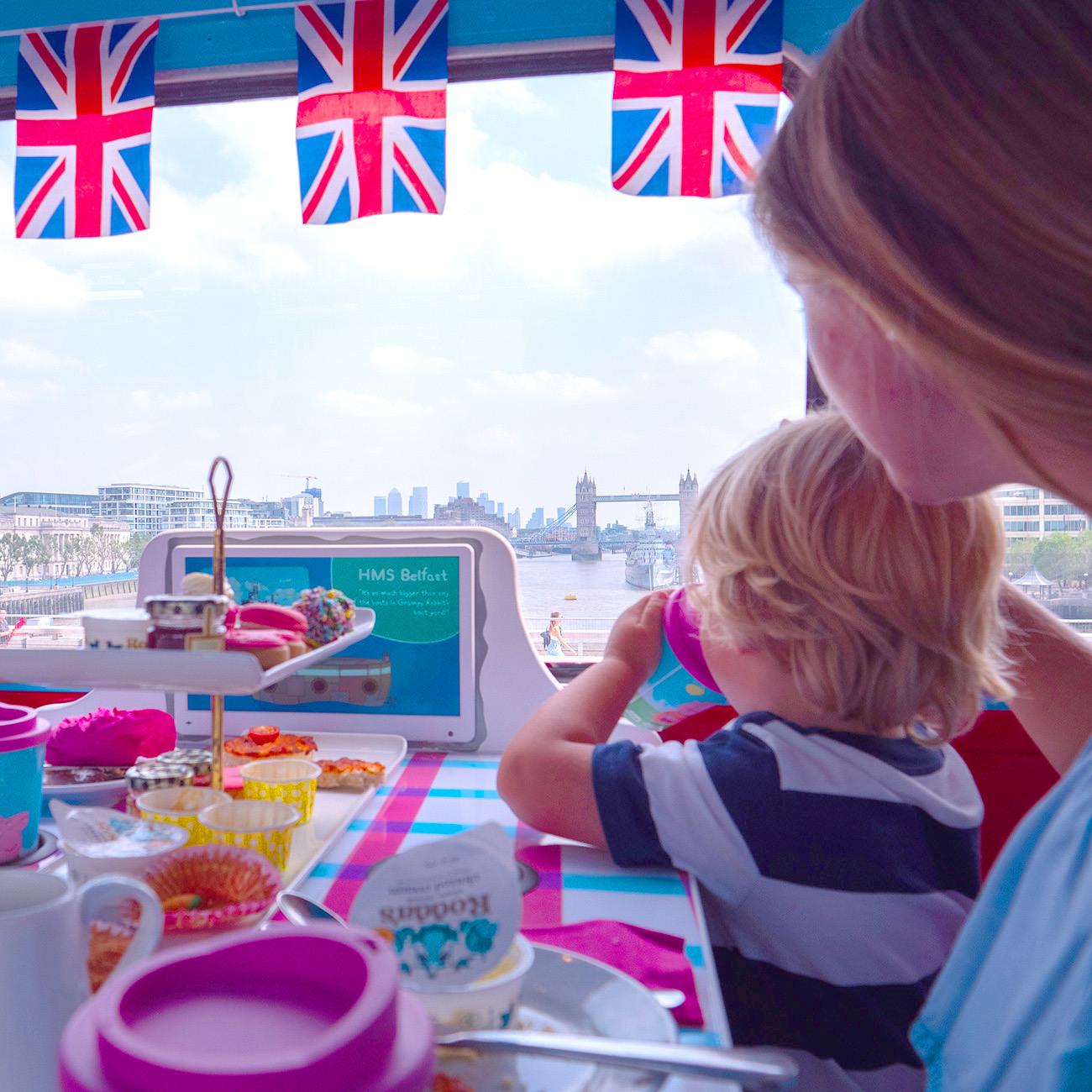 Peppa Pig's fan? Watch the show and jump on the Peppa Pig Afternoon Tea Bus Tour
If you have little ones on tow and want to plan a super fun day in London they won't forget, then from the 2nd December 2021 onwards, you can also watch the show Peppa Pig's Best Day Ever at the Theatre Royal in Haymarket. With performances most days of the week twice daily at 11 am and 1:30 pm and a few more slots on weekends, this is your chance to turn the day into something your children will never forget.
If you're looking for a post-theatre meal for the little ones, we've got the perfect option for you. We understand you might not be keen on visiting a busy London restaurant, so you can jump on our exclusive Peppa Pig Afternoon Tea Bus Tour instead. Available weekly from Thursday to Sunday, the tour departs from Somerset House (a short 15-minute walk from Haymarket's theatre) twice daily with an additional occasional tour at 5:30 pm.
Our bus tour is completely catered to little people (aged 2+). So if you're looking for a post-theatre menu that will hit the spot, we've got you. Our Peppa Pig-themed afternoon tea menu includes a range of freshly prepared savouries (including a Grandpa Pig's Chicken & Tomato burger bun and a Daddy Pig's Pizza mini Margherita) and an assortment of mini homemade cakes and tarts (served on small plates - perfect for little hands and fingers) is even better than ice cream!
Plus, each table comes with a special built-in tablet. That's right - we provide our guests with a Peppa Pig guided animation of the London tour. And we have sing-a-long songs for the whole family! Not to mention, we also give you a copy of our Peppa Pig Afternoon Tea Bus Tour Activity Book. It's full of fun things to colour and do along the journey and something to take home and treasure. What more would you want for your post-theatre dining experience?
Check out the full Peppa Pig themed menu here. And for bookings, click here.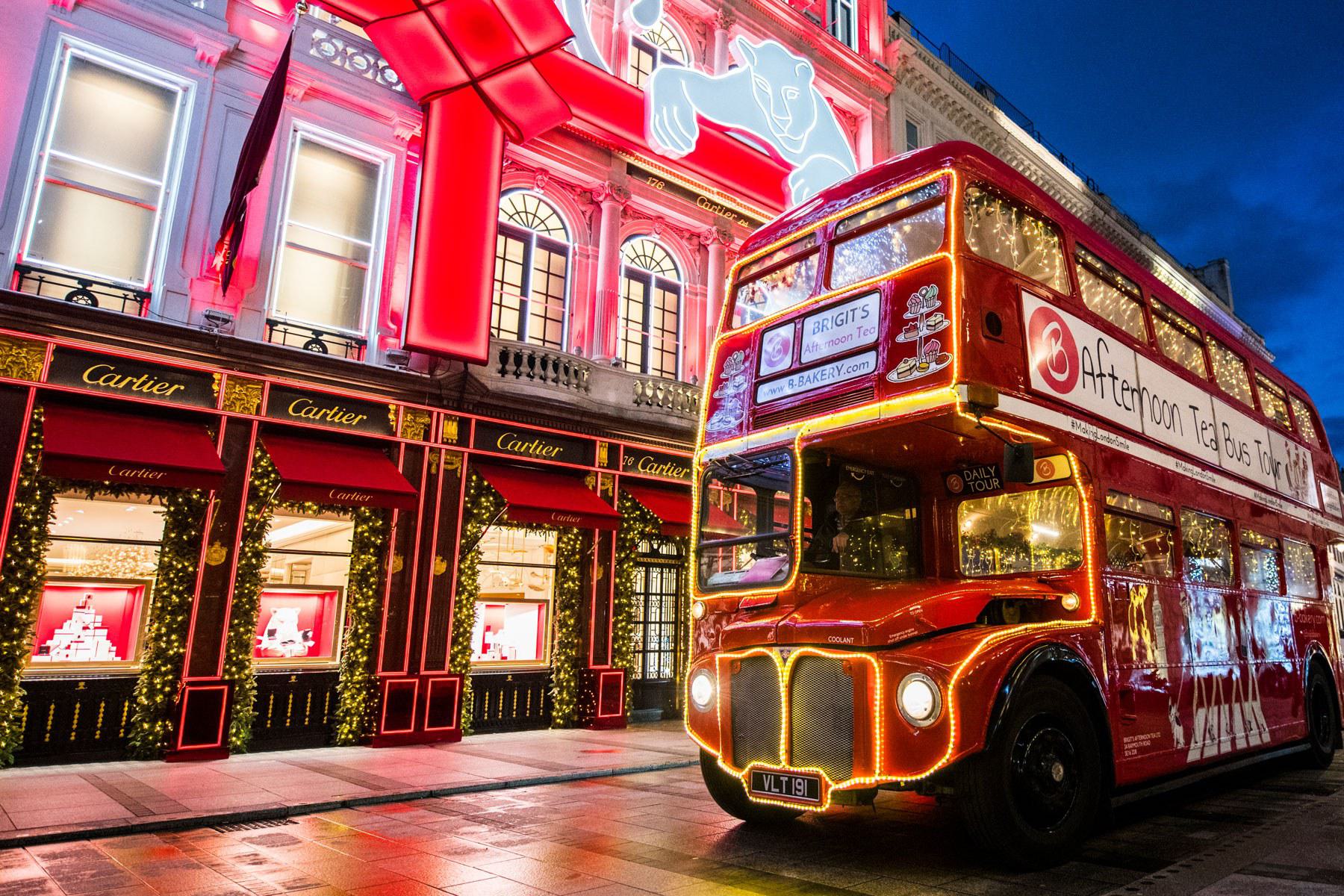 Jump on a Brigit's Bakery Afternoon Tea Bus Tour
If you're heading to the theatre on an evening and making your way to London in the morning or early afternoon and the timing allows it, then you really have no excuse but to join us for an Afternoon Tea Bus Tour on one of our vintage Routemaster buses. Perhaps not quite the dining room you might expect for your pre-theatre dinner in London, but something way better! This is a fun, quirky experience and a chance to do something a little different and impress your guests. And that's even before you've had your evening at the theatre!
With tours departing daily from Victoria Coach Station or Trafalgar Square between 12 pm to 5 pm, this is your opportunity to indulge in delicious afternoon tea with a French twist while you take in the sights of the City on our 90-minute tour. And what an option for your pre-theatre dinner in London!
We offer a range of set menus, including Traditional, Vegetarian, Vegan, Halal, and Gluten-free. To book your place on one of our Classic Afternoon Tea Bus tours, click here. And if you want to check out our exclusive and limited-edition themed Afternoon Tea Bus tours, check this page for the latest updates.
So with so many fantastic options on offer, what will you choose for your pre-theatre dinner in London?