Join us for a Prosecco Bus Tour in London
Are you looking for an Afternoon Tea and Prosecco Bus Tour in London this summer? Then look no further than Brigit's Bakery. We have a range of options for you, including fun and exclusive themed Afternoon Tea Bus tours guaranteed to be a hit with loved ones, family, and friends alike.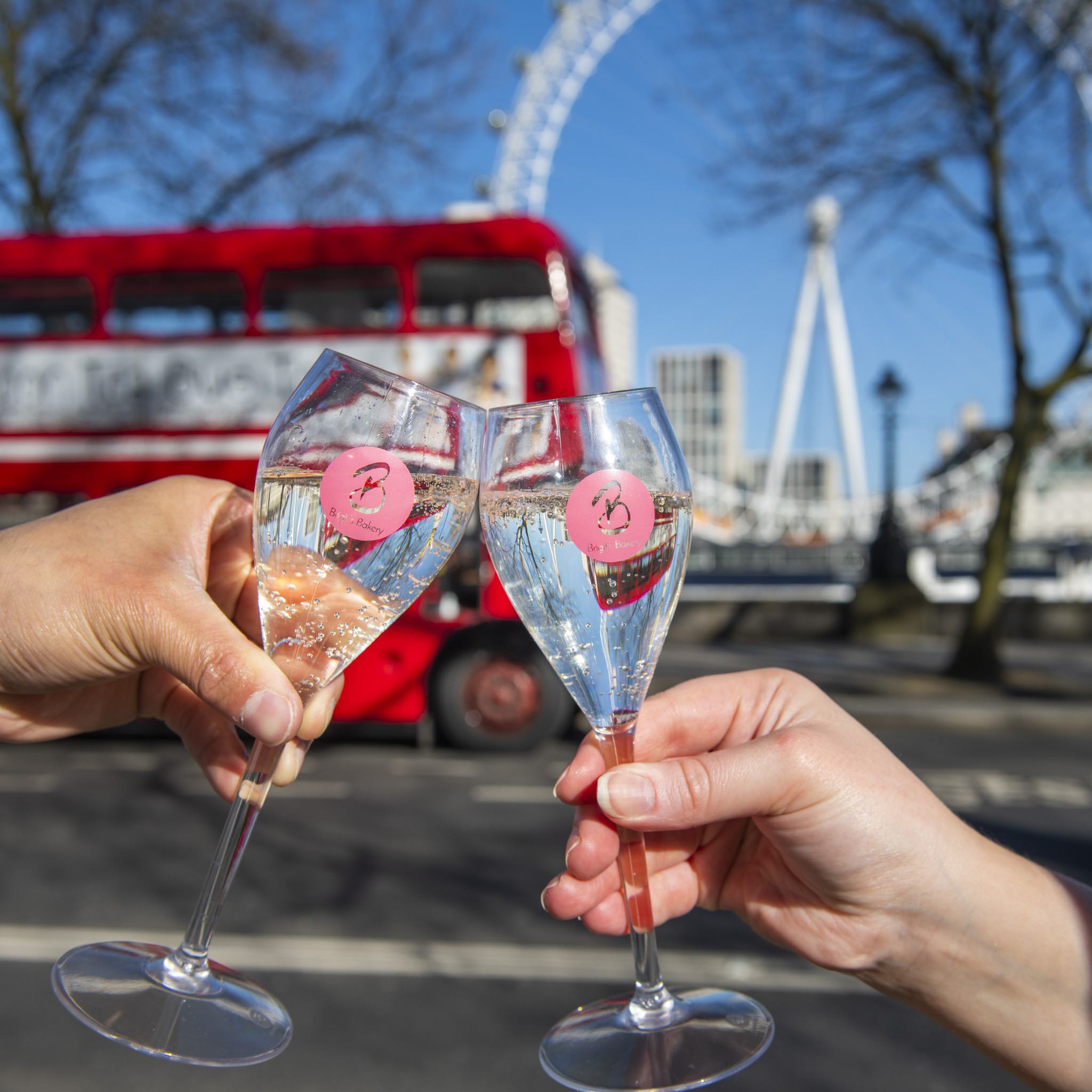 The Brigit's Bakery Classic Afternoon Tea Bus Tour

Jump onboard our vintage Routemaster buses for a magic tour of London while you sip your afternoon tea, indulge in our delicious finger sandwiches and cakes, and enjoy a glass or two of Prosecco.
We have a range of dietary options* for you to choose from:
All our food is freshly prepared only a handful of hours in advance by our renowned pastry chefs. And if you're after a glass of Prosecco to go with your scrumptious tea, on all our tours we offer:
Prosecco Brut sugar-free Villa Marcello (bottle only).
Prosecco Rose Villa Marcello (glass or bottle).
Nyetimber Classic Cuvee (half bottle or bottle).
And Prosecco Zia (glass or bottle).
And if it's Champagne you're after, then the choices are:
Castelnau Brut (half bottle or bottle).
Castelnau Rose, Blanc de Blanc, or Hors Serie (bottle).
Rose Louis Roederer (bottle).
Or Cristal Louis Roederer (bottle).
Our Classic Afternoon Tea Bus Tours depart daily from Victoria Coach Station or Trafalgar Square. As with all our bus tours, the route is subject to change due to road closures and traffic conditions. So please check our website closer to the time for booking and for the latest updates and information.
You'll need to choose your Prosecco or Champagne at the same time as booking the tour as we are unable to sell on the bus on the day.
*Please note we are unable to cater for nut-free menus, as we cannot guarantee that all foods prepared on our premises have not come into any contact with nuts.
It's a one of a kind treat to indulge in a glass of Prosecco whilst taking in the sights of London...

As you sip your tea, you'll soak in the vibrant culture, iconic landmarks, and rich history of London. Our London Routemaster bus will treat you to breathtaking views of renowned attractions like Big Ben, The Houses of Parliament, Westminster Abbey, St James's Park, Hyde Park, The Royal Albert Hall, Marble Arch, Nelson's Column, Downing Street, and many more. It's not just a tea; it's a journey through London's heritage.

Savour the sweet and savoury flavours of France with a selection of scrumptious finger sandwiches, including classics like smoked salmon and cream cheese, and mouthwatering cakes and pastries, all expertly crafted by our executive pastry chef to enhance your tea experience. And of course, no afternoon tea would be complete without scones with jam and clotted cream.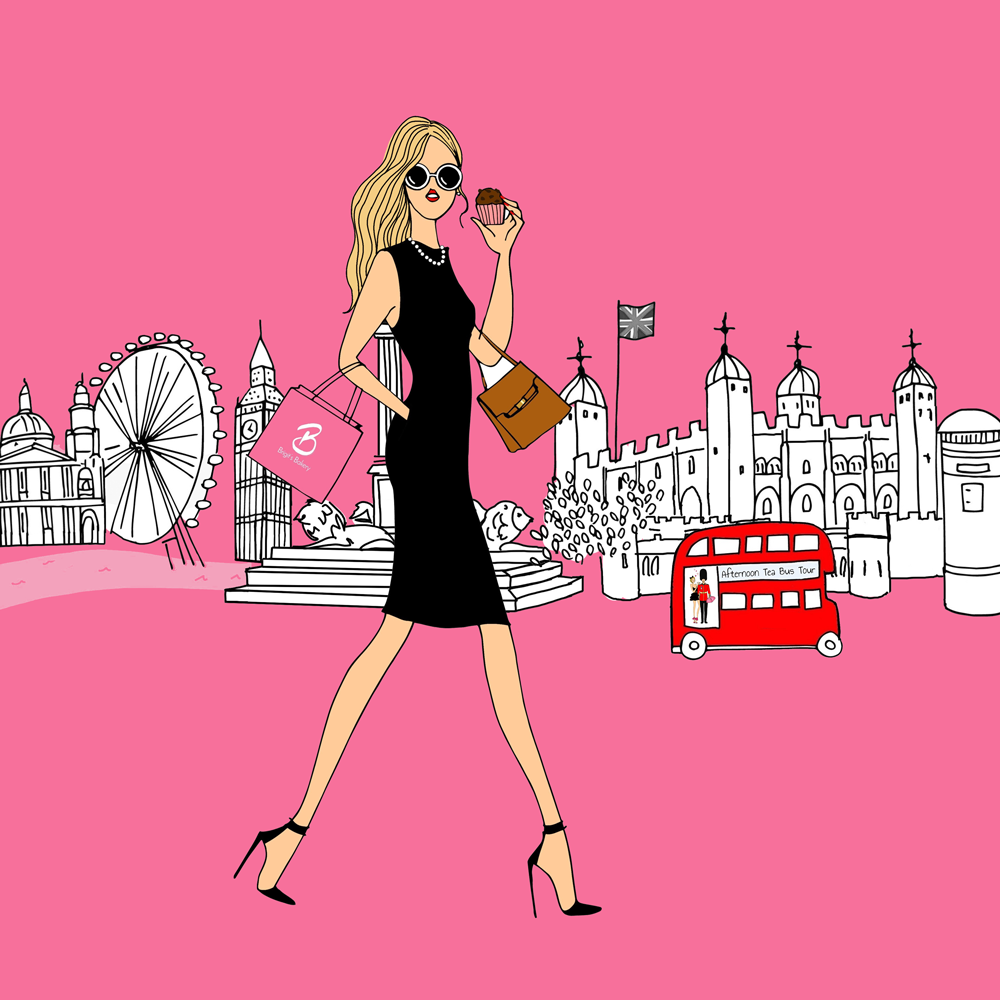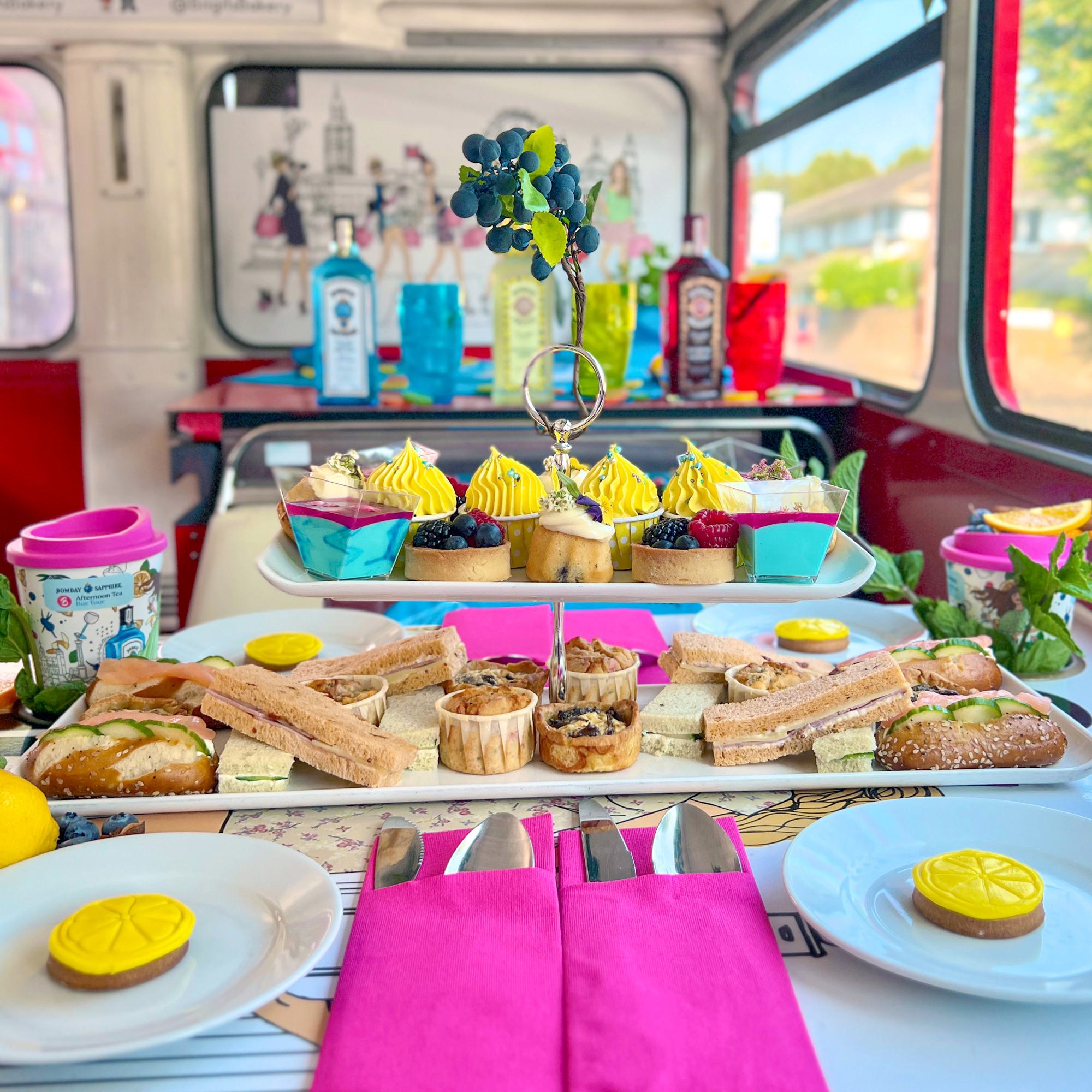 Bombay Sapphire Gin Afternoon Tea Bus Tour
If you're after a fun variation of a Prosecco Bus Tour in London, then check out the Brigit's Bakery Gin Lovers Afternoon Tea Bus Tour. Suitable for adults only (18+), the tour is a dream come true. Thanks to our partnership with the premium gin brand Bombay Sapphire, we are able to offer you a range of three Gin & Tonics and some mouth-watering unique gin-infused cakes.
You can jump on one of our vintage double-decker buses - and why not choose to enjoy the stunning views of the City of London from the upper deck? All tours depart from Victoria Coach Station or Trafalgar Square twice daily. So why not treat yourself to a 90-minute tour that features some of London's most iconic landmarks?
As with all our tours, availability is limited and spaces get booked up quickly. So make sure you book early to secure your date.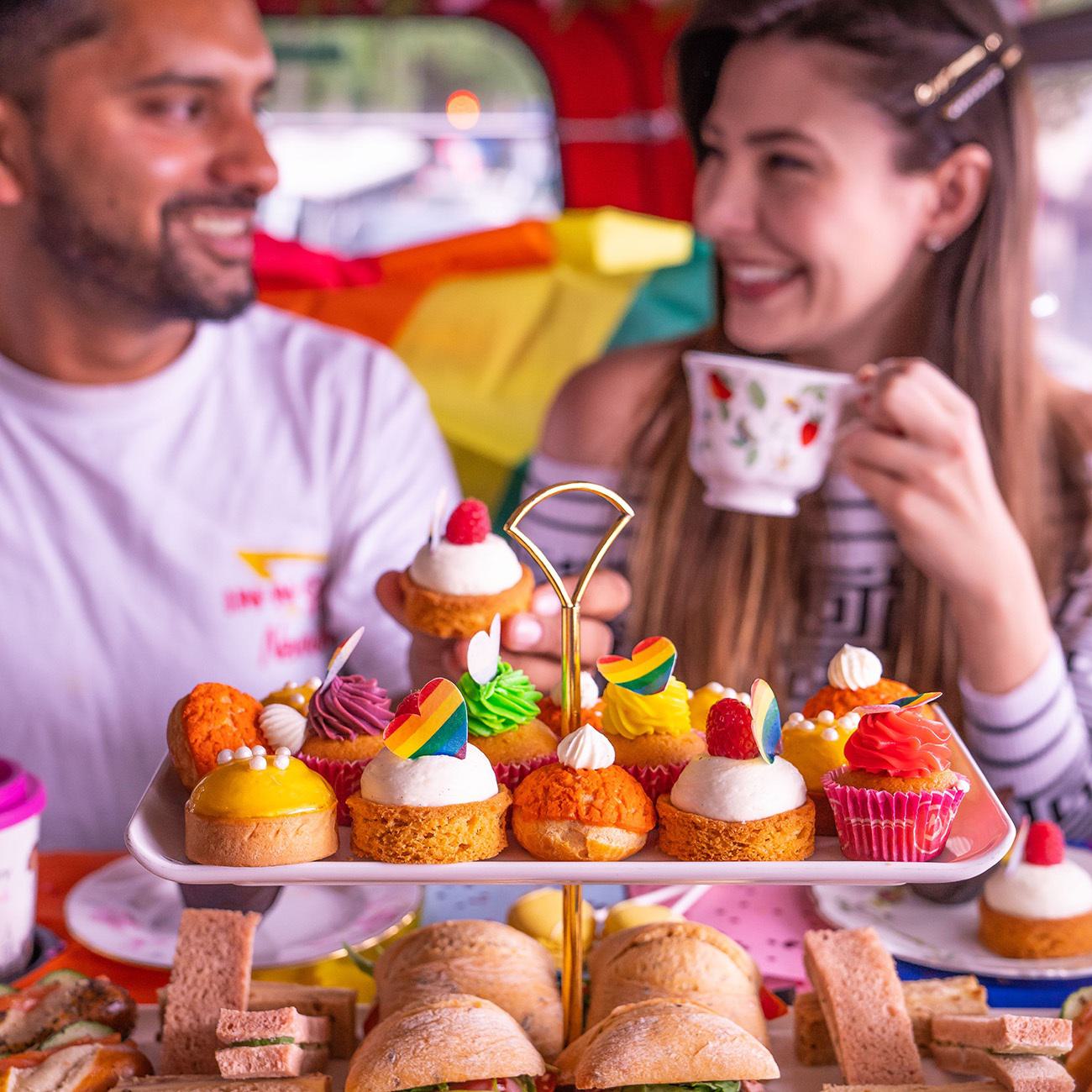 Pride London Bus Tour (11-12th September 2021)
When it comes to enjoying a drink or two onboard one of our tours, why not do it in style on our exclusive themed Pride Afternoon Tea Bus tours? We promise rainbow flags (of course) and luscious treats. Anyone for rainbow-themed sandwiches and cakes? With over 60 events to enjoy, this is the perfect weekend to be in London.
We are unable to sell alcohol on-board the bus on the day of the tour. So, please make sure you pre-order your Prosecco/Champagne when booking your bus tour seats.
We will be running 3 Pride-themed afternoon tea bus tours on Saturday 11th and Sunday 12th September 2021, all departing from Victoria Coach Station.
And if you're looking for more inspiration, check out what else is there to do in London this summer, or take a look at our month-by-month schedule of Afternoon Tea Bus Tours.
So, will you be choosing Brigit's Bakery for your Prosecco Bus Tour in London this summer?