Christmas events in London – 2023
Are you looking for some fun Christmas events in London for the 2023 winter months? Perhaps you want to treat a loved one, your family, or simply soak in the Christmassy atmosphere that transforms the streets of London at the end of every year? So here's an up-to-date list of activities and events you won't want to miss out on.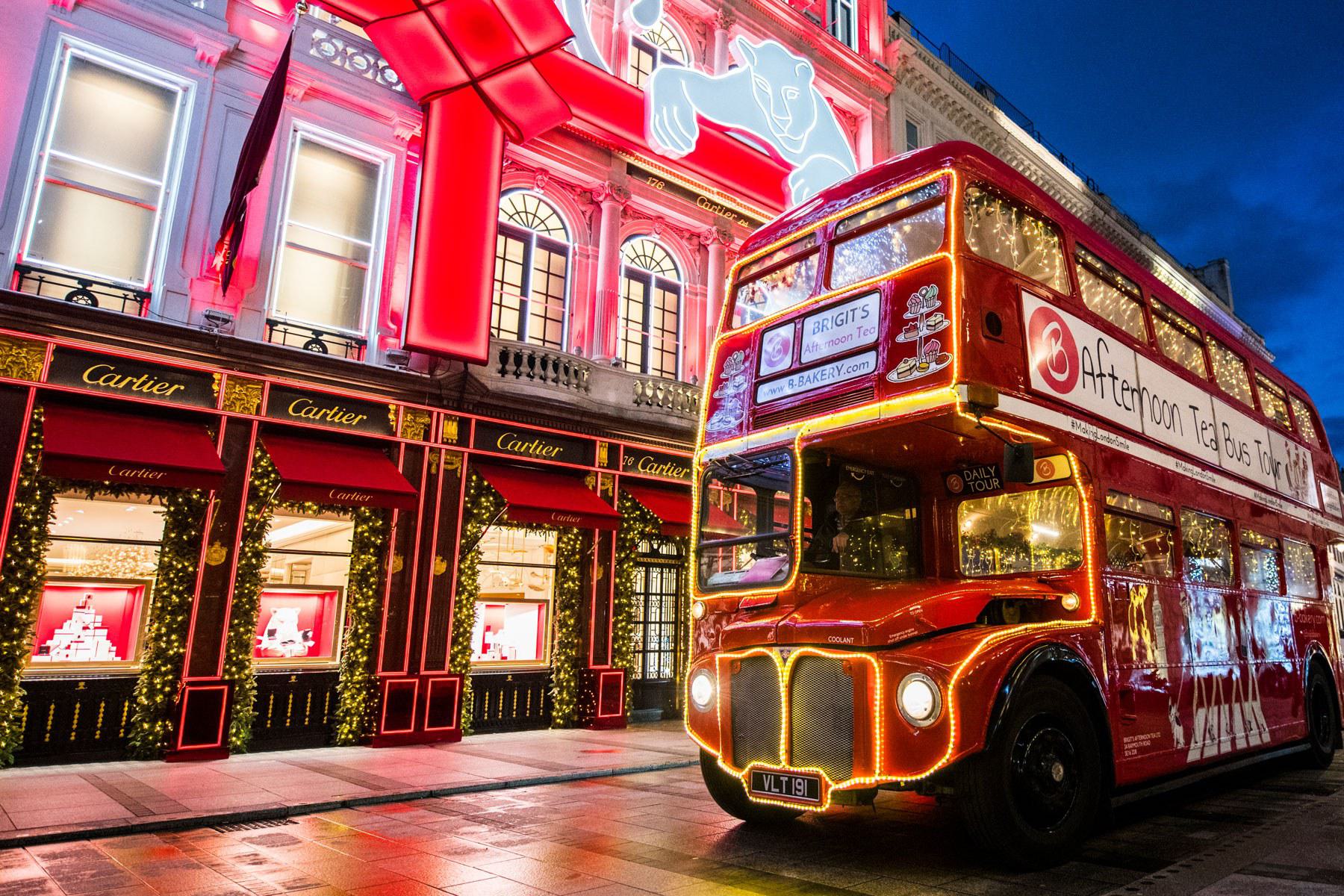 The Christmas Afternoon Tea Bus Tour
If you're looking to spend Christmas in London this year and are after something special, then our Christmas Afternoon Tea Bus tour should definitely be at the top of your list. If you want to check out the Christmas lights while enjoying festive Afternoon Tea, let us take you through the streets of the City on one of our stunning vintage double-decker Routemaster buses. Just hop on, enjoy our unique afternoon tea menu, sip on your tea or coffee (or relax with a glass of bubbly or two), and let us take care of the rest.
This year's Christmas-inspired menu includes a range of tasty freshly-prepared sandwiches and a festive assortment of mini cakes and tarts. To view our full Christmas menu, click here. And if you have any dietary requirements or preferences, as with all our bus tours, we also offer alternative menus. These include Vegan, Vegetarian, Gluten-free, and Halal.
So write these dates down because our Christmas-themed Afternoon Tea Bus tours will run between 9 November 2023 and 31 December 2023 only. With 5 daily departures from 8, Northumberland Avenue or Victoria Coach Station, we offer a unique route along Regent's Street on the 17:00 & 17:30 tours to allow you to admire the beautiful Christmas lights.
Booking your tickets couldn't be easier. Simply use our online system to choose your date, time, seat, and any specific requirements. Prosecco or Champagne are not included in the price but can be pre-ordered online.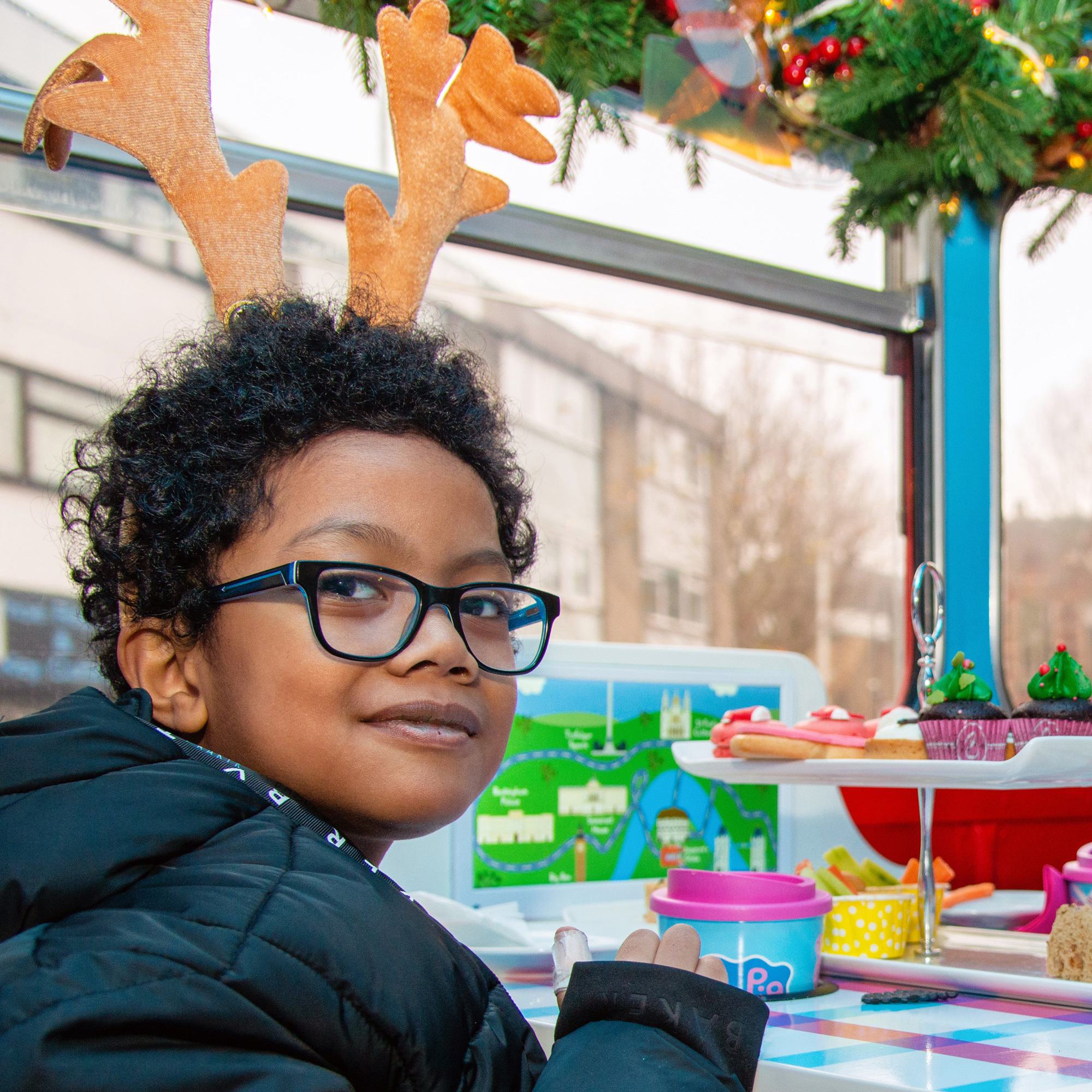 The Peppa Pig Christmas Bus Tour
Visiting London with kids during the festive season is a magical experience in itself. But when it comes to Christmas events in London, things have just gone up a notch! Did you know we offer a unique Peppa Pig Christmas Afternoon Tea Bus Tour? And if it sounds too good to be true it's because it is!
With Christmas decorations, delicious Peppa Pig-inspired Christmas treats and fun sing-along-songs, our 90-minute tour will take you and your family past some of the most famous London landmarks. And yes, this is indeed the perfect, stress-free way to enjoy the festive sights of London!
The Peppa Pig Christmas Afternoon Tea Bus Tour is available between the 9 November 2023 and 31 December 2023 twice daily on Thursdays and Sundays only (departing from Somerset House). Our chefs have created a special Peppa Pig Christmas-themed afternoon tea menu to delight kids and grown-ups alike. And with our Grandpa Pig's Christmas Turkey & Tomato burger bun, our Suzy Sheep's Snowy Snowball, and our Mummy Pig's Naughty but Nice Macaron, we just know the menu is going to be a hit!
To check availability and book, click here.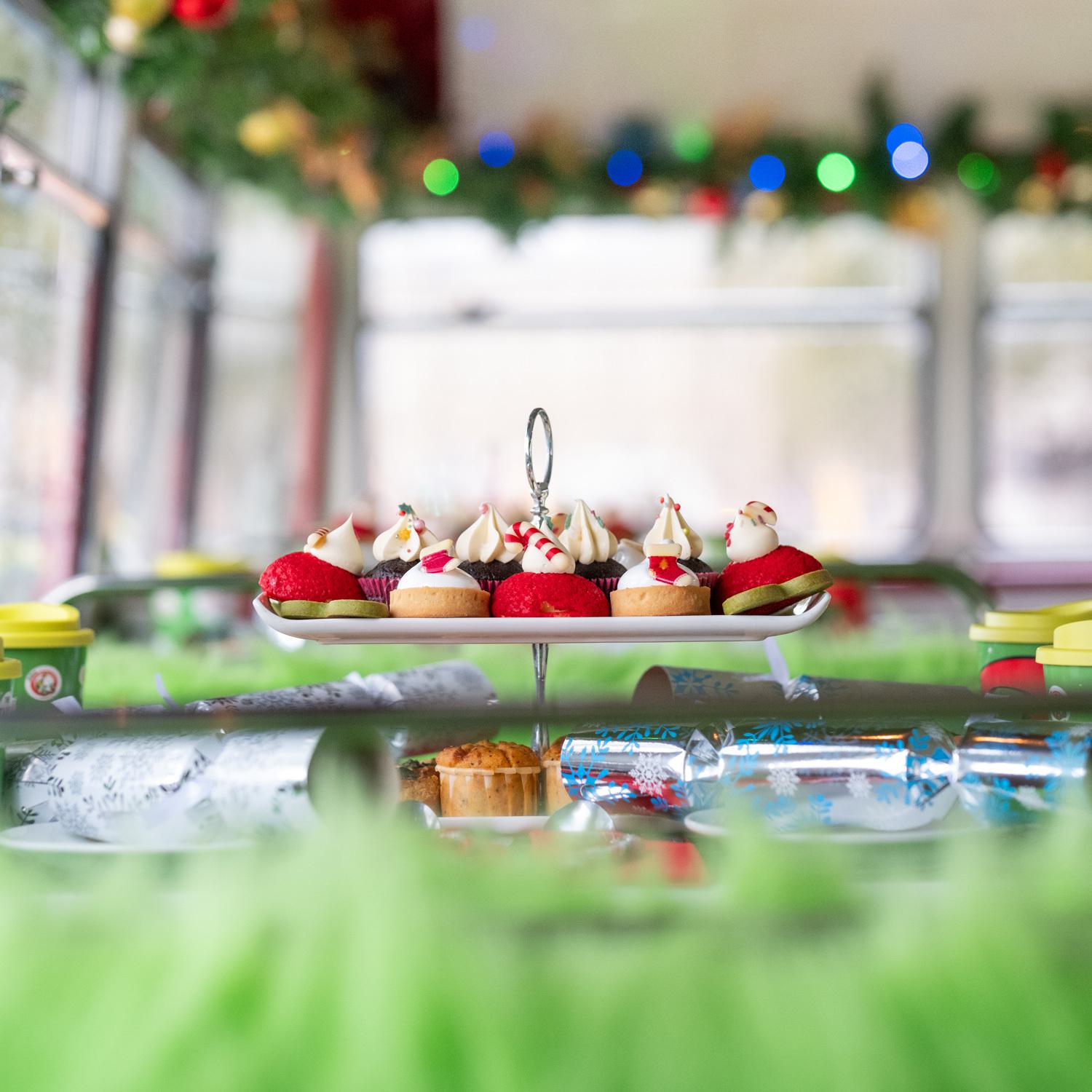 The Grinchmas Afternoon Tea Bus Tour
Back due to popular demand this year is our Grinchmas Afternoon Tea Bus Tour. Running from 13 November 2023 to 31 January 2024, we have limited seats available our classic Routemaster bus.
This exclusive tour will depart three times a day from Victoria Coach Station and includes the fabulous Regent Street lights as well as take you past some of London's most iconic landmarks, including Big Ben, The Houses of Parliament, Westminster Abbey, and much more.
The most exciting part for any Grinch fans? Our talented chefs have designed an exclusive Grinch-themed menu that includes a 'Pucker up & eat it!' Spinach Quiche and an 'I hate Xmas' Chocolate Cupcake amongst other delicacies. You definitely don't want to miss out. Check out our full menu (and alternative menus) here.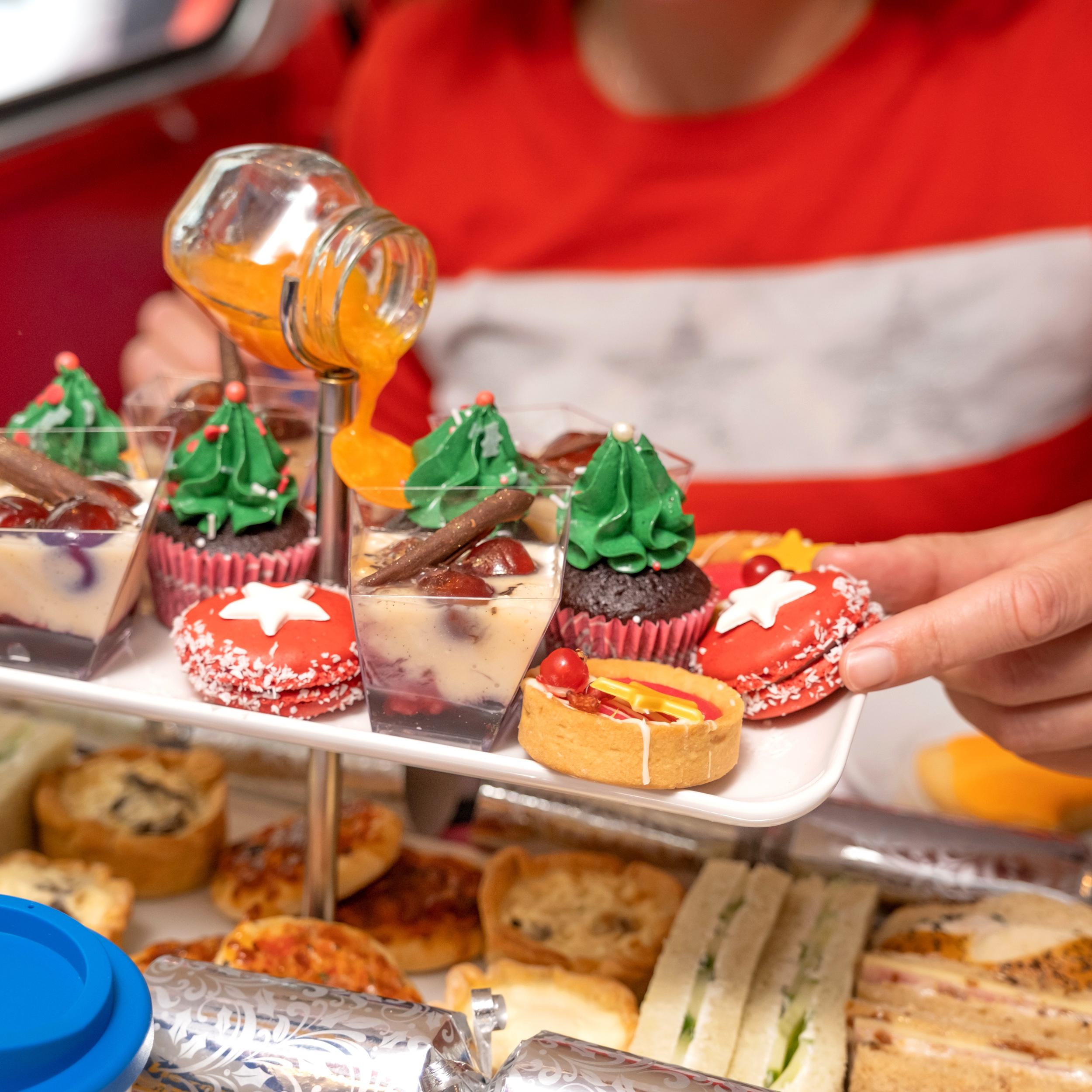 The Paddington Afternoon Tea Bus Tour
If you're looking for a rare and unforgettable Christmas experience for your little cubs, then bear with us and join us on a Paddington Christmas Afternoon Tea Bus Tour. Introduced in 2022, our themed Paddington Afternoon Tea Bus Tour is the paw-fect way to enjoy the festive sight of London (including the famous Regent Street Christmas lights) on a beautifully-decorated, twinkling Classic Routemaster Bus.
Each table comes with a special built-in screen providing guests with a Paddington-guided animation of the tour of London featuring the nation's favourite bear and the lovely Mrs. Bird. And if that wasn't enough, our chef created a paw-lickin' Paddington-themed afternoon tea menu featuring the best marmalade sandwich ever!
Available weekly from Wednesdays to Sundays, the tour will depart twice daily from Trafalgar Square. Please note, if you want to see the Christmas light, make sure you book the 17:30 tour.
To view the full menu (including our alternative menus) and book your place, click here.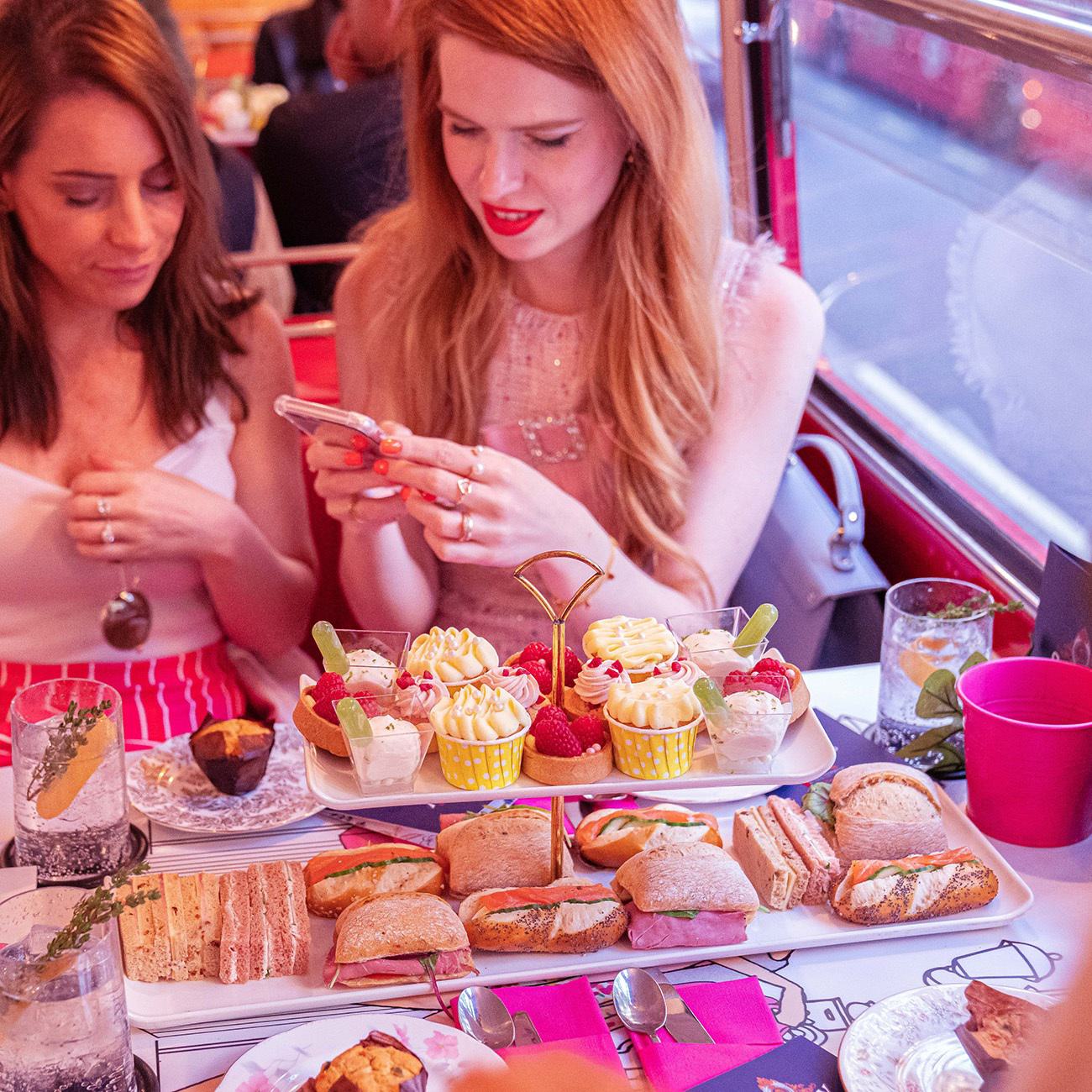 The Gin Lovers Afternoon Tea Bus Tour
If you'd rather spend an evening in the company of grown-ups and let your hair down with a quality drink (or three), then we have another option for you. Our Bombat Sapphire Gin Afternoon Tea Bus Tour is available all year round with tours on Fridays and Saturdays only, departing at 17:30 and 18:30 from Victoria Coach Station or Trafalgar Square, 8 Northumberland Avenue. While not Christmas-themed, our Gin Afternoon Tea bus tours are absolutely perfect to celebrate and enjoy the festive season.
To find out more about Bombay Sapphire, check out this blog post: Bombay Sapphire Afternoon Tea Bus Launch. And to view our menu or book your place, click here.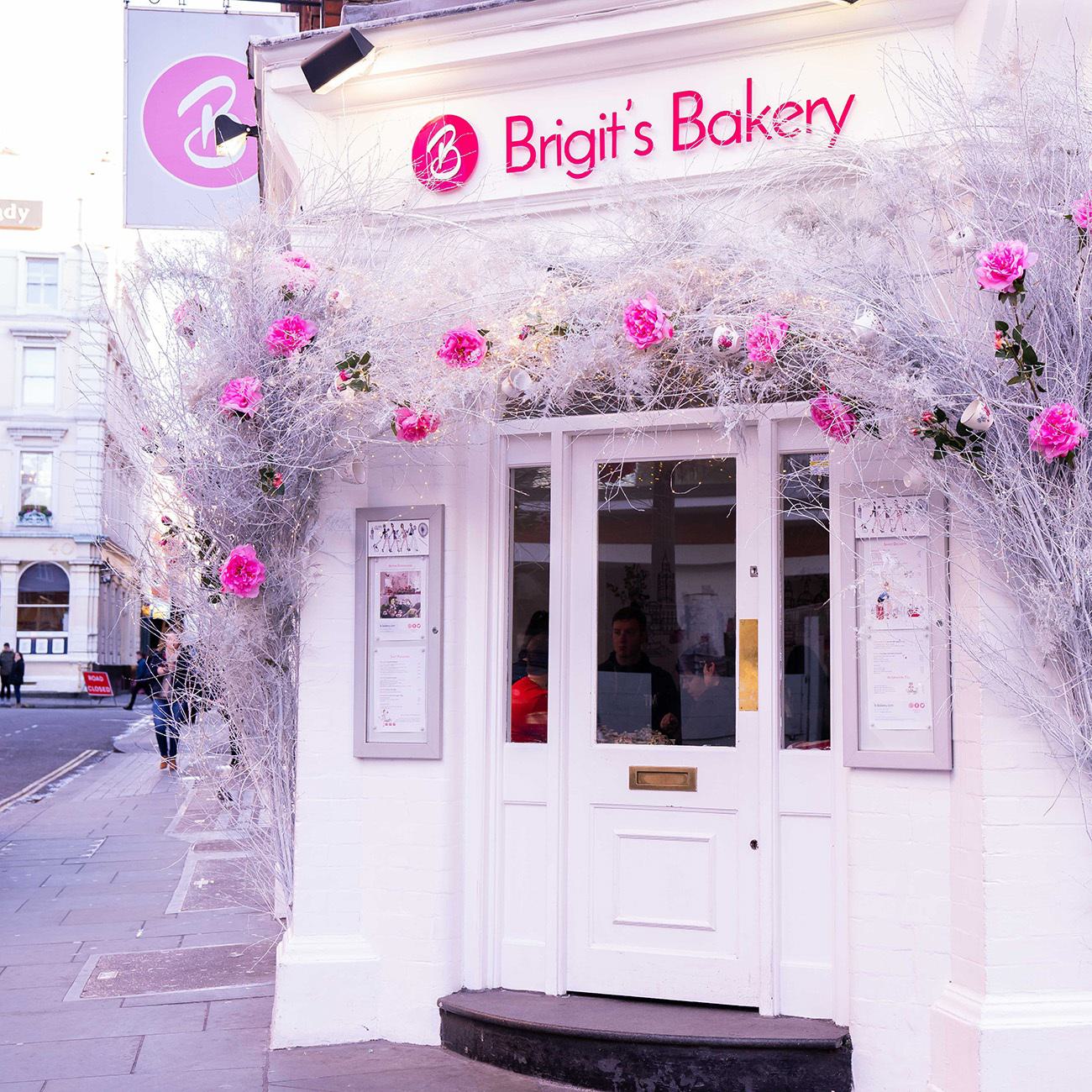 Afternoon Tea at Brigit's Bakery in Covent Garden
Our delicious and exclusive Christmas-themed afternoon tea menu will also be available at our Brigit's Bakery in Covent Garden. So if you've spent the day sipping mulled wine, browsing the Christmas markets, or are simply Christmas shopping in the area, make sure you come and pay us a visit.
To get more of a feel of what Christmas looks like at our stunning Brigit's Bakery in Covent Garden, head over to our post: Christmas Lights Afternoon Tea Bus Tour in London. And to book your table at our busy restaurant, click here.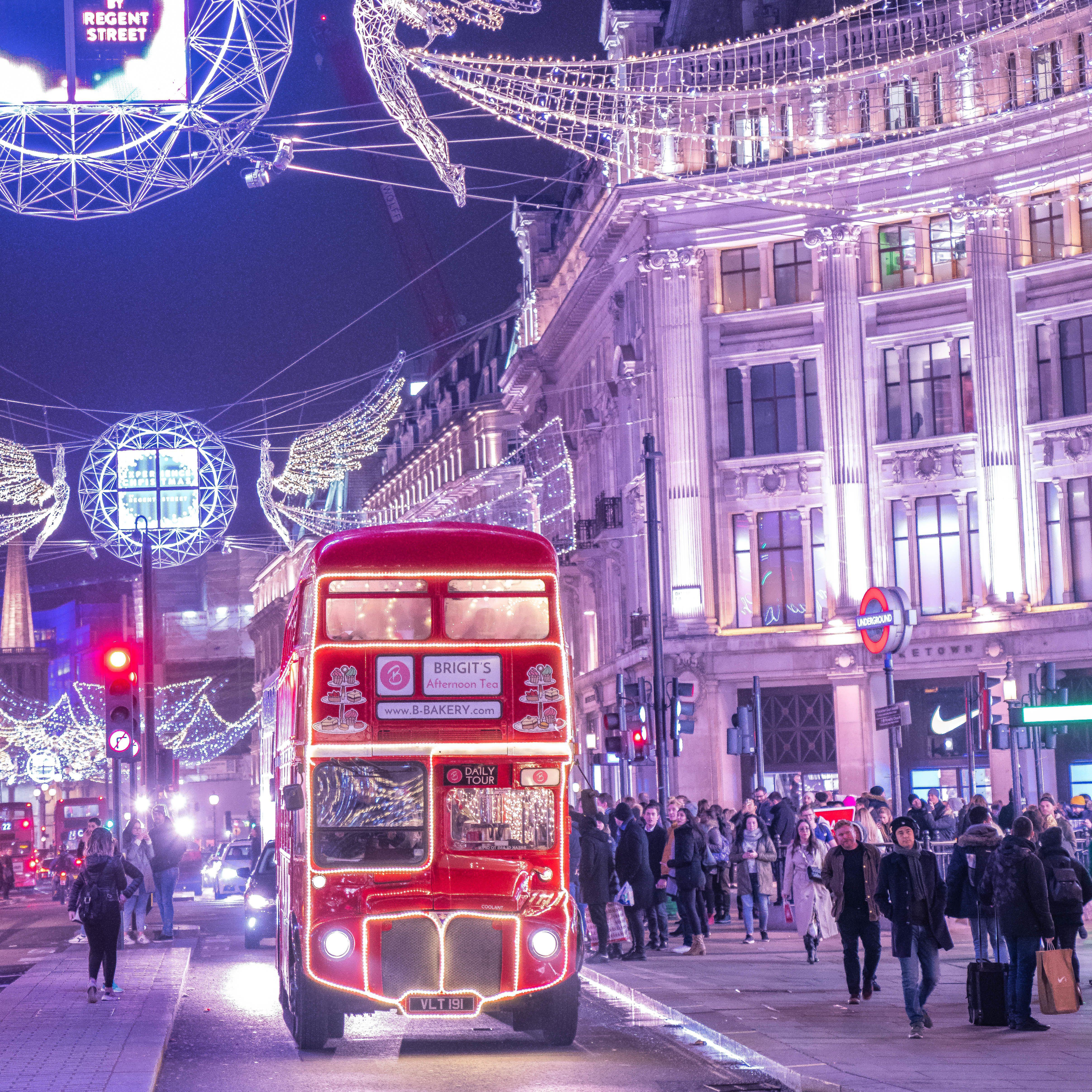 Christmas lights and trails for 2023
When it comes to Christmas events in London in 2023, we can't leave out the mesmerising Christmas lights and amazing trails. As you may have read above, all our 17:00 & 17:30 Christmas Afternoon Tea bus tours will go via Regent's Street to let you admire the Christmas lights.
But if you're out and about this winter, you might also be able to see them in Oxford Street, Carnaby Street, and Covent Garden. All lights will be switched on from November 2023 until early January 2024 (dates still to be confirmed and subject to change).
Or, why not take a walk through Syon Park's illuminated trail at the Enchanted Woodland in Brentford? Kew Gardens also has an amazing illuminated trail (check the dates here) or find out more about the Christmas lights in Kew Gardens here.
Ice skating
If you'd like to spend some time on an ice rink this winter, here are a few more locations and dates for you. First thing first, check out Skate at Somerset House. Organised in partnership with Switzerland Tourism, the event is scheduled to be on for a couple of months between 14 November 2023 and the 14 January 2024. You'll find contemporary music, gifts, and delicious food and drink. Find session times and book your tickets here.
Christmas carols in London
Ready to sing along? Then go and enjoy the Christmas carols and classical music recitals in various London locations, including the Royal Albert Hall, the Barbican, the Union Theatre, Lambeth Palace, and many more.
Hogwarts in the Snow
And last but not least, don't miss out on an opportunity to see Hogwarts in the Snow at the Warner Bros. Studio between 11 November 2023 and 14 January 2024. You'll be able to explore the Forbidden Forest in its festive makeover - all dressed up and covered in filmmaking snow. The enchanting Great Hall will feature long dining tables dressed as they were for the seasonal feast in Harry Potter and the Philosopher's Stone. Well, that's something to look forward to for sure!
So, what Christmas events in London for 2023 will you pick? If you're planning on spending it with Brigit's Bakery, then make sure you check what's on!