Girls day out ideas in London - Brigit's & more!
Looking for girls day out ideas in London? Getting together with the girls shouldn't be something you only do for birthdays, hen do's, and special occasions. Any day is a great excuse to have a girls day out (or girls night out?), hit the town, and let your hair down. So whether you're after a day trip, a night out in London, or even a weekend in London, here are some fun and quirky suggestions for you.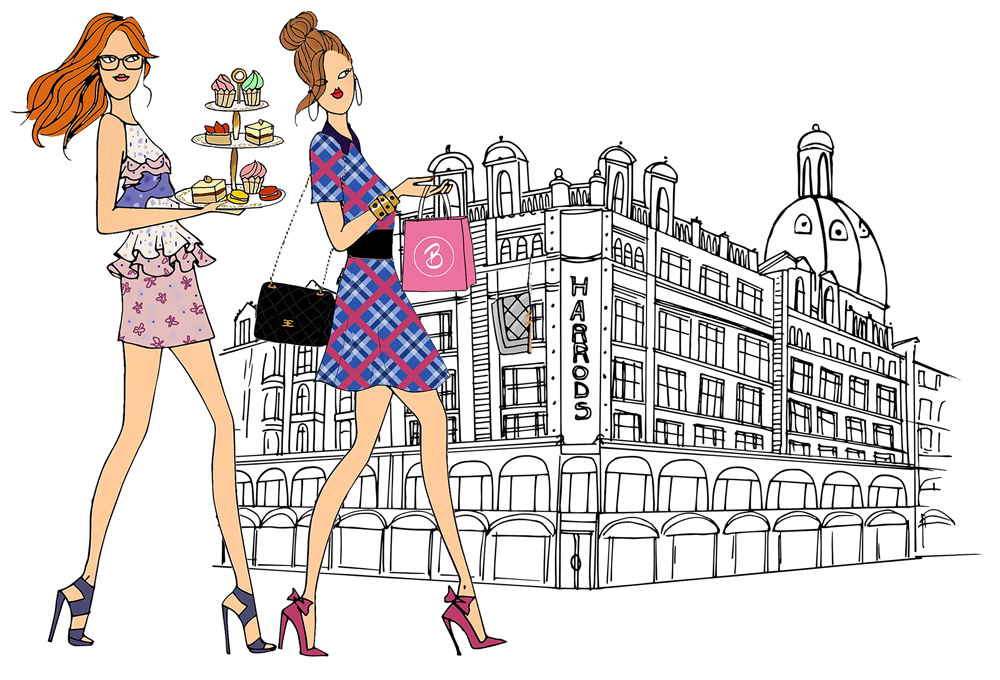 A girls' day out at Brigit's Bakery in Covent Garden
Brigit's Bakery in Covent Garden is the ideal location in Central London for a girls' day out. We're only a 20-minute walk from Oxford Street and a short cry from Leicester Square, Piccadilly Circus, and Shaftesbury Avenue. So if you're after a convenient London location for shopping, theatre shows, and even cocktail bars and live music for your evenings, we tick all the boxes.
With plenty of food and drink to choose from, you can come and visit Brigit's Bakery for afternoon tea, bottomless brunches, or lunch. We have a versatile menu to cater to different preferences and dietary requirements. This includes all-day brunch, healthy smoothie bowls (all suitable for vegans and vegetarians), Croques served with salad, a selection of club sandwiches served with crisps, quiches, and yummy salads.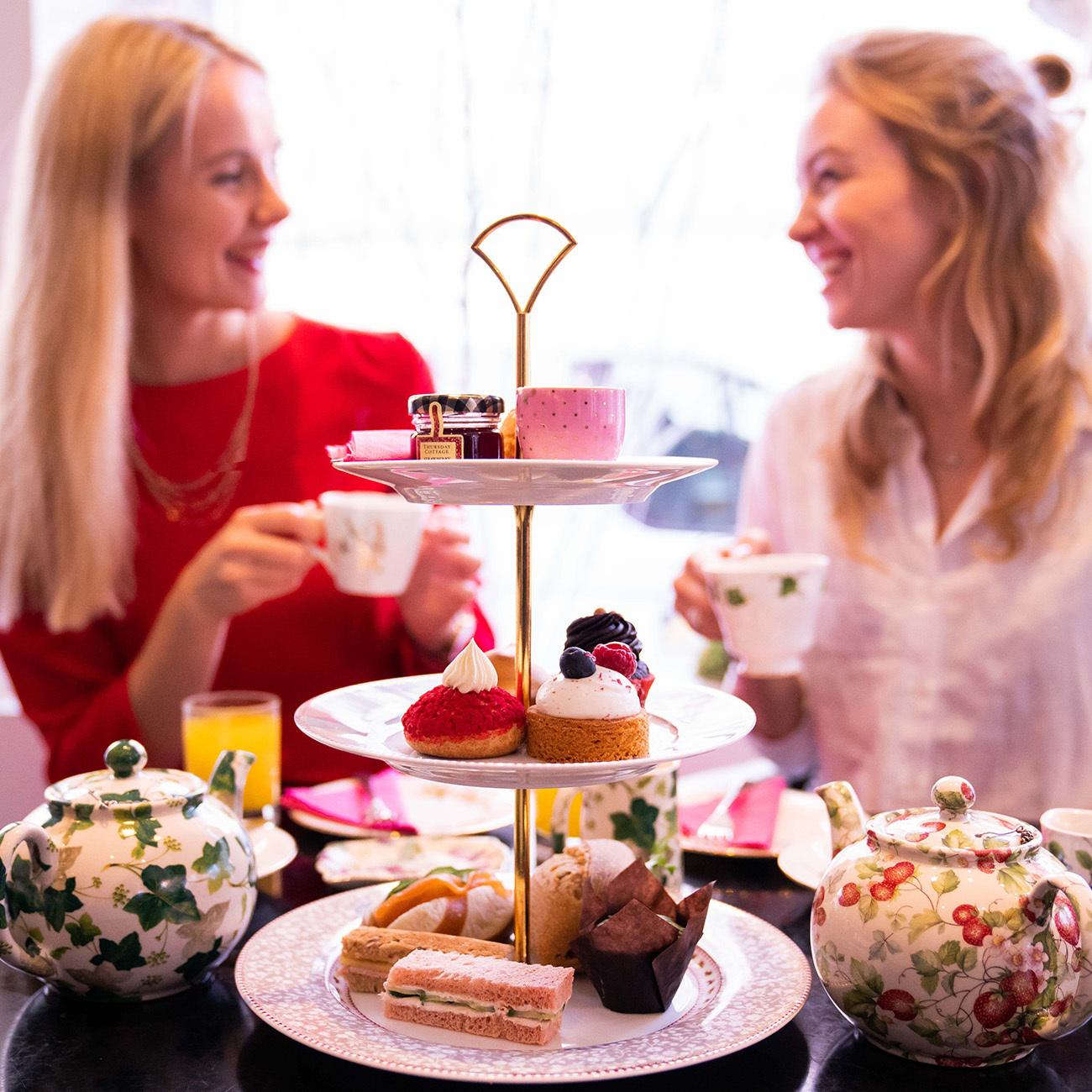 When it comes to afternoon tea, we are well-known for combining this fabulous quintessential English tradition with our French flair and je-ne-sais-quoi. Our afternoon tea menu is unique and available in different versions, so we can be sure to accommodate all our clients. Wherever you book with us, you can choose from Traditional, Vegan, Vegetarian, Halal, and Gluten-free.
And you can be sure that all our afternoon tea menus will offer a carefully selected array of savouries, delicious and indulgent cakes, scones, jam, and a hot drink (tea, coffee, or hot chocolate). What kind of afternoon tea would it be otherwise, right? And if you want to go all out on your trip to London you can pick our bottomless options and choose between Prosecco, Champagne, or Gin Cocktails.
For more information, you can view our full menu here and check availability and reserve your place here.
Private hire at Brigit's Bakery
Do you want to turn your girls' day out into a celebration or a private event? Then you can hire one of our private rooms at Brigit's Bakery. We understand you might not want to hire the whole venue or the restaurant on the ground floor (although you could if you wanted!), but our private rooms downstairs will be perfect for you and your friends.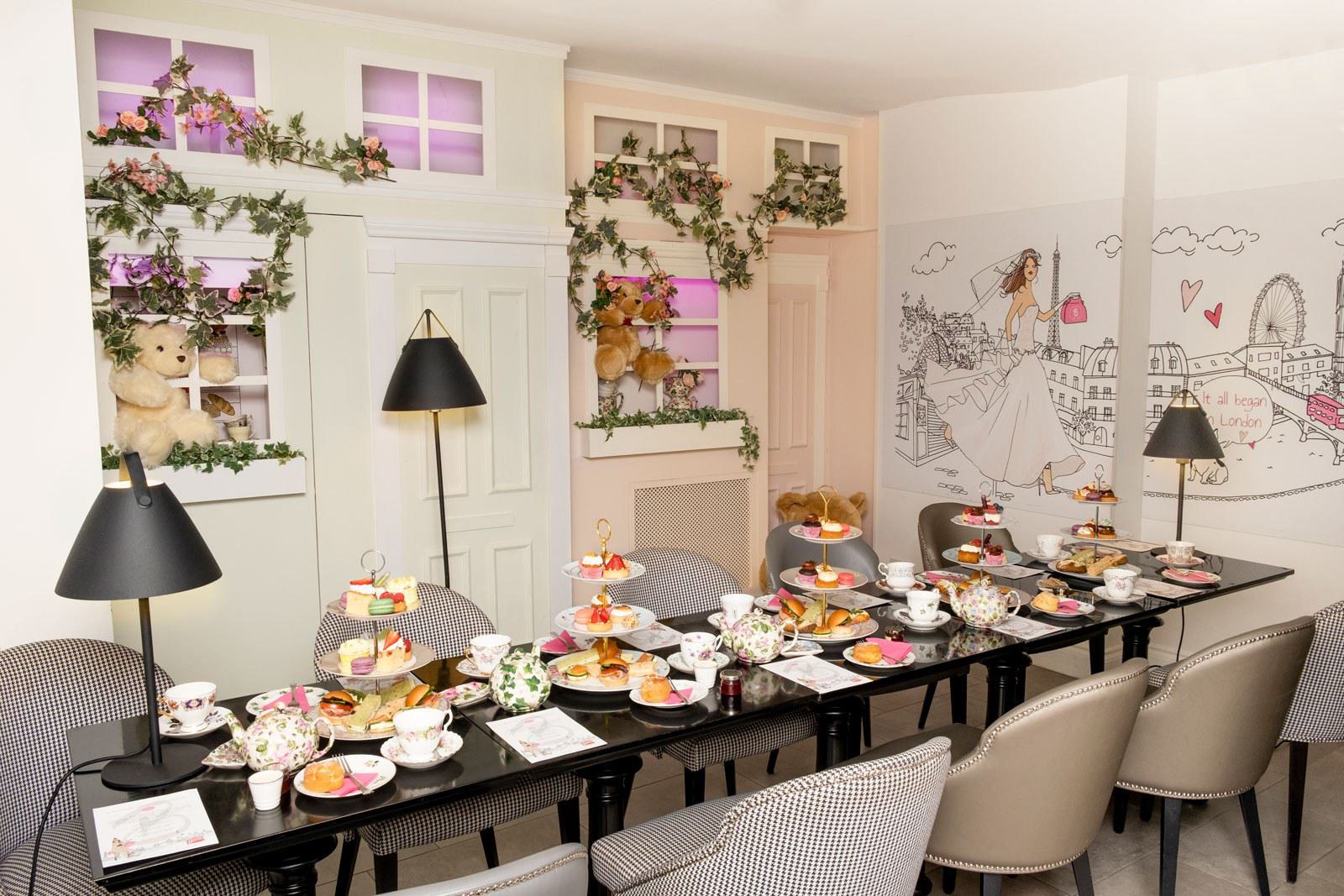 So, depending on numbers, here's what we have:
The Sofa Room. This is an L-shaped room that can host up to 16 people in total (spread across a number of tables).
The Garden Room. With stunning wall arts and chairs to match, this room can accommodate up to 10 people.
And finally, the Cupcake Room. Smaller and more intimate, this room is cute, cozy, and ideal for up to 4 people.
Afternoon Tea Bus Tour
Another option for a fantastic girls' day out in London is jumping onboard one of our Afternoon Tea Bus Tours. This is guaranteed to impress your friends, and if you're after something a bit unusual and quirky, it doesn't get any better than this.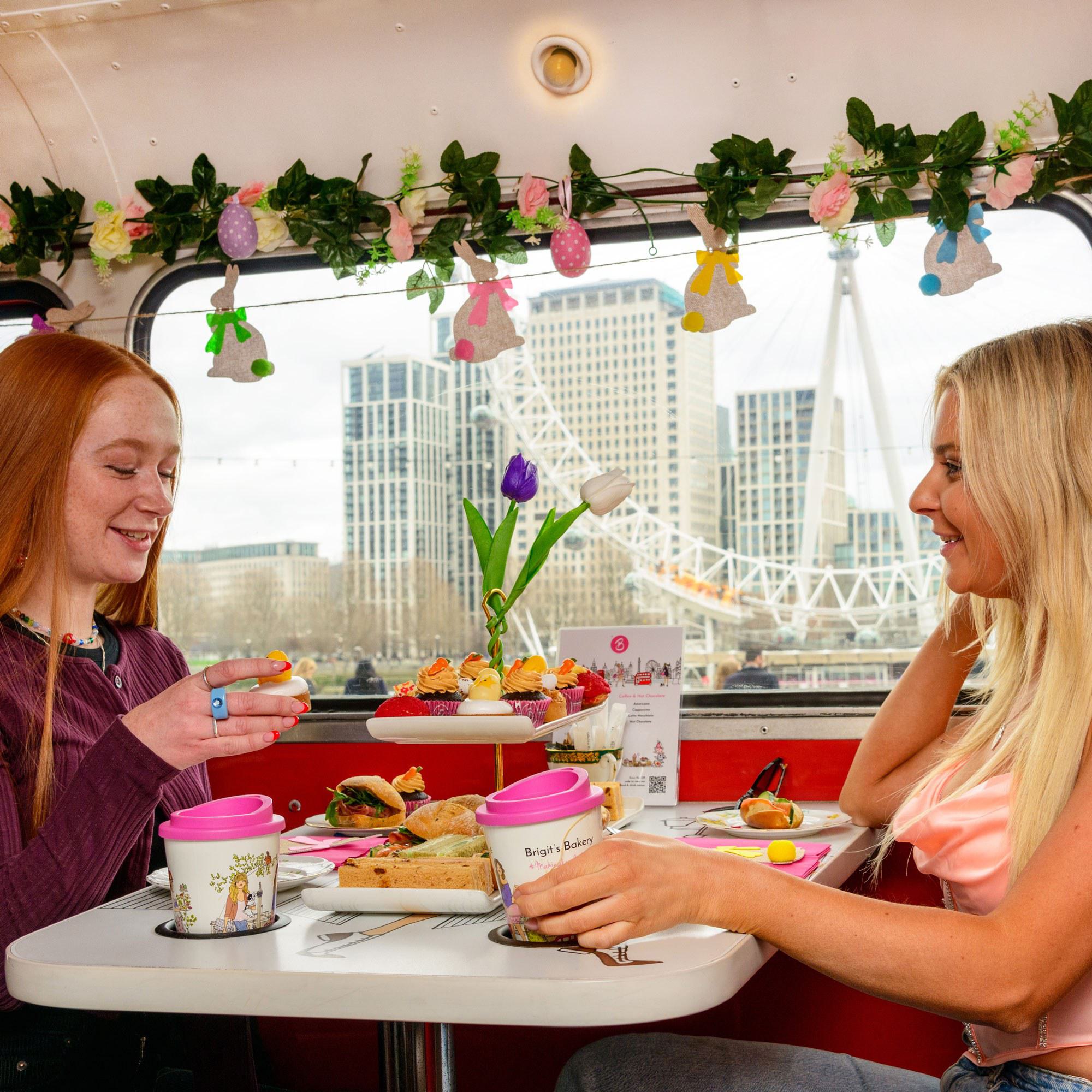 This is your chance to enjoy our renowned afternoon tea (with the same menus you'll find at our bakery in Covent Garden) while onboard our vintage Routemaster buses. We'll drive you through the streets of Central London so you can take in some of the best sights. We are talking about remarkable landmarks such as Big Ben, The Houses of Parliament, Westminster Abbey, St James's Park, Hyde Park, The Royal Albert Hall, Marble Arch, Nelson's Column, Downing Street, and more. All our tours last approximately 90 minutes (depending on traffic) and depart daily 7 times a day (between 12 and 5 pm) from either Victoria Coach Station or Trafalgar Square.
Booking your Afternoon Tea Bus Tour
Booking your space on one of our tours couldn't be simpler. Just head over to our booking page to check availability on your preferred date. If you have a Brigit's Bakery gift voucher, now's the chance to use it.
When you book, we ask you to choose where you want to sit and pre-book your table. On the lower deck, we have two tables for four people and two tables for two people. And on the top deck, we have four tables for four plus two sets of VIP seats (on the top deck, right at the front of the bus), which are suitable for two people max. So there's plenty of space onboard our tours to accommodate all your friends!
Also, when you book, don't forget to tell us about your menu selection and choose a glass, half bottle, or bottle of sparkling wine or Champagne. Unfortunately, our staff cannot handle cash or payments onboard, so we'll need you to pre-book your food and drinks in advance.
And if it's a hen do you're after, please call us on 0203 0261188 or email us at bus@b-bakery.com to ask about our special group rates.
Gin Lovers Afternoon Tea Bus Tour
Another fantastic option for a girls' day out in London you won't forget (or maybe a night out) is our popular Gin Afternoon Tea Bus Tour. These tours are for adults only (18+) and run on Fridays at 6:30 pm (departing from No. 8 Northumberland Avenue) and on Saturdays at 5:30 pm (departing from Victoria Coach Station). Additional tours may be added on Saturdays at 17:00 from Victoria Coach Station, so always check our website for the latest information on dates, availability, and departure times.
What's so special about our Gin Afternoon Tea Bus Tours? Well, you won't only get to indulge in afternoon tea while we drive you through the streets of London (just like on our Classic Afternoon Tea Bus Tours), but we'll also serve three delicious flavoured G & Ts and gin-infused cakes.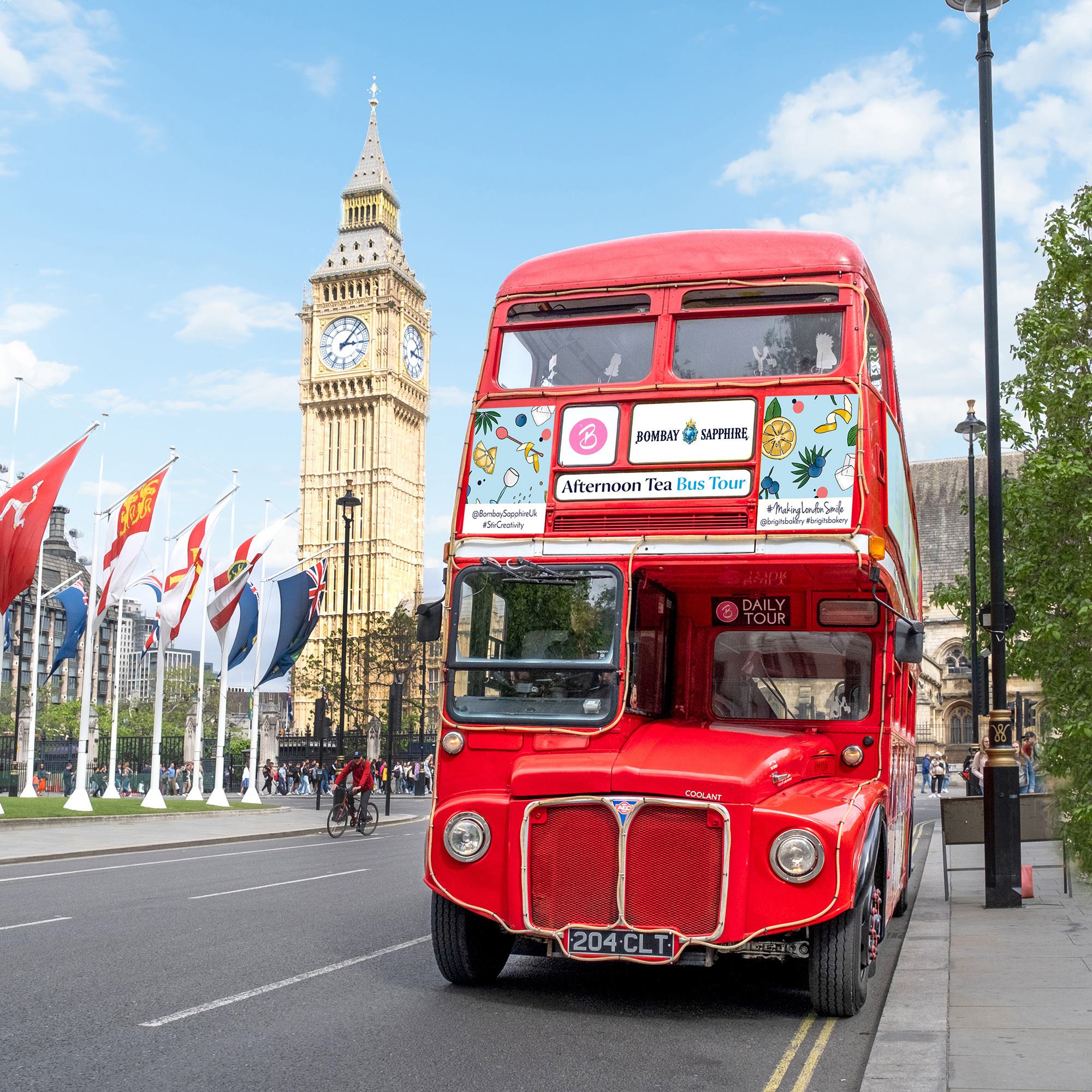 Want a little sample from our Traditional Gin Afternoon Tea menu? For savoury, we'll serve salmon pretzel and savoury mini muffins, and when it comes to our assortment of mini home-made cakes and tarts, we have:
Bombay Sapphire Lemon Cupcake topped with gin-infused cream
Bombay Bramble Mixed Berry Tart with gin-infused cream
Bombay Sapphire & White Chocolate Whipped Ganache Verrine with a gin-infused lime jelly
Blueberry & Lemon Budnt Cake filled with gin-infused lemon curd & cream
Lemon Slice Shortbread Cookie
Of course, menus can vary based on the season and availability, so please check our website for the latest information.
More ideas for your girls' day out in London
Looking for more girls' day out ideas in London? You can check out our blog post Fun and quirky hen do ideas in London. In there, we cover things like music festivals, horse riding in Hyde Park, and even dance class or drawing classes.
If you're up for karaoke, check out Lucky Voice Karaoke (with venues in Central and East London) or Karaoke Box (in Soho, Smithfield, and Mayfair).
For great views, consider the London Eye, Sky Garden (London's highest public garden), or evening drinks at The Shard.
And if you're up for something a little more adventurous, then have a look at the Adult Ball-Pit Bar 'BallieBallerson'. You can unleash your inner child and play hide and seek for the night in their chest-high adult-only ball pit. Sounds like fun, right?
Or you could head to crazy golf club Swingers, which has locations in the City and the West End. Their clubs have a strong seaside vintage feel complete with a helter-skelter course and a miniature Ferris wheel.
Or you could play prosecco pong or beer pong at Queens. They offer ice skating and bowling as well, but some of their biggest features are their AI and neon lights. And they have dirty burgers too, so if you're out on a night, go and check it out!
Fancy heading to a bar? Then we heard good things about Dirty Martini in Monument (perfect for cocktail-making classes and sophisticated late-night partying) or Sway in Holborn. With amazing rooftop bars (check out Skylight) or Mixology events for cocktail making, London has loads to offer.
Did you enjoy these girls' day-out ideas for London? What will you choose? Will it be afternoon tea or a bus tour? How about both?