Hidden gems in London: Tripadvisor's ad & Certificate of Excellence
BRIGIT'S BAKERY IS OFFICIALLY ONE OF THE HIDDEN GEMS IN LONDON!
Have you seen the new TripAdvisor TV advert with the owl? Have you noticed that the owl is on our very own Brigit's Bakery Bus Tour!
About the TripAdvisor TV Commercial, 'Hidden Gems'
If you're looking for unique things to do in London, this TripAdvisor owl says you could try asking around. Of course, you'll have no luck if you ask one of the Queen's Guard, who are always silent. Instead, the owl suggests using TripAdvisor to discover tours, attractions and experiences, including hidden gems in London like Brigit's Bakery Afternoon Tea Bus.
We are over the moon that TripAdvisor chose Brigit's Bakery as one of their hidden gems in London. What an accolade!

Brigit's Bakery has earned a Certificate of Excellence on TripAdvisor
Just last month we were super excited to hear that we have been awarded TripAdvisor's 2019 Certificate of Excellence. What does this mean, I hear you ask? Well, it means we've been recognised by TripAdvisor as being one of the top London experiences, based on the consistently great reviews we've earned on the world's largest travel site. Only a small percentage of businesses achieve this accolade so we are obviously beaming with pride.
The TripAdvisor Certificate of Excellence honours select accommodations, attractions and restaurants that consistently demonstrate a commitment to hospitality excellence. TripAdvisor uses a proprietary algorithm to determine the Certificate of Excellence honourees. It takes into account the quality, quantity and recency of reviews and opinions submitted by travellers on TripAdvisor over a 12-month period, as well as a business's tenure and ranking on the Popularity Index of the site. To qualify for the Certificate of Excellence, a business must maintain an overall TripAdvisor bubble rating of at least four out of five, have a minimum number of reviews and must have been listed on TripAdvisor for at least 12 months.
You can see from some of our recent five-star reviews just this June, that our customers feel the same way;
What a great invention combining a ride on a London vintage bus with an afternoon tea and sightseeing through London. just come back from the tour, full of fantastic memories, a very special experience and fully recommended, we will return.

Ernst, Switzerland
We were in London for just a few days and decided to do this tour to have a double decker and tea experience all at once. I was a little worried it would be too "girly" for my husband but he really enjoyed it as well. You don't ever go too fast (thanks to London traffic) so you really get to see the local landmarks. The food was perfect-we even had some things left to takeaway. I also pre-ordered a bottle of Prosecco which made it special. We were on the top in the front table and had great views! It was a little warm that day and the A/C was right up front which helped plus once we moved breezes came through the windows.

Yorba, California
Had a fantastic time aboard the Brigit's Bakery Bus. We had a whirlwind stopover in London for just day, so decided to kill two birds with one stone and enjoy a high tea while seeing the sights. The food was delicious… luckily I still had space for the scones once they came out, As an added bonus, we got to keep the stunning cups in which our tea was served. Highly recommended for anyone spending time in London. The staff on the bus were amazing.

Michelle, UK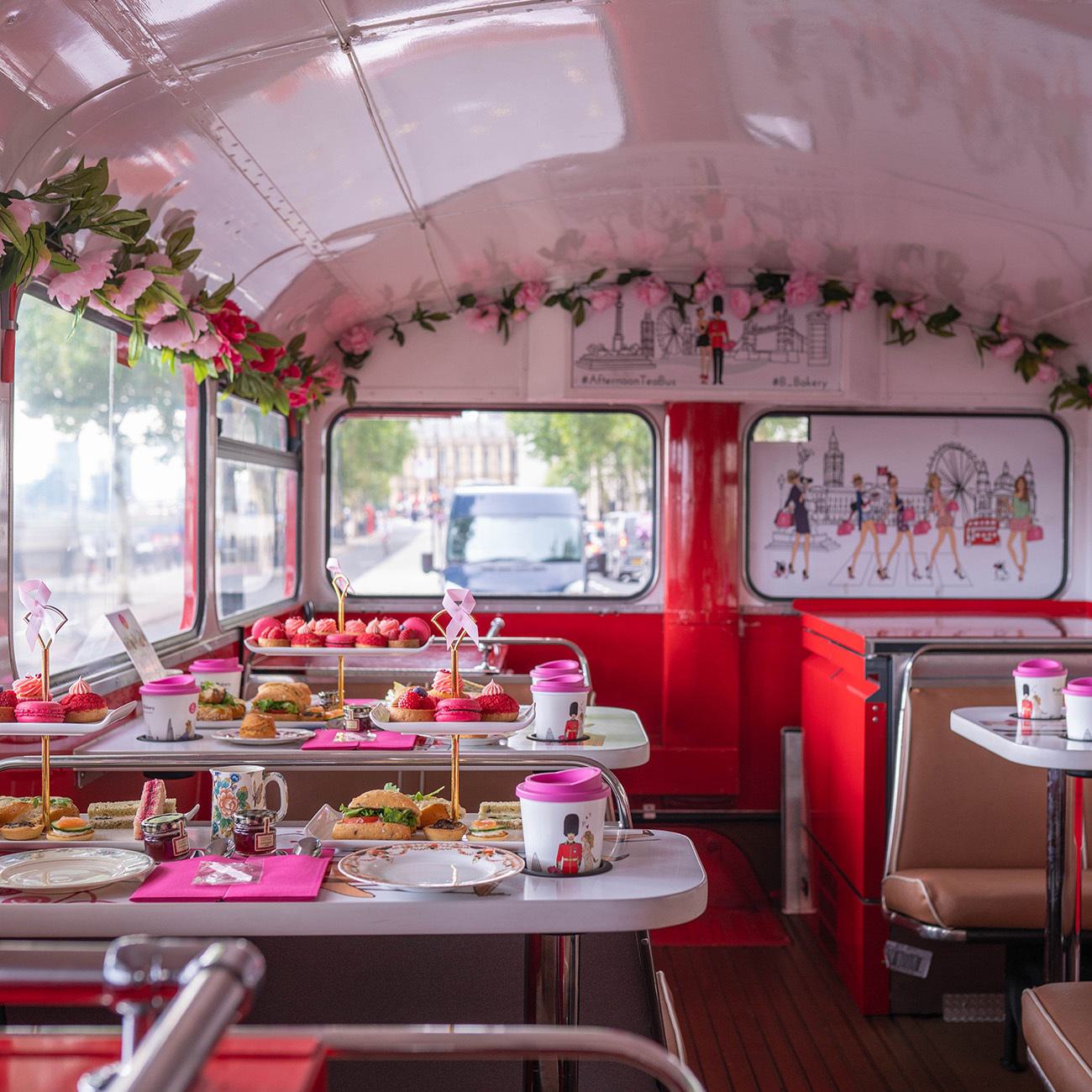 #MakingLondonSmile
Our company ethos is to make our customer smile. We want to spread joy and happiness with wonderful cakes, kind and considerate hospitality and a lot of fun. Our social media campaign, #MakingLondonSmile, seems to have really paid off this year, read some of our lovely client reviews in this blog post on #MakingLondonSmile.