London Gin Bus: World Gin Day
LONDON GIN BUS: BRIGIT'S BAKERY
World Gin Day is usually on the first Saturday in June. What is that, I hear you ask?
Well, World Gin Day was founded by Neil Houston and Emma Stokes in the UK in 2009. It has grown year-on-year into a worldwide celebration of Gin. This year, special World Gin Day events will run in over 30 counties around the globe. It'll be all over social media with millions of people engaging and sharing their gin experiences. You can find out more about the founders and various events around the world on the World Gin Day website.
Bombay Sapphire London Gin Bus Tour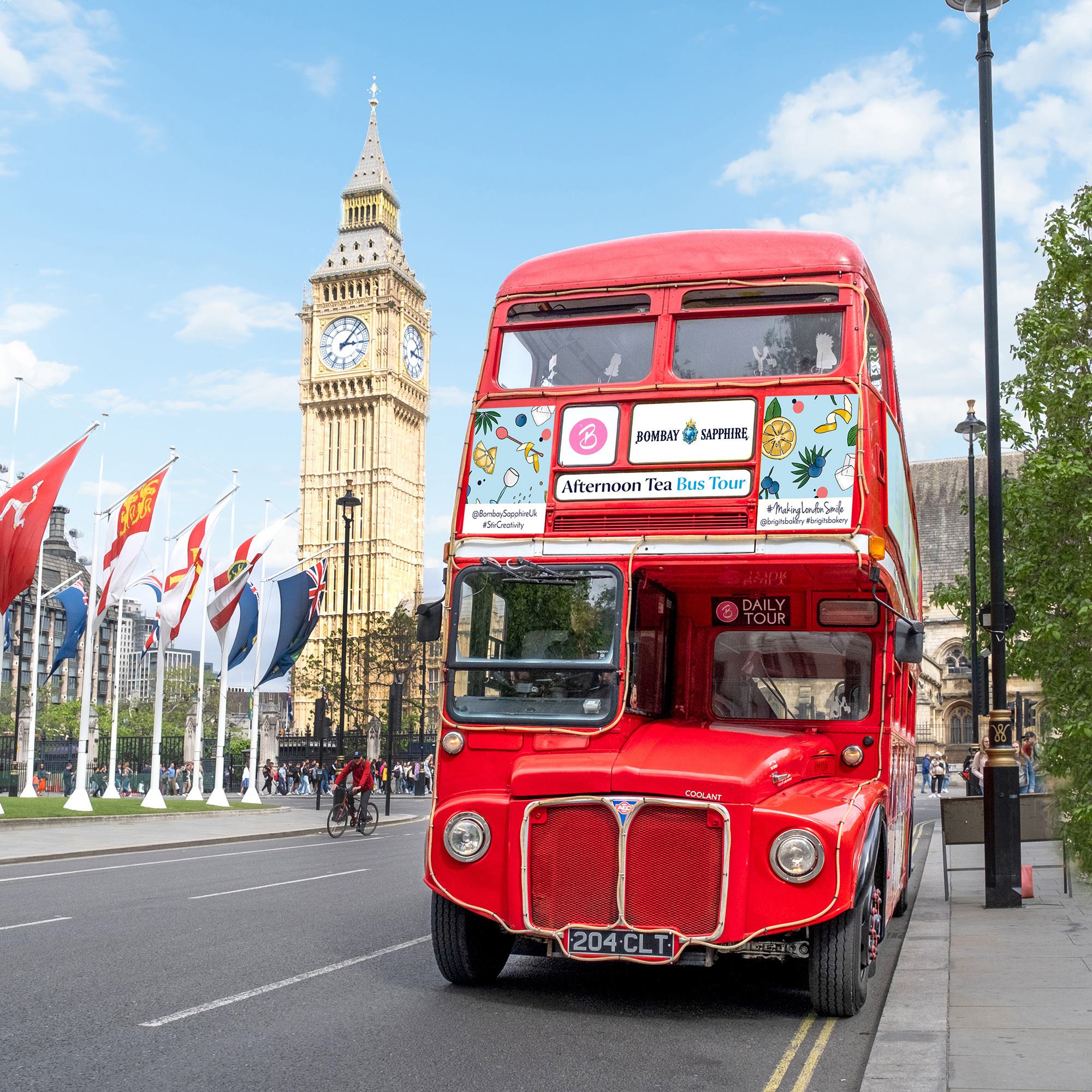 As some of you may already know, Brigit's Bakery runs regular London Gin Bus Tours, currently sponsored by Bombay Sapphire, which run throughout the year. Ever since their launch in 2017, they have proven to be extremely popular and often sell out the minute new dates are released. Guests receive three complimentary Bombay Sapphire G&Ts to enjoy with our delicious afternoon tea, with a French twist.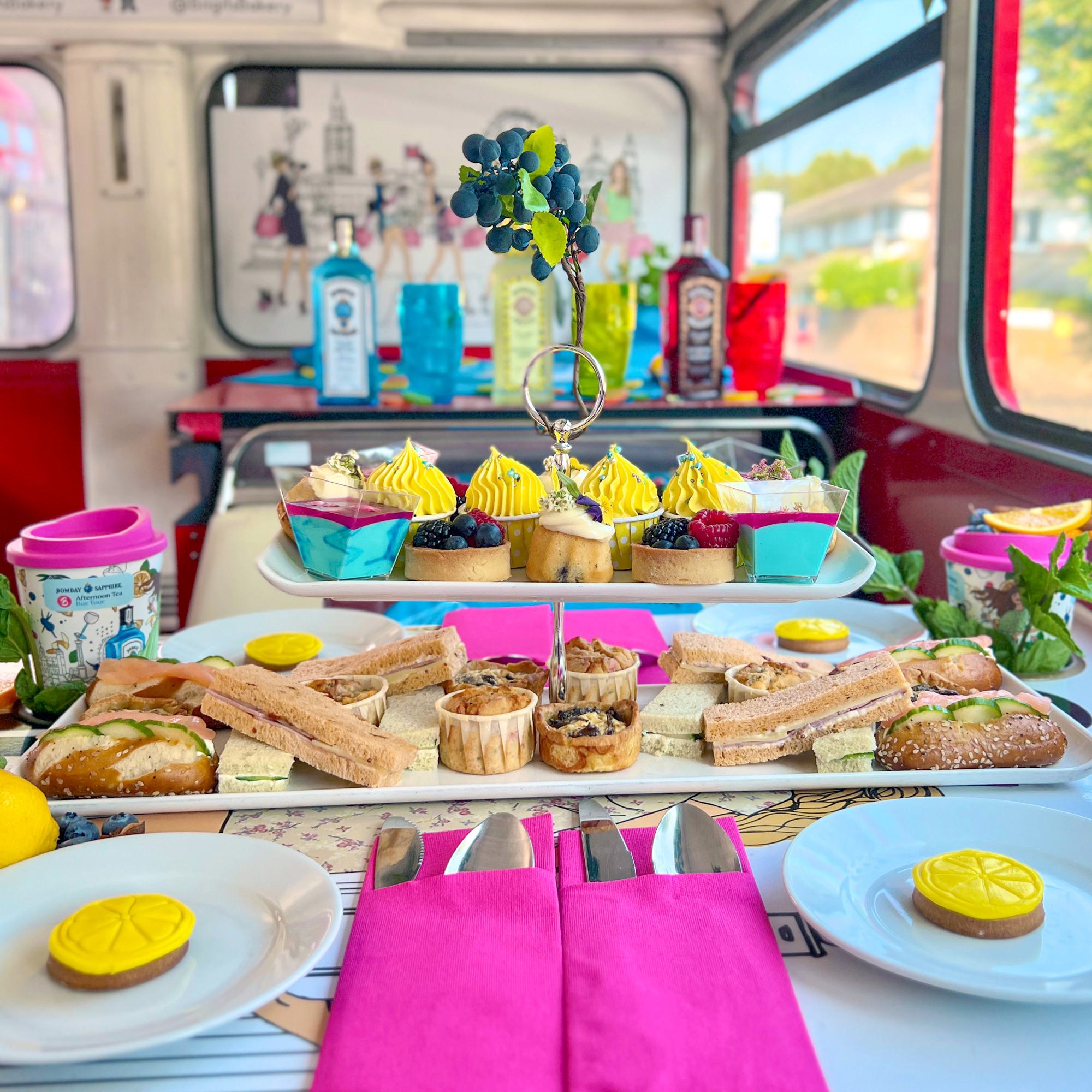 PLEASE NOTE
There is NO toilet on-board. This is an adult only tour 18+.
If you need convincing further, then read what our customers have to say about our London Gin Bus Tours below. You can also check out all of our reviews on our Facebook page or on Tripadvisor.
Excellent Gin afternoon tea bus tour

Excellent bus tour of London. The afternoon tea had very tasty selection of savouries and sandwich's. With a good selection of cakes and scone. The gin cocktails were superb. Lovely afternoon tour round London.
40th Birthday Gin Special

A fantastic afternoon taking in the sites of London with 3 excellent Gin Cocktails to complement a great afternoon tea. Highly recommended to all Gin and Cake lovers!
Afternoon Tea & Gin!

Fabulous afternoon tea & gin on a souped up Routemaster bus with a running commentary of the sights en route and music. The food and gin cocktails were both excellent and the customer service was exemplary. The two hosts definitely went the extra mile when one lady needed the loo (there's no loo on board so visit the free toilets at Victoria train station before you go). A really fun experience, I've had afternoon tea in hotels but on the top deck of a bus is a first and very fun!
Afternoon Tea and Gin bus tour

The second we walked up to see our twinkle light bedazzled Routemaster bus, we knew it was going to be a fun evening! What an enjoyable way to see some of the sights. Brigit's Bakery was amazing to deal with and were kind of enough to answer my emails and questions promptly. Once on board, we left right on time and were amazed at the beautiful selection of sweet and savoury afternoon tea selection awaiting us at our assigned seat.

One of our group is gluten free and they provided a separate tier of items for her, at no extra cost. The food was incredible, and ample, we honestly couldn't finish it and took items to go. Our hosts were delightful, and attentive. There's a running travelogue to explain what we're seeing and fun music playing.
Words cannot describe

Such an amazing experience, really nice buses, super clean, really well trimmed out, great staff, very tasty afternoon tea, stunning views around London. It's such an amazing bus ride that you'll never forget. Very very highly recommended.