Vegan bakery in London – delicious vegan afternoon tea menu with Brigit's Bakery
Are you looking for a vegan bakery in London? Maybe you want to treat a friend or a loved one to a delicious afternoon tea? Or maybe you're celebrating a special occasion – a birthday, a baby shower, an anniversary, a hen do, and you or someone in your party are vegan? Then here's a list of places where you can enjoy our exclusive vegan afternoon tea menu.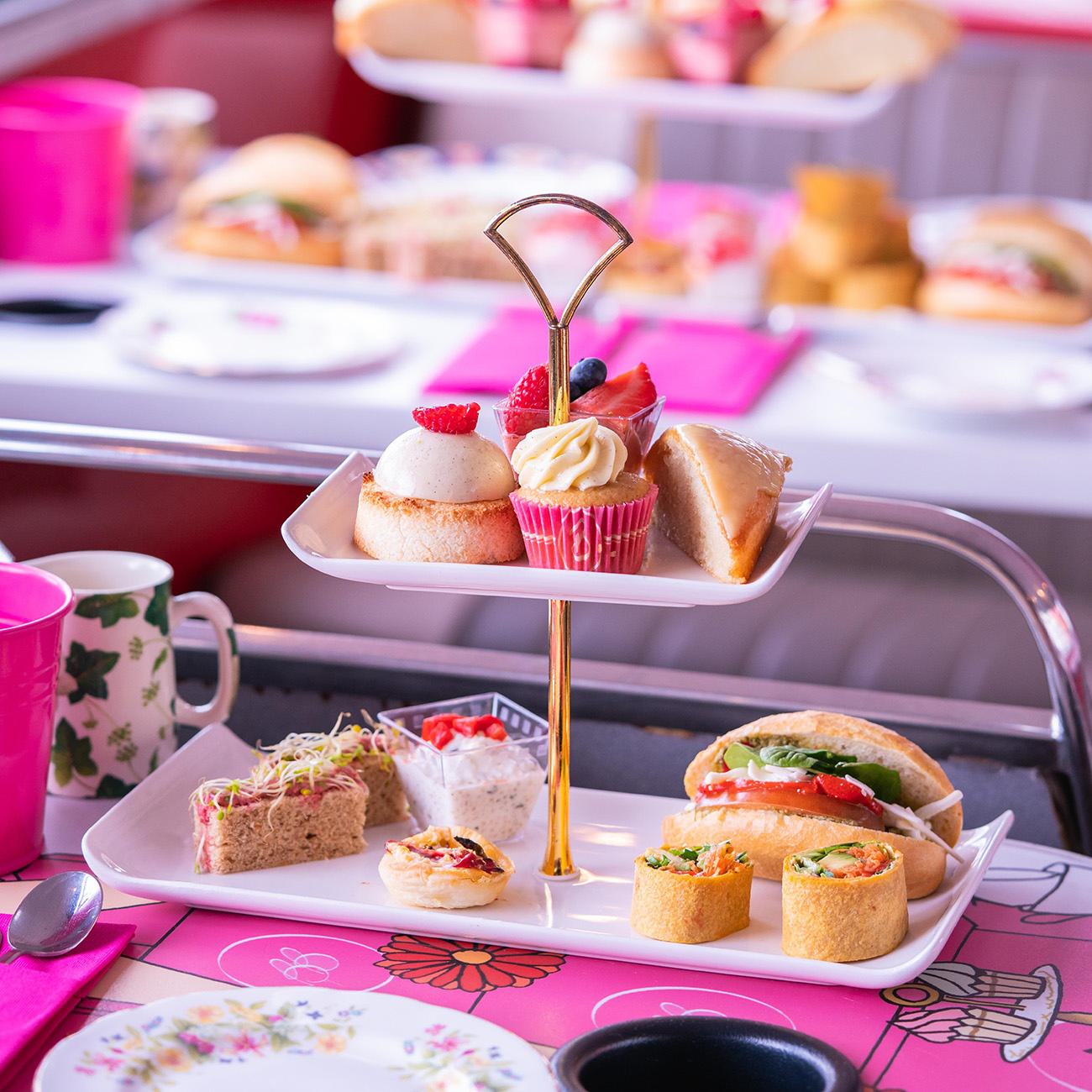 But first, want to take a peek at what's on our yummy vegan afternoon tea menu?
Our vegan options – the Brigit's Bakery vegan Afternoon Tea menu
Our vegan-friendly menu includes a selection of freshly-prepared, finger-licking savouries:
Beetroot and cucumber sandwich.
Avocado and carrot roll.
Quinoa verrine.
Mixed roasted vegetables on ciabatta.
Vegetable quiche.
But that's not everything!
We then complement all of the above with a French-inspired assortment of mini home-made cakes and tarts. These include:
Vanilla panna cotta on coconut rocher.

Strawberry mousse verrine.

Lemon drizzle slice.

A seasonal cupcake.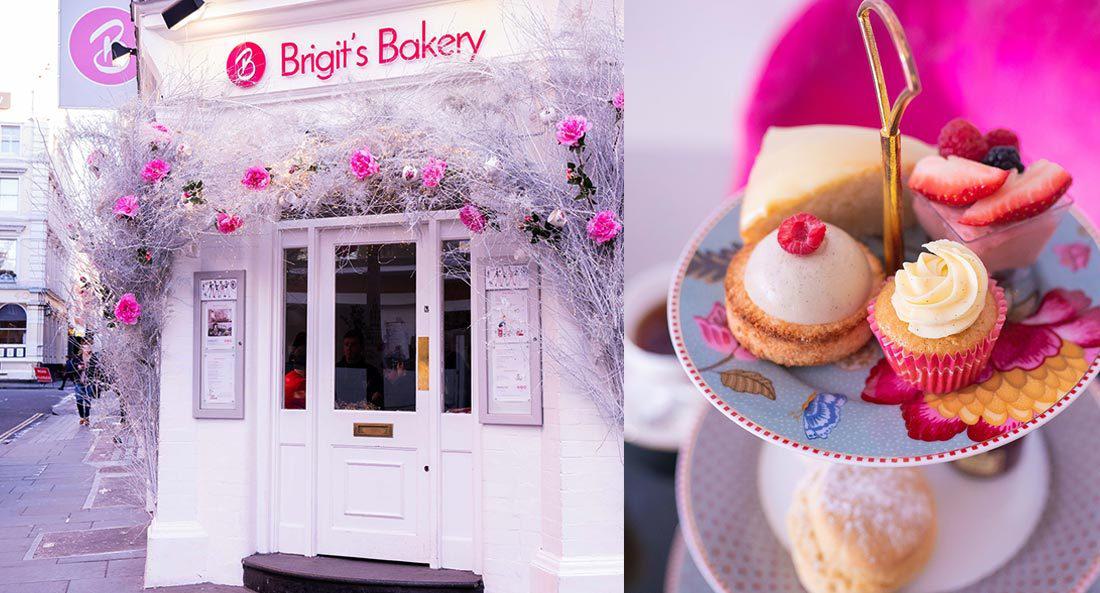 But it wouldn't be afternoon tea without tea and scones, right? Our vegan afternoon tea menu also includes plain, freshly-baked scones with a selection of vegan spreads.
As with all our other menus, all food is freshly prepared on our premises. And because we always use seasonal ingredients, some of our selections might vary. Now, we love a surprise, but if you want to know exactly what's on offer on the day you'll come and have afternoon tea with us, please check at the time of booking.
And don't forget to state 'Vegan Menu' under the dietary options when booking one of our Afternoon Tea experiences.
So where exactly can you enjoy our vegan afternoon tea menu?
Vegan afternoon tea at Brigit's Bakery in Covent Garden
Whether you live in London or you're visiting this amazing city for the first (or 100th time!), you can't miss out on the chance to spend a relaxing afternoon in our beautiful Brigit's Bakery in Covent Garden. Whether you're treating yourself, a friend, or a loved one or celebrating a special occasion, we invite you to come and spend some time in our relaxing sanctuary.
The Brigit's Bakery is a quiet haven tucked away on Chandos Place. With 180 sqm over two floors (including three private dining rooms), it's the perfect spot to provide tourists, shoppers, residents, and locals workers with a relaxing environment to enjoy fine French patisseries. So come and relax with a coffee and a vegan cupcake before you hit the road again.
Did you know our Brigit's Bakery is also available for hire? If you want to find out more, head over to our blog post, Brigit's Bakery – The perfect venue hire in London.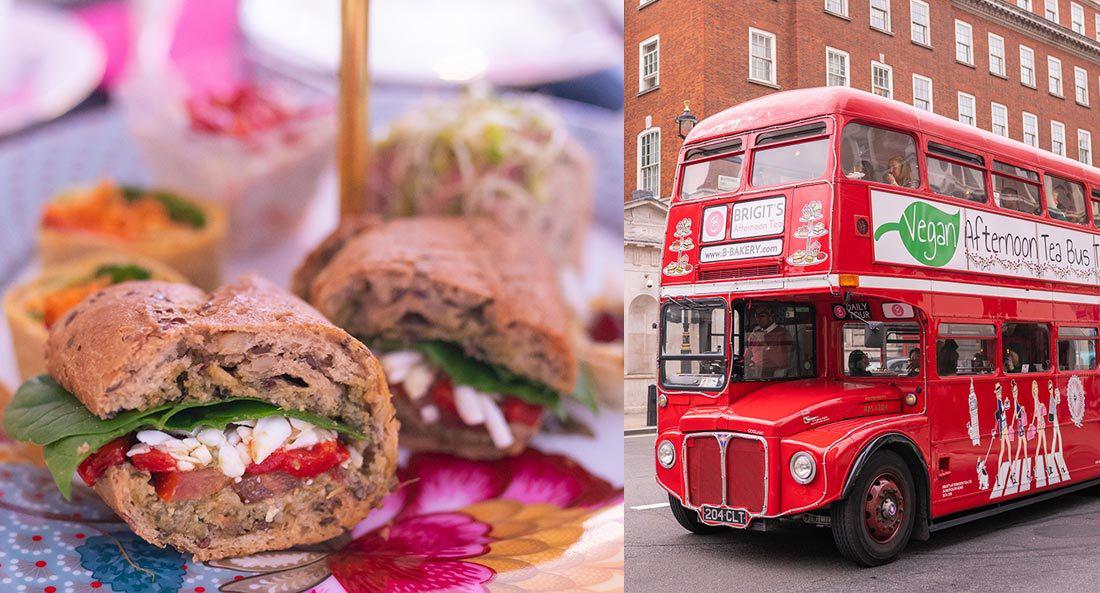 Vegan afternoon tea on a Brigit's Bakery London bus tour
Our unique vegan afternoon tea is also available on all our Afternoon Tea Bus Tours. Departing daily from 8 Northumberland Avenue (just off Trafalgar Square) or Victoria Coach station, our vintage Routemaster buses drive through the streets of Central London, taking in some of the City's best sights, whilst you indulge in our fabulous (vegan or otherwise) Afternoon Tea on a double-decker bus.
While you sip on a lovely cup of tea or coffee (or enjoy a glass of bubbly), we'll serve high tea accompanied with an array of tasty vegan sandwiches and delicious cakes and pastries. Your London bus driver will take you around Big Ben, The Houses of Parliament, Westminster Abbey, St James's Park, Hyde Park, The Royal Albert Hall, Marble Arch, Nelson's Column, Downing Street and more.
Our themed Afternoon Tea Bus Tours
Did you know we also run themed bus tours?
Here are some of the bus tours we currently offer:
Tours change often though, so do keep an eye on our website for updates. Some of our themed tours only run on selected dates, and spaces are limited and sell out fast. So if you want to celebrate a special occasion, book now to avoid missing out.
Vegan afternoon tea picnic lunch
Do you want to indulge in a vegan afternoon tea menu but don't have time to stop? Then why not order our vegan afternoon tea picnic lunch? Our beautifully-packaged Afternoon Tea Picnic Lunch contains everything you need for a delicious afternoon tea-for-one and is available to pick up from Brigit's Bakery in Covent Garden with as little as 24 hours notice.
Light enough to carry, the Afternoon Tea Picnic Lunch also fits perfectly into the pannier of a bike and has been specially designed to fit comfortably in the front of a Boris Bike. The perfect package for enjoying a delicious afternoon tea on the go! Filled with a selection of our vegan mouth-watering cakes, sandwiches, and scones, the picnic also includes freshly squeezed orange juice and your choice of tea or coffee.
Vegan afternoon tea delivered to your own home
Not interested in heading out in search for vegan bakery in London in the cold weather? Maybe you're entertaining at home or want to impress a client at work? Then give us a call, and we'll bring our vegan afternoon tea menu to you! With our Brigit's Bakery Afternoon Tea Delivery, we deliver the food to you, so you don't have to go anywhere!
We deliver every day of the week to WC2, Central London, and Greater London upon request and require only 24 hours notice.
Vegan afternoon tea on our Thames Cruise Boat Tours (summer only)
And last but not least, our delicious vegan afternoon tea menu is also available on our Thames Cruise Boat Tours. Unfortunately, these only run during summertime. But if you're planning a party or an event for next year and are looking for vegan-friendly options, do keep an eye on our website for updates. We'll publish the dates for the boat tours as soon as we set them.
Alternative afternoon tea menus
Do others in your party have different tastes or dietary requirements? No worries. Whatever their preferences, we've got you all covered.
At B Bakery, we are consistently striving to improve our afternoon tea repertoire, which is why we have a selection of dietary options always on offer. No matter where you book to have afternoon tea with us, you always have access to our full range of afternoon tea menus.
So if you're booking with a group of friends and family, choose the afternoon tea menu that's more suitable for every single person's dietary needs or preferences. You don't all have to go for the same afternoon tea menu – just take your pick and we'll make it happen.
Here's what we have on offer:
Participating in Veganuary?
Here at Brigit's Bakery, we're proud to have joined the Vegan Revolution with the introduction of our vegan afternoon tea menu – it's proved an incredibly popular addition to our existing range of delicious afternoon tea menus. So if you're looking for a vegan bakery in London, do come and sample our menu!