Gluten-free Bakery in London
Are you looking for a gluten-free bakery in London? Then why don't you join us for afternoon tea? Whether onboard a bus tour, at our unique bakery in Covent Garden, or when you order an afternoon tea picnic or delivery, we've got you covered.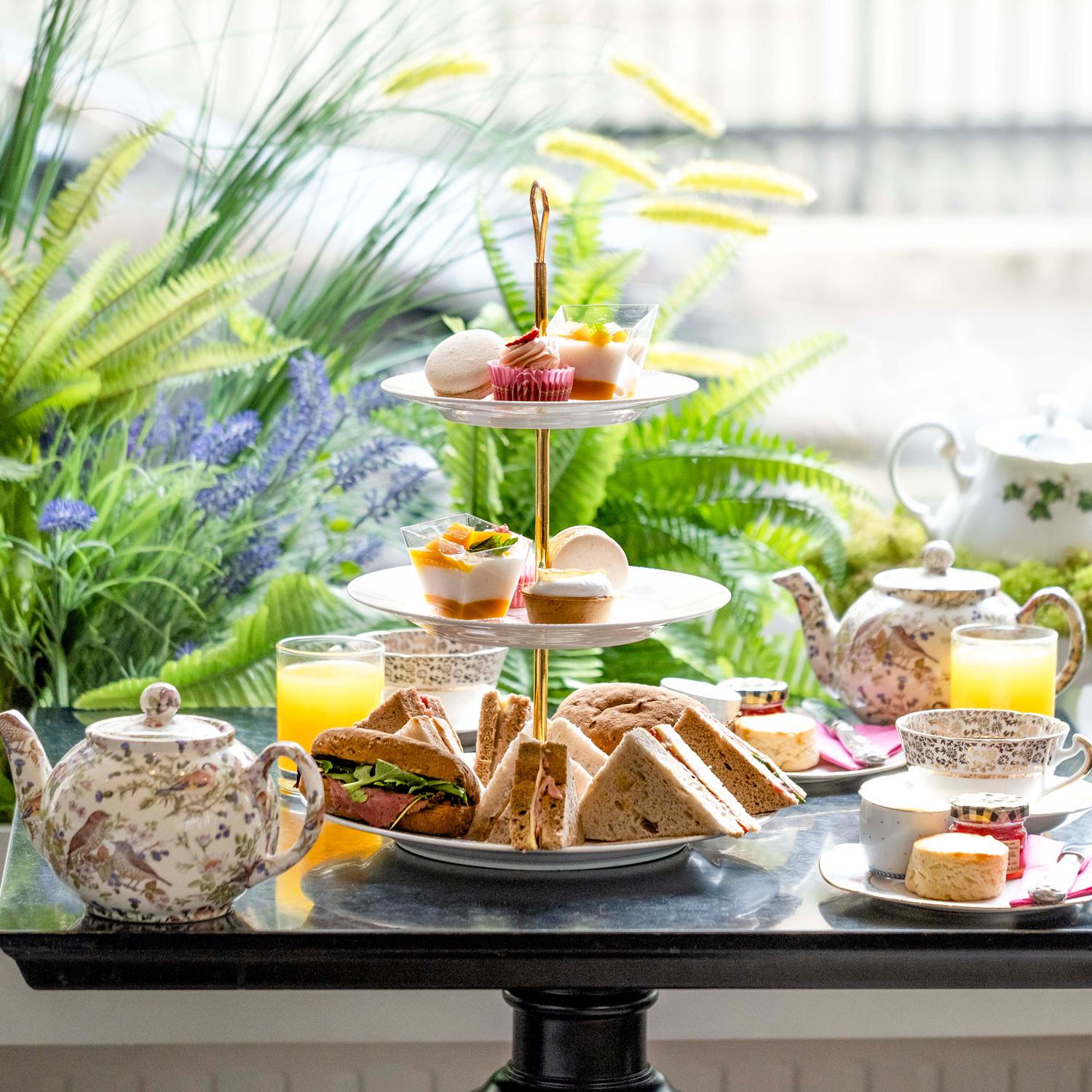 Our Gluten-Free Afternoon Tea menu
Here at Brigit's Bakery, we love to cater to a variety of preferences and dietary requirements, including anyone on a gluten-free diet. When it comes to afternoon tea, we know you'll be looking for a variety of gluten-free cakes and gluten-free pastries, but also a range of gluten-free sandwiches and delicious savouries.
For this reason, we're able to offer:
For more details about what you can expect, you can find all our Bus Tour Afternoon Tea menus here.
Our chefs take dietary requirements and preferences very seriously and follow strict protocols to prevent any contamination in our gluten-free offerings. However, unfortunately, we are unable to cater to nut-free, peanut-free, a combination of dairy and gluten-free, a combination of vegan and gluten-free, and Coeliacs.
Please also note that our gluten-free menu may contain traces and our vegan and gluten-free teas bear an additional cost. Also, we hope you understand that all allergies must be emailed in advance and confirmed by management at info@b-bakery.com. For more information, you can also call us on 020 3026 1188.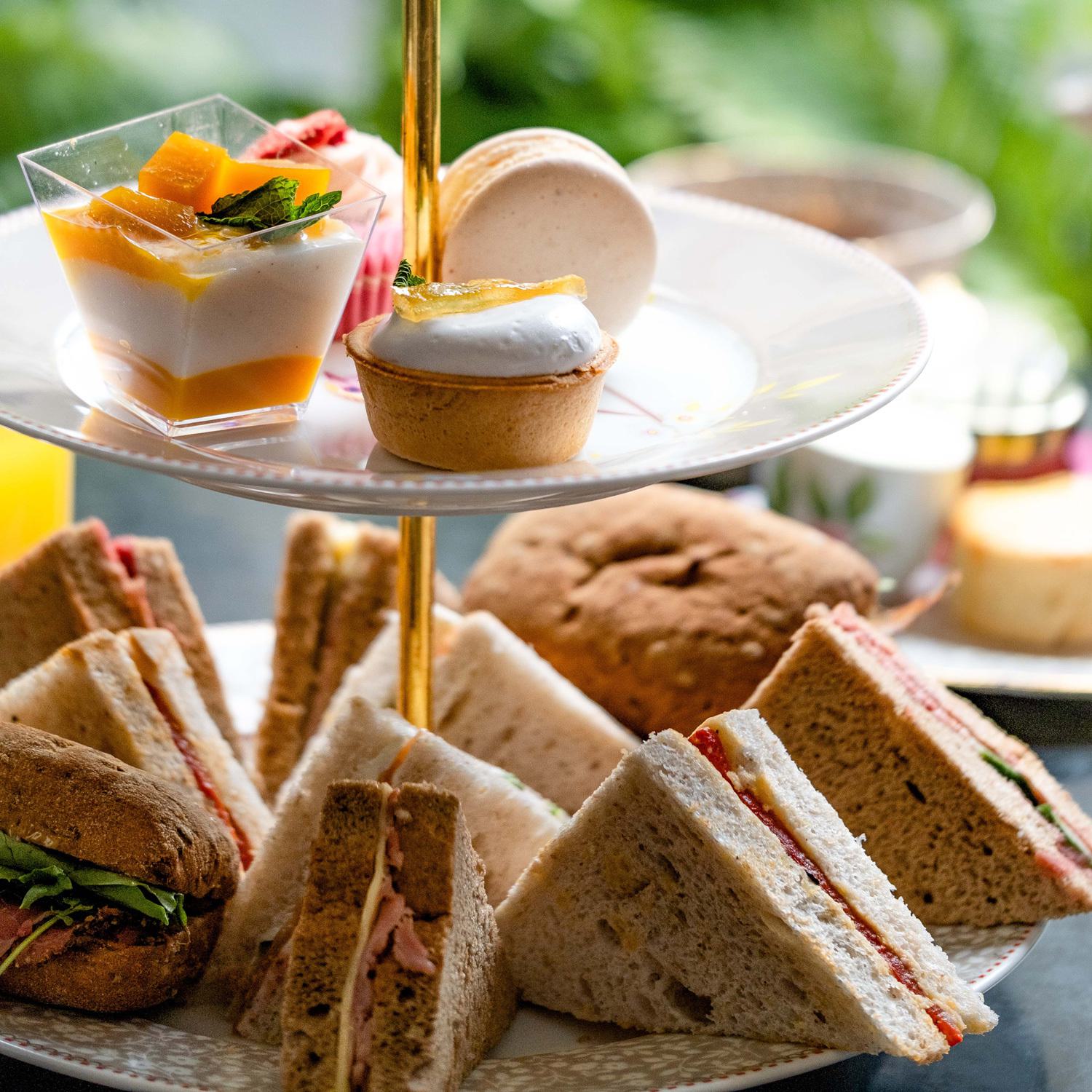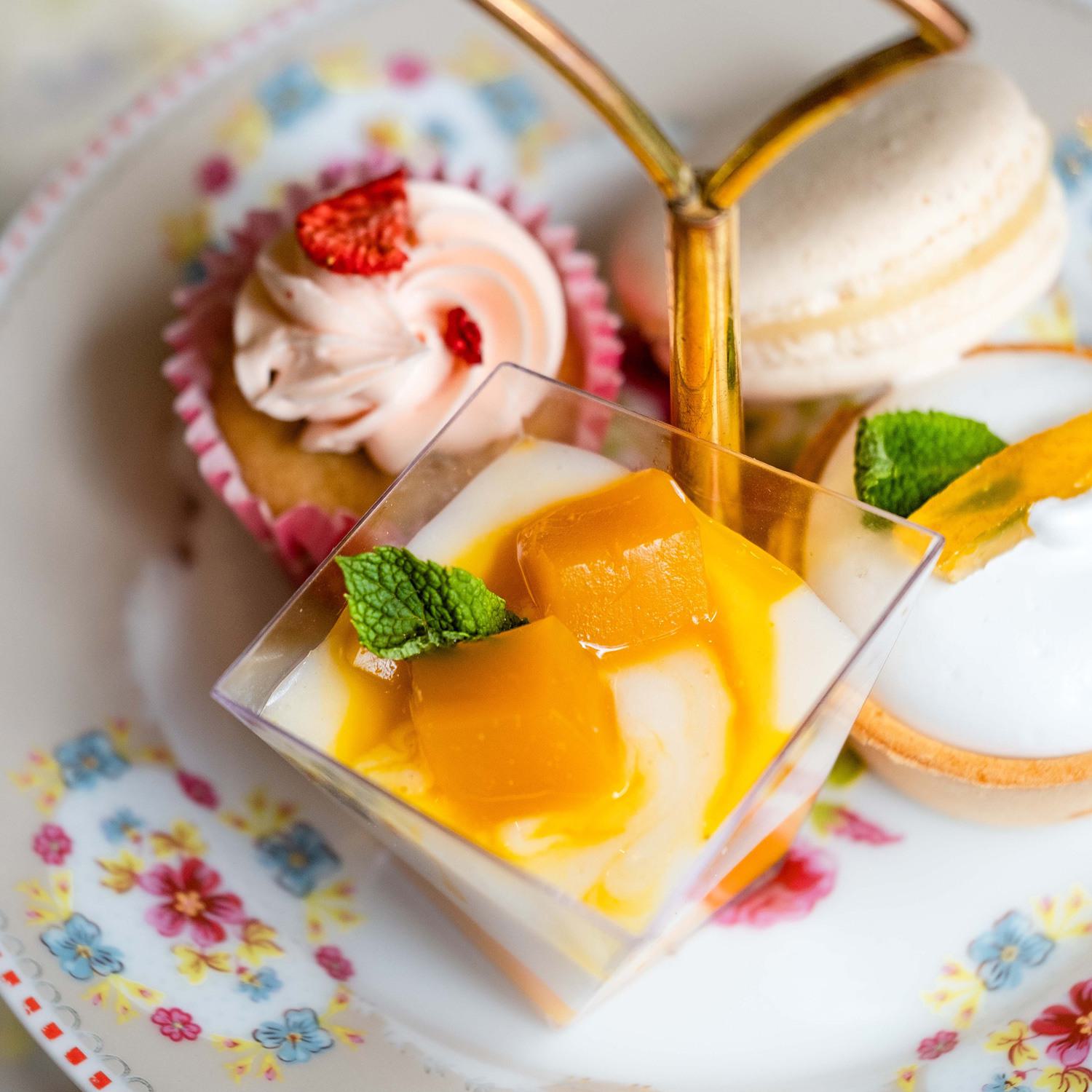 Gluten-free afternoon tea menu example
Do you want to get an idea of the kind of gluten-free products we offer on our menu?
Here's an example of what our freshly prepared savouries might include:
Chicken, tomato, salad & mayo mustard on a ciabatta bun.
Hummus & roasted pepper triangle with gluten-free bread.
Beetroot hummus & cucumber triangle with gluten-free bread.
Smoked salmon, cream cheese, chives & cucumber triangle with gluten-free bread.
Turkey ham & cheese with mayo mustard on gluten-free bread.
And when it comes to our delicious assortment of mini homemade cakes and tarts, be ready for:
Gluten-free tart with sweet pumpkin cream & a meringue swirl.
Orange macaron filled with a dark chocolate ganache.
Fluffy red velvet cupcake topped with cream cheese frosting.
Smooth & delicate matcha & coconut panna cotta.
It's not afternoon tea without scones, so naturally, we also serve freshly baked, plain, gluten-free scones with clotted cream and jam. Please note, however, that our menu changes seasonally. So for the latest gluten-free afternoon tea menu, we advise you to always check this page.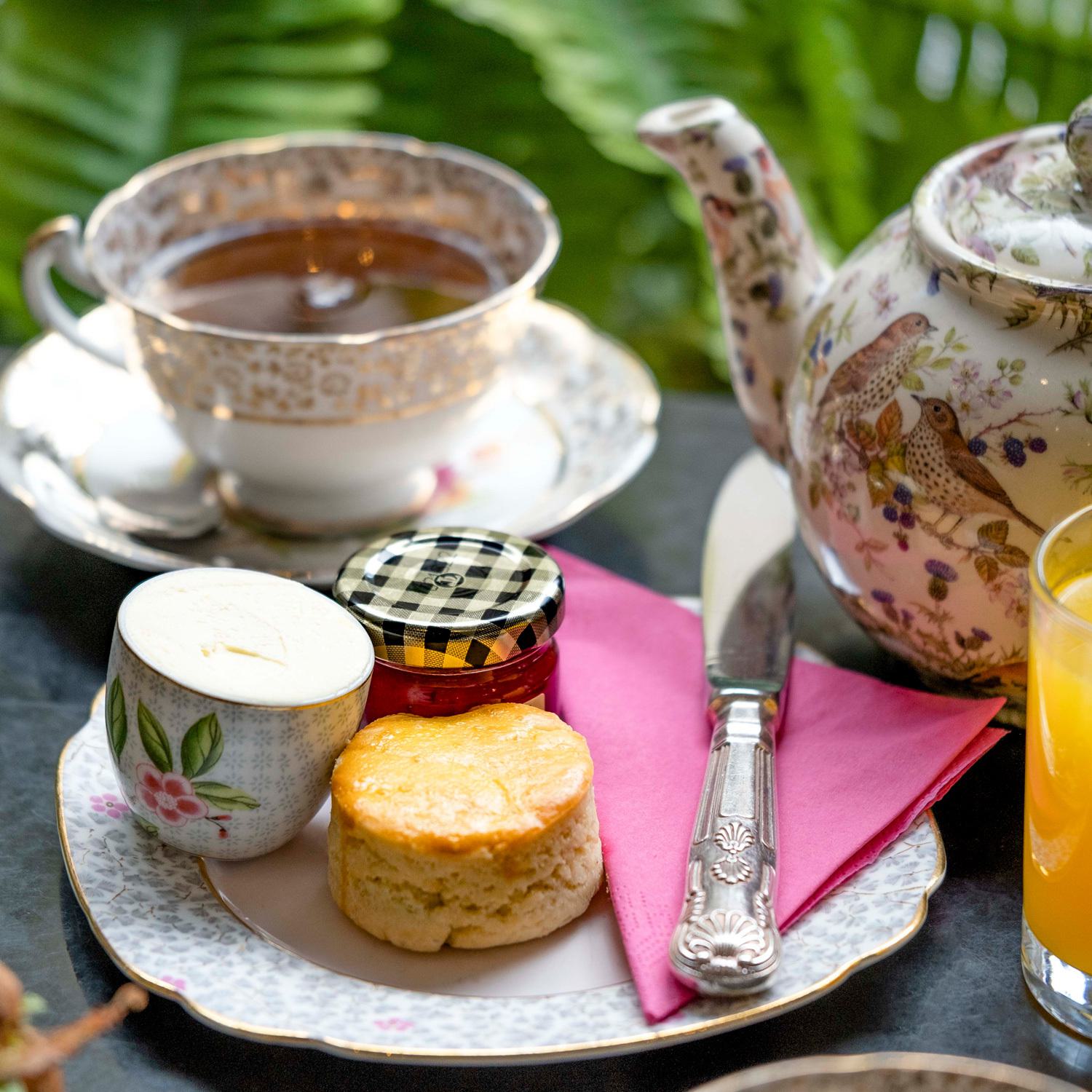 Enjoy Gluten-Free Afternoon Tea onboard our bus tours or come and visit our bakery
Our gluten-free menu afternoon tea menu is available on all our bus tours. We have 'evergreen' bus tours that run all year round and themed ones that are available for specific periods of time to celebrate particular occasions. Our all-year bus tours include:
Themed tours vary on a monthly basis, so for the latest information on all our bus tours, please check this page. Simply select the month of the year you're interested in booking with us, and it'll show you what tours are available.
While we can't claim to be a 100% gluten-free bakery, you can safely enjoy our gluten-free afternoon tea at our bakery in Covent Garden. We have additional private rooms and seating downstairs, but our bakery is a very popular destination for many, so we recommend you book your visit in advance here.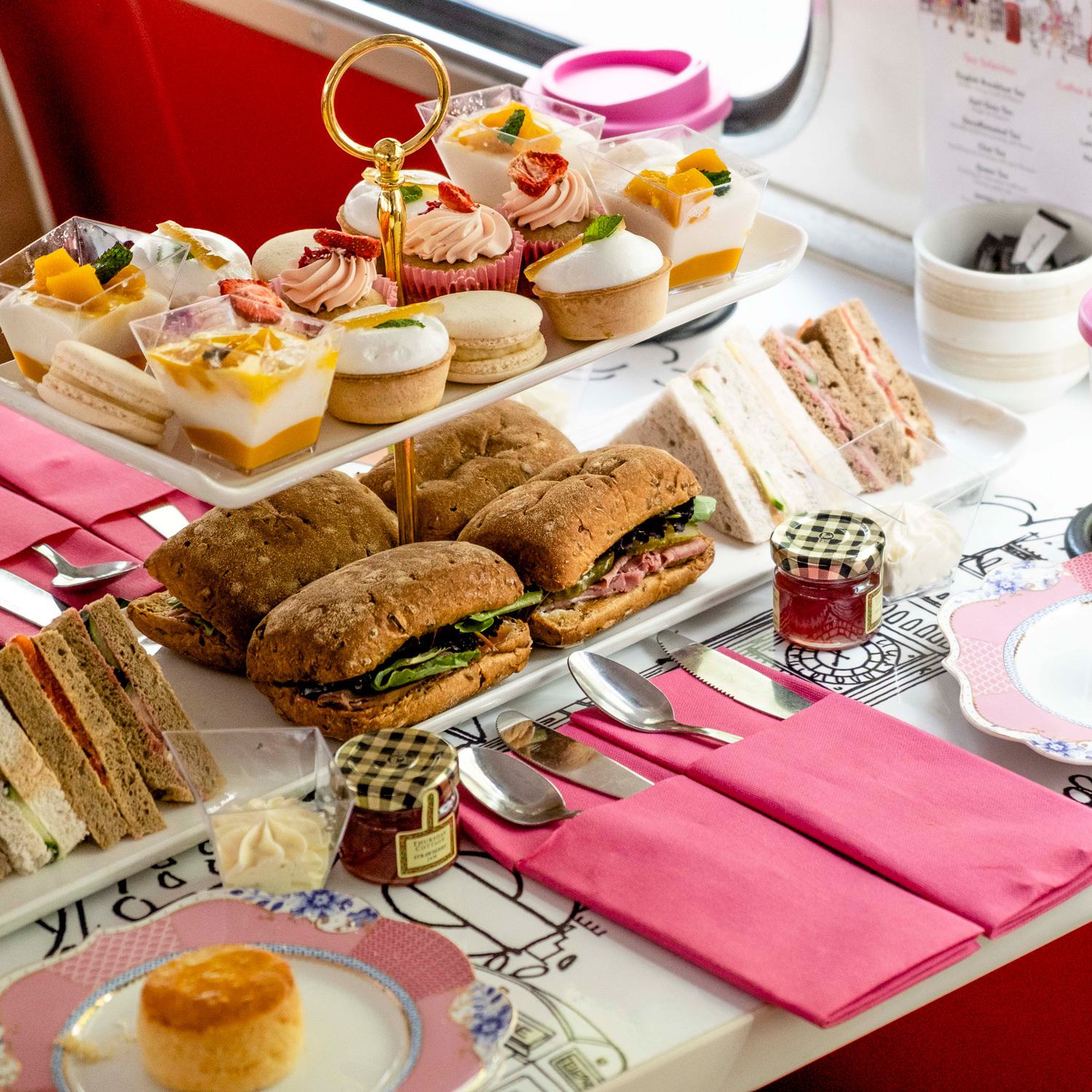 Afternoon Tea Picnic or Afternoon Tea Delivery
Did you know there are other ways for you to enjoy our fabulous gluten-free afternoon tea? That's right. Our menu is also available 'on the go'. You can order an Afternoon Tea Picnic or have it delivered to your door - whether it's home, work, or a party venue.
Our beautifully packaged Afternoon Tea Picnic Lunch contains everything you need for a delicious afternoon tea-for-one and is available to pick up from Brigit's Bakery in Covent Garden with as little as 24 hours' notice. Filled with a selection of mouth-watering cakes, sandwiches, and scones, the picnic also includes freshly squeezed orange juice and your choice of tea or coffee.
Light enough to carry, the Afternoon Tea Picnic Lunch is the perfect package for enjoying a delicious afternoon tea on the go. To order yours, simply fill out the form on this page, specify your dietary requirements, and we'll contact you for payment.
If you're after an afternoon tea delivery, please note that we deliver every day of the week and require only 24 hours ' notice to prepare your order. We deliver to WC2, Central London, and Greater London upon request. Delivery prices vary, but we offer a 10% discount on bookings for over 10 people. To arrange your delivery, please fill in the form at the bottom of this page. We'll call you to confirm the details and take payment over the phone.
Alternatively, you can call us to order either option on 020 3026 1188.
What our customers say about our Gluten-free afternoon tea menu
Want to hear directly from our amazing customers? Here's what Casbm from Norfolk said:
"Perfect afternoon. Sometime you just know when you walk into a place that it's going to be good. Three words sum up Brigit's Bakery - attention to detail. [...] They catered happily for our gluten-free, vegetarian, and pescatarian guests. The sandwiches were wonderful, with different types of bread that complimented each of the fillings. We were asked regularly if we wanted any additional drinks and if everything was ok. We loved the teapots too! Thank you for making this such a special afternoon."
And another guest referred to our menu as gluten-free heaven! Here's what they said:
"My hubby and I stopped in because the displays looked amazing. We were glad we did because the gluten-free chocolate torte was the best I've ever eaten! Delicious!!!"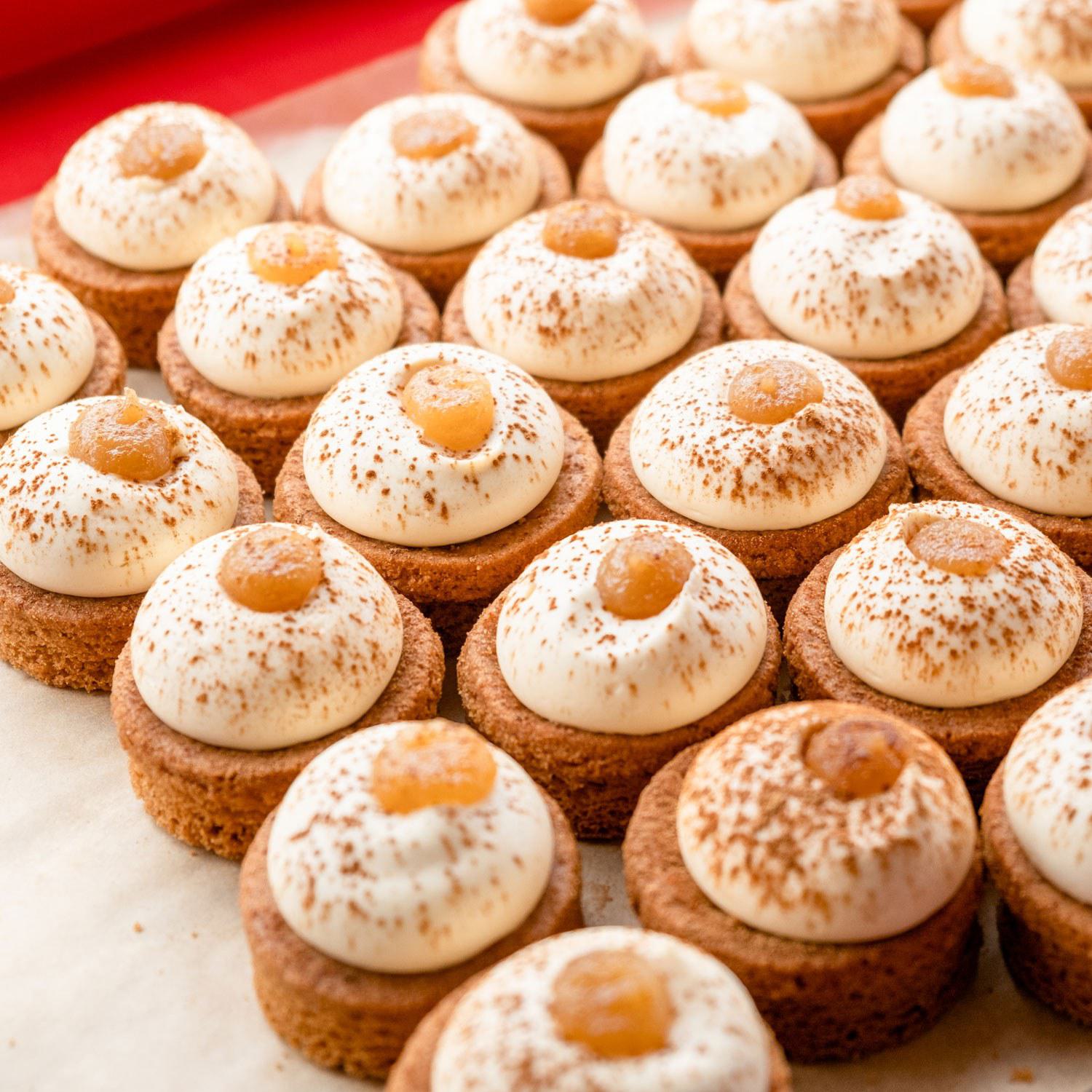 Gluten-free luxury Afternoon Tea catering for restaurants and hotels
Do you work for a restaurant or hotel and would love to serve afternoon tea to your customers but don't have the capacity in-house to do so? We can help. Did you know we also provide wholesale afternoon tea for restaurants and hotels in the London area?
As with everything Brigit's Bakery, we're talking homemade, fresh Afternoon Tea delivered to you and customised to your specific requirements. We don't just offer gluten-free, of course - just like our customers, you can also pick Traditional, Vegetarian, Vegan, and Halal. But we'll also make sure our afternoon looks the part in your establishment. We can customise the colours, design, logo, theme, and more. We take care of everything - all you have to do is serve this delicious afternoon tea to your customers!
To discuss your requirements or arrange a tasting session, please contact our bookings team on 020 3026 1188 or email us at info@b-bakery.com. For more information, head over to our catering page.
So... do we have your attention yet? Where will you try our gluten-free afternoon tea menu?