Routemaster hire - choose Brigit's Bakery for your private event
It's finally happened. After being in the pipeline for years, TfL have officially retired their iconic red Routemaster buses. With one of the most well-renowned landmarks sadly gone from the streets of London, Brigit's Bakery are proud to announce we will continue to offer Afternoon Tea Bus Tours and Routemaster hire. So if you'd like to enjoy one of our classic Routemasters for a corporate event, a special day, a launch, or private party, we can make that happen for you.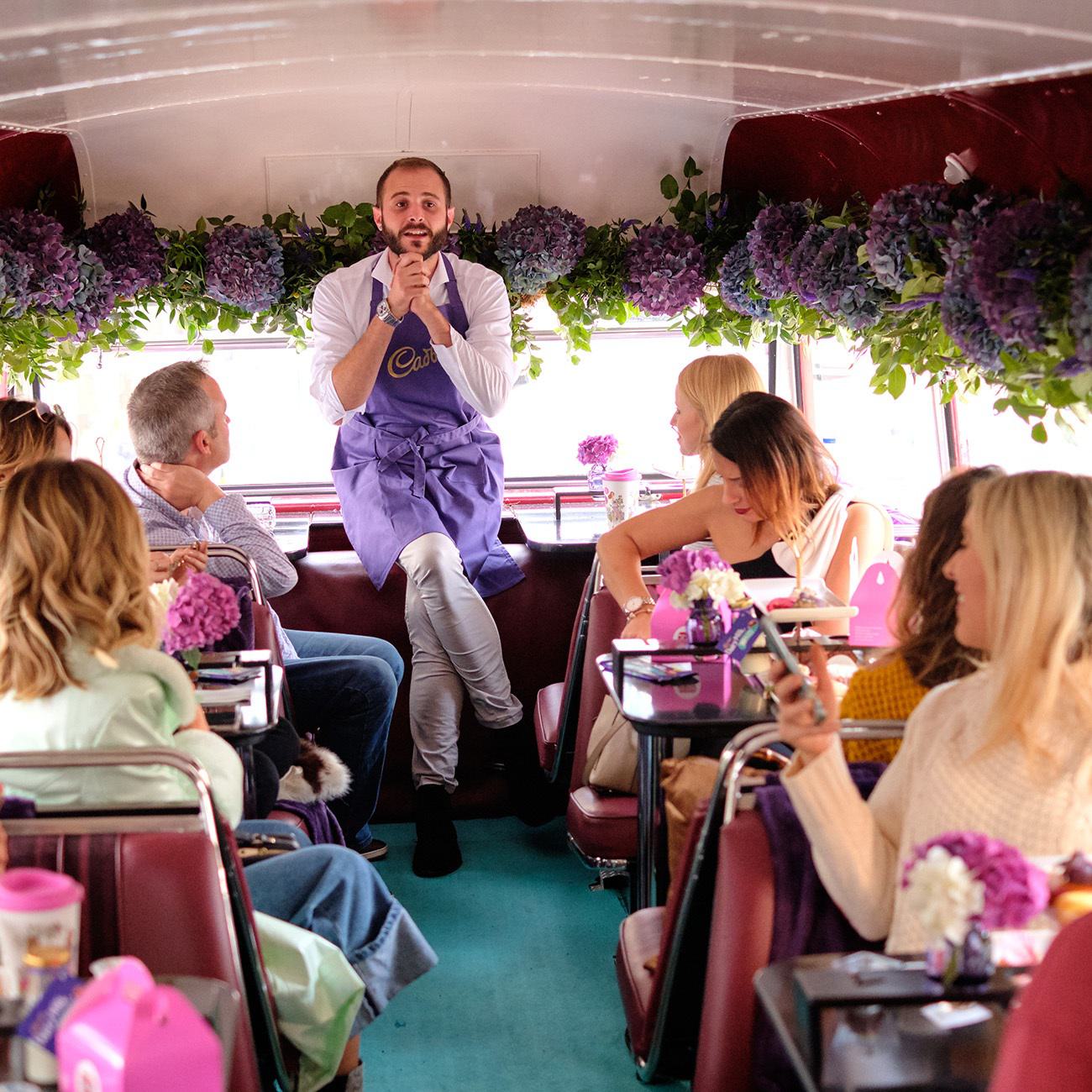 What do we know about the Routemaster bus?
The iconic London double-decker bus that we all know and love was created to replace the old trolleybuses, powered by overhead electrical wires. Although the original diesel Routemaster buses were ordered in 1935, it's not until the end of the war that production picked up, in 1947. Our beloved red bus, which, for many, represents London, premiered in 1954.
It's an incredibly sturdy vehicle. And it's really no surprise that (with an upgrade or two) it outlasted many of its successors. So while we're sad to hear about the decision made by TfL, we couldn't be happier to be one of the few organisations allowed to keep and run these iconic London buses for our Afternoon Tea and sightseeing tours as well as for private hire and special events.
To find out more, watch this video about Brigit's Bakery 'saving' the Routemaster buses!
London bus hire
If you're looking to hire one of our beautifully restored vintage buses, then look no further. Whether you're organising a private party, a product launch, or it's your wedding day, we've got you covered.
Our classic double-decker Routemaster buses are perfect for all occasions, including corporate events, hen parties, baby showers, birthdays, and graduations. You name it! If you're looking for an exclusive hire that offers a fully catered and quintessentially British affair (with a French twist), we are it!
Pick the Routemaster hire that's right for you
When it comes to private hires, we have two options for you.
You can go for either:
The Long-wheel Routemaster,
or our Classic Routemaster.
How to pick? Well, it all depends on your party size and requirements.
With the Classic Routemaster hire, we can accommodate up to 12 people on the lower deck and up to 20 on the top deck. You can hire the lower or upper deck separately. But you can also have the whole bus, which can accommodate (yes, you guessed it) up to 35 people. Just bear in mind that the minimum for a whole bus hire is 26 guests.
Our long-wheeled London buses are slightly roomier. They can accommodate up to 44 people for your party (with a minimum of 35 people required to hire the whole bus). The lower deck can comfortably seat up to 16 people and the upper deck up to 28 people.
Can you see how both Routemaster buses are the perfect choice for your intimate wedding bus hire? If you want to find out more about this, head over to our article, Wedding Bus Hire in London with Brigit's Bakery.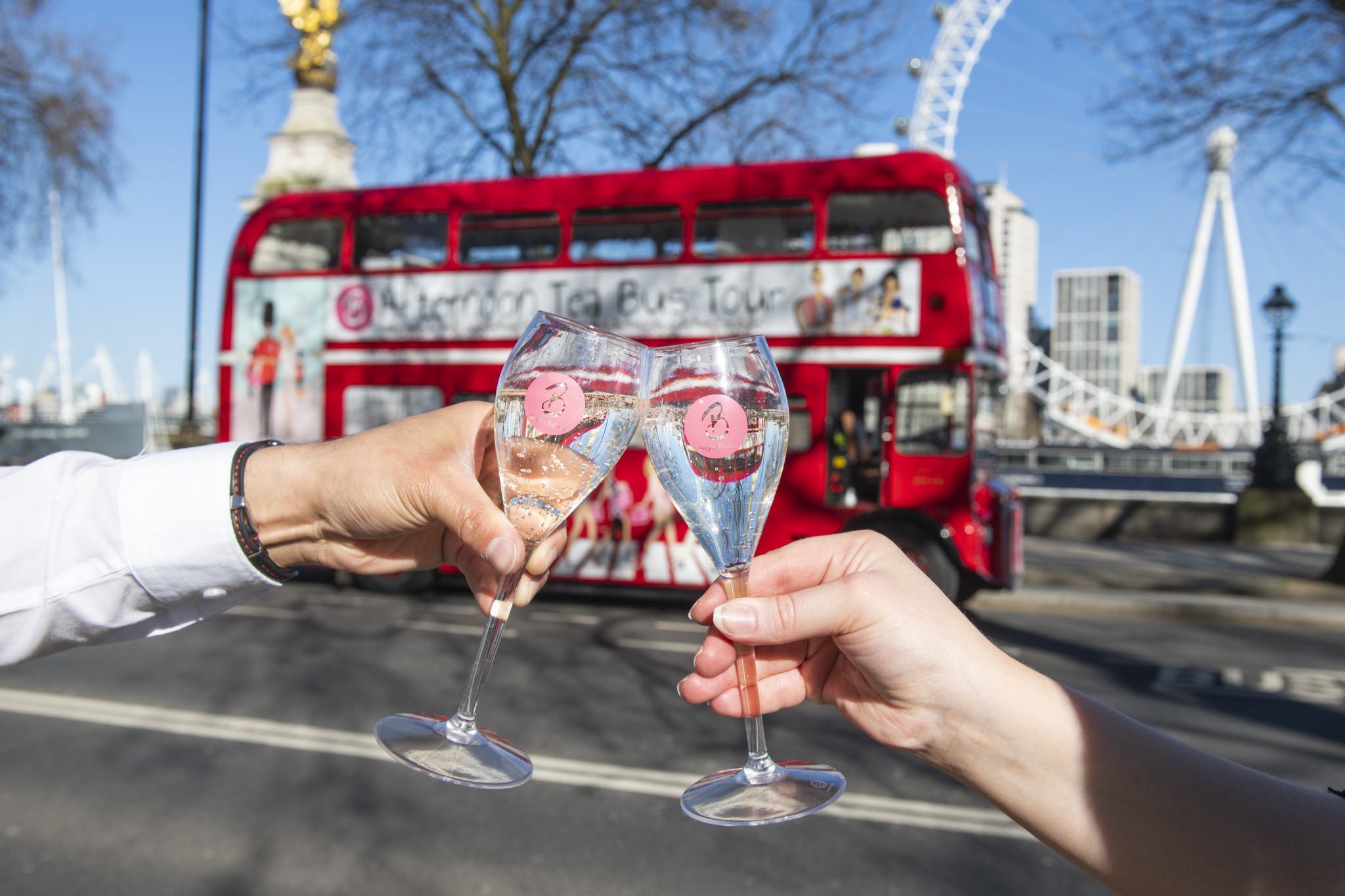 What's included in our bus hire?
The cost includes our signature Brigit's Bakery Afternoon Tea, served to you while touring the streets of London for approximately 90 minutes (depending on traffic). Our private bus tours depart from either Victoria Station or 8, Northumberland Avenue. While you and your guests get to enjoy our delicious Afternoon Tea menu (and take home a free takeaway mug), our expert driver will navigate through the most beautiful London landmarks.
It's your opportunity to enjoy London from a new perspective. So take in the views of Whitehall, Big Ben, The Houses of Parliament, Westminster Abbey, and Buckingham Palace. But there's more! Our buses will take you past Hyde Park Corner, Harrods, V&A, the National History Museum, the Science Museum, and Royal Albert Hall. Not to mention the Albert Memorial, Kensington Palace, Notting Hill, and much much more!
Of course, we're also able to offer personalised routes with specific departure and arrival locations. And our private tours can always be extended if required. Just give us a call to discuss exactly what you need and what you want to get out of your special day.
Bus branding for corporate events
Did you know that when you choose one of Brigit's Bakery vintage buses for private hire you can even personalise our bus with your branding? To get an idea of what this looks like, take a peek at what we did for the ESports game GUNS OF BOOM private hire.
We have loads of examples, including:
Interested in a Brigit's Bakery Routemaster hire?
Prices for our private bus hire vary depending on your requirements. Also, we offer different prices for weekdays or weekend hires. We require a 50% non-refundable deposit to secure your booking. And, just so you know, we request your final payment two weeks prior to the booking date.
For more information on prices, to view our seating plans, or to get in touch for a personalised quote, check out our Routemaster hire page.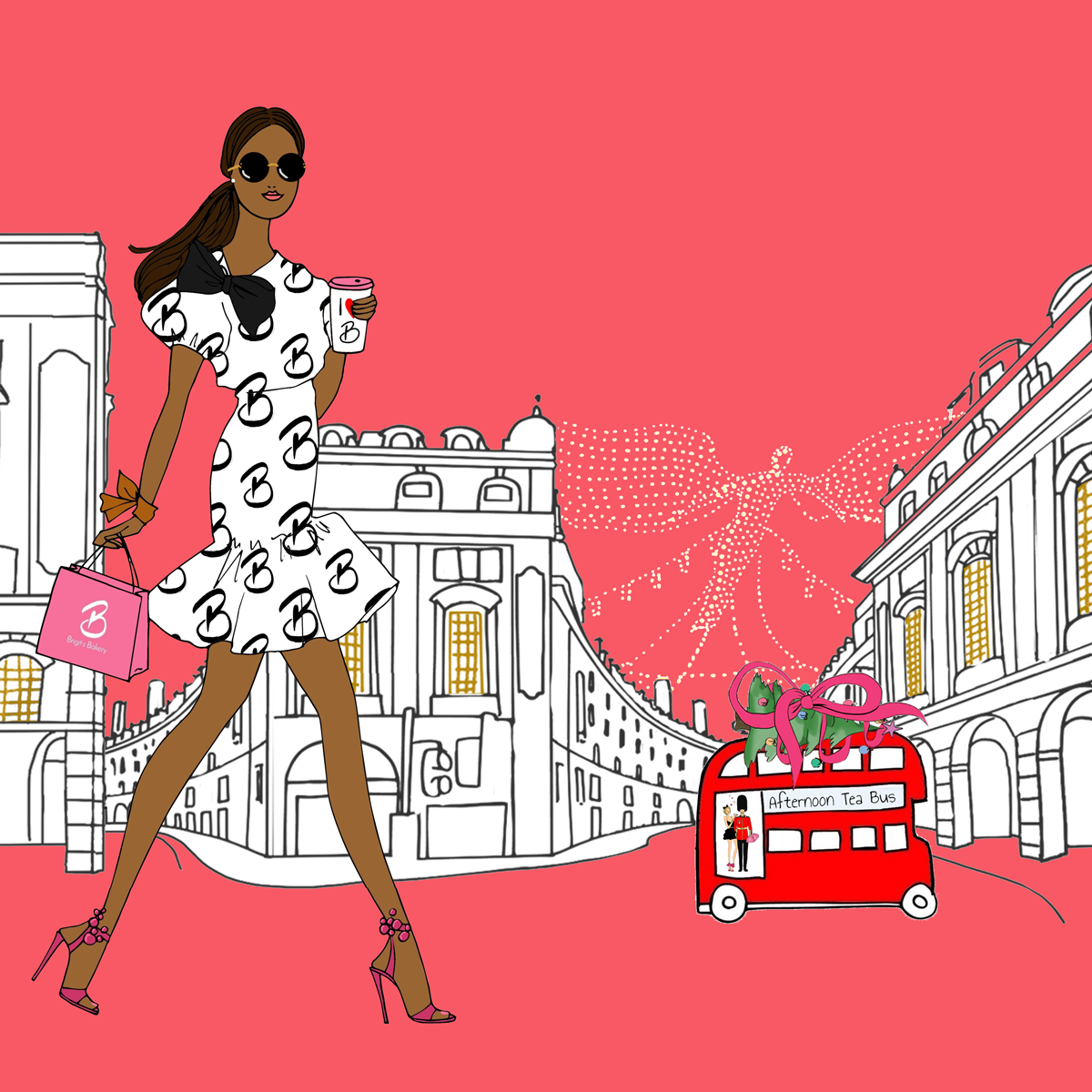 Join one of our Afternoon Tea Bus Tours over the upcoming months
If you want to come and check out one of our amazing London buses before the big event, we are now open and offer secure social distancing measures. So why not book yourself on one of our Afternoon Tea bus tours?
We have something for everyone, including our Peppa Pig Afternoon Tea Bus Tour (perfect for the little ones). Or check out our Gin Lovers Gin Afternoon Tea Bus Tour (strictly for the not-so-little ones!). And if you want to celebrate a special dad in your life, on the 20th of June 2021 only, we are running a Father's Day Afternoon Tea Bus Tour.